Introduction
Being a contributor on this great investing forum has so many perks that it is almost too good to be true. The biggest advantages are that as a contributor you can arrange your own thoughts and that you can learn so much from the comment section. But every now and then you also have a commenter that writes his or her comment so well formulated that you wished, as a contributor, that you had used those words to express your thoughts. After my last article on CVS, I had this again. I give the comment completely because I liked it so much:

I was already writing this article when I read this comment. I like both Scott's pointed style ('general health stock funk' should be a general accepted stock market term!) and the wisdom that lies in his comment. The health care sector is indeed in the black books as of late, and probably mostly unfairly.
It is a typical stock market system: somewhere there is a problem with a certain company in a certain market segment and the rest of the sector drowns with the culprit. And in the health sector you even had several culprits: overleveraged and price gouger Valeant (NYSE:VRX) and The Joker of pharma stocks, Martin Shkreli. Add the overvaluation of a lot of unprofitable biotechs and some political chitter-chatter and you get a downturn in the whole sector.
As I am a long term investor, thinking in decades, not in months, I am very interested in the health care sector right now. I have taken or largely increased positions in beaten down health care stocks such as Gilead (NASDAQ:GILD), Bristol-Myers Squibb (NYSE:BMY), Novo Nordisk (NYSE:NVO), Celgene (NASDAQ:CELG) and CVS (NYSE:CVS) in the last year and a half. Another stock I got interested in was Anthem (NYSE:ANTM).
The company

Anthem, Inc. provides life, hospital and medical insurance plans. It offers a broad spectrum of network-based managed care health benefit plans to the large and small employer, individual, Medicaid and Medicare markets. The company was founded on November 30, 2004 and is headquartered in Indianapolis, IN.
This is what Anthem's revenue comes from: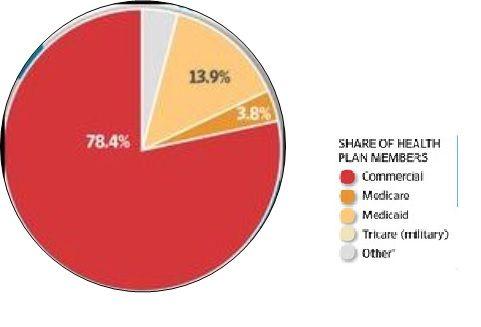 (Source: wsj.com)
As you can see, more than three quarters of Anthem's customers ('health plan members' as they call it) are commercial, which are the most profitable members. About 14% of its members are Medicaid and less than 4% are Medicare customers, which are (mostly) systems paid for by the state or government.
First let's see if Anthem is a growing company by looking at its revenue: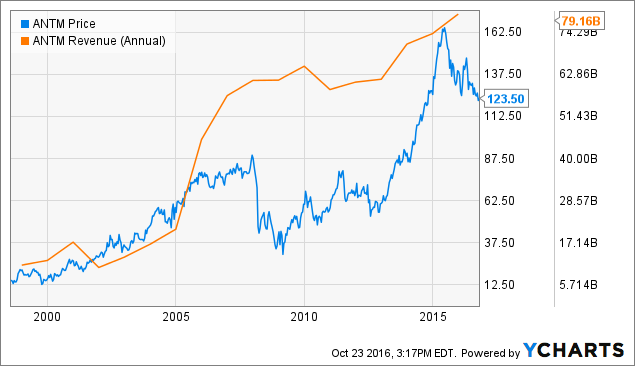 As you can see, Anthem's revenue was up every year, except for two years: one year in the 2000-2003 recession, one year in the Great Recession. And even then the drop was, judged with hindsight, not terrible.
ROIC versus WACC is another important metric to consider before you buy shares, since it calculates the company's efficiency with the money that it has. The ROIC is the Return On Invested Capital, the WACC is the Weighted Average Cost of Capital. Simply put, you could say that ROIC is the return on $1 invested and WACC is what it costs to get that dollar. The difference between the two should be positive, because otherwise no value is created.
According to gurufocus.com Anthem's ROIC is 12.33%, while its WACC is 5.22%. This gives a positive 7.11%. So far, so good.
ANTM is a dividend challenger in David Fish's CCC-list, with six years of yearly growing dividends.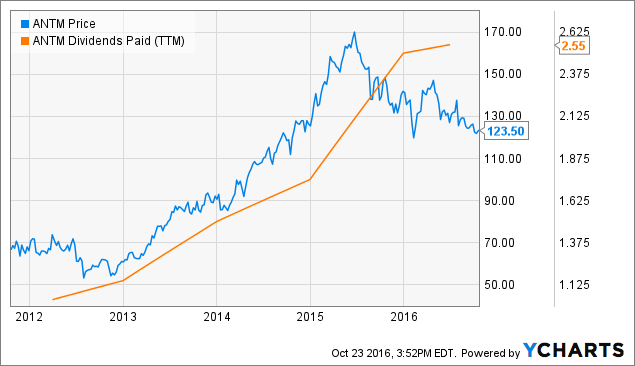 It has a current yearly dividend of $2.60, which means a present yield of 2.11% at the closing price of $123.50 from October 21th. As you can see on this chart, this is the highest dividend yield it has had since the dividend was started. Interesting!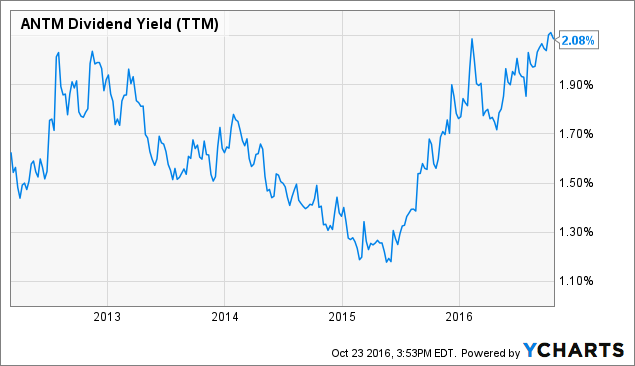 ANTM Dividend Yield (NYSE:TTM) data by YCharts
The payout ratio is just 29%, although there has been a tremendous dividend growth: last year 42.9% and a three year average of 29.5%.
Safety is another step in the process before I buy. Anthem has a credit rating of A, which is good enough in my book. I love the risk assesment tool of Nasdaq. I always include some other names to have a better perspective on where the stock that I am researching stands. I have added some other well-known holdings in my portfolio here: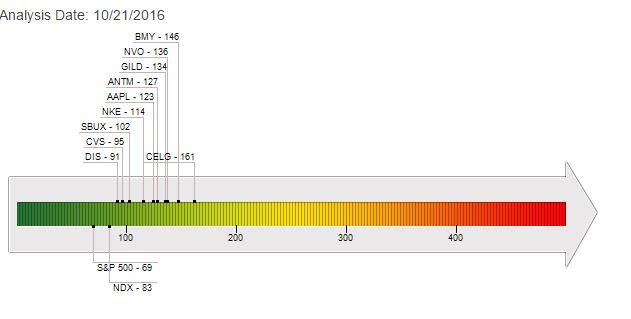 As you can see, Anthem is somewhere in the middle of the pack, with a score of 127, which means that it is more than safe enough, since I like stocks to be under 200.
Dilution is a negative for a shareholder, so let's look at the number of shares.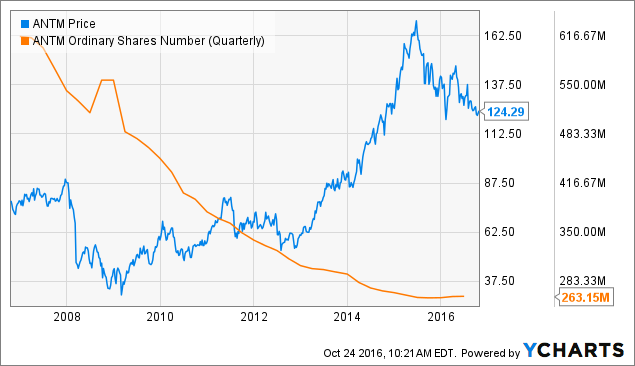 As you can see, Anthem has decreased its number of shares by more than 55% in the last decade.
So there are enough elements to consider ANTM for a place in my portfolio, but of course valuation matters to buy a stock.
Valuation
Let's immediately look at the FAST graph to have a first idea of earnings and valuation.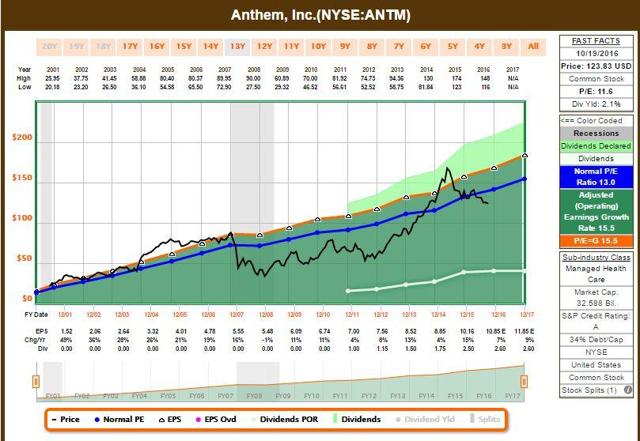 The stock seems about 15% undervalued when you compare it to its normal P/E ratio, and even 35% undervalued if you look at the orange line, which represents a P/E of 15.5. In that case the P/E would be the same as the growth.
Simplywall.st gives a valuation based on future cash flow. This is it:

According to this calculation, Anthem would be undervalued by exactly 100%, but I think this is disregarding the psychology of Wall Street. More on that in part 2 of this write-up on Anthem.
I have also applied a DCF valuation, with EPS of $10.85 (which is the estimate for this year), 5 years of 10.8% growth and 10 years of terminal growth of 5%, which is very conservative. I also took an ambitious 12% discount rate. The fair value I get with this conservative DCF is $126.1, just 2% away from the closing price of $123.5. So, even with this very conservative DCF, Anthem seems fairly valued.
The foreseeable future of Anthem
Before I would consider to buy ANTM shares, I have to take a deeper look into the future of Anthem. I will use a FAST Graph again, projecting the analysts' estimates five years into the future: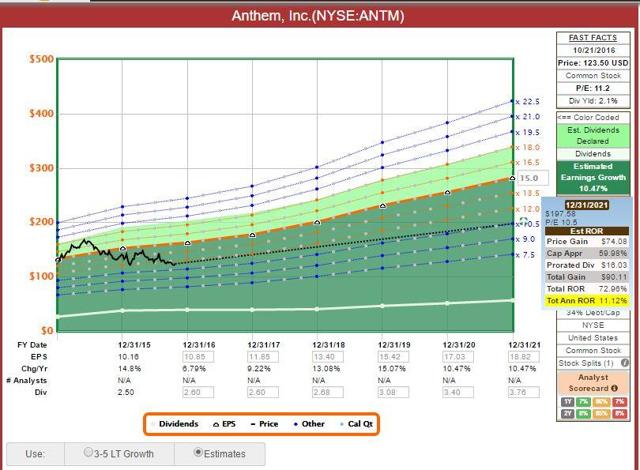 You can see that even with a P/E of 10.5, which is about the average of the last decade, Anthem still has a CAGR of more than 11%. Not bad!
Just suppose it would go back to its all time average P/E ratio in five years time, which is not such a stretch, I think, because that is only just a P/E of 13.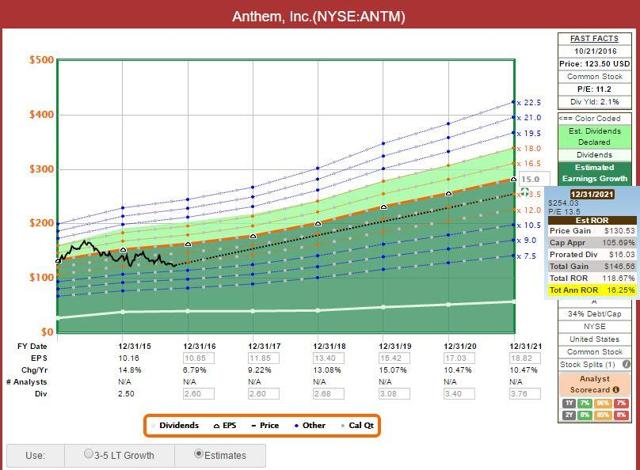 In that case you would see a CAGR of more than 16%, which means a total return (including the dividend) of almost 120% in five years time. That means that if you invest $10.000 now, you can expect almost $22.000 in 2021. Not too shabby, I would say.
Everything looks great, doesn't it?
But we haven't talked about the elephant in the room yet: the acquisition of Cigna (NYSE:CI), which was announced on July 24, 2015, but still has not turned into reality because of the investigation of the DoJ, which says that, together with the proposed acquisition of Humana (NYSE:HUM) by Aetna (NYSE:AET), competition would fall away if there were three major players in the field after the mergers: United Health (NYSE:UNH), Anthem-Cigna and Aetna-Humana.
As a bull that I am in this part 1, I say that if the deal can go on, there is a huge opportunity for Anthem-Cigna to take advantage of its size. If the deal doesn't go through, Anthem would still be undervalued on its own, as I have explained before. So you get a win-win.
Conclusion
We have seen that Anthem also plays its part in the 'general health stock funk'. But it has a growing revenue, it creates value for its shareholders, it is a safe company and it is fairly valued or even undervalued, which is not bad in this overheated market. Anthem is a dividend challenger which has its highest dividend yield ever at this very moment, with a lot of gunpowder left, because it only has a pay out ratio of 29%. The Cigna deal could only have advantages, if it goes through or not.
But still: you will see under this article that I don't have shares and I am not intending to buy them soon. Why that is, I will explain in Anthem part 2: why you shouldn't buy this great stock.
If you have enjoyed this article, feel free to push the follow button next to my name.
Keep growing!
Disclosure: I/we have no positions in any stocks mentioned, and no plans to initiate any positions within the next 72 hours.
I wrote this article myself, and it expresses my own opinions. I am not receiving compensation for it (other than from Seeking Alpha). I have no business relationship with any company whose stock is mentioned in this article.