T-Mobile (NASDAQ:TMUS) again led the wireless industry with the crucial postpaid phone additions during Q3. The company again showed some catch on the bottom line to go along with the customer growth.
The stock is up over 8% to new highs as the market welcomes the quarterly numbers. The question, of course, is whether anybody should chase the rally above $50 or even hold the stock up here.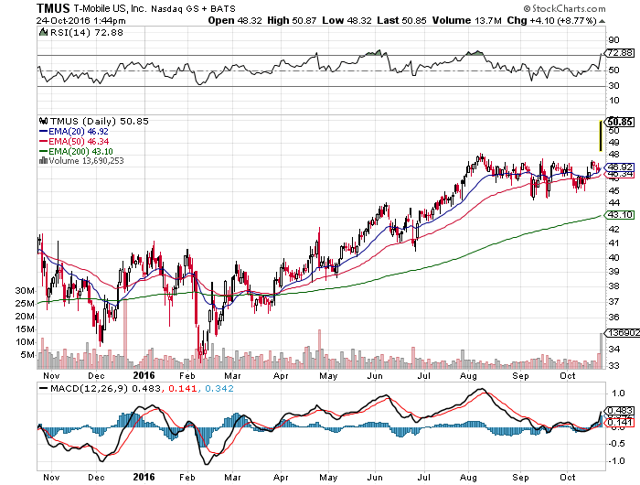 The big catch with the customer adds and service revenue growth is that the bottom line remains rather meager. When excluding one-time spectrum gains, T-Mobile only generated net income of $244. The number was only slightly up sequentially from the $225 million earned in Q2.
The concern is that the third-largest wireless carrier is only earning around $250 million in profit per quarter. Industry giants like AT&T (NYSE:T) and Verizon Communications (NYSE:VZ) earn billions per quarter. These wireless giants could easily push T-Mobile back toward breakeven by cutting prices.
The good news is that AT&T and Verizon are distracted with large content deals. CEO John Legere made the following statement to Bloomberg regarding the AT&T deal to purchase Time Warner (NYSE:TWX):
Boom for short-term future of T-Mobile's growth.
The question is whether one wants to pay over $40 billion for T-Mobile on the theory that the competition will stay distracted. At some point, the strong competitors will look at this chart and figure out a plan to cut off the company's growth.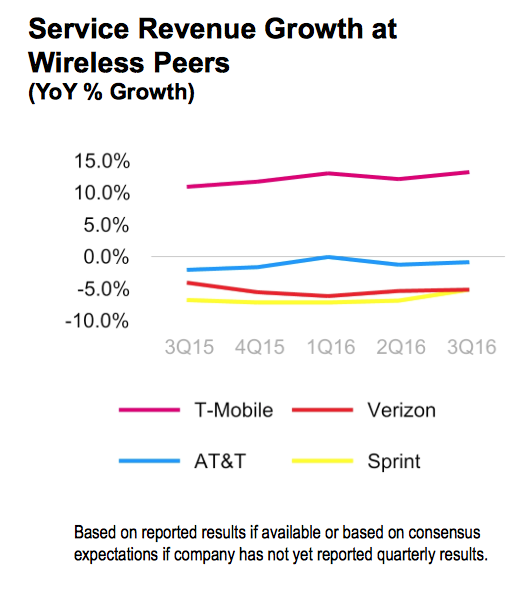 Source: T-Mobile Q316 Factbook
The key investor takeaway is that the stock trades at 50x EPS estimates for the year. T-Mobile remains a difficult investment as investors chase the momentum in the stock as wireless gains on the lack of action by the giants in the sector.
Until T-Mobile figures out how to gain customers from AT&T and Verizon in a more profitable manner, the investment risk remains high and dependent on the lack of a pricing war that is likely inevitable if T-Mobile continues gaining momentum.
Disclosure: I am/we are long TWX.
I wrote this article myself, and it expresses my own opinions. I am not receiving compensation for it (other than from Seeking Alpha). I have no business relationship with any company whose stock is mentioned in this article.
Additional disclosure: The information contained herein is for informational purposes only. Nothing in this article should be taken as a solicitation to purchase or sell securities. Before buying or selling any stock you should do your own research and reach your own conclusion or consult a financial advisor. Investing includes risks, including loss of principal.