PayPal (NASDAQ:PYPL) debuted its IPO last year at $37 a share, but quickly lost its footing and fell under the $30 level. For those that traded during the Facebook (NASDAQ:FB) IPO, this was beginning to be somewhat reminiscent. Fortunately for PayPal investors, the stock is now at all-time highs as of Friday and is in the midst of a strong breakout. I typically do not trade IPOs or stocks that have been public for less than two years, but PayPal will be one of my exceptions. The stock has been trading in a 30% range for the past 15 months, and the breakout from these highs should be embraced, not faded. I went long PYPL at $42.35 on Friday, and believe the stock is poised for much higher prices.
I am often criticized for entering stocks at new-all time highs, but this is the way that I trade. While value investors prefer to buy stocks that are cheap and "on sale", I prefer to do the exact opposite. Most value investors who are buying stocks that are "cheap" are trading the discount they are getting on the stock for a mountain of opportunity cost. While there's no question they are getting the stock at a discount, the momentum is in most cases, not in the value investors favor. This means that while they may be buying a stock that is 30% from its highs, the current trend of the stock is still down. Value investors may have to wait three to six months for the trend to change and be proven right, which I believe is a massive opportunity cost. Many value investors in Apple (NASDAQ:AAPL) were buying the stock at $450-500 (pre-split) in 2012, as the stock was off 25% from its highs. While these purchases turned out to be very good investments long term, they came at a cost. For those who paid $500 for Apple, they had to wait until Christmas of 2013 to be up on their position. By the time value investors at $500 in Apple would see a 20% gain on their shares, it was April of 2014. This means that those buying Apple's shares in December of 2012 at a discount had to wait over 16 months to see a significant gain on their shares.
There is nothing wrong with this, and I applaud value investors who bought Apple and made 20% gains on their investment and much higher since. Having said that, over the same time period, the S&P 500 (NYSEARCA:SPY) alone went up 36% from 1,420 to 1,860. This means that while value investors did make 20% on their Apple investment over 16 months, they would have made nearly double this return simply buying the market.
Why does this matter? One could have simply bought the S&P 500 in December of 2012 and stayed invested there until Apple made a new one-year high and gave a momentum buy signal. This signal came in May of 2014 as the stock touched $82.00 a share. Apple then went on to climb to $119 a share over the next six months. While both strategies made money, value investing significantly underperformed, while momentum investing maximized returns.
To simplify this, I will show a quick example of two traders who started with $10,000 in December of 2012 to invest:
Trader A started with $10,000 and sees Apple 30% off its highs and buys 138 shares at $72.00 per share. At the end of 2014, his shares are worth $114 per share and his portfolio is up 58%, valuing it at $15,800.
Trader B starts with $10,000 and rather than buying Apple 30% from its highs, buys the S&P 500 as it makes new highs in January of 2013. He rides the S&P 500 until May of 2014, before cashing in his S&P 500 trade to buy Apple which has made new one-year highs. This was done as Apple provides better beta for the investor, and the stock now finally has momentum behind it. He makes 30% on his S&P 500 trade, and uses his $13,000 to buy Apple at $82.00 per share. The Apple investment quickly moves from $82.00 to $119.00, before ending 2014 at $114.00 per share. Trader B's S&P 500 trade makes 30%, and he uses this amount to compound into his next trade on Apple which makes 39%. Trader B's total return is 80.70%, and his account is valued at $18,700.
I have no problem with value investors and believe they have incredible intestinal fortitude to stick with positions through drawdowns. The reason that I prefer momentum investing is that I believe it maximizes returns as winners are compounded, and there is little time wasted waiting for trends to change on investments. This is why I bought PayPal Friday at a new-all time high vs. buying Chipotle Mexican Grill (NYSE:CMG) or Gilead Sciences (NASDAQ:GILD), which sit at two-year lows.
In addition to a trend following strategy, I also use fundamental analysis to supplement my trade ideas. Unfortunately in the case of PayPal, there is limited data available for my fundamental strategy. My fundamental strategy uses the "CAN" from William O'Neil's CANSLIM and attempts to find stocks with growing earnings that are making new highs.
The CAN portion of CANSLIM stands for the following:
C - Current Earnings: O'Neil pointed out the importance of choosing stocks whose earnings per share (EPS) in their most recent quarter had grown from the previous year.
A - Annual Earnings: O'Neil also believed annual earnings growth to be very important. Companies being selected for investments according to O'Neil should have steady annual earnings growth over the past five years. As William stated, "Who wants to own part of an establishment showing no growth?". Due to this, William recommended buying stocks with annual earnings growth of at least 25%.
N - New: The N in O'Neil's CANSLIM stock selection approach stood for new, which meant the company recently underwent a change of some type. Whether it be a new product, entering a new market, or a new high in price. In my application of this method, I place the most emphasis on a new high in price as this confirms my primary trading strategy.
In terms of PayPal, there is no such data available, which makes this investment slightly more speculative than the majority of my positions. Having said that, we do have one quarter of current earnings data to work with. As we can see in the table below, PayPal saw earnings growth of 8% from its Q3 report in 2015 to the most recent one reported last week. From this data, we can see that the company is seeing earnings growth, which is certainly a positive. The company stated that it is expecting non-GAAP EPS of $0.40-0.42 for Q4, which would be another beat from its 2015 quarter.

Source: YCharts.com
While there is limited fundamental data to support the "C" and "A" of the CAN strategy, the "N" or new portion of the strategy has given us a green light as of Friday. PayPal broke out to a new three-month high on Friday, as well as a new all-time high. This is a very positive development for the stock as new highs typically beget more new highs. As we can see in the below chart, the stock broke out of its trading range with strong conviction to close the week. This was not a marginal breakout above past resistance at $41.69, but a massive one.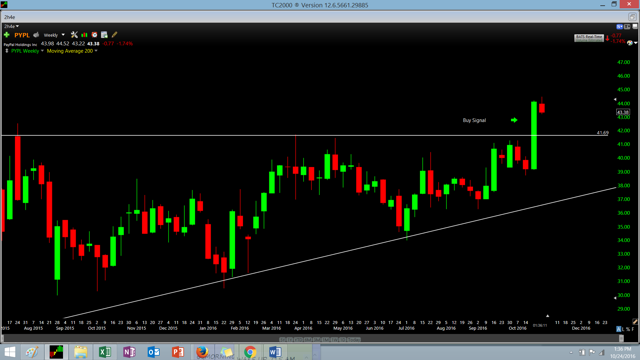 Source: TC2000.com
What if I am wrong on PayPal?
If I am wrong on PayPal and this breakout is a false breakout, I have a stop below this level to protect me. My stops are used on a closing basis, which means that I do not care about where the price is during the day. I find this makes it much easier as I do not need to worry about what stocks are doing when the market is open. If PayPal closes below the $36.22 level, I will exit the stock on the following open. My stops are placed at levels where I believe the uptrend on the stock is potentially invalidated.
The reason I chose the $36.22 level is for three reasons:
1) The stock has an uptrend line in play which is made by connecting the January lows at $31 to the June lows at $34. The current position of the uptrend line comes in at roughly $37.50 on the stock. It is normal for stocks to re-test their uptrend lines in bull markets, therefore I want my stop to be below this level. This is because I do not want a routine test of the uptrend line to shake me out of my position.
2) After gapping up in early July, PayPal found support three separate times at $36.50 at its gap fill level. This support has been in place for three months now, and I would like to see it hold to remain in my position. If the support does not hold, I believe the stock's trend would move to neutral and I would no longer have momentum at my back in this trade. My stop is at $36.22, which coincides with roughly a 1% break of our current support.
3) The stock's 200-day moving average is at $37.94 and has not begun to turn positive. I do not like to hold stocks that are beneath their 200-day moving average, and a stop of $36.22 would represent a close more than 4% below the 200-day moving average. The 200-day moving average is my line in the sand for bull and bear markets, and I want to see the 200-day moving average hold on a closing basis.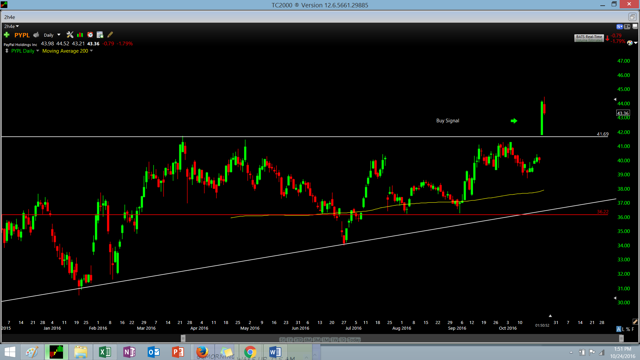 Source: TC2000.com
If all three of the above support levels are broken, my thesis for being long PayPal becomes very weak. Due to the fact that my stop has a position risk of roughly 16%, I am only using 5% of my portfolio to enter the trade. This means that if I am wrong on PayPal, my portfolio has roughly 0.8% at risk (5% portfolio sizing x 0.16 position risk). Normally, I risk 1.0-1.25% of my portfolio on all trades, but because I do not have enough fundamental data for PayPal, I consider this a more speculative position.
I have shown all of my positions from my Seeking Alpha articles below since I began writing for the site. All of these stocks were bought at new three-month highs, and most are now winners. My most recent large cap positions were UnitedHealth Group (NYSE:UNH) at $144.35, and Alphabet (NASDAQ:GOOG) (NASDAQ:GOOGL) at $778.20 last week. Thus far, UnitedHealth Group is flat while Alphabet is up nearly 5% from my entry.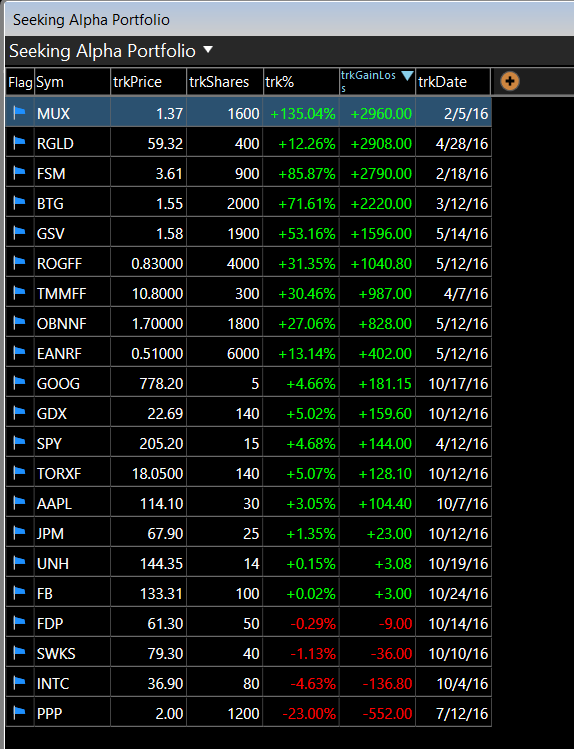 Source: TC2000.com
PayPal currently is in the process of a massive breakout as long as the stock can remain above past resistance of $41.69. The 200-day moving average is beginning to perk up and adding roughly a nickel per day at the current trajectory. This is a very positive sign for longs as the 200-day moving average typically provides support in bull markets. I believe PayPal to be a speculative long position at current levels, and worth a starter position for my portfolio. As long as the stock remains above $36.22 on a closing basis, I see no reason to doubt the thesis for being long this stock.
Disclosure: I am/we are long PYPL, GOOG, AAPL, UNH.
I wrote this article myself, and it expresses my own opinions. I am not receiving compensation for it (other than from Seeking Alpha). I have no business relationship with any company whose stock is mentioned in this article.
Additional disclosure: If you liked this article and found it useful, please feel free to follow me by clicking on my name next to my avatar at the top of this article. I also invite you to check my performance at TipRanks.com where I am ranked in the Top 100 Contributors for performance with an average return this year of 65% on new long positions.