Will the AT&T-Time Warner Deal Go Through?
Obviously, Monday's blockbuster announcement comes from AT&T (NYSE:T) and Time Warner (NYSE:TWX), after the former announced it will buy the latter for $85.4 billion.
The deal is for a $107.50 per share of Time Warner, half in cash, half in stock. "The deal is expected to be accretive in year one to T's adjusted EPS and free cash flow, and improve the dividend coverage. The company sees $1B in annual run rate cost synergies within three years of closing."
For the dividend's part, the company raised its payout by 2.1%, and this came along with the announcement that AT&T reported in-line EPS results and missed on revenues.
Whew, that's a lot of info to digest.
On Friday, we wrote about the potential for this deal and raised two points: one being whether regulators would approve the deal, and the other asking how the heck AT&T would pay for this.
Well, we got our answer on both points. By going half-cash, half-stock, the company is looking to reduce its total bill. At least, in pure dollar form. What other choice did it have, though? There's no way it could take $200 billion in debt without suffering some kind of repercussion for it - although $170 billion still raises some flags.
Of course, both political parties have chimed in on the matter, but it remains to be seen if anything will be done about it.
So What Does That Leave Us With?
On the plus side, AT&T is a magnificently great company. It has content, distribution, cell service, you name it. That's the good part. The bad part, of course, is the debt. Moody's has already put the company on review, and there's reason to be concerned.
And what about the stock? It's not surprising to see shares sink by another 1.7% on Monday. Shares are now down more than 6% over the past three days and more than 10% over the past month.
While that may not seem like much, it certainly is for a stock that's not known for volatility. It's now down about 16% from its 52-week highs and yields 5.2%.
My thoughts are that when a rate increase from the Federal Reserve appears more and more likely, yield-centric stocks like AT&T will come under pressure. So if the rate hike talk suggests a December rate hike, I would expect AT&T to move lower into that announcement and possibly bottom within a few days.
If it doesn't move lower into the event, I expect it to move lower following the announcement. Between higher interest rates and concerns about the debt, shares could be further pressured.
That's not to say in a few years investors will be disappointed for having bought today. A yield near 5.5-5.6%, though, has typically represented a good buying opportunity. Hopefully, this time is similar.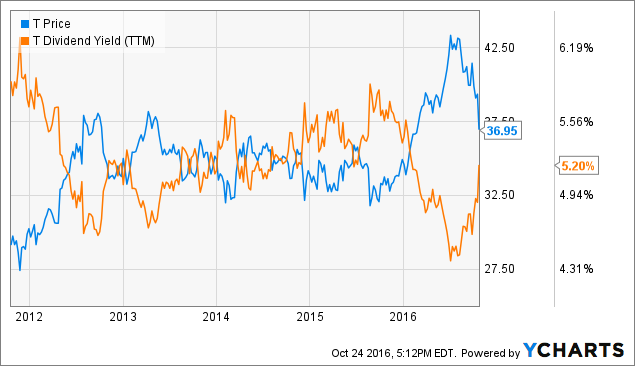 While One Titan Struggles, a Smaller Player Gains Ground
Being somewhat overlooked today are AT&T's earnings. Not much of a surprise, given the company's some $85 billion deal. However, T-Mobile (NASDAQ:TMUS) also reported earnings.
The company beat on EPS expectations and missed on revenue expectations, although sales did grow more than 17% YoY. T-Mobile added 851,000 net postpaid and 684,000 prepaid subscribers, leading the Big Four this quarter.
It now sports a $38 billion market cap, and the stock is at new 52-week highs. Still, some people have big visions for the company, and perhaps no one has higher expectations than CEO John Legere.
Check out the video above, but here's a notable line: "They're going to be very distracted [AT&T]... Within 5 years [T-Mobile] will be a bigger wireless company than they are."
Can T-Mobile really take over AT&T? Man, it seems sort of far fetched, considering that earlier this summer, T-Mobile's 63.3 million total subs lagged both AT&T's 128.6 million and Verizon's (NYSE:VZ) 140.1 million subs.
So in five years, essentially T-Mobile would need to double its subscriber base, while AT&T generates stagnant growth. That's putting it simply, because both can grow and T-Mobile can still overtake AT&T, but the point is the same: it's got a long way to go.
I don't have anything against T-Mobile or Legere. In fact, I've been considering switching to its service. Its growth is great, but I'm not sure the company can overthrow AT&T in the next five years.
While We're Talkin' 'Bout Mergers
We still haven't heard much in the way of NXP Semiconductors (NASDAQ:NXPI) and Qualcomm (NASDAQ:QCOM). On Friday, NXP and Qualcomm reportedly agreed on a deal at $110 per share.
Given that news, it's surprising it's not included in this mega-merger Monday. However, the ~$40 billion deal is disappointing to a number of shareholders.
Admittedly, I am not an NXP shareholder, but even I was a little surprised at such a "low deal," if we want to call it that. Just last year, the stock was over that figure, topping out around $115, and it still has a lot of catalysts.
Again, this is all based on the reported figure of $110. Obviously, investors are still hesitant, with the stock about 10% below that level. But still, I personally feel that NXPI would have gotten to $110 on its own within 12-18 months, barring a marketwide pullback.
So I'm curious to see whether management accepted an offer for that figure (although the $110 figure would be about a 30% premium to the ~$85 stock price NXP was hovering around before Qualcomm's interest was announced).
Maybe some are pleased with the deal, but I think NXP should be worth more or would have gotten there on its own.
Amazon, Amazon, Amazon (x1,000)
It once seemed that the $1,000 price target was a sort of "kiss of death" analyst move. With Amazon (NASDAQ:AMZN) primed to reported earnings later this week - sorry, I couldn't help the pun! - perhaps it is rather ominous. But at least these analysts are in good company.
Goldman Sachs is the latest to slap a four-digit price target on the e-commerce juggernaut, with its new $1,050 target, up from $920. It joins Credit Suisse, Cantor Fitzgerald, JPMorgan, RBC and Evercore ISI.
So a half-dozen analysts think Amazon is headed north of $1,000, presumably in the next 12 months. Do you?
Man, it would be a hell of a rally. The stock would need to tack on another 20% in order to get the stock price to the mark. But with the way things are going right now, it's hard to image Amazon not getting there.
This week's earnings will likely be the make or break catalyst for its run, at least over the next few months. It's hard to buy a stock pressing its 52-week highs, with a big valuation and a $400 billion market cap. But a pullback will eventually happen. Considering that the stock was below $500 in February - up a massive 72% since then! - investors can surely find a better buying opportunity, no matter how much we love Amazon.
Disclosure: I/we have no positions in any stocks mentioned, and no plans to initiate any positions within the next 72 hours.
I wrote this article myself, and it expresses my own opinions. I am not receiving compensation for it (other than from Seeking Alpha). I have no business relationship with any company whose stock is mentioned in this article.