Data published in the February 2013 article Seasonal Patterns In Stock Markets: 319 Years Of Evidence show that November and December have been the 2 best months of the year for equity markets since stock data exist (more than 3 centuries). March and April have been very good at least since 1929.
The next chart from The Halloween Indicator: Everywhere and all the time (Ben Jacobsen and Cherry Y. Zhang, Massey University 2012) shows that seasonal patterns are not specific to the US stock market.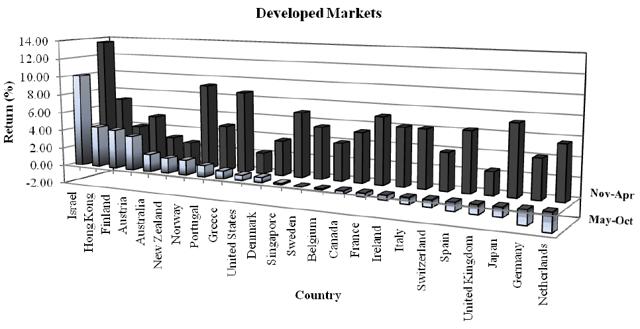 Stock market returns by country and 6-month period, by Ben Jacobsen and Cherry Y. Zhang
All countries are not equal for seasonal patterns. Jacobsen and Zhang claim that 26 national stock markets out of 108 have an inverted pattern with a better return from May to October. Among them are Finland, Cyprus, Chile, Peru, but no major country in terms of equity market.
I suggested in my book Quantitative Investing that some of the best country ETFs to play seasonal patterns were the iShares MSCI Germany ETF (NYSEARCA:EWG), the iShares MSCI Brazil ETF (NYSEARCA:EWZ) and the iShares MSCI Singapore ETF (NYSEARCA:EWS). It is interesting to combine them because of their geographical dispersion. How have they done since then? The book was published in August 2013, but was mostly written in January and February. Here are out-of-sample results starting in March 2013.
| | | | |
| --- | --- | --- | --- |
| Return since 3/1/2013... | ... all the time | ... 6 months/year (Nov to Apr) | ... 4 months/year (Nov-Dec-Mar-Apr) |
| EWG | 14.86% | 20.14% | 18.69% |
| EWS | -14.23% | 12.77% | 22.44% |
| EWZ | -23.47% | 7.00% | 16.23% |
These 3 national markets have underperformed the US stock indices, but their seasonal patterns have remained strong. For each of them, the 4-month and 6-month periods have done better than holding the ETF all the time. For Singapore and Brazil, investing half or one-third of the year following these patterns would have transformed a two-digit loss into a profit.
On a longer time frame, here is a simulation of a portfolio composed of EWG, EWS and EWZ in equal weights, held 6 months a year starting in November and in cash from May to October, since January 2001: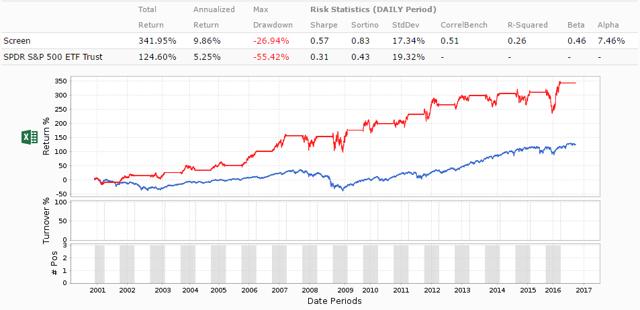 It beats by a wide margin the same seasonal strategy applied to the SPDR S&P 500 Trust ETF (NYSEARCA:SPY), as shown below: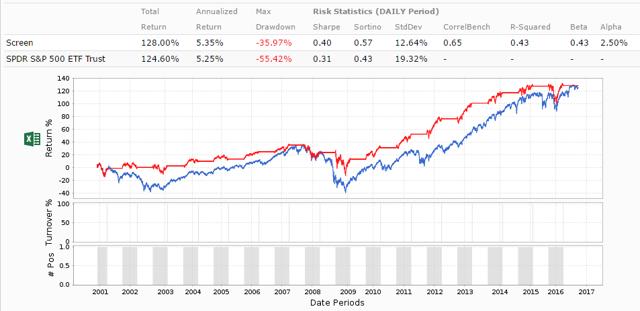 The chart above also points out that 100% of SPY's return since 2001 was generated between November and April. Moreover, this 6-month recurring period had significantly smoother drawdowns.
To conclude, academic research and recent history suggest that the national stock indices of Germany, Singapore and Brazil are good seasonal plays. However, investors must be cautious: seasonal patterns do not work every single year, and local conditions may break a country's seasonal cycle. Past performance is not a guarantee of future returns.
Data and charts by portfolio123
Disclosure: I am/we are long SPY.
I wrote this article myself, and it expresses my own opinions. I am not receiving compensation for it (other than from Seeking Alpha). I have no business relationship with any company whose stock is mentioned in this article.
Additional disclosure: The CoreETF portfolio of one of my subscription services is long EWG and EWZ.