The other day I was going through the timeless tome called Walker's Manual of Unlisted Stocks. The book is an overview of all of the pink sheet companies listed back in 1996 - with a brief introduction, the financials, address, per share data, etc. Since the book was written more than 20 years ago, all of the financial data is irrelevant and many of these companies do not exist anymore. My plan is to go through the book from front to back and find the companies that are still around today.
As I have been going through the book one-by-one there are a few things that have stood out to me. First, many of the companies in the book are not in existence anymore. Secondly, the companies that are in existence are completely dark and do not provide information to non-shareholders. Finally, a lot of the companies that are still in existence are banks.
I think it's interesting that a lot of these banks are still around. Although it does not surprise me given that the majority of the public banks in existence today have been around for over one-hundred years or so. With that being said, I think it will be beneficial to do a quick overview of some of these banks that are still listed in the Walker's Manual.
The banks looked at in this article are: American Bancorp (OTCPK:ABNC), American River Bankshares (NASDAQ:AMRB), and Ames National Corporation (NASDAQ:ATLO). The analysis on each of these banks will not be exhaustive and is more of a basic overview for further diligence. I have only made it through the 'F's' in the book and I am sure there will be more banks to look at in the future.
American Bancorp
American Bancorp is an unfollowed bank and thinly traded. There haven't been any write-ups on the company via Seeking Alpha or anywhere else on the internet as of my knowledge. The company is trading for $120 per share and is the holding company for American Bank & Trust.
The bank is located in St. Landry and Lafayette, Louisiana. There are eight branches - aggregately - consisting of $153,995,000 in deposits. There isn't much data on the bank given the dark status, however, due to FDIC regulations, it's not hard to obtain recent financials.
At CompleteBankData, we pull FDIC data for each bank. Thus, we can view American Bancorp's financials with relative ease. Here is the bank's balance sheet and income statement data.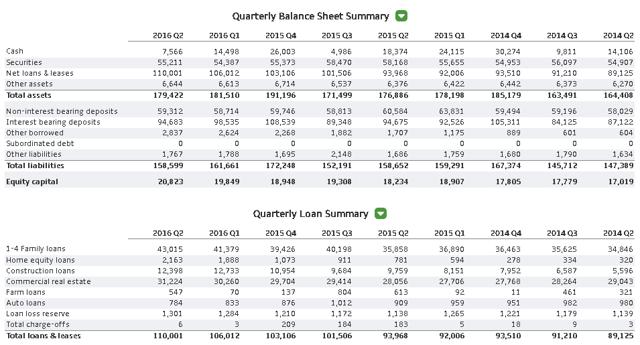 There isn't much that stands out. The bank hasn't really grown their top line at an attractive rate, and earnings have pretty much been flat. Furthermore, total assets have shrunk a decent amount from 4Q15. There has been an ok jump in total loans - though the liquidity profile of the company isn't screaming to buy the bank from a 23% jump in two years.
On a valuation standpoint, I have no idea how many shares are outstanding, which leaves us to only question what the P/E or P/TBV is. However, the company does have a respectable efficiency ratio of 64% and the ROA and ROE do hold up well compared to national peers; 1.31% and 12.13%, respectively. Total risk based capital is on the higher end of 17% and noncurrent loans to loans is at an all-time-low of 0.08%.

My best guess is the company will continue to operate and efficient operation. I haven't done much work on M&A activity in Louisiana -but a buyout may be a plausible end-game as well. I would be open to hear anyone's thoughts on this company who has done more work than me.
American River Bankshares
American River Bankshares is a more of a well-known bank than American Bancorp. There have been a few articles written about the bank on Seeking Alpha and the company has a decent amount of Seeking Alpha followers - that is for a micro-cap bank.
American River Bankshares is the holding company for American River Bank. The company is located in California, primarily in Sacramento. The bank has eleven branches, around $626 million in assets, $525 million in deposits, and shareholders' equity of $84.7 million.
The bank looks attractive on a few different metrics. First, the top line is continuing to grow at an ok rate. The top line growth and combined with multiple repurchase programs has led to a decent bottom line expansion. In fact, in the third quarter, the bank expanded its bottom line by 32%.
In regards to buy backs, the company is known to announced 5% buy backs regularly (pretty much since 2012) and repurchased 716,897 shares so far in 2016.
American River also has attractive capital ratios which make the bank more defensive in case something goes wrong…

Source: Q2
In the third quarter the company's efficiency ratio was 59.9% and the annualized ROE was 8.62%. Nonperforming loans and assets are at the low-end as well - appearing as if the underwriting process is strong and conservative. Lastly, the company only has one OREO property - compared to the four they had in September of 2015.
I think the company is in an interesting position right now. The company is trading around book and the bottom line continues to improve from an increase in the top line and a decrease in the shares outstanding. This company definitely deserves more due diligence.
Ames National Corporation
Ames National Corporation is an Iowa based bank that was established in 1975. The bank owns 100% of the stock of five banking subsidiaries - two national banks and three state-chartered banks. All of the operations are in Iowa - mainly in the central and north central areas of Boone, Hancock, Marshall and Story.
The bank is highly efficient and very good at what they do. In the past five years the top and bottom line have grown at a 14.7% and 7.85% rates, respectively. Top and bottom line increases have translated into shareholder value, not only from capital gains but dividends paid - dividends per share have increased from $0.52/share to $0.80/share in the past five years.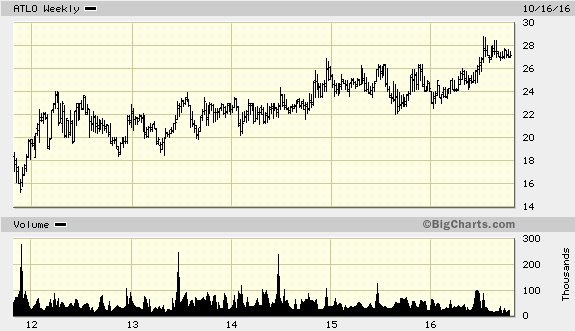 The efficiency ratio is in the low 50 percent range and ROE has consistently pushed >9.45%. ROA is also over 1.10% and stockholders' equity continues to grow almost every year.
Given the high quality nature of the bank, the valuation is a little pricey for me. The bank has a P/E around 16x and the P/TBV is over 1.50x. However, you are paying for a quality bank. The bank was profitable during the last financial crises and did not utilize TARP funding. If I were to guess, the bank will continue to run a tight ship and acquire other small banks when the opportunity presents.
So yes, you are not buying a deep value bank with Ames. But, you do get a high quality bank that will likely compound capital as time passes.
Conclusion
The Walker's Manual of Unlisted Stocks is a great resource, even though it's not as relevant and timely as it was twenty years ago. Despite the dated age, there is a lot of good information in the book and a ton of old companies listed. I plan on continuing my search through the manual and will continue to post more updates on banks I find within the tome.
Disclosure: I/we have no positions in any stocks mentioned, and no plans to initiate any positions within the next 72 hours. I wrote this article myself, and it expresses my own opinions. I am not receiving compensation for it (other than from Seeking Alpha). I have no business relationship with any company whose stock is mentioned in this article.
Editor's Note: This article covers one or more microcap stocks. Please be aware of the risks associated with these stocks.