Once again, Priceline.com (PCLN) smashed analyst's estimates. Most don't realize that this is one of the great stocks of the decade, and it is still cheap.
Let's begin with the performance of the stock over the years:
Data from Best Stocks Now App
Priceline has been one of the great stocks of the last decade. The stock has delivered average annual total returns of 36.5% per year over the last ten years. What a testament to the fact of "build a better mousetrap, and they will come." It is not that Priceline does not have a lot of competition at what they do. This tells me that management of the company knows what the heck they are doing.
Priceline has delivered a whopping 62.5% average annual return over the last 5 years, and an even better 91% average over the last three years!
I have owned Priceline in the accounts that I manage for quite some time. I also included it as one of the 53 best stocks in my book last year. I have been patient with the shares as the stock has been in a base for the last ten months. Priceline is obviously emerging out of that base with a vengeance today!
One year chart of Priceline
When I rank Priceline against the other 2,750 stocks that I follow, it gets an A+ performance grade. Let's just stop and buy the stock here, right? Wrong! Event though it has everything a momentum investor could want, like performance, relative strength, and a chart that is breaking out, I cannot buy a stock without also looking at value.
I was managing money in 2000-2002 when we found out that value does really matter. Therefore, let's take a look at the current valuation of Priceline.com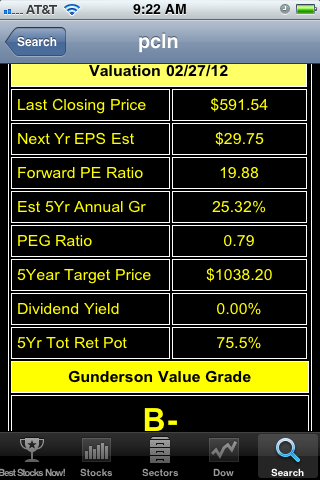 Data from Best Stocks Now App
Before last night's earnings reports, the analysts had EPS estimates for Priceline at $29.75 for next year. This gave the stock a forward PE ratio of 19.88. This compares with a consensus five-year growth estimate of 25.32% per year over the next five years. This gives Priceline a very favorable PEG ratio of 0.79.
When I extrapolate out those earnings over the next five years, I get an estimate of $79.86 per share, five years from now. Slap a conservative mulitple of 13 on those earnings at that point and you get a $1,038 target price. The stock still has significant upside potential, and by no means are the shares expensive here.
In addition to this, these calculations are before we figure in the new numbers that will come from the analysts in the days ahead. The target price will go much higher. In my last article on Priceline back on November 7th of last year, I had a strong buy rating and a price target of $949. Priceliine was trading at $513 then, it is trading at $634 today.
I hope you listened to me back then, it is up to you if you want to listen to me this time. Priceline is a large-cap growth stock that I believe is suitable for aggressive, moderate, and even conservative growth investors.
With great performance, a reasonable valuation, significant upside potential, and a huge earnings beat last night, I still have a strong buy rating on the shares.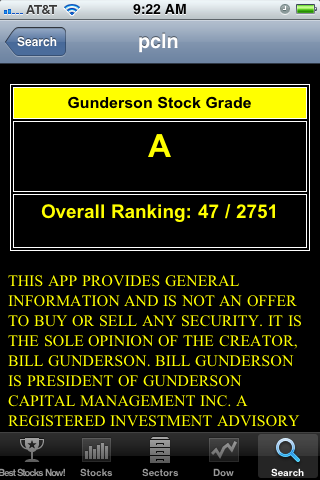 Data from Best Stocks Now App
Disclosure: I am long PCLN.