In tactical asset allocation strategies, one must determine when to move from risk-on equity assets to risk-off bond assets. Under most market conditions, there is a strong negative correlation between equities and Treasuries, so tactical strategies have done well by moving money between equity assets and Treasury assets. Most tactical strategies utilize momentum principles such as dual momentum, relative strength, moving averages, volatility targeting, etc. to determine when to switch between the two.
There are occasional times in history when both equities and Treasuries become bearish at the same time. Such times are rare, but they do happen. In such times, there can be devastating drawdowns in tactical strategies. The only safe haven in such times is cash.
The current market conditions are troubling for retired investors because overnight rates can go nowhere but up from their near zero levels. It is possible that if/when the Fed increases overnight rates that prices of intermediate-term and long-term Treasuries will go down quite dramatically. And because the equity market is really not healthy, the equity market could also turn bearish at the same time.
Of course, all of this is conjecture, and no one knows what will happen in the future. Perhaps near zero rates are here for a long time, or until the equity market finally improves. But we need to be prepared to move to cash positions if both Treasury and equity markets are bearish at the same time. And such a scenario may occur soon after the presidential election.
My idea is to have a tactical defensive bond strategy (DBS) in place to determine which assets we should invest in if conditions call for a risk-off position from equities. Some of my tactical strategies call for long-term Treasuries as the risk-off asset, and I do not feel comfortable putting money into long-term Treasuries at the present time.
In the development of DBS, I have selected five classes of bond mutual fund assets as the universe. Some may argue about what classes to use, but I selected classes that have a long history so that 30-year backtesting could be performed. Also, all selected classes exhibit very low volatility/low risk. Here are the five classes of bonds I have selected and their corresponding mutual funds for backtesting:
1. High Yield Corporate Bonds; Vanguard High Yield Corporate Fund (MUTF:VWEHX);
2. High Yield Municipal Bonds; Vanguard Tax-Exempt Bond Fund (MUTF:VWAHX);
3. GNMA Bonds; Vanguard GNMA Fund (MUTF:VFIIX);
4. Intermediate-Term Treasury Bonds; Vanguard Intermediate Treasury Fund (MUTF:VFITX); and
5. Short-Term Treasury Bonds; Vanguard Short-Term Treasury Fund (MUTF:VFISX).
The correlations between these assets are shown in the table below. They range from 0.25 to 0.87. Notice that the daily standard deviations are very low, ranging between 0.14% and 0.32%. For reference, the Vanguard S&P 500 Index Fund (MUTF:VFINX) has a daily standard deviation of 1.14%. Please note that the Vanguard Long-Term Treasury Fund (MUTF:VUSTX) is not included in the basket of funds; it is too volatile for a defensive bond strategy.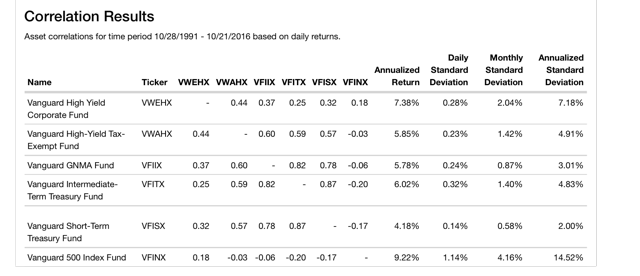 DBS uses the dual momentum approach and a one-month look-back period. Short-duration look-back periods are my favorite, especially for low-volatility strategies that can avoid excessive whipsaw while utilizing short-duration look-back periods. One-month look-back periods enable the strategy to quickly respond to market conditions. The three top-ranked funds based on one-month returns are selected if they pass the absolute momentum test. If any of the three top-ranked funds do not pass the absolute momentum filter, then that money goes into the risk-off asset. The risk-off asset is cash (actually money market). The strategy uses monthly updates.
I used the Portfolio Visualizer (PV) software to backtest the strategy to 1987. In order to backtest the strategy to 1987, I had to substitute Fidelity Government Income Fund (MUTF:FGOVX) for VFITX and Fidelity Limited Term Government Fund (MUTF:FFXSX) for VFISX. Otherwise, I could only backtest to 1992. Little difference is seen in the backtest to 1992 using FGOVX and FFXSX versus using VFITX and VFISX.
The overall backtest results to 1987 are shown below. In addition to results of DBS (labeled as timing model in the results), also shown are the results of an equally-weighted portfolio and Vanguard Total Bond Fund (MUTF:VBMFX). DBS has a Compounded Annual Growth Rate (CAGR) of 6.6%, an annualized Standard Deviation (SD) of 3.0%, a Maximum DrawDown (MaxDD) of -2.9%, a Worst Year of +0.1%, and a monthly win rate of 77.3%. The return-to-risk ratio MAR (CAGR/MaxDD) is 2.3.

The portfolio growth is shown below. It can be seen that the strategy's growth closely resembles the growth of the equal-weight portfolio and VBMFX. However, the MaxDD of DBS is half of the MaxDD of the equal weight portfolio and VBMFX. Also, in 2013, when rates increased in anticipation of the Fed ending QE, DBS had a +0.1% return while VBMFX (-2.3%) and the equal weight portfolio (-0.8%) had negative returns. For reference, VUSTX had a -13.0% return in 2013.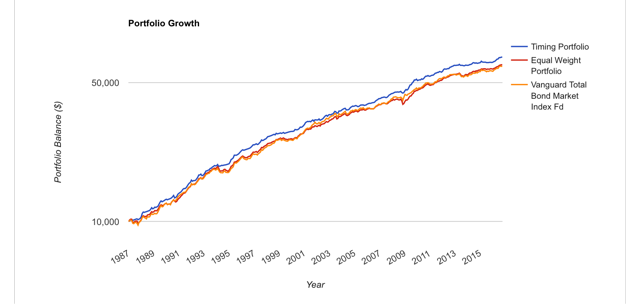 The drawdown plot is presented below. For DBS, there are only three drawdowns in excess of -2.0%.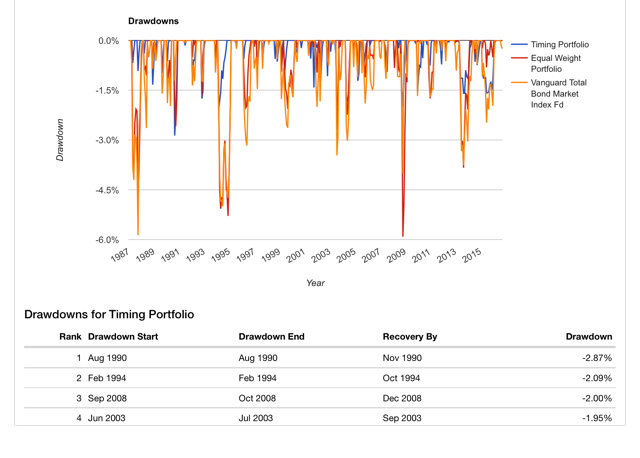 Annual returns are shown below. Please note that VBMFX has three years of negative annual return.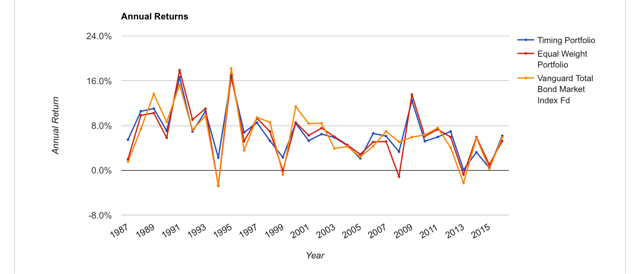 It is informative to compare DBS's yearly return in years that VUSTX produced negative annual return. In a way, this shows the effectiveness of DBS to replace VUSTX as a risk-off asset. There are seven years in which VUSTX produced negative returns: 1987, 1994, 1996, 1999, 2009, 2013 and 2015. In most of those years, the equity market was bullish, so effective tactical equity-bond strategies would be holding equities and not Treasuries. However, in 1994, both Treasuries and equities were bearish, and so a tactical strategy needed to hold something other than Treasuries as a risk-off asset.
In each of the years that VUSTX had a negative annual return, DBS produced positive returns. Admittedly, some of the positive returns were small, but they were still positive. Shown below are the annual returns of DBS versus VUSTX. I went from 1991 to present in order to get a bar chart. 1987 also shows a positive return for the defensive bond strategy.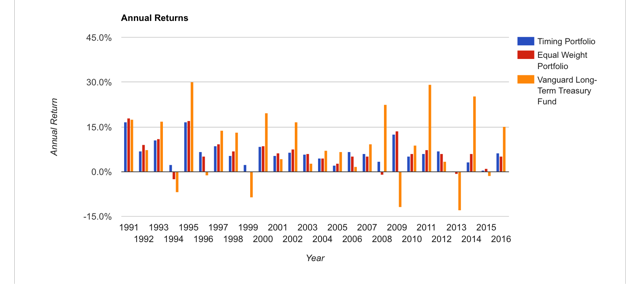 Next, I tested the DBS as the risk-off asset in a simple momentum model that currently utilizes VUSTX as the risk-off asset. This momentum model consists of holding two assets: 1) Vanguard Convertible Securities Fund (MUTF:VCVSX) and 2) VFIIX in a 50%/50% allocation. If either fund fails a two-month absolute momentum filter, then that money goes to the risk-off asset. This strategy that I call Balanced Tactical Strategy (BTS) was backtested to 1987, and gives good performance at low risk. Here is the PV link for BTS.
The PV results using VUSTX as the risk-off asset are shown below:

The CAGR is 11.3%, the SD is 6.3%, the MaxDD = -7.5%, the Worst Year is -1.6%, and the MAR (CAGR/MaxDD) is 1.5. For reference, the Vanguard Balanced Wellesley Income Fund (MUTF:VWINX) has CAGR = 8.9%, SD = 6.4%, MaxDD = -18.9%, Worst Year = -9.8%, and MAR = 0.5.
Presented below are other results for BTS with VUSTX as risk-off: Portfolio Growth, Annual Returns, and Drawdowns.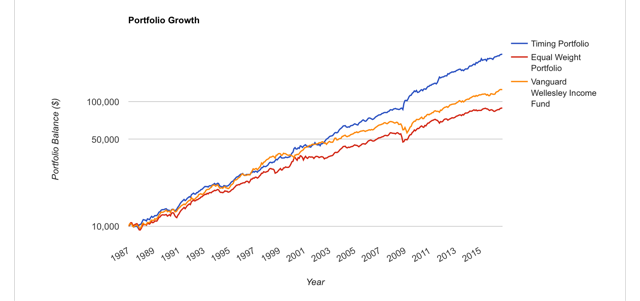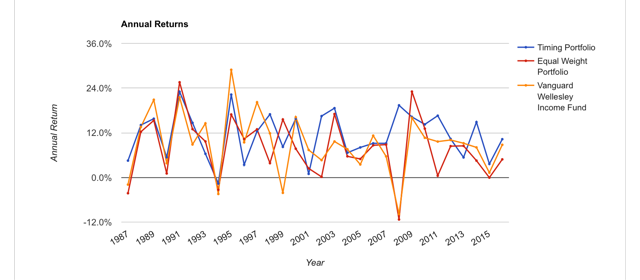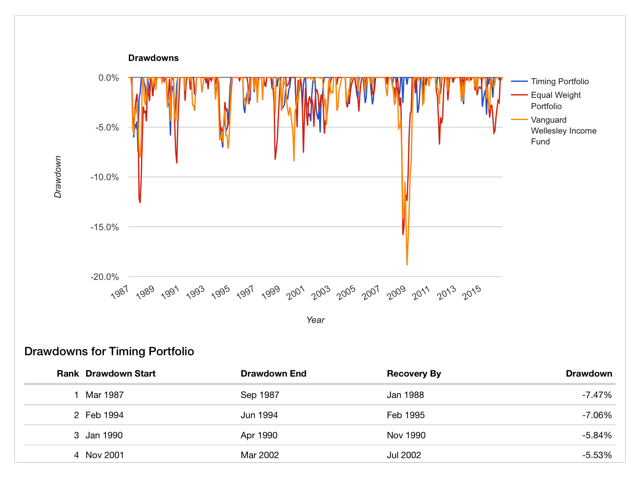 Next, I inserted DBS in place of VUSTX as the risk-off asset, and reran the backtest of BTS to 1987. Shown below are the backtest results (1987 to present). With DBS used as risk-off, CAGR is reduced to 8.7%, SD is reduced to 4.4%, MaxDD is dramatically reduced to -3.1%, Worst Year is +0.2%, and monthly win rate is 75.6%. The MAR is substantially increased to 2.8.
This is to be expected in switching the risk-off asset from VUSTX to DBS. The objective here is to have a safeguard in case both equities and bonds become bearish at the same time. We pay for that safety by losing 2.5% of CAGR.

Other PV results of the BTS using DBS as risk-off are shown below: Portfolio Growth, Annual Returns, and Drawdowns.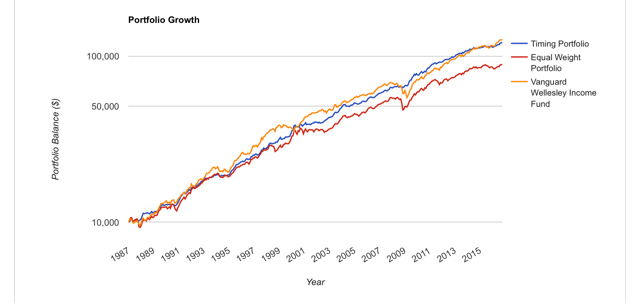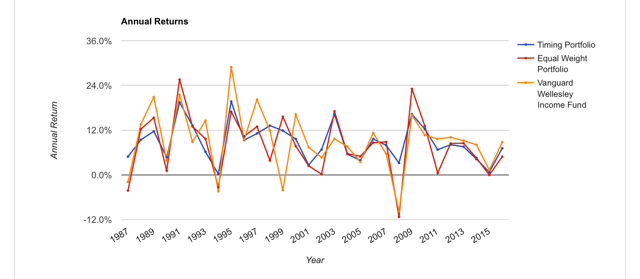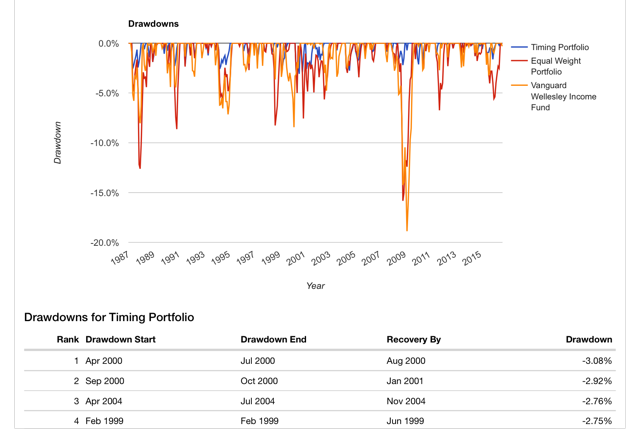 Another option for risk-off for BTS is VBMFX. It is not a bad option, but my concern is that VBMFX has had three years of negative yearly return since 1987 as shown previously. And in 2013, VBMFX had a drawdown of -3.8% from May to August of 2013 while DBS had a drawdown of -1.7% in 2013. For comparison, the overall results of using VBMFX as the risk-off option in BTS are shown below:

In can be seen that using VBMFX as the risk-off option produces a slightly higher CAGR than using DBS (9.2% versus 8.7%). However, the MaxDD using VBMFX is substantially worse than using DBS (-4.8% versus -3.1%). So the MAR using VBMFX is 1.9 while the MAR using DBS is 2.8.
In conclusion, this article discusses a defensive bond strategy that can be used to determine the risk-off assets to hold in place of risk-off assets that might be affected if rates increase. The momentum-based, low-volatility strategy shows a very high return-to-risk ratio (MAR = CAGR/MaxDD) of 2.3, with a MaxDD of -2.9% in backtesting to 1987.
If any of the top-ranked bond assets show negative absolute momentum over the previous month, then that portfolio money goes to cash (money market). Because short-duration one-month look-back periods are used together with monthly updates, the defensive bond strategy can respond very quickly to market conditions.
Here is the PV link to the DBS (FGOVX and FFXSX version) that contains all momentum parameters and set-up.
Disclosure: I am/we are long VWEHX, VFIIX, FFXSX. I wrote this article myself, and it expresses my own opinions. I am not receiving compensation for it. I have no business relationship with any company whose stock is mentioned in this article.