At first glance CVS (NYSE:NYSE:CVS) may not appear to be a great income generator. The company is in the middle of paying out its fourth straight $0.425 quarterly dividend or $1.70 per share on an annual basis. With a share price near $87.50, that equates to a "current" yield of just 1.9% - hardly the type of thing that an income investor would get excited about.
Yet I would like to make a variety of points. For one thing, there's a good deal of potential. The company's dividend yield has never been especially high, but the rate of growth has been impressive: a 21% increase last year, a 27% boost the year prior, a 22% gain in 2013 and so on.
Now CVS has a target of paying out 35% of its earnings by 2018. Given that the current payout ratio is below this on an adjusted basis, to go along with double-digit anticipated earnings growth, it stands that the dividend could continue to grow at a rather robust pace.
Often there is an underrated factor with fast growing dividends. Sometimes the capital appreciation component can mask the impressive income results as the starting yield remains low, but the dividend just keeps jumping up year after year.
So one way to think about significantly increasing your income from CVS is to simply hold on. A lot of people are happy with marginal raises after each work anniversary. Here you have an opportunity to see double-digit increases for years, and the starting yield, while not high, is already in line with the average large-cap company.
Of course, there are some other ways to significantly increase your cash flow from CVS. You could think about selling speculation (calls) or selling insurance (puts) on the security. Both scenarios will give you upfront funds for expressing a given sentiment.
Let's start with the scenario that you already own shares of CVS. You could be perfectly happy to hold for years as the long-term population tailwinds begin to blow and the dividend is set to increase nicely over the years. Then again, perhaps you're happy to hold but you're also interested in seeing what types of agreements are out there. Here's a look at some available call options for the January 2018 expiration: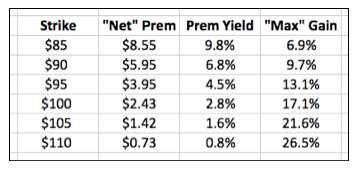 Note that I have no affinity for this expiration date (many prefer shorter time frames). Instead, it simply gives you a reference point of some agreements that are out there.
The left-hand column details the strike price, or the price at which you would be agreeing to potentially sell CVS in 100 share increments. The second column indicates the most recent bid less $0.15 per share for frictional expenses. The third column highlights the yield that this would represent based on the current price and the last column notes the "maximum" gain including potential sale proceeds and the option premium, but not including any dividends received along the way.
So as an example, let's suppose that you're happy to own shares of CVS in the $80s, but you may be less enthused with a price near $100. You could simply hold your stake and see what happens, or you could get paid to express this sentiment by selling a call option with that strike price.
In this case, one of two basic things happens: either the option is exercised or it is not. If the option is not exercised, you'll have ~$240 in upfront option premium to allocate as you choose, but otherwise you're in the exact same scenario as the "buy and hold" investor. Whether the future price is $99 or $59, as long as the option is not exercised this is always going to be a better alternative.
If the option is exercised, you have now "capped" your gain. In this case, you would receive $10,000 in sale proceeds (less fees) plus the ~$240 in option premium. That's good for a 17% return in the next 15 months. Plus, you could also receive dividends along the way, bumping this up to closer to 19%. This too is a reasonable result. You doubled your dividend yield and the lesser scenario is that you see a 15% annualized gain.
The risk is that shares later trade at say $110 or $130 and you're "stuck" selling at $100. This is a real risk and ought to be considered when you think about these potential agreements. However, as you can see from above, there are opportunities to be content with either side of the agreement.
If you don't already own shares, you can think about increasing your cash flow on this side as well. Here's a look at some available put options with the same expiration date: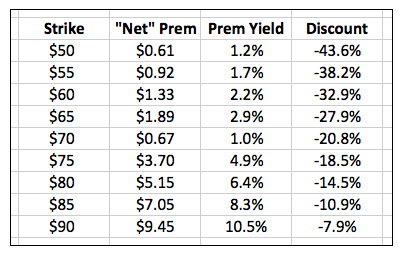 The structure is the same, but the agreement is reversed. Instead of listing prices at which you would be content to potentially sell shares, here you have prices at which you'd be happy to buy. The "net" premium once more takes the most recent bid less $0.15 per share for frictional expenses. The premium yield is based on the amount of capital the option requires you to set aside. The last column highlights the discount to today's price that the agreement would represent.
So, as an example, suppose you believe that $87.50 is a fair price to pay, but you'd be much more interested in CVS at a cost basis closer to say $75. In this scenario, you could sell the $80 strike and receive ~$515 in upfront option proceeds. Just like above, one of two basic things occur: either the option is exercised or it is not.
If the option is not exercised, you keep the $8,000 you set aside and the ~$515 upfront option premium. Your return would be about 6.4% and you'd once more be able to reallocate that capital as you choose. The bad news is that you didn't yet get to own shares in a company that you'd like to partner with. The good news is that you saw a reasonable gain and can now redeploy the funds.
If the option is exercised, your cost basis would be closer to $75 per share, representing a nearly 19% discount to the current quotation. Some will point out that this does not prevent you from seeing a negative return; which is true. If shares later trade at say $65, your short-term return will still be in the red. However, it's evident that this scenario would be preferable to one where you bought shares at today's pricing.
Other things like the $50 strike price are also interesting to note. In a world where you can't get 1% from a savings account, there are agreements out there where you can get that from agreeing to buy CVS at a 40% discount. Naturally, this is unlikely to be your best chance for a solid return, but it's interesting to note nonetheless.
In short, CVS may not appear to be a "high" income generator, but there are things you can do to change that. For one thing, the starting yield is now average to go along with the possibility of strong dividend growth in the years to come. Beyond that, whether you already own shares or not, there are agreements out there that allow you to slightly or significantly increase your cash flow component.