Ra Pharmaceuticals (NASDAQ:RARX) filed its S-1/A with the Securities and Exchange Commission, announcing its intention to offer 5.8 million shares at an expected price range of $12 to $14. The company has an additional 870,000 shares over-allotted as an option for its underwriters. The underwriters for the offering are Credit Suisse, Jefferies, BMO Capital Markets and SunTrust Robinson Humphrey.
Business summary
Founded in 2008 and based in Cambridge, Massachusetts, Ra Pharmaceuticals is a clinical-stage biopharmaceutical company that has a proprietary peptide chemistry platform that it uses to develop treatments for uncontrolled activation or excessive activation of a part of the immune system called the complement system. We highlighted this deal on our IPO Insights platform recently.
The company is developing a treatment for paroxysmal nocturnal hemoglobinuria, or PNH, which is a rare blood disorder that is also life-threatening. People who have PNH have complement systems that target and destroy their red blood cells.
The lead candidate that Ra Pharmaceuticals has for the treatment of PNH is RA101495, which has completed its Phase I trials. The company expects to initiate the Phase II trials in the first quarter of 2017 with data to be released in the second half of the year.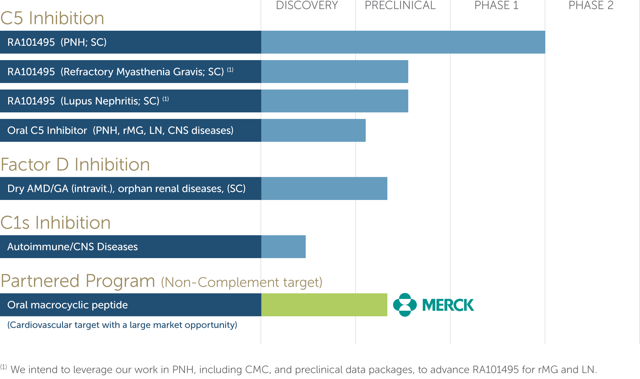 (Source)
Executive management team
The chief executive officer and a member of the board of directors, Douglas A. Treco, Ph.D. has served in those capacities since Ra Pharmaceuticals was founded in June 2008. Treco has substantial experience with product development within the biopharmaceutical industry. Between Jan. 2008 and May 2014, he was an entrepreneur-in-residence with Morgenthaler Ventures. He co-founded a biopharmaceutical company named Transkaryotic Therapies Inc. in 1988. (It was later acquired by Shire Pharmaceuticals in 2005.)
He has also worked as a lecturer at Harvard University in genetics from 2004 to 2007 and worked as a visiting scientist at Massachusetts General Hospital in the molecular biology department. He holds a Ph.D. in molecular biology and biochemistry from the State University of New York, Stony Brook. He also completed postdoctoral studies at both Massachusetts General Hospital and the Salk Institute for Biological Studies.
The chief financial officer and executive vice president of Ra Pharmaceuticals, David C. Lubner joined the company in those roles in Jan. 2016. Before that, he was a senior management team member at Tetraphase Pharmceuticals, Inc. from 2006 to 2015. He served as the CFO and as a senior vice president of Tetraphase from 2010 to 2015. He also served PharMetrics as its CFO from 1999 to 2005 and as the CFO and vice president of ProScrpit, Inc. from 1996 to 1999. Lubner is a certified public accountant in Massachusetts and holds a Master of Science in taxation from Bentley University and a Bachelor of Science in business administration from Northeastern University.
Financial highlights and risks
For the first six months of 2016 that ended on June 30, the company reported it had total revenues of $4,928,000 and a net loss of $9,862,000. For the first six months of 2015, the company reported revenues of $2,177,000 and a net loss of $5,448,000. The company reported revenues of $4,094,000 and a net loss of $13,962,000 for the year that ended on Dec. 31, 2015. As noted in our preview last week, all revenue generated to date derives from collaboration and license agreement with Merck (NYSE:MRK).
The company identifies several risks for investors. In the short term, the company does not expect to generate the profits or revenue that are necessary for its operations. It also has a history of significant losses and indicates that it might never attain profitability.
Ra Pharmaceuticals plans to use the proceeds of its IPO to finance the Phase II clinical trials for its primary candidate, as well as to advance pipeline programs into several other potential products. Any amounts that are left over will be used for operating expenses and general capital requirements.
Competitors
The company's principal competitor is Alexion Pharmaceuticals (NASDAQ:ALXN), which manufactures eculizumab, a C5 inhibitor and the only currently approved to treat PNH. Alexion is also in the early clinical stages of development for a next-generation C5 inhibitor. With a market cap of $27.4B, Alexion is far larger in size and significantly more established than RARX.
Other companies are also in early development and clinical trials for product candidates to treat PNH, including Alnylam (NASDAQ:ALNY), Novartis Pharma (NYSE:NVS) and Akari Pharmaceuticals.
Conclusion: Consider A Modest Allocation At Most
With a candidate prepared to begin Phase II trials for the treatment of PNP, Ra Pharmaceuticals is positioned to be successful if it performs well and is approved by the Food and Drug Administration. However, this is still a remote possibility, given the obstacles facing early stage pharma firms (significant need for further funding, risks arising from clinical trials). We would be more interested in the IPO if Ra's pipeline was further developed (closer to or beyond Phase III trials).
Although there is only one treatment that is currently approved for the disease, Ra faces significant competition. Several peers are far more established and better capitalized than Ra as they develop their own treatments.
Some believe the climate for biotech IPOs could improve, following the U.S. Presidential election.
We believe that most investors should take a wait-and-see approach with this company for its Phase II results to be published in 2017.
Disclosure: I/we have no positions in any stocks mentioned, and no plans to initiate any positions within the next 72 hours. I wrote this article myself, and it expresses my own opinions. I am not receiving compensation for it (other than from Seeking Alpha). I have no business relationship with any company whose stock is mentioned in this article.