By Kris Rosemann
Teva Pharmaceuticals (NASDAQ:TEVA) closed its ~$40.5 billion acquisition of Allergan's (NYSE:AGN) Generics business Actavis on August 3 after a long back and forth with regulators about the assets it was forced to unload. Nevertheless, the deal strengthens Teva's position in key markets such as the US, Canada, Russia, and the UK, while providing a new commercial presence in growth markets, specifically in the Asia-Pacific region.
The generic pharma market remains very strong, in our view. The highest growing segment of the global generics market, "Growth Markets" shown in the image below, is expected to grow at a 10% compound annual growth rate (CAGR) in the period from 2015 to 2020. Over the same time period, the US generics market is expected to grow at a 5% CAGR, the EU and Japan region is expected to grow at a 6% CAGR, and China's generics market is projected to grow at a 9% CAGR. We're comfortable with the solid backdrop, even if the explosive growth of the past may be behind the industry.

Image source: Teva presentation
A number of market trends are helping fuel the proliferation of generic drugs, including their cost effective nature being a part of the solution to rising healthcare costs, the leveragability of generic present manufacturing and development assets around the globe, and the potential for top generics producers to outperform the broader generics market, the last of which will make larger investments more economically feasible for firms.
Such potential to outperform is precisely where Teva sees itself fitting in the generics market moving forward. The firm has leading positions in key markets, including 18% share of the US generics market, and it also has a diversified portfolio and an unmatched R&D pipeline in the generic drugs space. Growth in Teva's developed regions, including the US and Europe, is likely to come from its pursuit of continued leadership in first-to-files as well as the leveraging of its existing infrastructure.
The company's products have penetrated more than 80% of the North American generics market, which makes up nearly 40% of the global generics market. New US product launches are expected to build upon Teva's already solid track record of market leadership and provide ongoing market share growth. The image below shows actual and forecasted new product launches in the US from 2013 to 2017. It's a nice build.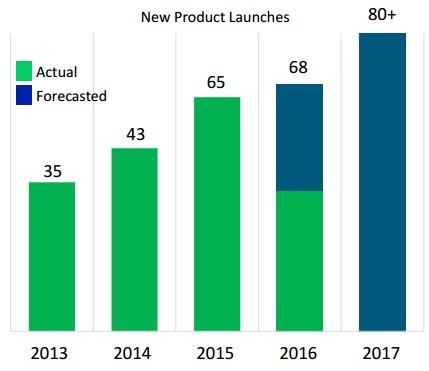 Image source: Teva presentation
Though Europe has been a region of focus as of late in terms of filings and regulatory reviews, "Growth Markets" likely present the largest opportunity for Teva and currently account for ~25% of its generics business. The aging global population, growing worldwide middle class, and increasing urbanization rate are all expected to drive growth in healthcare spending around the world. In many ways, global healthcare needs are expected to grow faster than governments are able to spend to deliver access to proper healthcare, which will make generics a more viable option in developing economies across the globe. The leveraging of Teva's capabilities, including R&D spending, breadth of portfolio, and supply chain advantages, are expected to make it more effective in delivering the needed generics to new markets.
While we are largely positive on Teva's acquisition of Actavis, integration and operating risks are prevalent throughout the company's strategy moving forward, but not unlike other deals, however. In fact, we are quite fond of Teva's momentum in its first-to-file initiatives in the US, and its acquisition will provide greater capacity and budget for additional growth projects in addition to material cost savings, which will also allow it to target more products. Being the first-to-file does not necessarily guarantee long-term commercial success, so operating risk remains present, but a solid foundation is set at Teva.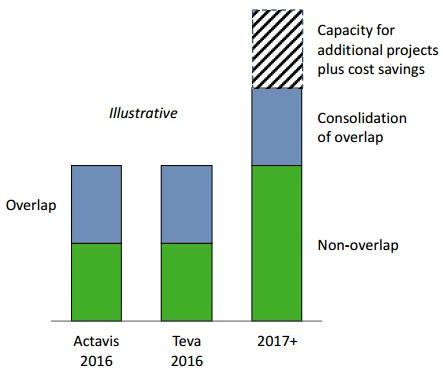 Image source: Teva presentation
There is little surprise that a company that recently completed a $40+ billion merger would come out with a positive outlook for the market in which that merger took place. With this in the back of our minds, we continue to watch shares of Teva with the same cautious eye we cast on them earlier in 2016, "Growing Cautious on Teva Pharma." 2016 has been a bit of a roller coaster for shares of Teva, and we never saw the run that we were hoping to get in order to take more meaningful profits.
However, at less than 2% of the Best Ideas Newsletter portfolio (as the portfolio continues to show tremendous returns in times where other actively managed portfolios are finding trouble delivering alpha, "You Just Don't Get It Or Do You?"), we are comfortable sitting on shares for the time being. Teva currently yields ~2.6%, but members should not be surprised if we choose to trim or empty our position in Teva on a material updraft of shares or a meaningful change in its technicals.
Disclaimer: This article or report and any links within are for information purposes only and should not be considered a solicitation to buy or sell any security. Valuentum is not responsible for any errors or omissions or for results obtained from the use of this article and accepts no liability for how readers may choose to utilize the content. Assumptions, opinions, and estimates are based on our judgment as of the date of the article and are subject to change without notice. For more information about Valuentum and the products and services it offers, please contact us at info@valuentum.com.
Disclosure: I/we have no positions in any stocks mentioned, and no plans to initiate any positions within the next 72 hours.
I wrote this article myself, and it expresses my own opinions. I am not receiving compensation for it (other than from Seeking Alpha). I have no business relationship with any company whose stock is mentioned in this article.
Additional disclosure: TEVA is included in the Best Ideas Newsletter portfolio.