Initiating coverage of the refining/chemical sectors with an Overweight rating
We expect to see a gradual increase in oil prices from 4Q16. Historically, the inflection point of oil prices has coincided with the inflection point of refining/chemical shares. As such, we believe higher oil prices will lead to rising stock prices.
Refining: gradually rising oil prices to boost refining margin given the lagging effect; SK Innovation (OTC:SKOVF) (BUY, KRW220,000 TP) is our top pick
Refining margins are expected to gradually improve from the bottom in 3Q16.
Additionally, PX profitability should increase as China's PX self-sufficiency is just 57%. We also note the ability to adjust the naphtha yield through PX. SK Innovation holds the largest PX capacity in Korea and is likely to enjoy stable earnings improvements on the back of vertical integration.
Chemical: NCCs' competitiveness growing; our top pick is Lotte Chemical (BUY, KRW440,000 TP)
3Q16 earnings to be an inflection point
There are uncertainties about the earnings of the refining/chemical sectors from 2017, but we expect 3Q16 results to help lift earnings uncertainties. This, in our view, will translate to share price increases.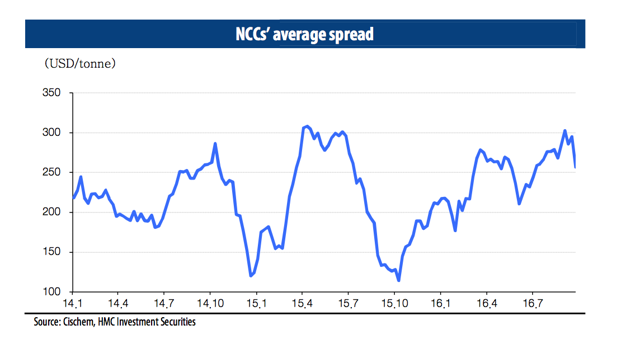 Beginning of a new cycle after a brief pause for breath
Gradual increase in oil prices to provide stock momentum
In the case of the refining sector, with refining products in tight supply, the gradual rise in oil prices will lead to higher refining margins considering the lagging effect. Although the disturbances of supply in the petroleum products market remain because of growing demand for lighter feedstock caused by the shale gas revolution, refiners are now moving to establish the vertical integration of petrochemical production, focusing especially on PX. Because of this, we believe that refiners have grown more immune to volatile macro conditions. As such, we expect earnings to continue growing until at least until 2017.
There were concerns that ethane cracking centers' (ECCs) capacity expansion in the US amid the shale gas revolution would put chemical firms in a disadvantageous position. However, naphtha cracking centers' (NCCs) competitiveness is growing stronger again thanks to the collapse of oil prices. Considering that current oil price increases are likely to be mild, concerns about the profitability of NCCs are groundless. In addition, the oversupply of lightweight products made naphtha more common, and with US LPG flowing into Asia, NCCs' feedstock options have increased further. Additionally, as a side effect of heavy ECC capacity expansion, the supply of propylene and butadiene has tightened, which we believe has strengthened NCCs' competitiveness further.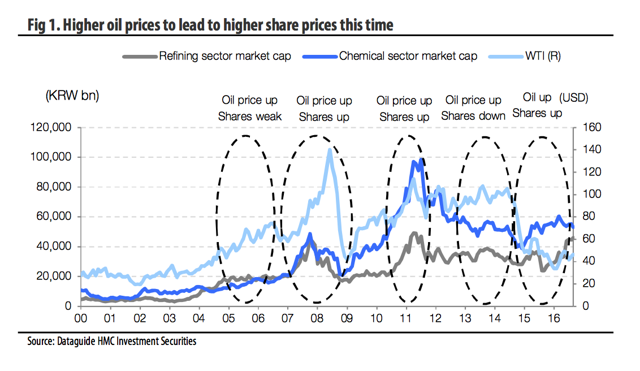 Initiate refining/chemical sectors with Overweight
We initiate our coverage of the refining/chemical sectors with Overweight. We present SK Innovation (BUY, TP KRW220,000) as our top pick for the refining sector and Lotte Chemical (BUY, TP KRW440,000) for the chemical sector.
Limited CDU capacity expansion and solid demand for petroleum products are likely in the refining sector. We expect a gradual increase in oil prices and a lagging effect as well as a tight PX supply to lead to steady earnings improvements through 2017. For SK Innovation, we expect to see stable earnings growth on the back of its vertical business integration and its ability to flexibly respond to market conditions.
In the chemical sector, concerns over NCCs are likely to disappear gradually. Oversupplied naphtha and the growing supply of LPG have increased feedstock options for NCCs and as a negative reaction to ECC capacity expansion, the supply of C3 and below materials (e.g., propylene and butadiene) has tightened, which should strengthen NCCs' competitiveness even further. For Lotte Chemical, we see aggressive investments and favorable sector fundamentals leading to higher earnings.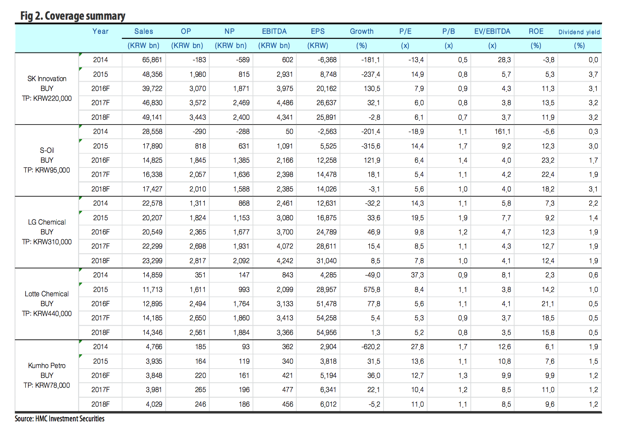 3Q16 earnings to offer inflection point / Refining in line, 2017 already reflected in consensus
Korea's refining and chemical companies are trading at discounts to their Asian peers, because, with limited growth, concerns about the unfavorable market outlook from 2017 are already reflected in consensus forecasts. However, we believe shares will gradually move upwards as the market witnesses the solid earnings results of refining companies in 3Q16.
As for NCCs, there are concerns over the market conditions in 2017 after ECC capacity expansions are complete. However, we find such worries unfounded. NCCs' competiveness continues to strengthen. In particular, 3Q16 earnings are expected to confirm strength not only in ethylene but propylene, butadiene, and BTX. As such, despite a stronger KRW, 3Q16 earnings should come in higher than the consensus forecasts. This should work to dispel market concerns on earnings after 2017 and help eliminate valuation discounts.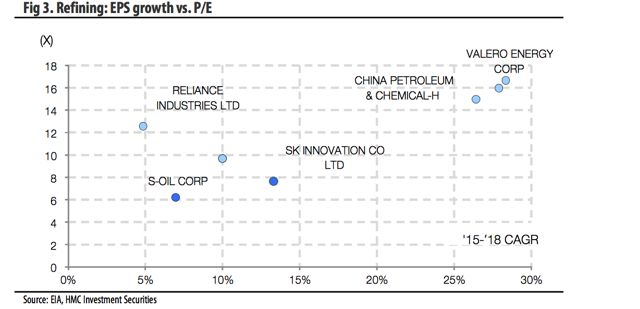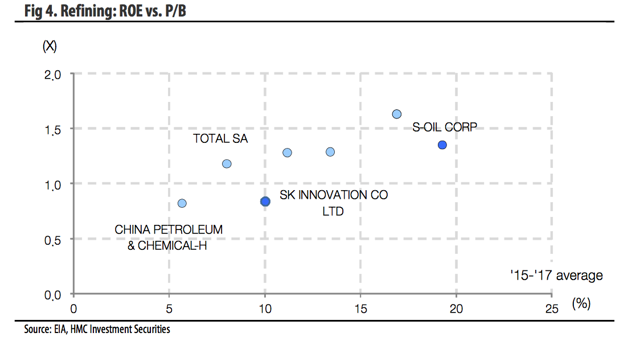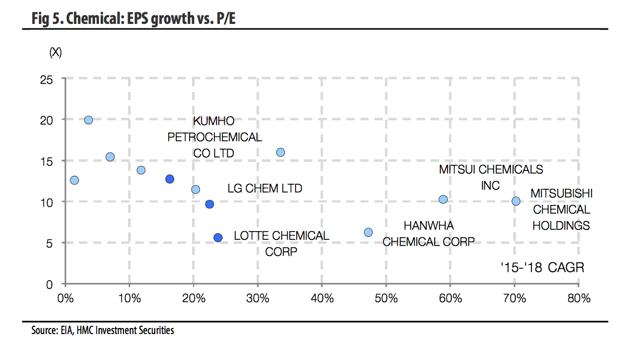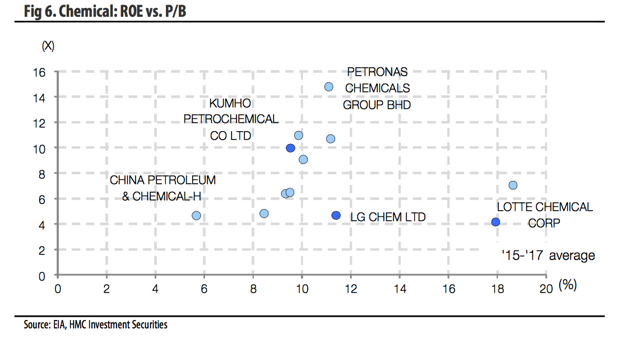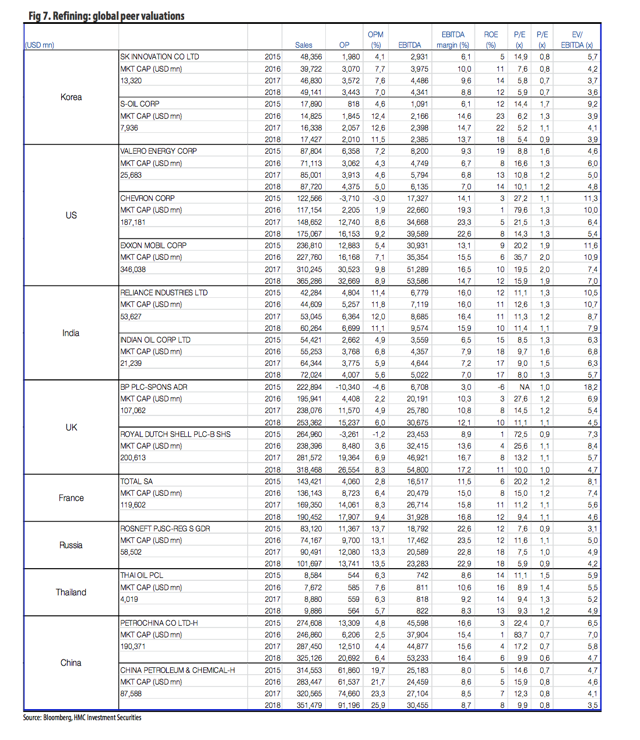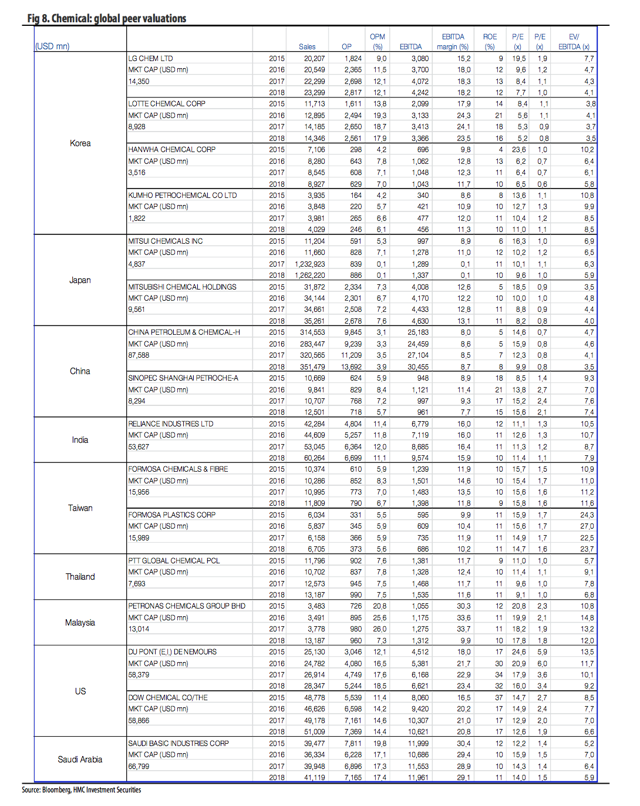 Anxiety aside, oil prices to gradually rise / Saudi Arabia's change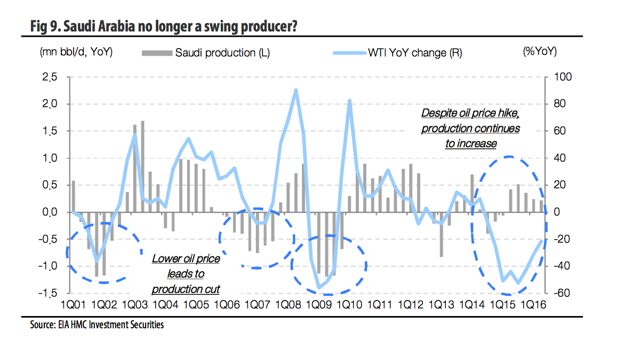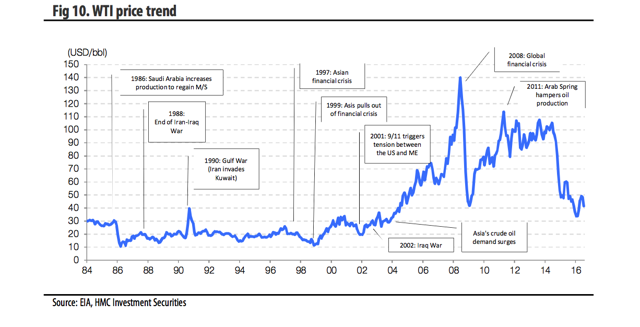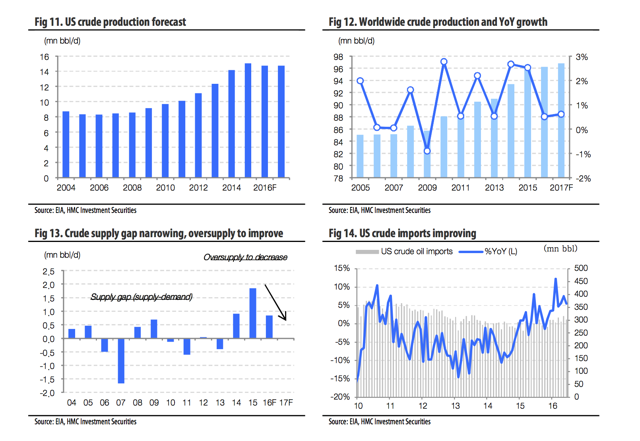 Saudi Arabia's shift of its strategic focus to market share is evident in its OSP.
Saudi Arabia's OSP is currently set at a discount to the benchmark. The discount level is also historically high. This suggests that the country is aiming to expand its market share. It may also mean that crude oil supply has become very unstable.
Saudi Arabia is uncomfortable with Iran because competition in the crude oil market is bound to increase after economic sanctions against Iran were lifted. This is the reason that Saudi Arabia's OSP discount has expanded along with its crude production since the lifting of sanctions against Iran. However, Iran's oil production has already recovered to the pre-sanction level, and for it to raise production further, additional investments are needed which will take time. As such, the pace of increase in production is likely to slow down gradually.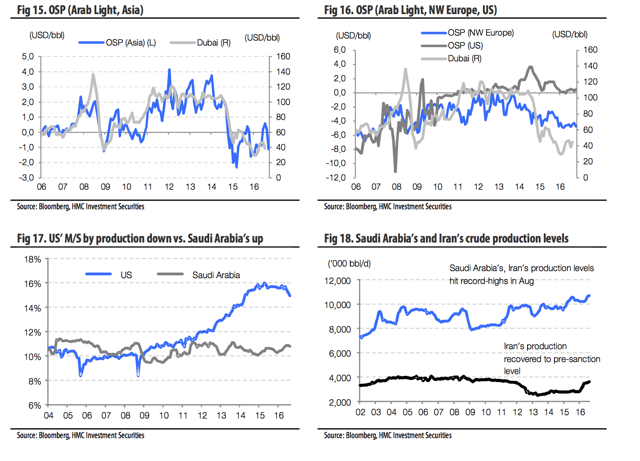 Capex unlikely to increase fast, but enhanced productivity poses downside risk for oil price
The presence of about 5,000 DUC (drilled but uncompleted well) in the US is a factor that can limit oil price hikes. However, the cost of completing oil well construction represents some 70-80% of total development costs. Given the difficulty of funding, it is unlikely that these uncompleted wells will become productive in the near future. Although recently there have been increases in the number of rigs, at least 500 rigs are required to maintain crude oil production in the US. As such, production is unlikely to increase sharply.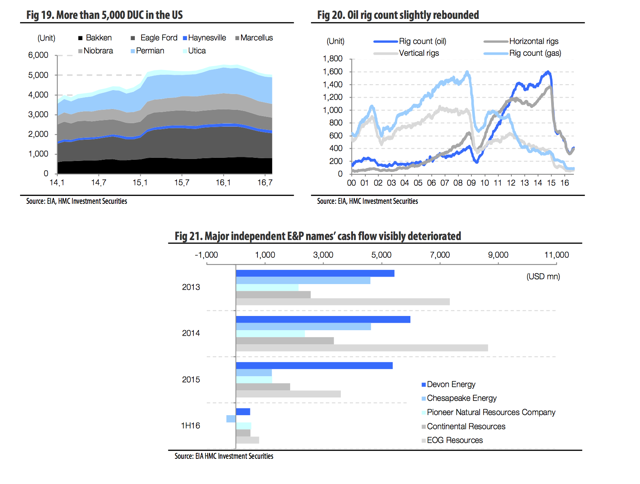 However, US crude oil production facilities' accelerating pace of improvement in production efficiency poses a downside risk to oil prices. According to the EIA, new rigs at major oil fields saw more than a 25% YoY increase in productivity. If production technology makes rapid progress, oil well production cost should decline and production volumes will grow faster than expected. Against this backdrop, the EIA and IEA both raised their US production forecasts recently. We believe this could be a downside risk to oil prices going forward.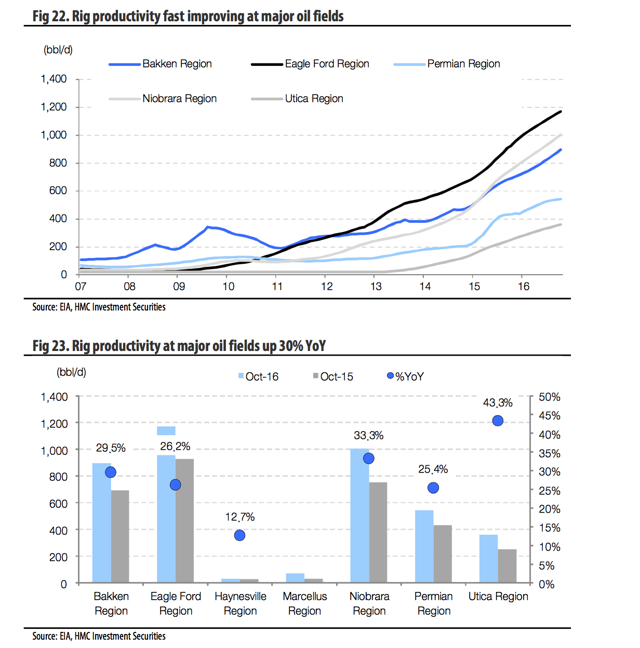 Oil prices to gradually recover, to reach USD50/bbl in 2H17
The short-term inflection point for oil prices was the OPEC meeting from September 26 to 28. Disagreements with Iran remain, and Saudi Arabia is still pushing to expand its market share. An increase in US crude production amid oil price hikes should add to burdens. Furthermore, countries like Iran, Iraq, and Russia have conflicting interests.
In 4Q16, short-term corrections of oil prices seem inevitable due to faltering expectations from the OPEC meeting and lower utilizations at refineries. US crude oil inventory remains at a record-high level and 4Q is typically the time when crude oil demand is weak due to heavy maintenance by US refineries. Major refineries in China and Korea are also seeing a decline in utilizations. In particular, China's Teapot Refinery, which was once responsible for excessive crude demand, is also seeing a decline in its utilization ratio. As such, we expect demand to remain sluggish in 4Q16 as well.
That said, oil prices should gradually recover from then due to reduced crude production in the US. The EIA now projects the oil price will stand at 50USD/bbl in 2017, slightly lower than its previous forecast. However, we believe it will trim its oil price forecast further given the fast-improving productivity of oil rigs and the likelihood of a game of chicken. Upside risks include a protracted low-rate environment in the US and an unexpected freeze of oil production by OPEC.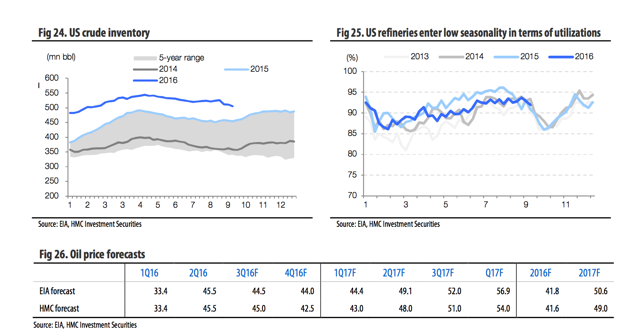 Refinery capacity expansion limited and restrained
For 2016-2017, the expansion of global refining capacity would be fairly limited, which should lead to a tight supply situation for petroleum products. According to the forecasts of major refining companies, capacity additions in 2016-2017 will be very controlled compared with the past, representing less than 1% of current global capacity due to the uncertain demand outlook caused by low growth. On the other hand, global crude demand looks unlikely to plummet. Although the YoY comparison base is high as petroleum product demand rose by 1.6mn bbd in 2015 due to speculative demand caused by oil price weakness, a rapid increase in oil prices is still unlikely and if oil prices rise, it could lead to greater crude demand given the economic recovery in emerging countries. As such, we believe an increase of about 1mn bbd in demand is possible on an annual basis.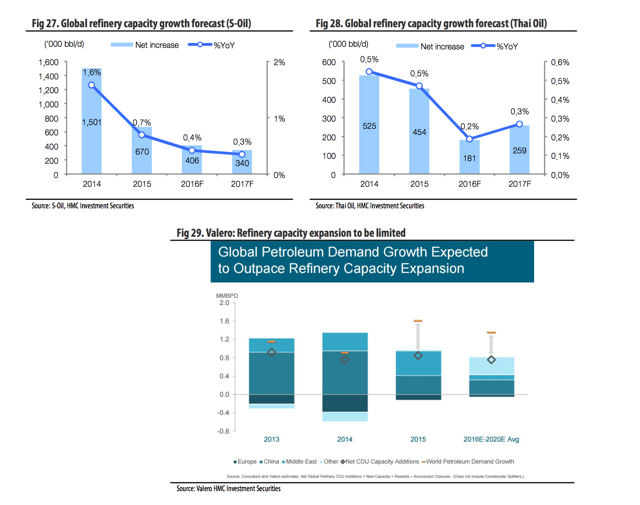 Lighter feedstock to lead to naphtha oversupply / Naphtha yield to increase on rising US production of tight oil and condensate
The US shale gas revolution was driven by LTO (light tight oil). According to the EIA, 96% of incremental production in 2011-2013 is estimated to be light oil with an API degree of 40 or higher. This increase in light oil has worked to boost gasoline and naphtha yields. Furthermore, the development of shale gas has led to an increase in the production of the byproduct condensate which has an API gravity of 40-50 degrees.
Condensate is blended in with the feedstock used in US refineries. There are many limitations in the use of condensate, and to fully utilize it, US midstream companies are moving to build condensate splitter capacity and projects to build some 500K bbd capacity are now underway. Condensate splitter has much higher naphtha yield compared with crude oil. The naphtha produced from the condensate splitters is either to be blended into gasoline or will influence the naphtha supply-demand dynamics.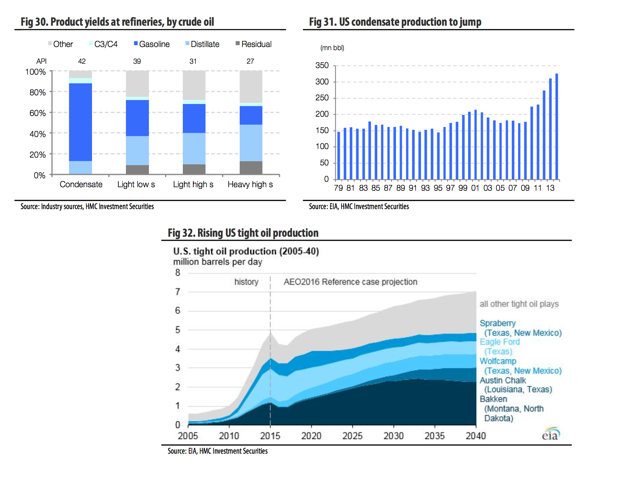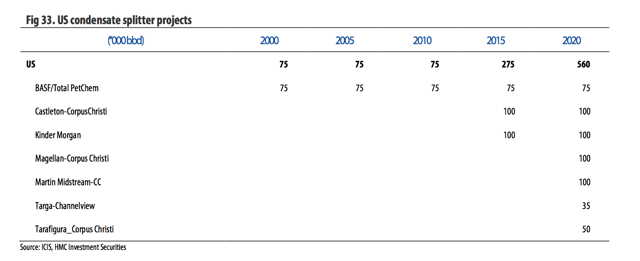 US LPG exports growing; NCCs' feedstock options increasing; for refiners, it means a lower naphtha spread
In the US, LPG exports sharply grew with the development of shale gas. As a consequence, the gap between Aramco's official LPG price and the US propane price has narrowed. Aramco will have to defend its market share.
NCCs sometimes use LPG as feedstock (10-15%). This happens in April-September when LPG prices are low. Normally it is considered economical when the gap between naphtha and LPG prices is about USD50/tonne. The gap between naphtha and LPG prices has remained above USD100/tonne since 2014. We believe this suggests a change of cycle compared with the time when oil prices were strong. For NCCs, this is positive because it increases their feedstock options. For refiners, this is a factor that could disturb naphtha supply.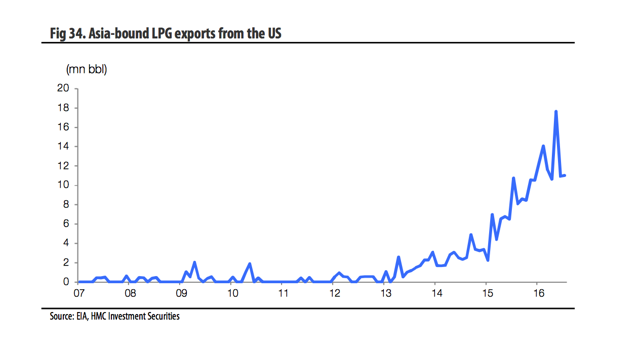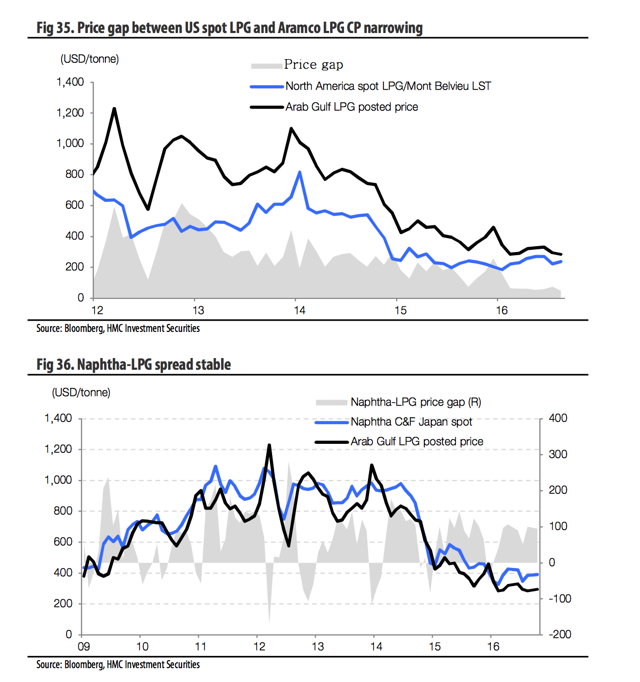 Growing condensate splitter capacity in Iran/Korea to lead to naphtha oversupply
Iran has the world's second-largest gas reserves and its condensate exports are growing sharply. We forecast Iran's condensate production will rise to 1mn bbd in the future.
Korea will have built 320K bbd condensate capacity by end-2016 as Hyundai Oil Bank and Lotte Chemical complete the construction of a splitter with a capacity of 130K bbd via a joint effort. Recently there has been a rise in condensate imports from Iran. Qatar enjoys a nearly monopolistic position in the market and the entry of Iran will help stabilize the price further. Iran plans to build more condensate splitters with the capacity of 840K bbd to boost exports of petroleum products such as naphtha, which is expected to disrupt the naphtha supply. For NCCs, this is good news because the additional construction of condensate splitters increases their feedstock options and naphtha oversupply means stabilizing feedstock prices. On the other hand, this casts a shadow over refiners' product margins.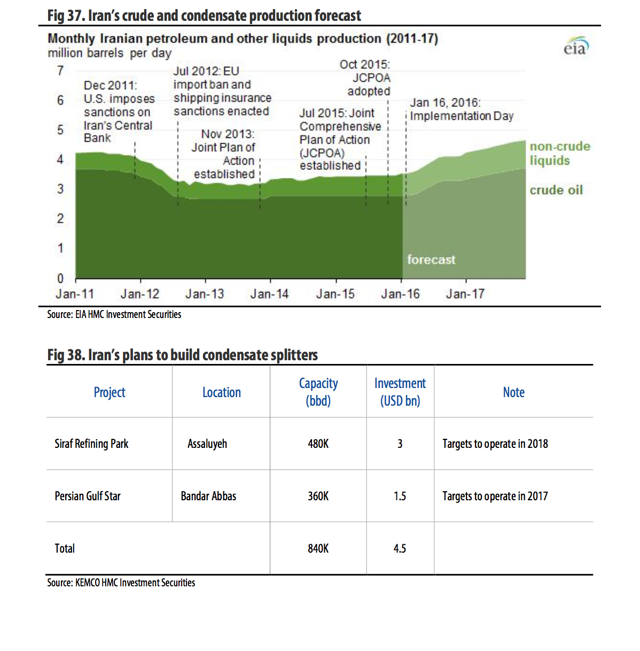 Inventory burdens easing on growing US petroleum exports
In the US, gasoline production growth has outpaced gasoline capacity growth, especially since the global financial crisis. This is because the gasoline yield has increased. In particular, since 2014 when the API degree of crude oil used in refineries surged, gasoline and naphtha yields rose to record highs, along with distillate fuel oil yield. Despite the sharp increase in yields, gasoline and naphtha margins hit record highs in 2015 due to speculative demand stemming from price weakness. This worked to heighten the utilization ratios of US refineries, which added to petroleum products' inventory burden.
The API degrees of the feedstock used at refineries have recently been sliding again, and distillate fuel oil, gasoline, and naphtha yields are decreasing. However, adjusting yields via a change of feedstock takes time. We note the utilization ratios at US refineries in July and August when refining margins considerably deteriorated were even lower than last year.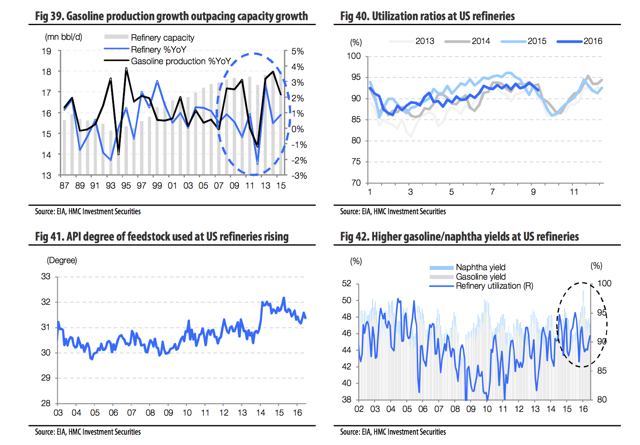 Gasoline consumption in the US has also stabilized compared with 2015 when cheap oil prices fueled speculative demand. We believe this will help decrease overall inventory burdens. Since utilization ratios are typically low in 4Qs due to maintenance, we expect inventory burdens to decline at a faster rate going forward. However, US petroleum product exports are rising in order to ease inventory burdens, which we believe will slow the recovery of refining margins.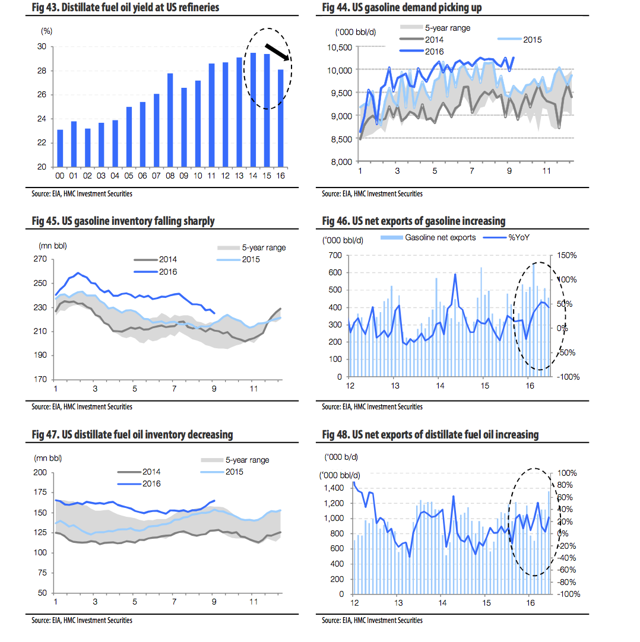 China's weak diesel demand unfavorable for regional supply-demand balance / 4Q16 diesel margin to improve on lower utilizations at Chinese refineries
The utilization ratios of China's refineries are declining. We expect this to have the effect of boosting the diesel margin gradually. In July last year, the Chinese government relaxed limits on crude imports from teapot refineries and as a result, crude imports at Qingdao Port, Shandong, where these teapot refineries are heavily concentrated, increased considerably. This worked to heighten utilizations at refineries, boosted exports of petroleum products, and dampened regional supply.
More recently however, the utilization ratios have declined as the Chinese government moved to crack down on teapot refineries for their alleged tax evasion. Also, given the sharp decline in utilizations at China's major refineries, supply side pressure will likely ease, especially for diesel. In all, refining margins should improve gradually in 4Q16.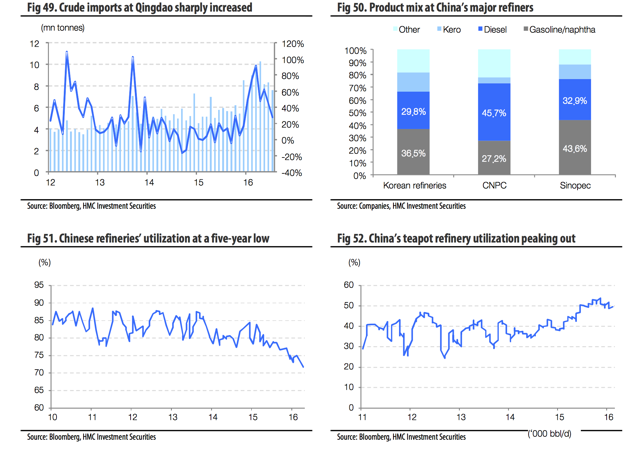 China's weak diesel demand
However, the recent restructuring of the mines in China reduced demand for coal transport trucks. This played an especially large role in depressing the diesel margin. With China's major petroleum names such as Sinopec (OTC:SPTJF) and CNPC producing mainly diesel, the diesel oversupply situation intensified, while exports surged.
China's weak demand for diesel is unlikely to recover soon because it coincides with industrial restructuring in China. In the case of gasoline, we believe domestic demand is strong enough. However, for diesel, oversupply could become a structural problem.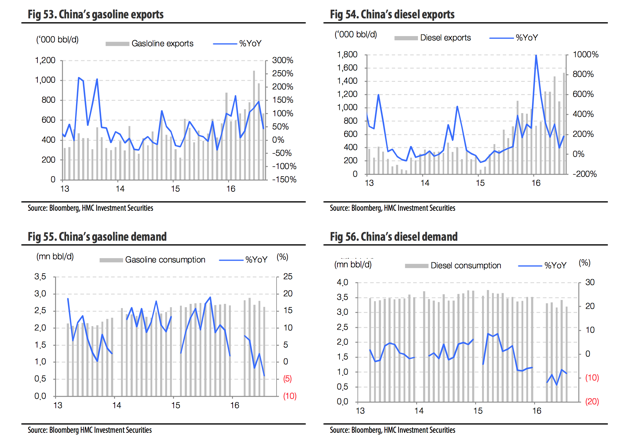 Higher oil prices help overcome oversupply and boost refining margins
We forecast that the average WTI price will gradually increase to USD43.8/bbl in 2H16 and USD50/bbl in 2017. Thanks to the lagging effect, the period of oil price hikes should see earnings momentum strengthen further.
For Korean refiners, we believe solid PX earnings will help stabilize their overall profitability. As for SK Innovation, its vertically integrated business structure should help it to easily fend off naphtha oversupply.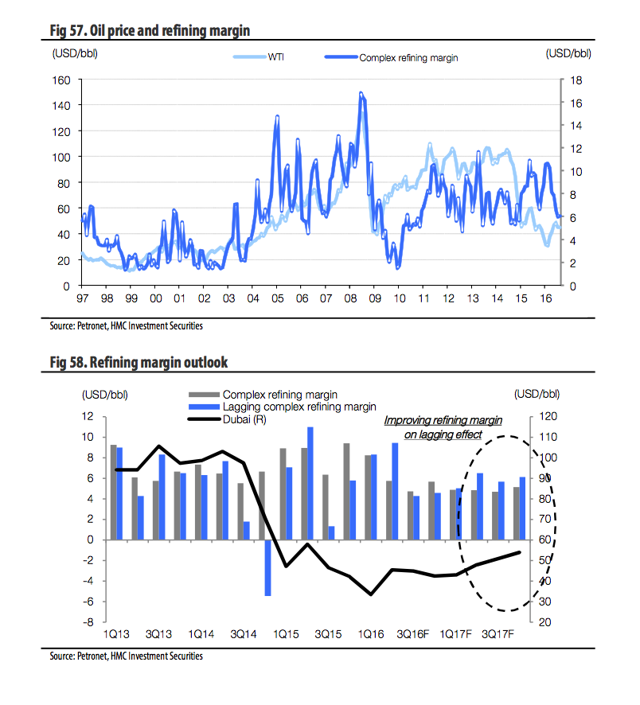 For Korean refiners, PX to become more important
Tighter BTX supply likely on use of lighter feedstock in the US and ECC capacity expansion
With the increases in lighter feedstock and ECC capacity in the US, the supply-demand balance of aromatics- based products should remain favorable compared with that of olefin products. This will result in a stronger PX spread.
China's self-sufficiency PTA ratio now appears to have surpassed 100%. As a result, its PTA exports are growing exponentially. This also means the country's imports of PX, a raw material for PTA, are increasing.
To produce 33.8mn tonnes of PTA in 2016, China's PX capacity needs to be at least 22.31mn tpa. However, its PX capacity as of 2015 was 12.82mn tpa. Even assuming a 100% utilization ratio, the sufficiency ratio would be only 57.5%. Besides, China's PX capacity expansion plan is quite limited.

Korean PX producers to benefit from China's poor PX self-sufficiency (57%)
India-based Reliance Industries' 2mn-tpa PX capacity is scheduled to come on stream by the end of this year. However, Reliance also plans to increase its PTA capacity by 2mn tpa. In all, Reliance's impact on PX supply- demand balance is estimated to be only 680K tpa. Considering China's PTA capacity increase plans, Reliance's PX capacity increase should only have a temporary impact.
According to the Japanese Ministry of Economy, China's PX production capacity will grow from 11.3mn tpa in 2014 to 11.9mn tpa in 2020, a small increase, while PX demand is projected to grow from 1.85mn tpa to 2.72mn tpa (6.6% CAGR). This is because PTA demand is forecast to grow at a 7.4% CAGR from 26.1mn tpa in 2014 to 39.9mn tpa in 2020. We expect China will try to crank up its PTA self-sufficiency ratio. This will continue to bolster PTA utilizations within China and fuel PX demand.
Korea's China-bound PX exports rose 42.2% YoY to 5.36mn tonnes in 2015. We expect this number to increase 9.2% YoY to 5.85mn tonnes in 2016, representing about 50% of China's total PX imports.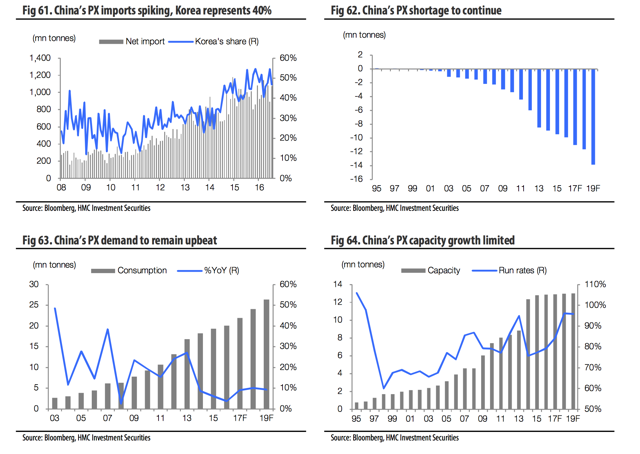 Korea has 10mn tpa capacity for PX
Korea's PX production capacity is about 10mn tpa. Given the tight supply of PX, four major Korean refiners are positioned to benefit. Among them, SK Innovation has the largest PX capacity of 2.68mn tpa.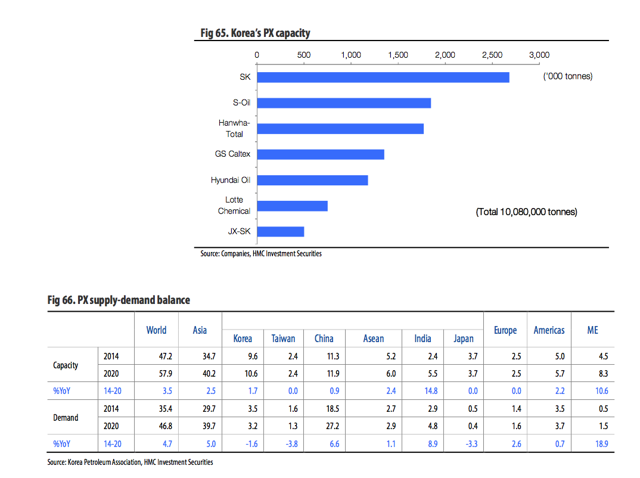 Wag the dog: will tight PX supply support the refining margin?
When the gasoline margin is strong, refiners control BTX production by using more reformate to increase gasoline output. When PX is in a shortage and the gasoline margin is weak, like now, refiners can control their gasoline production by increasing BTX production.
When the gasoline margin was abnormally high, US refineries increased the use of light oil to maximize gasoline production, which led to higher gasoline and naphtha yields. Under this circumstance, it was probably difficult to boost BTX production. Accordingly, PX and benzene margins recovered. The widening PX spread should serve to support the gasoline and naphtha markets. This is because when the supply situation is stable, refiners do not feel much burden even if they control gasoline/naphtha production and instead focus on PX production.
Going forward, we believe PX will play a pivotal role in improving refiners' earnings.
Solid chemicals demand
Despite slowing economic recovery, petrochemicals demand to stay solid
The consumption of petrochemicals is expected to continue growing. In particular, improved living standards in developing countries such as China and India should drive demand for chemical products. Even in advanced countries, chemical product demand is continuing to increase, because chemicals are used in various fields from packaging to building materials, synthetic fibers, and industrial materials. Nowadays, chemicals found new use in light automotive materials and packaging materials amid the exponential growth in online shopping.
Nexant forecasts that 2016 ethylene demand will increase by 8mn tonnes, which is a dramatic jump compared with the past. Since the financial crisis, people have been consuming chemical products at a faster rate than ever before.
Going forward, demand for chemical products should increase by 4-5mn tonnes each year. India's per-capita polymer consumption is still well below the global average. China's per-capita polymer consumption is above the global average but still, its consumption of polymer is growing rapidly. Demand from developed countries is also expected to grow continuously.
ECCs' weakness to continue / ECCs' competitiveness waning
The major feedstocks for ethylene production are naphtha and ethane. Naphtha and ethane cracking centers (ECCs) create about 80% of total ethylene produced worldwide.
ECCs' competitiveness is gradually waning. The collapse of oil prices in 2H14 played a decisive role. This has worked to strengthen the competitiveness of NCCs. The sharp fall in US gas prices since 2012 put ECCs in an absolutely advantageous position over NCCs with the ethane/naphtha ratio of more than 12. That number has since fallen to six, putting NCCs in a more favorable position.
From 2016 to 2020, North America is to build ECC capacity of 12.5mn tonnes. This translates to an annual capacity of 2.4mn tonnes. Since annual ethylene demand is expected to increase by 5mn tonnes, there would be no problem digesting the increased supply.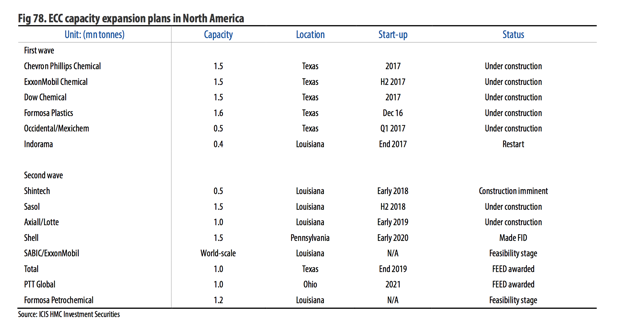 ECCs' competitiveness is declining
Ethane prices in the US, the source of ECCs' competitiveness, should come under upside pressure in the mid to long term. In particular, increasing ethane exports and growing feedstock demand will likely reduce ethane rejection, which should lead to price increases. Growing LNG exports from the US is also a factor that increases the price of ethane.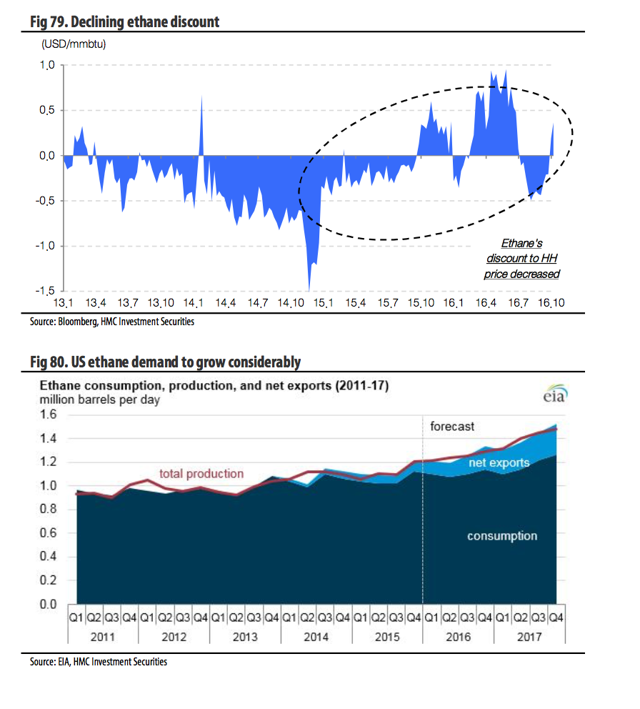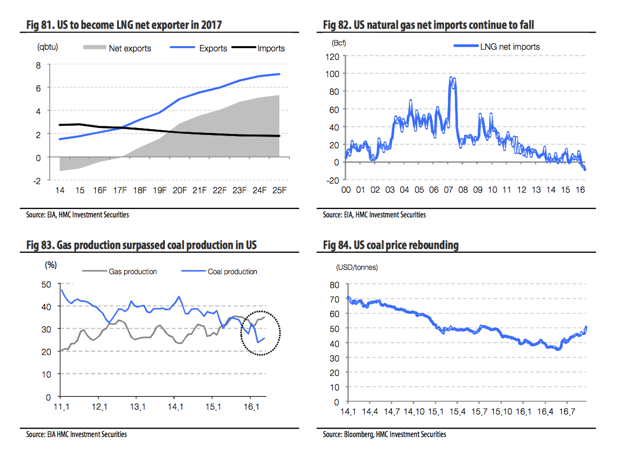 NCCs' competitiveness is strengthening / NCCs'earnings stability improving
ECCs' major product is ethylene, which accounts for 80% of production, while NCC's produce more diverse products including ethylene (30%), propylene (C3), butadiene (C4), and BTX. Recently, the profitability of these non-ethylene based products has improved. The growing BTX profitability which we described earlier is also a factor that boosts the profitability of NCCs. If the ethylene price falls in the future, it will have a big impact on ECCs' profitability.
As capacity expansion in the future is largely for ECCs, propylene and butadiene should be in tighter supply. About 50% of the planned capacity additions are for ethane-based products. Accordingly, the supply of butadiene and propylene should tighten. For butadiene, the synthetic rubber market, its major downstream sector, is slumping and there is no plan for capacity expansion due to the heavy capex burden. In the case of propylene, we expect to see gradual capacity increases for PDH (propane dehydrogenation) in China and the US, but estimated capacity growth is just 17mn tpa (2.9% CAGR) over the next five years, which does not look too burdensome. Considering the uncertainties over the utilizations at Chinese MTO/CTO and PDH facilities, we believe the supply/demand conditions will be good.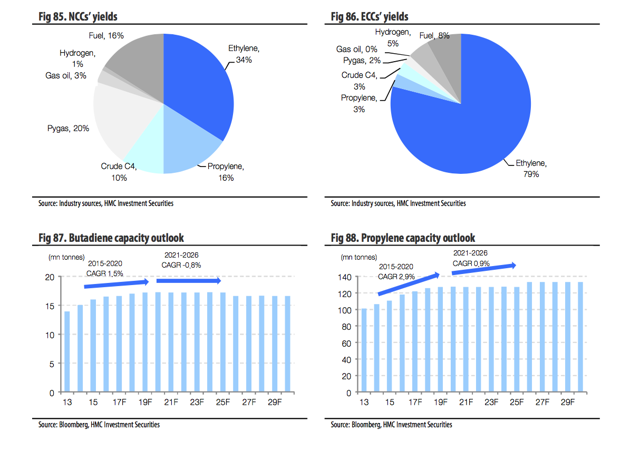 ECCs' ethylene price competitiveness, while lower than the past, is still stronger than NCCs'. However, NCCs can maintain profitability as they have the advantage of being able to produce various sets of products. In particular, the robust spreads of products such as propylene, butadiene, and BTX that are marginally produced by ECCs help strengthen NCCs'profitability and make them a very attractive investment.

China's CTO projects hopeless / China's CTO projects are a lost cause
China had been planning to ramp up CTO (coal to olefin) and MTO (methanol to olefin) investments as a way to utilize its rich coal resources and to maintain its coal industry. It announced that it planned to expand ethylene capacity to over 7mn tpa using coal as the feedstock. This caused worries that it might lead to ethylene oversupply. However, these worries are gradually dissipating as oil prices fall.
Moreover, China's continued restructuring of its own mines led to coal price hikes which are practically a death sentence to the CTO/MTO projects. These projects are not only harmful to the environment but have become increasingly unattractive in terms of cost competitiveness. China has thus decided to reduce coal production by 1bn tpa over the next three to five years, through consolidations and M&As. The reduced volume represents 17.5% of total coal production in China (5.7bn tpa). The country forced its mines to operate just 276 days a year instead of the previous 330 days. As a result, coal production in China has started to decline YoY since 2H16, which is leading to sharp coal price hikes in the country.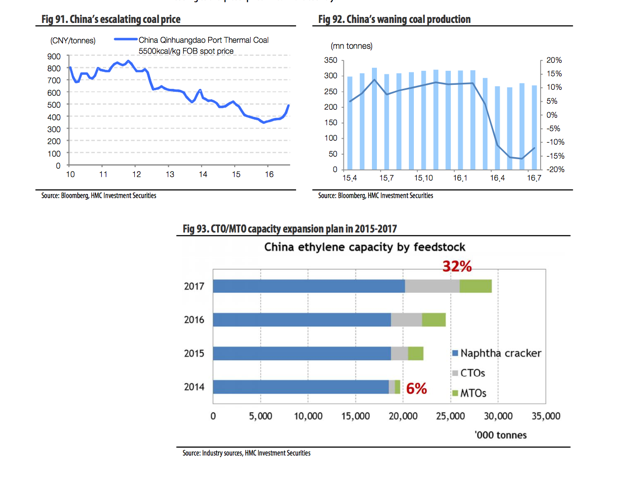 In reality, CTO investments are minimal
In reality, CTO investments are minimal. The remaining capacity expansion plan is just 1.6mn tpa in total, and the operation of new CTOs has been delayed to 3Q16 from the originally planned 1H16. Given the soaring price of coal, the CTO/MTO investment plans should be difficult to maintain. Those that are already in operation should suffer from a fall in utilization.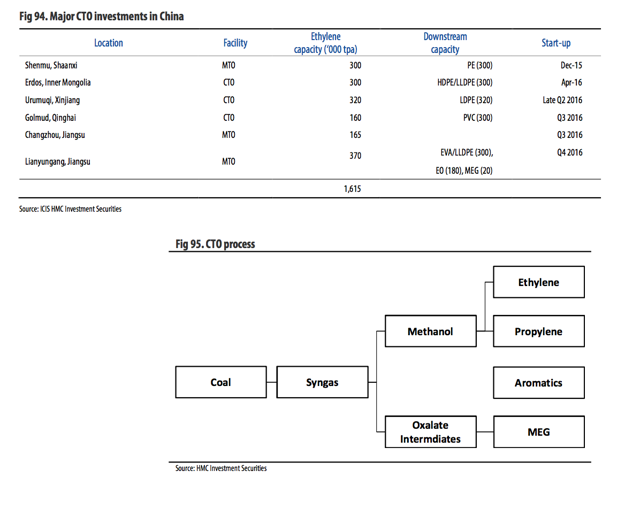 2017 is still a good time for NCCs / China's self-sufficiency in ethylene derivatives still lower than 60%
Ethylene capacity expansion should reach its peak over the next three years. Accordingly, there is a risk of oversupply. However, 1) the profitability of ECCs is expected to be weaker than originally thought; 2) the newly built ECCs may suffer production delays due to continued cost overruns and falling IRR; and 3) lowering utilizations and project delays of Chinese CTOs and MTOs should help maintain the supply/demand balance in the petrochemical market. In particular, there is a high probability that the capacity expansion schedule will be adjusted given the vacuum of added capacity after 2019. Asia-based NCCs may come under margin pressure for ethylene but should still be able to keep their earnings strong on the back of growing propylene, butadiene and BTX spreads.
Capacity expansion is limited in 2016. While Sadara Chemical's new 1.5mn tpa capacity has come online, its impact on regional supply will not be visible until 2017 given the ramp up period. Meanwhile, the dual feed cracker that ONGC is building in Gujarat has not yet officially come on stream.
According to IHS Markit China's self-sufficiency for ethylene-derived products is still low. Despite fast-growing demand, overall conditions do not allow CTOs to boost utilizations. As such, China's self-sufficiency for ethylene- derived products should grow to just 60% by 2020. US ECCs are also working to build downstream facilities for ethylene to keep up with ethylene production. After all, we believe China's low polymer self-sufficiency ratio will be a factor that creates stable supply and demand balance in the region.
Synthetic rubber market to recover gradually
Synthetic rubber market to improve on tight BD supply, rebounding natural rubber price and favorable supply-demand balance.
There may be concerns that an increase in synthetic rubber prices will lead to higher utilizations, especially when SBR factories around the world are running at lower than 70% utilizations. However, we do not believe the chances of increasing utilizations at synthetic rubber plants are high. The reason is the tight supply of butadiene, a raw material in synthetic rubber. As such, we do not see utilizations rising sharply and disturbing the supply- demand balance.
Additionally, we believe it is possible to pass the increase in the butadiene price onto the synthetic rubber price. Although synthetic rubber is still in oversupply, a gradual improvement is likely.
Kumho Petrochemical is the world's largest synthetic rubber company by production. Going forward, as market conditions turn more favorable, its profitability should improve too. LG Chemical (OTCPK:LGCLF) has vertically integrated synthetic rubber production capacity. Likewise, we believe its profitability will improve more easily.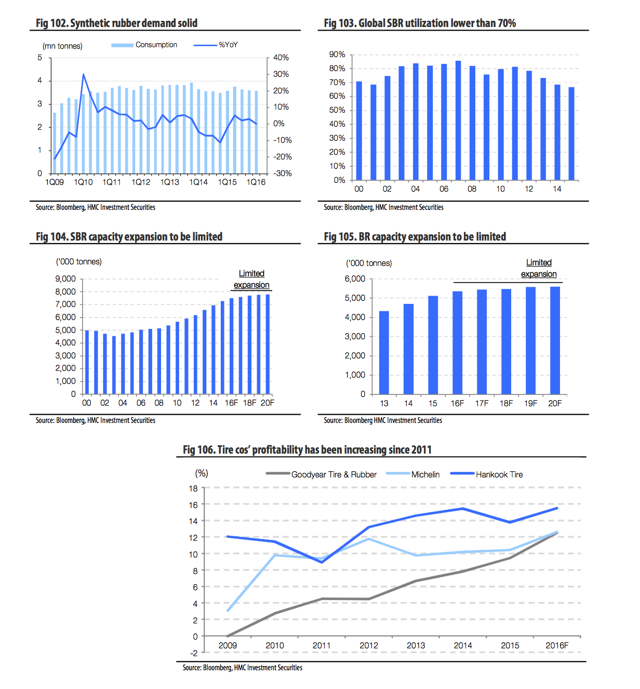 SK Innovation (096770.KS) BUY/TP: KRW220,000
The power of vertical integration
1) Investment highlights
- We initiate coverage on SK Innovation (SKI) with a BUY recommendation and target price of KRW220,000 and present the company as a conviction call and our top pick in the refining sector.

- SKI boasts stellar earnings stability even in a volatile environment thanks to the vertical

integration of the refining and chemical businesses.

- The refining margin is bottoming out. We recommend a buy-and-hold strategy.

- SKI has the biggest PX capacity in Korea. Its NCC earnings are also stable. Growth should continue

into 2017.

2) Major issues and earnings outlook
- We expect earnings to remain strong through 2016, with sales of KRW39.7tn (-17.9% YoY) and operating profit of KRW3.1tn (+55% YoY).

- 3Q16 results will likely be in line with consensus with sales of KRW10.4tn (-16.6% YoY) and operating profit of KRW607.6bn (+67% YoY).

- Despite a lower refining margin, subsidiary SK Global Chemical's upbeat earnings (3Q16 operating profit up 153.2% YoY to KRW303.3bn) driven by ethylene and PX strength lifted earnings.

- SKI vertically integrated the refining and chemical businesses. It consumes 2.8mn tonnes of naphtha annually and has the ability to hedge against naphtha oversupply.

- It has the largest PX capacity in Korea. As China seeks to self-supply PTA, its PTA utilizations keep increasing along with its PX imports. As such, we see PX demand remaining strong in 2018.

- Through its PX plant, SKI can flexibly cope with an oversupply of light petroleum products.

- Due to weak diesel demand in China, China's diesel exports are sharply rising. This could lead to a diesel oversupply in Asia. That said, heavy maintenance scheduled for 2H16 should lead to a

gradual recovery of the refining margin.

- There is limited downside for oil prices. We expect oil prices to gradually move upward from the

4Q16 bottom. The refining margin is also expected to rise with a lagging effect.

3) Share price outlook and valuation
- Due to the falling refining margin, shares have undergone corrections since the 2Q16 earnings announcement. We expect strong 3Q16 results to provide momentum.

- Earnings should continue to improve in 2017 given the improving fundamentals for ethylene and PX as well as the recovery of the refining margin. Interest in the company's attractive valuations will likely be renewed.

Valuation

Initiate coverage with a BUY recommendation and KRW220,000 target price

We initiate coverage of SK Innovation with a BUY recommendation and target price of KRW220,000. We also present the company as our refining sector top pick. Our target price is based on a SOTP valuation, incorporating 2015-2017F EBITDA. The market is concerned about SKI's potential earnings peak-out after 2016 due to narrowing refining margins. Indeed, China's anemic diesel demand and rapidly growing exports of petroleum products as well as a potential naphtha oversupply caused by the move to use lighter feedstock are all risks that can hamper the recovery of refining margins. However, we believe refining margins are now bottoming out given that: 1) the capacity growth of refining facilities globally is limited in 2016-2017; 2) seasonal maintenance begins in 4Q16; and 3) oil prices are expected to rise gradually from 4Q16.

SK Global Chemical, a wholly owned subsidiary of SKI, has vertically integrated its NCC which has a capacity of 860K tpa. Thus, it has the ability to hedge against weak naphtha margins. The company also has the largest PX capacity in Korea and should benefit from the strong PX spread.

Vertical integration complete, business model solid

Recovering refining margin, wider PX and lubricant spreads to boost earnings until 2017, leading to an upgrade of valuation multiples

When concerns over 2017 earnings fade, there will be renewed interest in the company's attractive valuations. Of note, the stock is trading at a historically low 0.8x P/B despite robust earnings momentum. Its NCCs, vertically integrated business structure, and command of Korea's largest PX capacity, which makes it the biggest beneficiary of the widening PX spread, justify our positive view. Additionally, the 100%-owned subsidiary SK Lubricants has the fourth-largest capacity for high quality group II lubricant oil in Korea. Stable earnings generated from the lubricant business recently should also work to further strengthen company fundamentals.

Earnings to meet consensus despite weak refining margin

3Q16 results to come in line with consensus

We believe SK Energy suffered an earnings contraction in 3Q16 due to weak refining margins. However, we expect 3Q16 earnings to meet the consensus as SK Global Chemical's earnings improved on the back of a wider ethylene spread and tight PX supply. In 2017, refining margins will likely remain stable and the PX spread should remain strong. The widening spreads of propylene and butadiene in addition to ethylene will boost SK Global Chemical's profitability. In all, we forecast an operating profit of KRW3.6tn for 2017 (+16.4% YoY).

Lotte Chemical (011170.KS) BUY/TP: KRW440,000

Great time to buy NCCs

1) Investment highlights

- Worries that growing ECCs and CTO capacity will have a negative impact on NCCs are groundless. As these worries dissipate, shares should begin to stage a gradual recovery.

- Propylene and butadiene margins have widened recently. Due to heavy capacity expansions for ECCs, propylene, butadiene, and BTX, derivatives are expected to be in tighter supply and enjoy wider spreads. This is the reason we see NCCs as more attractive investments than ECCs.

- Lotte Chemical's capacity should continue to increase until 2018 on the acquisition of Lotte Advanced Materials (formerly Samsung SDI's chemical division), Lotte Chemical Titan's capacity additions, and the construction of an ECC in the US.

- We initiate coverage of Lotte Chem with a BUY recommendation and target price of KRW440,000. The company is our chemical sector top pick and also our conviction call.

2) Major issues and earnings outlook

- 2016 sales should grow 10.1% YoY to KRW12.9tn and operating profit 54.8% YoY to KRW2.5tn, beating consensus estimates.

- For 3Q16, we also believe earnings will surpass consensus, with sales of KRW3.5tn (+14.4% YoY) and operating profit of KRW682.3bn (+40.8% YoY).

- Given the tightening supply of propylene, butadiene, and aromatics derivatives recently, NCCs' profitability looks set to improve further.

- Naphtha oversupply caused by the move to use lighter feedstock and intensifying price competition over LPG are all factors that enhance NCCs' price competitiveness.

- In 2017, Lotte Chem's operating profit should reach KRW2.7tn (+6.2% YoY). Sector fundamentals should remain strong, and capacity should grow markedly given the acquisition of Lotte Advanced Materials, and Titan's capacity expansions (90,000 tonnes per annum for ethylene, 100K tpa for BTX and 160K tpa for propylene in 2017).

- The joint investment with Axiall in an ECC in the US should be completed in 2H18. After that, Lotte Chem's ethylene capacity should jump to 3.91mn tpa by end-2018 from 2.82mn tpa in 2016.

3) Share price outlook and valuation

- NCCs' competitiveness is strengthening thanks to the rising propylene and butadiene derivatives prices.

- However, shares are still trading at 4.0x EV/EBITDA on worries about 2017 market conditions. We believe the stock will move upward as earnings stability improves.

Valuation

Initiate coverage with a BUY recommendation and KRW440,000 target price

We initiate coverage of Lotte Chemical with a BUY recommendation and target price of KRW440,000, based on an SOTP valuation using the average EBITDA of 2015-2017F. The market is currently worried that NCCs' earnings may come off from the peak after 2016. There are concerns that ECC capacity growth expected from 2H17 in the US will lead to ethylene margin erosion. However, we see ECCs' cost competitiveness weakening faster than expected because of cheap oil and the rising cost of ECC capacity building. Also, CTOs are becoming increasingly obsolete and NCCs' profitability is growing on the back of the widening spreads for propylene, butadiene, and BTX. Against this backdrop, we expect NCCs' profitability to remain intact through 2017.

Trading at 4.1x EV/EBITDA and 5.6x P/E, Lotte Chem is discounted to other major names in the region (the Middle East, India, China, Japan, Taiwan, and Thailand) which on average trade at 8.4x EV/EBITDA and 13.9x P/E. We believe this valuation discount will be lifted after 3Q16 as consensus forecasts increase.

Investment-driven growth, improving sector fundamentals

Growth led by capacity expansions and favorable sector fundamentals

Lotte Chem's current ethylene capacity is 2.82mn tpa, including Titan's capacity. In 2017, Titan plans to build an ECC with a capacity of 90K tpa and in 2H18, the parent company plans to build a 1mn tpa ECC capacity in the US in a joint-effort with US-based chemical firm Axiall. As the top line grows, earnings stability should improve as the company continues to vertically integrate its business by investing in synthetic rubber and BTX.

As LPG prices in Asia stabilize and the naphtha oversupply continues NCCs have more feedstock options, which boosts their profitability. LPG as a feedstock has different ethylene product yields, hence there could be certain limitations. Even so, given the widening ethylene spread, LPG could be a good option for NCCs.

The narrowing spread between ethylene and PE products is stirring up doubts about demand. However, as petrochemical companies move toward vertical integration, the PE-ethylene spread has become increasingly irrelevant. The fact of the matter is that the PE-ethylene spread is no longer a meaningful indicator in the industry. Ethylene's properties make it difficult to trade, and only 2% of ethylene is known to be exported. Also, for companies like Lotte Chem which vertically integrated its downstream PE, the spread between naphtha and PE is a more meaningful indicator. This PE-naphtha spread has been at its five-year high for some time, which we believe suggests strong demand from end users. Furthermore, if market conditions are turning favorable for propylene and butadiene, the situation could not get any better for NCCs.

3Q16 earnings to beat consensus

Fundamentals favorable for chemical products on acquisition of Advanced Materials

3Q16 earnings will likely surpass consensus, with sales of KRW3.5tn (+14.4% YOY) and operating profit of KRW682.3bn. The average ethylene-naphtha spread in 3Q16 was USD756/tonne, an improvement from 2Q16's USD705/tonne. The G20 meeting had the effect of temporarily shutting down factories in China but after the G20 meeting, the spread stayed relatively stable, which indicates healthy demand.

Besides, given the widening of the propylene-naphtha spread from USD467/tonne in 2Q16 to USD529/tonne in 3Q16 and the butadiene-naphtha spread from USD429/tonne to USD557/tonne, we believe 3Q16 earnings kept up with 2Q16's even when considering the impact of a stronger KRW.

In 2017, we forecast operating profit to grow 10.2% YoY to KRW2.7tn, helped by solid demand and the acquisition of Lotte Advanced Materials. Titan's added ethylene capacity of 90K tpa and BTX capacity of 100K tpa should also spur earnings growth.
Disclosure: I/we have no positions in any stocks mentioned, and no plans to initiate any positions within the next 72 hours.
I wrote this article myself, and it expresses my own opinions. I am not receiving compensation for it (other than from Seeking Alpha). I have no business relationship with any company whose stock is mentioned in this article.