Aurelius recently exposed purported ties between Banc of California and Jason Galanis, a convicted fraudster who, along with his family members and acquaintances, has been tied to numerous stock frauds over the past few years (find the Gerova conviction here, the Penthouse settlement here, and the current Tribal Bond allegation here). The connections between BANC management and Galanis caused a massive collapse (almost 30%) in BANC's stock price, which speaks to how much fear the market has when it comes to paper-trail connections between Galanis (a serial fraudster) and public companies. I too have been researching Jason Galanis as his name recently came up in a loan that I was researching regarding BofI Holding (BOFI).
In this report, I will show a series of connections between BOFI and Jason Galanis that I believe date all the way back to the original Gerova fraud (2010), and carry on as recently as 2015 as a result of BOFI's involvement in a $7 million loan to Jason Galanis (now delinquent and the subject of messy foreclosure proceedings that involve the Department of Justice). Investors ought to ask/wonder how this loan is being reflected on BOFI's balance sheet and/or if management will speak to said Galanis ties during the next earnings call.
Before I dive into the Galanis discussion, I am also using this article to discuss the two primary reasons I believe BOFI stock has been incredibly strong since the last earnings release.
Part 1: Management's materiality discretion and McCormick's ties to Minkow:
Materiality discretion: BOFI's CEO carefully navigated around having to disclose the existence of any potential SEC investigation on his most recent earnings call, using carefully scripted legal language regarding materiality. I remind readers that Mr. Garrabrants deems a lawsuit that caused a ~30% one day drop in his stock price as not material enough to disclose in SEC filings (Erhart v. BofI case is amazingly not disclosed in BOFI's 10-K). I only mention that fact to dispel criticism stemming from an argument such as, "…if these findings were material, BOFI would need to disclose them…" Furthermore, I believe that Mr. Garrabrants may have a legal obligation to provide an update on his comments from the last call given that he voluntarily made the decision to address the topic of investigations. I believe Mr. Garrabrants may be in a precarious situation given that Judge Curiel recently found that the Houston securities fraud case is more than sufficient to warrant Houston going forward with its fraud lawsuit against Garrabrants.
McCormick's ties to Minkow: BOFI was able to file a timely and "clean" 10-K in August. Investors jumped for joy because they viewed this 10-K filing as a sign that BDO was comfortable enough with BOFI disclosures and internal controls to give them a clean bill of health.
BOFI's primary external audit executive is an individual named Gary McCormick, who works out of BDO's San Diego office. Mr. McCormick's name surfaced in a transcript from a non-webcast meeting from October 2015 - see here for proof that Gary McCormick is BOFI's external auditor. His name is mentioned alongside an external auditor named Paul Bridge who works out of BDO's Washington State office. Please see this expert in case the above link doesn't work: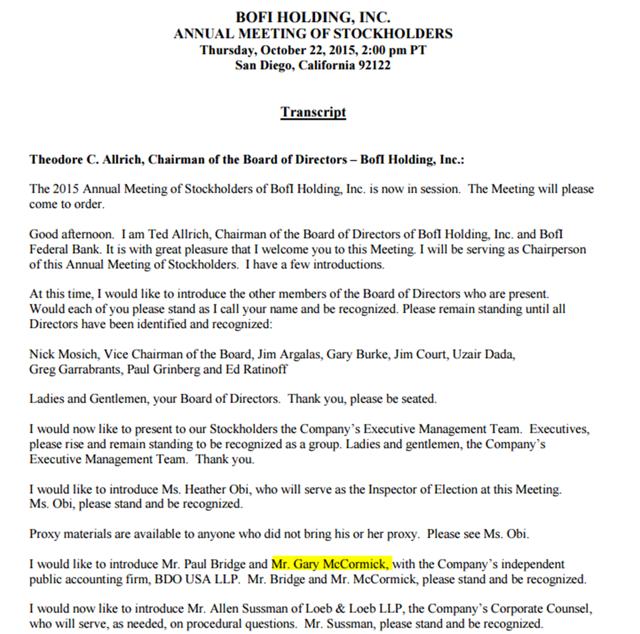 Although not included within his LinkedIn profile, McCormick worked at the Fraud Discovery Institute. In fact, Mr. McCormick was the president and CEO of FDI. I have included a screenshot of his bio at the time of publication: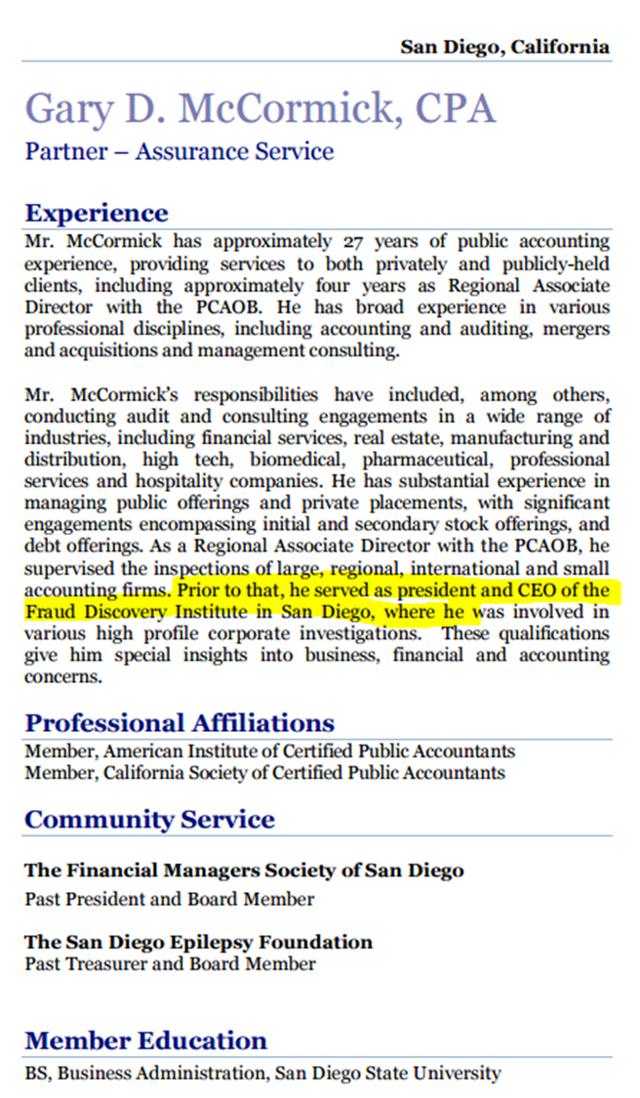 The Fraud Discovery Institute was founded Barry Minkow, who has a long history of criminality including the infamous ZZZZ Best fraud.
I encourage investors to get comfortable with Mr. McCormick as your audit executive.
The following passage is directly from Minkow's book: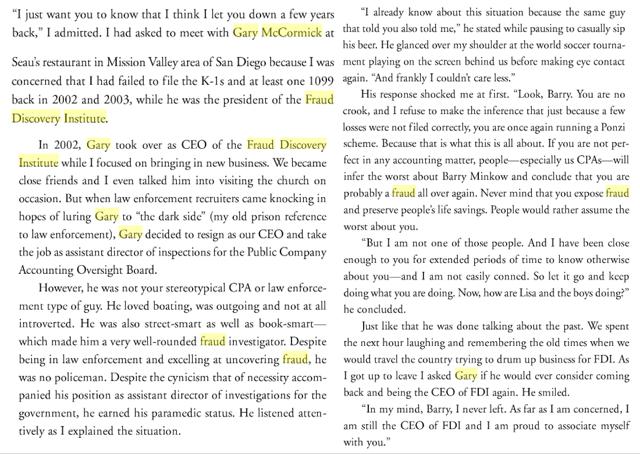 Source: Google books
It is important to note the book has existed for many years, so Mr. McCormick could have disputed Minkow's description of him if he so desired.
I did NOT reach out to McCormick as I am not alleging any wrongdoing, and believe that McCormick would be unable to respond due to confidentiality clauses within auditing agreements.
Part 2: BOFI ties to Jason Galanis
Evidence of BOFI/Galanis connection can be found below, but a summary graphic is provided below: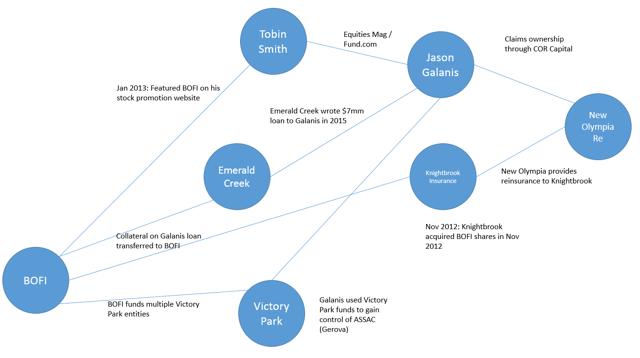 Source: RTI Graphics Department - see supporting links below
Quick Summary (evidence below): Knightbrook Insurance is controlled by one of BOFI's largest shareholders. Knightbrook made a very odd preferred investment (as part of a 13-D filing) into BOFI in November 2012. Knightbrook has a reinsurance relationship with an entity called New Olympia Re that Jason Galanis claimed to control in an email I provide later in this document. The relationship appears to be somewhat exclusive in nature. Shortly after Knightbook invested in BOFI shares, an alleged stock manipulator (by the SEC) Tobin Smith began discussing BOFI shares alongside Greg Garrabrants. Tobin Smith has multiple ties to Jason Galanis, including an Equities Magazine connection. Furthermore, BOFI began funding Victory Park Capital at some point in early 2015. Legal proceedings point to a relationship between Jason Galanis and Victory Park Capital, as Galanis allegedly employed the assistance of Victory Park Capital during the Gerova fraud in Jan 2010. BOFI also funds an entity called ECC SPE that is tied to Emerald Creek Capital. Jason Galanis took out a $7 million loan from Emerald Creek in early 2015 that has subsequently gone into delinquency since Galanis's arrest. ECC SPE transferred the collateral behind the Galanis loan to BOFI Federal Bank (this transaction remains undisclosed by BOFI). The property underlying the loan is currently of interest to the Department of Justice as it attempts to recover losses on behalf of victims of Galanis.
Given the recent interest in Jason Galanis arising out of Aurelius' recent spectacular research into Banc of California, I also took an interest in researching Galanis as some known associates of John and Jason Galanis have at various times surfaced in my research into BOFI. My research leads me to believe that a reasonable person could infer that Galanis has a relationship with BOFI that remains undisclosed to this date. I therefore think Mr. Garrabrants ought to address ties to Jason Galanis on his earnings call tomorrow afternoon.

Source: Yahoo, Microsoft, & RTI Graphics Department
My evidence is in the below narrative:
Connection 1: November 2012
In a 13-D filing filed on November 14, 2012, an entity called Knightbrook Insurance Company (henceforth "KIC") acquired BOFI shares through an odd preferred stock sale:

Source: BOFI 13D filing from Nov 14, 2012
In my research into Jason Galanis, I discovered that Knightbrook Insurance has a reinsurance relationship with an entity called New Olympia:


Source: Exhibit 1 of Case 1:15-cv-09764-WHP Document 5-1 Filed 12/16/15
The connection here is simple. According to Galanis's email that introduces COR Capital (an entity that he claims to control - a topic which is up for dispute) - Galanis claims to also have control of an entity called New Olympia Re. In the email, New Olympia Re is characterized as having a single relationship with KIC. Given the characterization as a "single relationship", the relationship between New Olympia Re and KIC is notable, unique, and/or special.
Insurance regulatory filings on KIC also confirm that New Olympia Re provides reinsurance for Knightbrook: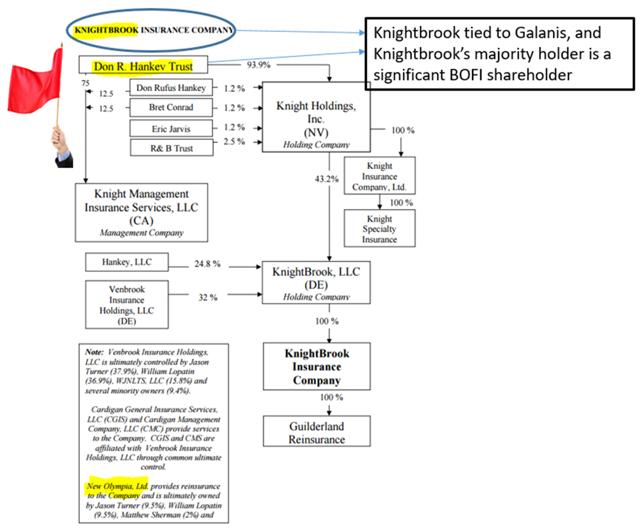 Source: http://www.delawareinsurance.gov/departments/berg/ExamReports/KnightbrookInsuranceCo2013web.pdf
Connection 2: Tobin, January 2013
Only months after KIC took a large stake of BOFI via an odd private convertible preferred offering, Tobin Smith proclaims BOFI as the "…smartest investment in the financial services world right now!":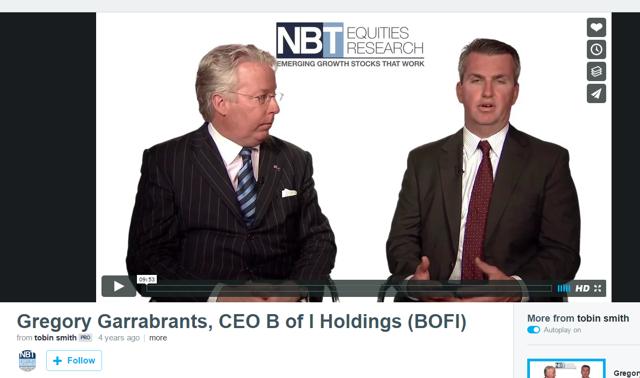 Source: Vimeo
Tobin Smith is well known in penny stock circles and the SEC recently accused Tobin Smith of stock manipulation ( he settled).
One thing readers may not know is that Tobin Smith has longstanding ties to Jason Galanis.
Tobin Smith was previously a contributing writer for Equities Magazine: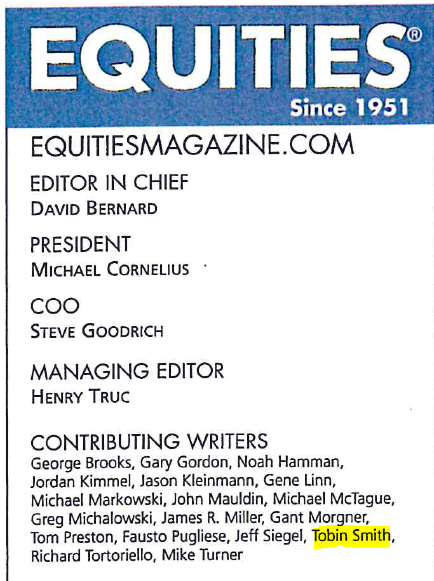 Source: Copy of Summer 2009 Equities magazine issue
What investors may not know is that Jason Galanis controlled Equities Magazine.

Source: Google
Tobin Smith was also associated with recommending Fund.com - an entity with alleged ties to Galanis.
Although I can't say Tobin gets paid for all his recommendations, Fox Business Network fired him for "promoting".
Tobin Smith's involvement in stocks is often an "ultimate red flag" in my experience.
Connection 3: Victory Park Capital & Galanis in 2010, BOFI and Victory Park Capital in 2015
I suggest readers get a copy of a case in the Supreme Court of the State of New York titled"Wimbledon Financing Master Fund Ltd. Vs. WESTON CAPITAL MANAGEMENT LLC,WESTON CAPITAL ASSET MANAGEMENT LLC,PBC-WESTON HOLDINGS, LLC, ALBERT HALLAC, JEFFREY HALLAC, KEITH WELLNER, JASON GALANIS, JOSEPH BIANCO, GARY HIRST, EUGENE SCHER, MARSHALL MANLEY, ARIE JAN VAN ROON, LEONARD DE WAAL, ARIE BOS, KEITH LASLOP, KIA JAM, PAUL PARMAR, ALEX WEINGARTEN, DAVID BERGSTEIN, DPRE ENTERPRISES LLC, GION FUNDING SETTLEMENTS, INC., KAMBE ASSET MANAGEMENT GROUP INC., CYRANO GROUP, INC. f/k/a GRAYBOX LLC, ADVISORY IP SERVICES INC. f/k/a SWARTZ IP SERVICES, INC., ISKRA ENTERPRISES, LLC, ASIA CAPITAL MARKETS, LTD., GENERAL HEALTH TECHNOLOGIES, LIMITED, LLC, K JAM MEDIA, INC., GEROVA MANAGEMENT, INC. and JOHN DOE(S) 1-10."
A very interesting allegation surfaces in the complaint. In the complaint, a relationship is alleged between a Chicago-based firm called Victory Park Capital and Jason Galanis: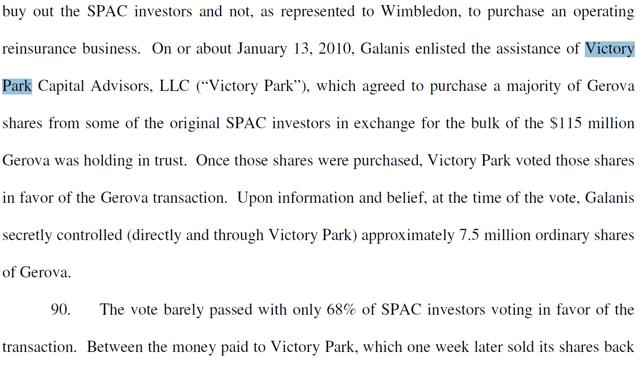 Source: Supreme Court of State of New York, Index # 653468/2015
A quick check of SEC archives show that Victory Park Capital was in fact involved with ASSAC, the precursor company to Gerova.
While VPC was never accused of any wrongdoing as part of its involvement in the Gerova fraud, it is clear that Galanis had a relationship with VPC. In essence, Galanis asked someone at VPC to buy shares in ASSAC, vote in favor of the Gerova deal, and walk away with a nice profit after Galanis gained control of Gerova and VPC tendered its shares at a profit.
In other words, Victory Park had a chance to make nearly risk free profits after a phone call from Jason Galanis and voting their shares in the manner in which Jason Galanis desired. The fact pattern highlighted within the case should lead any reasonable investor to believe that is a strong relationship between Galanis and VPC. An investigator I work with reached out to VPC for comment on its relationship with Jason Galanis and received no response.
Why is the 2010 Galanis/VPC connection relevant to BOFI in 2015? Because BOFI-related entities fund both VPC and Galanis 2015, and the 2010 connection suggests the timing wasn't a coincidence. The BOFI/ VPC funding relationship is shown here: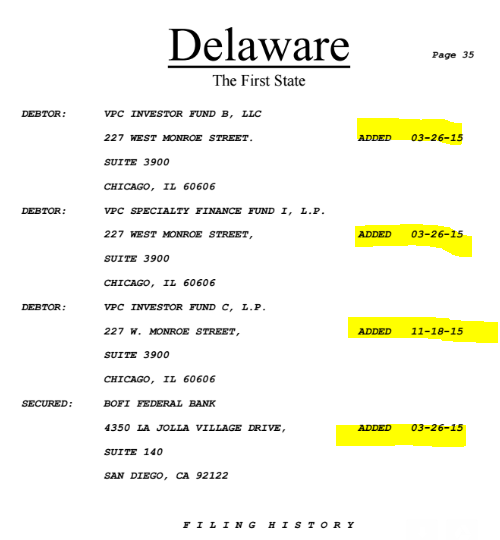 Source: Delaware UCC filings
Connection 4: Emerald Creek Capital (funded by BOFI) lends to Jason Galanis
First, let's be clear on this irrefutable fact: BOFI funds an undisclosed SPE called ECC SPE that is tied to Emerald Creek Capital as is irrefutably shown in UCC filing data below: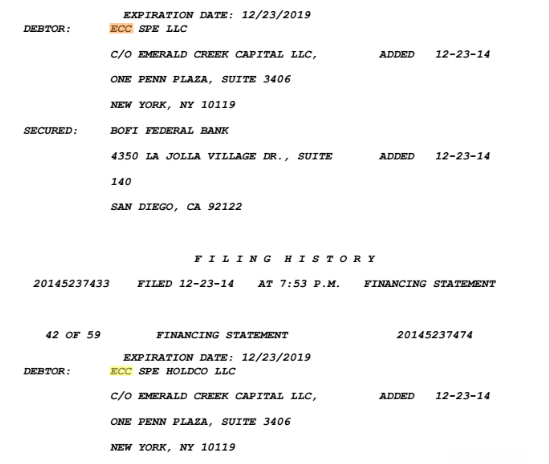 Source: Delaware UCC filings
In April 2015, Emerald Creek Capital - (the entity that ties to the address listed for ECC SPE), made a $7 million loan to Jason Galanis for a very high end luxury property in Tribeca NY (support that the property ties to Galanis is shown below within USA vs. Galanis filing).

Source: NY Acris records
An investigator I work with reached out to Emerald Creek for comment on its Galanis relationship and received no response.
The loan went through a bizarre shuffle where Emerald Creek Capital sold the loan to an SPE called ECC SPE that is funded by BOFI.
ECC SPE then assigned the collateral underlying the mortgage to BOFI Federal Bank, making it crystal clear that this$7 million loan to Galanis, a known person of interest to the SEC for many years, has some sort of odd off balance sheet and undisclosed lending relationship with BOFI.
This document (filed in New York County as ECC SPE LLC v. Archer Diversified TCG, LLC) shows that Galanis is the owner of the property underlying the Archer LLC: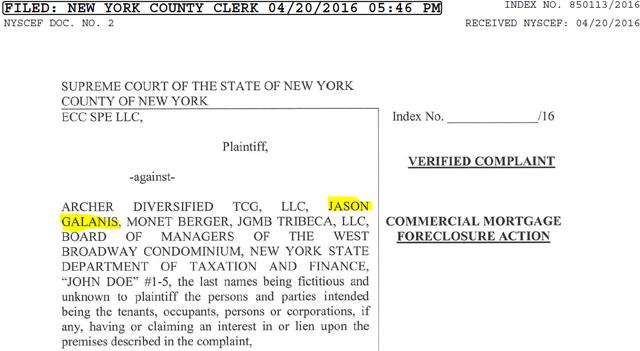 Source: New York County Court, ECC SPE LLC v. Archer Diversified TCG, LLC et al
In April 2016, the loan went into delinquency - you can view the proceedings relating to the foreclosure under ECC SPE vs. Archer Funding TCG LLC (the image above is from that docket). I believe the timing of the loan going bad likely corresponds with the timing of Galanis's criminal issues.
What makes this loan particularly interesting is that the DOJ, in its efforts to recover money for Galanis's fraud victims, appears to be making a play at seizing the equity capital in the home: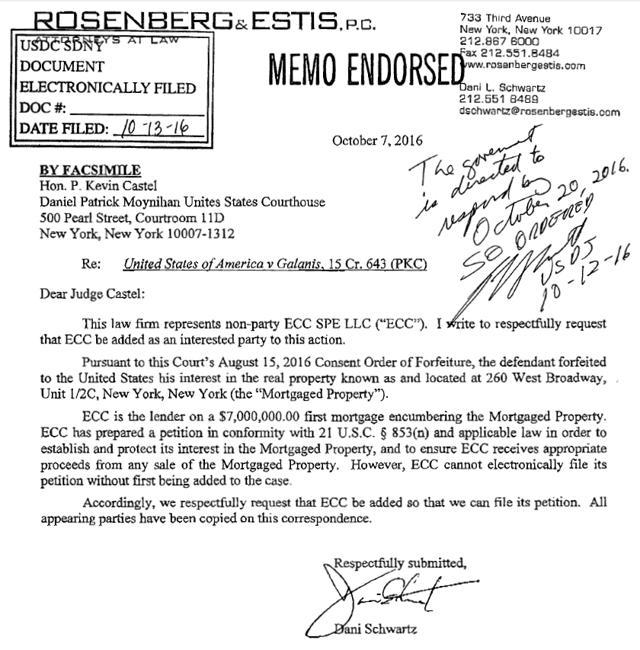 Source: United States of America v. Galanis
Where the loan currently sits is also a topic of interest. The last transfer of collateral shows that this loan was sent to BOFI in some sort of transfer. Will BOFI be reserving against this loan on its balance sheet? Does BOFI plan on disclosing this humongous $7 million loan to investors, or disclosing that an SPE that it funds made a loan to Galanis against a property that is now of interest to the Department of Justice? We will see on this upcoming quarterly call.
Considering connection 3 and 4, it is clear that (1) Galanis has some relationship with Victory Park Capital dating back to January 2010, and (2) Both VPC and Galanis received funding from BOFI in Q1-2015 (calendar year) within a two-week span.
Additionally, some readers may be asking themselves, "is the Galanis loan unusual in NYC?". Although any loan to a convicted fraudster may not be unusual, it is noteworthy because (1) BOFI has downplayed its role in lending to criminals during earnings calls by saying a law firm has found Erhart's"allegations to be without factual basis" (2) Any connection to a convicted fraudster, regardless of the loan seeming usual or unusual, is notable for a federally insured bank, and (3) NUMEROUS touchpoints between Galanis and BOFI are notable for a bank that is facing very public fraud allegations.
Extra Credit, Potential Connection #5: Coincidental Timing of BOFI SPE funding and loans in question?
Now here is the most interesting part. Note that Galanis first got his loan from BOFI-funded Emerald Creek Capital in April 2015. One can imagine that it would be hard for Galanis to qualify for a loan given his family name and given simple Google searches of his name that even back in April 2015 would have pointed to immediate red flag issues (particularly due to his time at Penthouse).
Therefore, it's reasonable to imagine that Galanis, through his relationships that I have already identified with various entities tied to BOFI, may have "called in a favor" for this $7 million loan given that his background would have made it hard for him to qualify for a loan of that size. As I have already noted, neither Victory Park nor Emerald Creek responded to request for comment.
Let's take a step back and consider the timing:
BOFI began funding Emerald Creek's ECC SPE in December 2014. Less than four months later, ECC SPE (funded by BOFI) made a $7 million loan to Galanis. Perhaps not coincidentally, Victory Park - the entity that Galanis allegedly used to gain control of Gerova - also began receiving funding from BOFI around the same time (previously used graphics shown again for timing confirmation):
Emerald Creek Timing (December 23, 2014):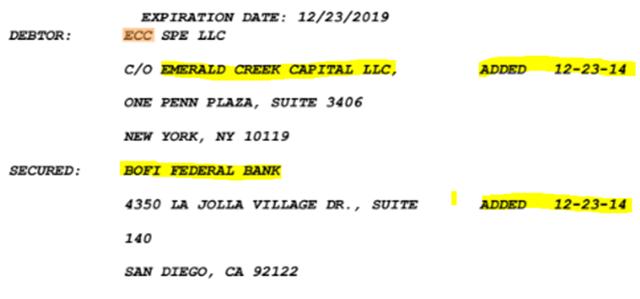 Galanis Loan Timing (April 13, 2015):

VPC Funding Timing (March 26, 2015):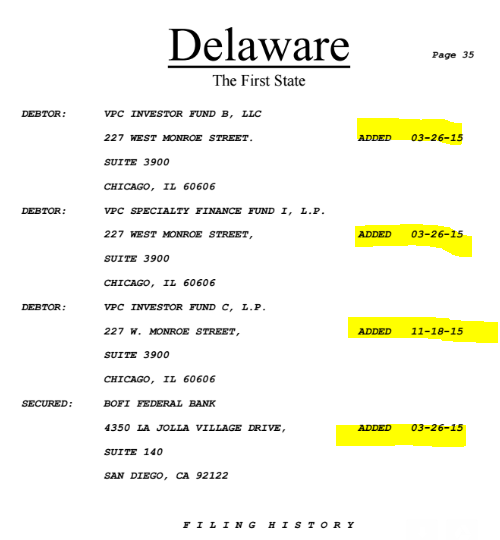 Source: Delaware UCC Filings
I am not alleging that Emerald Creek or Victory Park engaged in any wrongdoing.
I simply ask one question of Mr. Garrabrants. Given the numerous touchpoints between BOFI and Galanis (Knightbrook Insurance, Tobin Smith, Victory Park, Emerald Creek), the career history issues I have raised in this report regarding BOFI's external auditor, and the very public nature of the fraud allegations surrounding BOFI -
Can you help investors understand if you have a relationship with Jason Galanis?
If you can't answer that question with specificity and robust color…well then…
Houston, we have a problem.