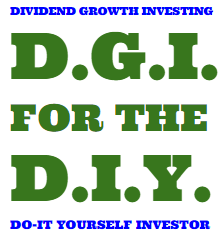 My apologies for the delay in getting this portfolio update out. Life has been quite hectic the last few weeks, as we have welcomed a new addition to the family. My wife gave birth to a little girl on October 5th, and it's been a bit of a whirlwind in my world as we adjust to the fact that my wife and I are now outnumbered in the house.
We now have three kids under the age of 5, and with the two older boys already keeping us on our toes with their explorative and lively play, throwing a newborn into the mix has certainly upped the ante on us trying to keep the household in order.
My writing hobby has generally consisted of burning the midnight oil after the rest of the family goes to bed. That has now been transformed into late night bottle feedings to help my exhausted wife get some needed rest.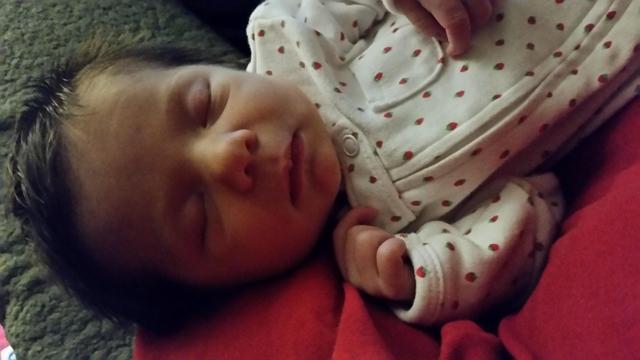 I'm not complaining however, as I can't think of anything I'd rather do than spending some quiet one-on-one cuddle time with this little sweetheart. I'd been told that having a little girl changes your life, and now I understand what those other dads meant by it! We did not find out if we're having a boy or girl prior to the big day, so were overjoyed to welcome her to family.
I'm happy to report that mother and daughter are both doing great, and everyone is adjusting to the new routine in our household. As mentioned, my writing activity on Seeking Alpha will likely be a bit lower than normal, but I'm hoping to still get a few articles a month out for readers.
Now on to the portfolio!
Market Comparison
The first thing I like to do on these updates is checking in to see how the portfolio has performed in comparison to the general market. As you can see, it was a positive quarter for the markets (especially so for the Nasdaq) as they all saw positive gains in Q3.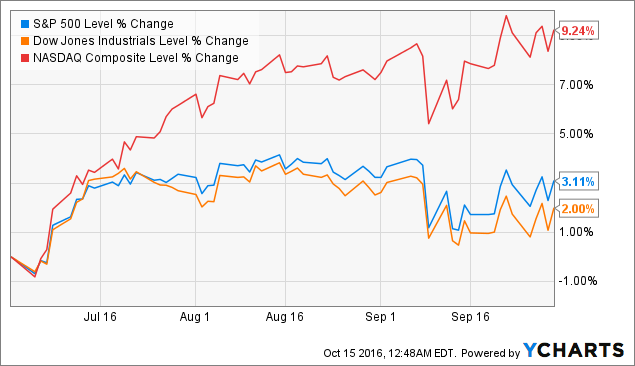 The portfolio also turned in a slight gain for the quarter, as it grew in total value from $54,774 to $56,761. Taking out contributions of $1,092 gives a gain of $895, or about 1.6%.
Here is the progress of the portfolio in graphical terms: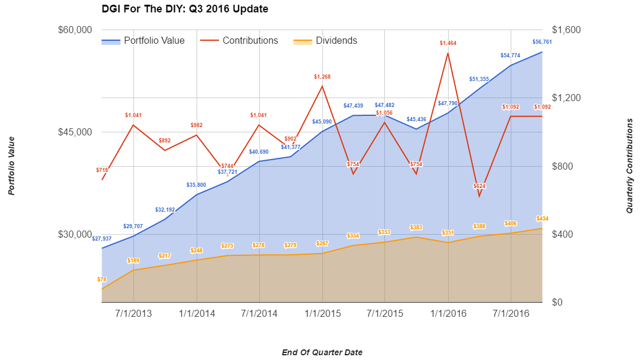 So on a capital gains basis, the portfolio slightly lagged the returns of the market for the quarter. However, after backing out cash contributions, the portfolio value has increased by nearly 10% on the year, well above the returns seen by the S&P and DOW.
Dividend Income
Enough talk about capital gains, the focus of this portfolio is dividend growth! While it was a slow quarter on that front, there were still some positive announcements made during the period.
These companies announced increases during Q3, with both the incremental and year-over-year growth shown on the table.
| | | | | | | | | | |
| --- | --- | --- | --- | --- | --- | --- | --- | --- | --- |
| Date | | Company | Previous Quarterly Rate | New Quarterly Rate | Sequential Increase | Year Ago Dividend | YoY Increase | Dividend Yield | |
| 7/12/2016 | Cummins Inc. | (NYSE:CMI) | $0.9750 | $1.0250 | 5.13% | $0.975 | 5.13% | 3.20% | LINK |
| 7/13/2016 | Walgreens Boots Alliance Inc. | (NASDAQ:WBA) | $0.3600 | $0.3750 | 4.17% | $0.360 | 4.17% | 1.94% | LINK |
| 7/14/2016 | Occidental Petroleum Corporation | (NYSE:OXY) | $0.7500 | $0.7600 | 1.33% | $0.750 | 1.33% | 4.08% | LINK |
| 7/14/2016 | Omega Healthcare Investors Inc. | (NYSE:OHI) | $0.5800 | $0.6000 | 3.45% | $0.550 | 9.09% | 7.23% | LINK |
| 7/22/2016 | Watsco Inc. | (NYSE:WSO) | $0.8500 | $1.0500 | 23.53% | $0.700 | 50.00% | 2.98% | LINK |
| 7/27/2016 | Realty Income Corp. | (NYSE:O) | $0.1995 | $0.2015 | 1.00% | $0.190 | 6.05% | 3.93% | LINK |
| 9/9/2016 | Realty Income Corp. | O | $0.2015 | $0.2020 | 0.25% | $0.1905 | 6.04% | 3.94% | LINK |
| 9/15/2016 | Philip Morris International Inc. | (NYSE:PM) | $1.0200 | $1.0400 | 1.96% | $1.0200 | 1.96% | 4.33% | LINK |
| 9/20/2016 | Microsoft Corporation | (NASDAQ:MSFT) | $0.3600 | $0.3900 | 8.33% | $0.3600 | 8.33% | 2.71% | LINK |
| 9/22/2016 | Lockheed Martin Corporation | (NYSE:LMT) | $1.6500 | $1.8200 | 10.30% | $1.6500 | 10.30% | 3.13% | LINK |
| 9/29/2016 | McDonald's Corporation | (NYSE:MCD) | $0.8900 | $0.9400 | 5.62% | $0.8900 | 5.62% | 3.38% | LINK |
| | | | | Average: | 5.92% | | 9.82% | | |
As mentioned, this was a bit slower quarter than most, as the average sequential increase was just 5.9%, and annual increase 9.8%. This isn't bad; however, the numbers are skewed a bit by the outsized increase from Watsco. Removing it and the second Realty Income number brings the averages down to 4.5% and 5.8%, which are both lower than last quarter's numbers.
Nonetheless, I'm not going to complain much about 6% income growth, I'd love to see those kinds of annual increases at work!
Looking at the actual income produced by the portfolio paints a brighter picture, as Q3 income is up more than 13% over 2015.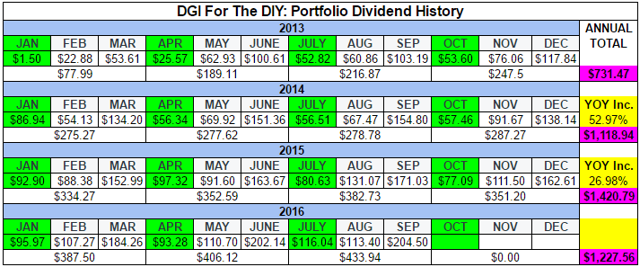 The dividend growth machine appears to be working just fine, and I am on pace to pass the $1,650 mark in dividend income this year.
Portfolio Transactions
I consider myself a buy and hold investor, which leads to limited trading in the portfolio. However, I did make one sale in Q3 when I exited my position in John Deere & Company (NYSE:DE) on August 23rd.

My reasoning behind this sale can be found here, but in short, I simply didn't like the risk/reward being presented at current prices. Crop prices have been weak and are expected to remain depressed into 2017, and Deere's earnings have suffered as a result. Shares are also yielding under 3%, and the dividend has been frozen due to the high payout ratio.
I'm not against holding through a dividend freeze if I expect business conditions to improve, but in this case, I believe it could be another year or two before there is any meaningful growth in the dividend, and simply decided to move funds into some other names on my watch list.
A total of three new companies were added to the mix in Q3, as I added some more diversification in the healthcare sector and added two other companies to boost growth in the portfolio.

The first purchase, Abbott Laboratories (NYSE:ABT), was made in an effort to expand my healthcare holdings while also diversifying away from the drug companies. I am already well covered with pharma companies with holdings in AbbVie (NYSE:ABBV), Gilead Sciences (NASDAQ:GILD), and Amgen (NASDAQ:AMGN) and felt adding another diagnostics and medical device company would be a good addition to complement Becton, Dickinson and Company (NYSE:BDX).
Abbott is trading at the high end of fair value, and the pending acquisitions of St. Jude Medical (NYSE:STJ) and Alere (NYSE:ALR) causes some uncertainty. However, Abbott has shown a long history of treating shareholders well, and with a 2.5%+ yield and expected high single-digit EPS growth, I felt it was a decent time to start a new position.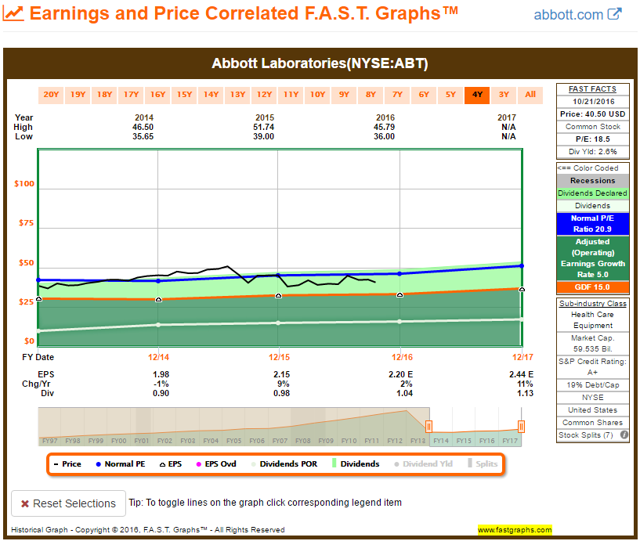 CVS Health (NYSE:CVS) and Lowe's Companies (NYSE:LOW) were the two companies I purchased with the John Deere sale proceeds. I gave my reasoning behind both purchases previously, but the short and sweet of it is that I think they have better growth prospects than Deere going forward.
CVS has demographic trends in its favor as the Baby Boomer generation ages and adds demand for prescription drugs, while Lowe's continues to benefit from a recovering housing market and the age of "DIY" home improvements.
CVS shares have been in a multi-year downtrend, and are now trading at a valuation not seen since 2013. This is despite the company growing earnings at a 12%+ clip in each of the last 5 years. Analysts continue to expect 12%+ growth going forward as well. At a 2% yield and a P/E around 15, this seems like a good spot to start building my position for the long run.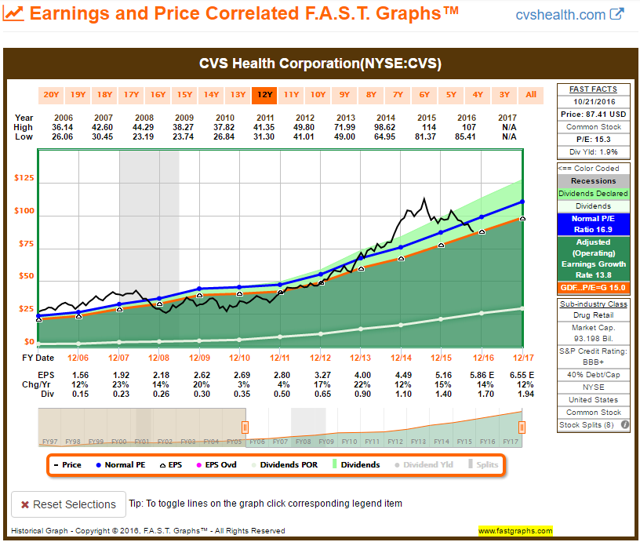 The final purchase, Lowe's Companies, has also been an excellent grower through the years and has seen a pullback in share price towards fair value. Like CVS, it is trading at a valuation not seen for several years. This despite the company growing earnings at a high-teens rate over the last 6 years with expectations for similar growth going forward.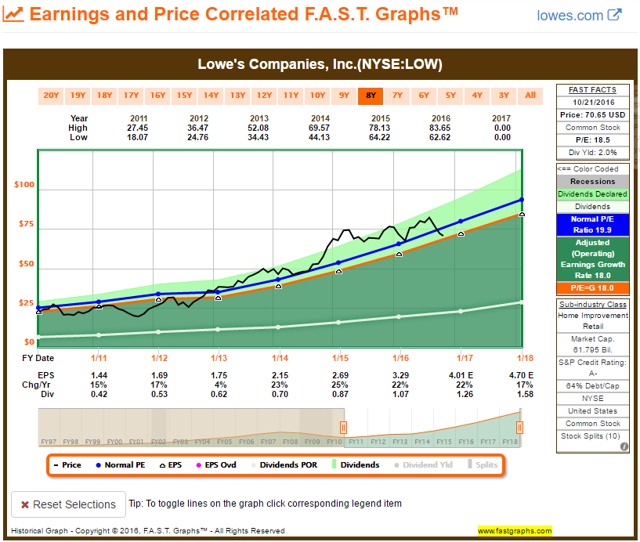 I've given up a bit of income with the two purchases, as they both yield around 2% compared with 2.8% from Deere. However, their growth rates far outpace Deere, and I expect that will trump the near-term income loss over the long run.
Current Portfolio
With those changes in the books, this is how the portfolio looked at the end of the third quarter: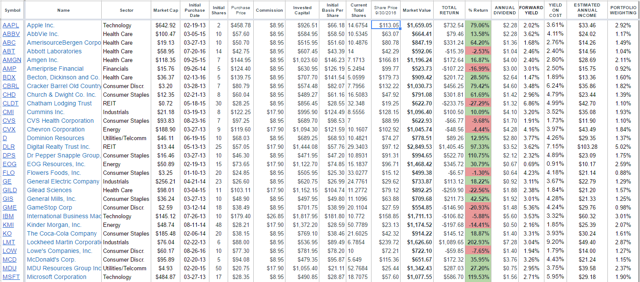 Here is a more detailed breakdown of the portfolio and the weighting of holdings by sector.

The portfolio is pretty well balanced across sectors, as eight of the nine have 9% or better weightings on a valuation basis. On the income side, REITs currently dominate, as one would expect due to their relatively high yields.
Healthcare appears to be underweight. However, with companies like Omega Healthcare being classified as a REIT and Walgreens Boots and CVS Health as consumer staples, my actual exposure to the sector is a bit higher than meets the eye.
On The Radar
Since the close of the quarter, I have added to my position in CVS Health, now bringing it up to a full-weight position. At a 15 P/E and 2% yield, the stock is trading at a fair valuation and I think provides a good opportunity for income growth and capital appreciation going forward.
With rumors swirling about a potential takeover of NXP Semiconductors (NASDAQ:NXPI) by Qualcomm (NASDAQ:QCOM), shares of both have moved higher in recent weeks. At this time, I am content to hold both companies to see how things play out, but should a merger come to fruition, there may be some capital available for new purchases.
From my existing holdings, I am currently looking at Lowe's Companies, AmerisourceBergen Corp. (NYSE:ABC) and Ameriprise Financial (NYSE:AMP) as potential targets to bring up to full positions in the portfolio.
Other names I am watching as potential adds include: V.F. Corp. (NYSE:VFC), The Home Depot, Inc. (NYSE:HD), The Walt Disney Company (NYSE:DIS), Dollar General Corp. (NYSE:DG), Altria Group (NYSE:MO), and UnitedHealth Group (NYSE:UNH).
Needless to say, there is no shortage of companies that I would like to own, and I shouldn't have any problems finding one or two to buy should capital come available.
Conclusion
The portfolio continues to perform well and is doing what it is intended to do: Grow Income. Additionally, the value of the portfolio is growing along with the income, as it has now more than doubled from its inception in early 2013.
There are plenty of other young, middle-class investors out there who struggle to put money away for retirement. I hope this portfolio provides encouragement to them that one can be successful with just a few hundred dollars a month in contributions, and highlights the importance in just getting the snowball rolling, no matter how small the start.
If you would like notifications on future updates for this portfolio as well as on my other writings, I kindly as you to click the "follow" button next to my profile at the top of the page.
Happy Investing!
Disclosure: I am/we are long ABBV, AAPL, ABC, AMGN, AMP, BDX, CBRL, CHD, CLDT, CMI, CVS, CVX D, DE, DLR, DPS, EOG, FLO, GE, GILD, GIS, GME, IBM, KMI, KO, LMT, LOW, MCD, MDU, MSFT, NSC, NXPI, O, OHI, OXY, PII, PM, QCOM, ROST, SBUX, STAG, T, TGT, THO, UNP, V, WBA, WEC, WFC, WSO, XEL, XOM.
I wrote this article myself, and it expresses my own opinions. I am not receiving compensation for it (other than from Seeking Alpha). I have no business relationship with any company whose stock is mentioned in this article.
Additional disclosure: I am an engineer by trade and am not a professional investment adviser or financial analyst. This article is not an endorsement for the stocks mentioned. Please perform your own due diligence before you decide to trade any securities or other products.