Xilinx (NASDAQ:XLNX), the maker of semiconductor accelerator chips, showed strong y/y growth when it reported on its third quarter on October 19. Most significantly, it beat Intel (NASDAQ:INTC) in a manner that indicates Xilinx may continue to grow faster than Intel's rival "Programmable Solutions Group" over the next few years.
Xilinx Q3 Basics
Note that I am calling Xilinx's recently reported quarter Q3, when technically it is Q2 of fiscal 2017.
Revenue was $579 million, up 1% sequentially from $575.0 million and up 10% from $528 million in the year-earlier quarter.
GAAP net income was $164 million, up 1% sequentially from $163.0 million, and up 29% from $127 million year-earlier. Diluted GAAP EPS (earnings per share) were $0.61, flat sequentially from $0.61, and up 27% from $0.48 year-earlier.
Xilinx ended the quarter with $3.7 billion in cash and $1 billion in long-term debt. Operating cash flow was $184 million. $100 million was used to repurchase shares.
$84 million was paid out in dividends in Q3. The next dividend payment of $0.33 will be due to shareholders of record on November 8 and paid on November 23, 2016. At the closing price on October 26 of $50.29, that is equivalent to an annual yield of 2.6%.
Xilinx has been as low as $40.44 during the last 52 weeks and set a high of $55.48 on September 30, 2016.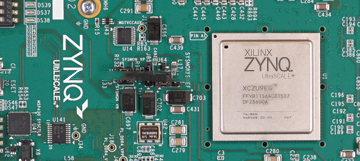 Zynq FPGA (Source: Xilinx)
Intel Lags
Intel also had a good Q3. Revenue was $15.8 billion, up 17% sequentially from $13.5 billion and up 9% from $14.5 billion year-earlier.
GAAP net income was $3.4 billion, up 158% sequentially from $1.33 billion and up 9% from $3.1 billion year-earlier. GAAP EPS (diluted) was $0.69, up 155% sequentially from $0.27 and up 8% from $0.64 year-earlier.
Intel's annual revenue growth was just slightly behind Xilinx, but earnings growth was quite a bit slower.
If that indicated future trends, and if the markets were rational, Xilinx should have a higher P/E ratio than Intel. Xilinx's trailing 12 month P/E Ratio is 22.1, and Intel's is 16.5.
While Intel and Xilinx are direct competitors, Xilinx is focused on FPGAs (field-programmable gate arrays and related devices), while Intel is a much larger company that competes mainly in CPUs but with a variety of other specialties, including memory.
Intel's good y/y results were led by its datacenter group, basically server chips, up 10% y/y, and its Internet of Things group, up 19% y/y.
I would note that Intel's dividend works out to 2.95% (at the closing price of $34.92 on 10/26), a bit higher than Xilinx's.
Xilinx v. Intel's "Altera" division
Intel bought Xilinx's prime competitor, Altera, late December 2015. Altera is now Intel's "Programmable Solutions Group." In Q3 the group had revenue of $425 million, down 9% sequentially, but up 6% y/y.
So in Q3, in direct competition over the type of programmable devices Xilinx and Altera specialize in, Xilinx grew revenue 10% while Intel's rival group grew at 6%. Since Xilinx was already the larger company (than Altera) before Intel took over, it would seem to be on the path to dominating this sector.
There are some moving parts to look at that could explain why (at least for now) Xilinx is outpacing Intel's group. Intel bought Altera because of the increasing importance of non-CPU accelerators in datacenters, HPC (high-performance computing) and particularly cloud computing. As Intel's CEO Brian Krzanich explained in the Q3 conference call, FPGAs are just one type of accelerator. The two other common types are GPUs (graphics processing units), which are good at tasks like AI in addition to video rendering, and ASICs, which are pre-programmed for a specific task when they are designed. Intel is losing the GPU race to both AMD and Nvidia. By having its own FPGA division, it can capture some of the accelerator market. In the long run, it may be able to put FPGAs on the same chip as its CPUs, thus dominating the server accelerator market.
In the meantime, however, most FPGAs are doing anything but accelerating server farms. They are used in myriad devices. Some of the most common applications are in communications, both wireless and wired, networking, industrial controls, and instrumentation. The U.S. military is a major buyer. Intel's group has to continue to supply the former Altera customers, and compete for all the new slots.
I believe, based on Xilinx's extensive Q3 report and Intel's published numbers, that Xilinx is gaining traction because it did a better job executing against Altera and then Intel. While there are many aspects to this, to keep it short I will focus on the move to 14 nm and 16 nm.
As with other types of semiconductors, over time manufacturers can put more transistors onto the same size chip, so the chips become more capable. Most of the advanced FPGAs being sold today are on the 20 nm process node. The most cutting edge generation, however, is Xilinx's 16 nm UltraScale+ family.
In theory Intel's 14 nm family should be able to beat Xilinx's 16 nm family. A smaller process node allows more gates to be thrown at a problem, plus some power savings. The possible advantage of 14 over 16 is more apparent when you square them to get surface area: 14 squared is 196, but 16 squared is 256, so the Intel node should have a 24% advantage, which would be significant. But in this case, customers are going with the Xilinx solutions. Part of this is that complex circuitry has design issues other than just the number of gates that can be squeezed onto a chip in theory.
The main factor is that Xilinx's 16 nm family got started over a year ago. Intel's 14 nm sample chips only became available earlier this month. Meanwhile Xilinx has over 200 customers for its 16 nm chips.
In addition, there are at least some end customers who are worried that in the long run they will be too small for Intel to care about supporting. The worry is that Intel will focus on chips that go with its CPUs, and not try to keep up a lot of designs where the demand is small.
Finally, Xilinx is also focused on beating Intel to 7 nm products. Given that Intel is a year or more behind Xilinx right now, it is reasonable to expect to see 7 nm FPGAs from Xilinx before Intel. However, that is also dependent on the progress foundries make towards the 7 nm node.
Even in cloud computing Intel's FPGA group may not win the day. Xilinx is supplying FPGAs to Baidu for machine learning in datacenters. AMD, ARM, Huawei, IBM, Mellanox, Qualcomm, and Xilinx joined forces to bring a high-performance open acceleration framework to data centers. The companies are collaborating on the specification for the new Cache Coherent Interconnect for Accelerators (NASDAQ:CCIX). While Intel CPUs may dominate today's datacenters, if they can't catch up with Xilinx's lead in accelerators, the Altera acquisition might become a headwind in the datacenter market.
Xilinx's own problem
While Xilinx has been executing well, gradually building up a solid lead over Altera/Intel, it does have a problem investors should be aware of: fluctuating end demand.
Here is a table of Xilinx's revenue by fiscal years (ending in April)
| | |
| --- | --- |
| year | Revenue in $ millions |
| 2012 | 2,241 |
| 2013 | 2,169 |
| 2014 | 2,382 |
| 2015 | 2,377 |
| 2016 | 2,213 |
As you can see from the table, there was a bit of a peak in 2014-2015. This was because deployments for 4G cellphones ramped in those years.
Total fiscal 2017 revenue looks like it should get back up to about 2014-2015 levels, and that is without a major cellphone infrastructure ramp. So the non-cellphone market for Xilinx products is growing.
In Q3 Xilinx had 5 of its 8 end markets grow. So 3 failed to grow. The march of technology can be slowed or reversed by the macroeconomic environment or industry-specific slumps. The U.S. defense budget can affect Xilinx, both the overall budget and the specific programs that get funded.
However, there should be another spike when 5G cellphone system deployments begin. Cloud server farms tend to be sophisticated customers who would not feel compelled to put Intel FPGAs next to Intel servers, and accelerators for Cloud are a growing market. There is also likely to be demand for FPGAs from autonomous driving systems (Xilinx already sells FPGAs for automotive infotainment systems). As AI systems become more common for a wide variety of applications, FPGAs will as well.
Guidance
Xilinx December quarter (fiscal Q3) revenue is expected about flat sequentially. Expense is likely to be up as new 16 nm design tape outs accelerate.
Intel is also guiding to essentially flat in Q4 revenue, though possibly down slightly. There is no guidance specific to the Altera/ Programmable Solutions Group.
Conclusion
I believe Intel remains a sound investment because people still need client devices. The growth area for Intel CPUs is for the Cloud that serve the clients. Intel's CPU domination for servers is not likely to end soon, though it is possible AMD could gain some market share back later in 2017. Intel's purchase of Altera shows the importance of the FPGA segment to the future of computing infrastructure, but Programmable Solutions Group revenue was only 2.7% of total revenue in Q3, so it should be kept in perspective.
In the 2 to 3-year time frame I think it is probably Xilinx stock will appreciate more than Intel, more than enough to offset Intel's slightly higher current dividend yield. Xilinx dominates the 16 nm and 20 nm FPGA market, so it is likely to continue to gain market share. Because Xilinx has good cost controls in place, it is likely to continue to grow earnings faster than revenue, and faster than Intel will be able to do. For that reason it should also be able to maintain its higher P/E ratio.
Disclosure: I am/we are long XLNX, AMD.
I wrote this article myself, and it expresses my own opinions. I am not receiving compensation for it (other than from Seeking Alpha). I have no business relationship with any company whose stock is mentioned in this article.