Debt Increase to Fund Original Content:
On October 24, 2016 Netflix (NASDAQ: NFLX) announced plans to raise $1 billion in debt to fuel their creation of original content. In doing so, Netflix's balance sheet debt number will increase to over $3 billion and the new debt will mature in 2026 while carrying an interest rate of 4.375%. Before making this debt offering announcement, Netflix had debt of $2.37 billion as of September 30, 2016. The pressing question is will this increase in debt lead to an increase in subscribers as well as keep current subscribers? Looking at the graph below, it is clear that Netflix is spending significantly more than Hulu and Amazon Prime, two of its largest competitors, to provide its subscribers with new content.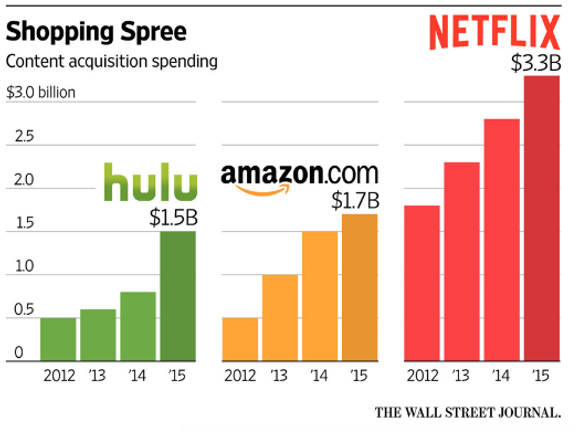 Although some investors may see an increased debt number as a downside to Netflix's value, it's unlikely that Netflix will disappoint their subscribers with the new content they plan on providing in the near future. For example, one of the company's most recent hits, Stranger Things, drew attention and headlines across the nation as subscribers binge-watched the show's first season. Stranger Things was renewed for a second season after the explosion of popularity of the first. Based on their prior success which continued into the third quarter of 2016, Netflix should continue to provide new and exciting content that will keep current subscribers and attract new ones.
Although some investors may view a significant increase in debt as a downside to a company's stock, I would disagree for a few reasons. Netflix has essentially become the premier online streaming service provider with countless shows receiving critical and commercial acclaim. The graph below shows that Netflix has the advantage for original content on Rotten Tomatoes and with the majority of their shows being rated at 80% or higher.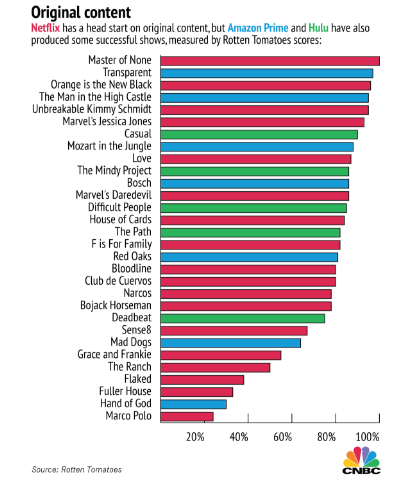 Since the online streaming service is a rapidly growing industry, it can be deduced that Netflix will continue to produce original content that is attractive to viewers.
Stock Outlook:
From July 27, 2016, to October 26, 2016, Netflix's stock price increased from $92.04 to 1$126.97 for a for a 37.95% increase in price. Stranger Things, Narcos Season 2 and Luke Cage, the latest Netflix-Marvel collaboration, were all released between July 26 and October 26. These releases are factors that may have contributed to the increase in stock price. Investors should see this as a sign that more Netflix original content will lead to the creation of further value in the company which in turn leads to increases in stock price. This means that Netflix's recent increase in debt to fund the production of original content should be viewed as great news for owners of Netflix's stock and potential investors.
Where Netflix is Headed:
Seeing as Netflix has been pumping out hundreds of TV shows and movies featuring original content, it seems that this is the direction they have chosen to take their business model. Although their debt number is large and looks as though it will continue to increase, Netflix has a huge subscriber base that is hungry and looking for more original content to consume. It looks like Netflix is going to be the premier streaming service provider in the coming years as they continue to generate original content. With Netflix's stock price closing at $126.97 on October 26, 2016, now is the time to invest in Netflix.
Disclosure: I/we have no positions in any stocks mentioned, and no plans to initiate any positions within the next 72 hours.
I wrote this article myself, and it expresses my own opinions. I am not receiving compensation for it. I have no business relationship with any company whose stock is mentioned in this article.