Last Thursday, McKesson Corporation (NYSE:MCK) reported its Q2 2017 results after market close. Its shares reacted negatively by sliding as much as 28% the next day. More than 28 million shares traded hands, which was 17x that of its average volume!
Just what did McKesson report?
For Q2, McKesson generated revenues of $50 billion which were 2% higher year over year. GAAP earnings per diluted share from continuing operations was $1.35, down 49% year over year.
However, the year-over-year expectation for the fiscal year 2017 isn't as scary as that double-digit earnings decline. Specifically, management lowered its earnings guidance for fiscal 2017 from a growth of 7-11% (estimated in Q1) to a year-over-year change of -1% to 3%.
The negative outlook resulted from recent customer pricing activities and a trend of slower branded pharmaceutical inflation.
Increased competition
McKesson has always operated in a competitive environment, but instead of being concerned about customer pricing, it has always focused on delivering value. For example, it focuses on delivering exceptional service and innovation to help its customers to more effectively and efficiently connect with patients.
Unfortunately, in Q1, McKesson began experiencing some customer pricing softness, which has worsened in Q2.
This is what CEO John Hammergren had to say about it:
"What we began to see more recently is competitive activity that is broader than our original expectations, more aggressive, and across several areas of our U.S. pharmaceutical business...

When a competitor significantly undercuts our existing pricing, we are compelled to respond. And although we cannot be absolutely assured that recent price concessions will address the recent heightened competitiveness fully, we believe our responses have been appropriate and measured…"
This sounds like a price war, which can be dangerous to an industry that already earns thin margins. My hope is that the lower pricing is a temporary measure only.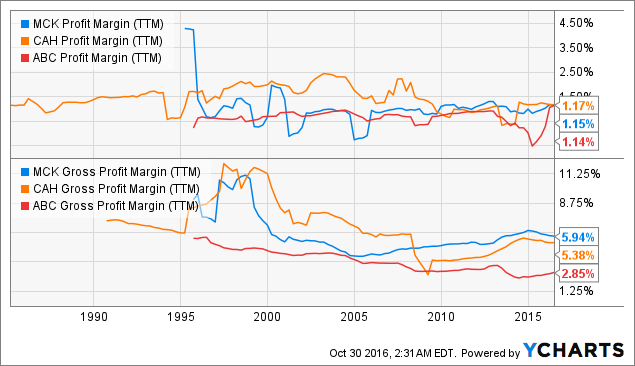 MCK Profit Margin (TTM) data by YCharts
McKesson and its peers already earn low margins
Hammergren goes on to say, "We believe the services we provide to both our provider customers and our manufacturer customers offer substantially greater value than what either party could develop with a more direct relationship. And we expect that with our focus on the value we deliver, our margins will recover over time."
The good long-term strategy will just be as Hammergren said - to focus on delivering creating value for your customers and higher profits will come.
Slower branded inflation
Before talking about this issue, let's take a look at how McKesson is compensated for branded pharmaceutical product distribution services. It is essentially the middle man.
Hammergren explains:
[A]ll of our contracts with branded pharmaceutical manufacturers are individually negotiated, but generally, are constructed around charging for the service we provide. In almost all cases, the charge is derived as a percent of revenue managed and delivered by McKesson for that specific manufacturer. These charges vary not only by manufacturer, but also by the service requirement at the product level.

Clearly, revenue-based fees are all affected at some level by inflation. However, in some cases the benefit from inflation is greater, given the specifics and the characteristics of individual contracts, and a specific behavior of the manufacturers that are our party to these agreements. So although a large majority of our compensation is relatively easy to forecast, inflation-based income derived from these relationships can impact our results on a more variable basis. Through these agreements, speculative buying or buying large quantities of product in front of anticipated price increases no longer exist.

Essentially, all of McKesson's pharmaceutical purchases are done in partnership with the manufacturer, unlike the industry standard practice years ago, before any contracts presided over the relationships between wholesalers and their manufacturer partners. These changes that happened years ago have translated into more stable inventory levels that are appropriate to meet the customer demands and service levels.

So the takeaway here is that branded inflation still plays a meaningful role, and in some cases, it can be an important part of our overall compensation with specific manufacturers, and we can be impacted by their decisions, relative to price increases. Although some contracts with manufacturers may not have specific compensation elements tied to product price changes, our internal branded price inflation assumptions often appear to be directionally aligned with externally published data.
There have been fewer price increases from manufacturers than the company expected. And when there are price increases, they're at a lower rate than the growth in 2016 and are also below the company's expected growth rate.
Don't bet against McKesson
Although there's increased uncertainty, aggressive competition, and pricing concerns, investors shouldn't bet against McKesson. It has come a long way to become a market leader.
Here is a quick comparison of the profitability of McKesson against its competitors, Cardinal Health Inc. (NYSE:CAH), and AmerisourceBergen Corp. (NYSE:ABC), until recently.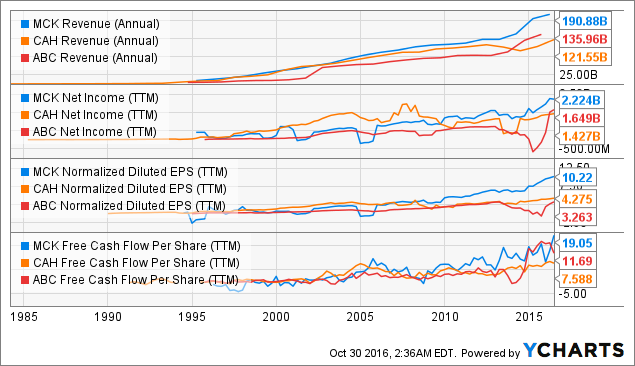 MCK Revenue (Annual) data by YCharts
Below is an infographic from the company's 2016 annual report that highlights some of its stats and accomplishments.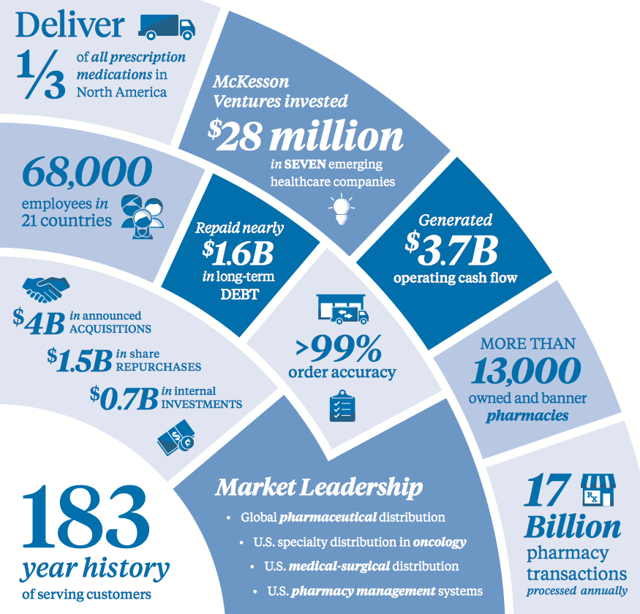 Valuation
Value Line's last report on McKesson was quite positive. Back in August, McKesson was trading at about $196 per share and Value Line had a three- to five-year price target range of $275 to $335 per share for an annualized return of 10-15%. New Value Line reports on McKesson and its peers should come out soon.
Morningstar maintained the wide moat on McKesson but reduced its fair value estimate by 10% to $200 per share. From the close of $124 per share, the company is discounted by 38%.
F.A.S.T. graphs has also updated with a 0% growth expectation for fiscal 2017 and a moderate growth estimate of 4% in 2018.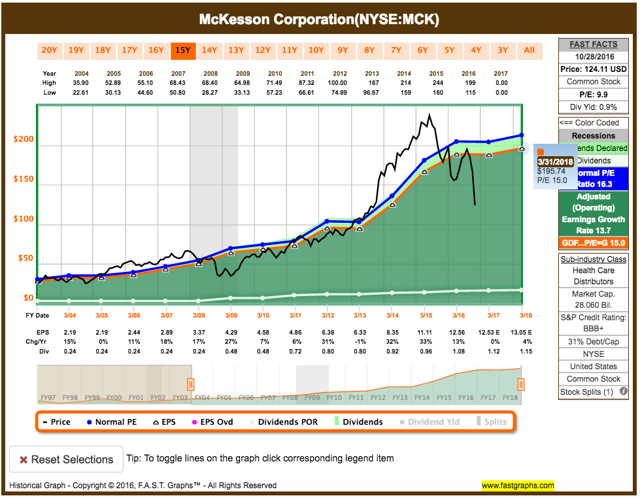 Assuming a fair multiple of 15, McKesson's fair value should be close to $188 per share, implying a margin of safety of 34%.
Dividend and share buyback
Although McKesson offers a dividend, it still yields less than 1% after the huge price decline. Moreover, its dividend growth has been lumpy (even though it still increased its dividend per share at a CAGR of 18.9% since 2008).
If you're looking for a dividend growth name in the space, you should explore AmerisourceBergen, which has increased its dividend per share at a CAGR of 35.8% since 2008 and at a CAGR of 46.8% over the last 10 years.
The Board of Directors just authorized a new $4 billion share repurchase program, which will be a good use of capital if its share price remains depressed or falls further.
Conclusion
In the short term, share prices can easily be shaken by news and emotion. However, in the case of McKesson's share price decline, it wasn't without reason.
It is facing increased competition and drug price increases have occurred in moderation compared to the previous year. So, it'd be amazing if McKesson could more or less maintain its current profitability for this fiscal year. If so, investors can invest at a discount in an industry leader, which has normally traded at above a P/E of 15.
That said, cautious investors who are interested should wait for some sort of consolidation or upward action supported by strong volume before getting in. The reason is that it's more likely the shares won't head higher anytime soon due to headwinds and negative market sentiments.
Share your thoughts in the comments below
Are you investing in or avoiding the health care distributor space?
If you're interested, which company do you have your eyes set on?
If you like what you've just read, you can also follow me. Simply click on the "Follow" link at the top of the page to receive an email notification when I publish a new article.
This article first appeared in my premium service, from which my subscribers get priority attention and gain access to my real-time buys and sales. Feel free to try the service for free for two weeks.
Quotes from the Q2 2017 earnings call is in courtesy of Seeking Alpha's transcript.
Disclaimer: This article consists of my opinions, are for general information and educational purposes only and doesn't constitute as financial advice. Please do your own research and due diligence and consult a financial advisor and or tax professional if necessary before making any investment decisions.
Disclosure: I am/we are long MCK.
I wrote this article myself, and it expresses my own opinions. I am not receiving compensation for it (other than from Seeking Alpha). I have no business relationship with any company whose stock is mentioned in this article.