Chevron Corp. (NYSE: CVX) published it Q3 results on Friday. As expected, the top line was lower compared to the Q3'15 due to the low oil prices during the third quarter.
As a result, the company ended up the quarter with $0.68 earnings per share, which is $0.41 lower year over year.
When examining it from a wider perspective, taking into account that in the recent three quarters Chevron's business delivered a negative EPS, it could be a turning point.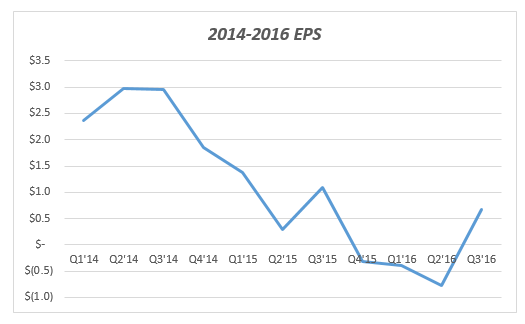 In fact, in the Q3 earnings call, management gave a signal that the second half of 2016 is expected to be a turning point for the company.
"... We are already growing; as I noted, we have initiated the growth. In fact we have added five rigs over essentially the second half of 2016. That is a pace of rig additions of about one rig a month. Production has grown from the third quarter of last year by 24%, further supporting the notion that we are growing and our pace and rate of additions are intentional".

- Bruce Niemeyer, Chevron's VP Mid-Continent
Going by the earnings call, Chevron management is not only focused on lower number of drilling locations, but is also prioritizing the investment decisions based on a detailed NPV per acre.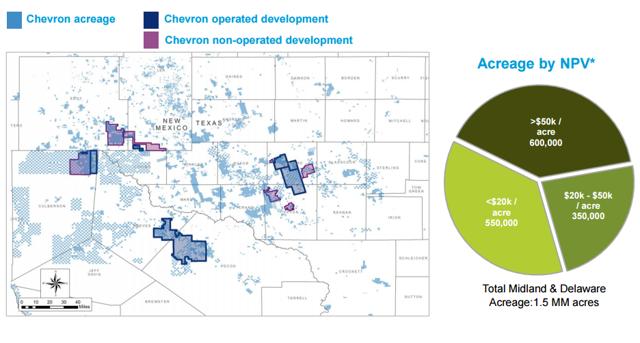 For example, in the Permian basin located between New Mexico and West Texas, Chevron holds two millions of acres. The company evaluated the NPV for each section and can develop it based on it intrinsic value.
A strategy that is mostly focused into a specific location allows Chevron to reduce its cost and CapEx. Management expects to end 2016 with CapEx below the initial $25 billion guideline. In fact, the message from management was that it could be closer to $24 billion.
As for 2017-2018, the expectations are to continue the CapEx reduction trend and to reach the levels of $17-22 billion per year. This should be a huge relief with regard to both Cash Flow and P&L.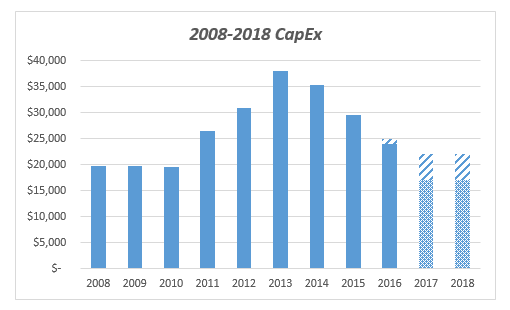 Based on the published balance sheet data, total debt reached $45.6 billion in Q3'16. It was up by $0.5 billion compared to Q2'16, but this addition is much lower compared to the $2.8 billion additional debt that was issued during Q2'16. As the debt seems to be under control now, the Debt-to-Equity indicator this quarter is flat at 31%.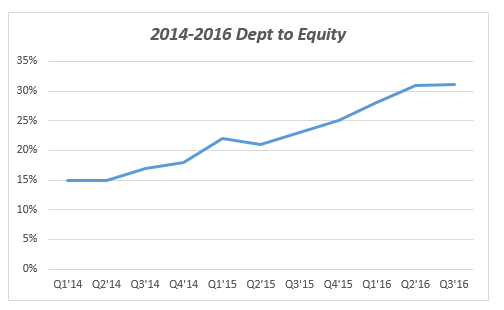 The dividend increase of $0.01 has yet to hit the books. This would take place in December, but the native addition of 1% should not be a significant burden to the cash flow, as it is only ~$20 million per quarter.
The main risk continues to be the oil price, which is far from being stable this year. The company is using the $50 WTI price tag for all of its assessments, and it has also stated that the uptick potential is limited.
" ... Just a little bit on price, I think our own view here is that in the medium-term we are potentially going to be range-bound. We are constructive on price and we do think over time there will be price appreciation, but we see it being relatively modest."

- Pat Yarrington, Chevron's VP and CFO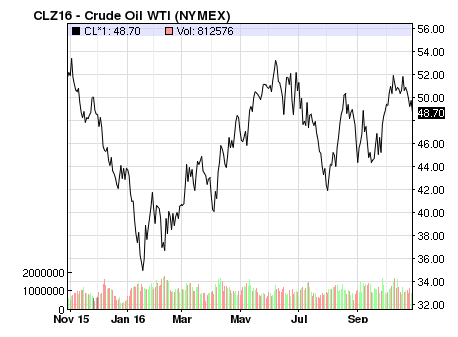 Conclusions
The recent financial statement strengthened my position that Chevron's management is consistent in delivering as per its declared strategy, which has a clear focus on low-cost drilling opportunities in order to lead the company to be a competitive leader in the current environment. This strategy has great potential in case oil prices recover.
The recent dividend hike was relatively small, hence it doesn't seem to generate a cash flow issue.
I would continue to monitor the debt and Debt-to-Equity, with the expectation that it would start going down in the coming quarters.
Disclosure: I am/we are long CVX.
I wrote this article myself, and it expresses my own opinions. I am not receiving compensation for it (other than from Seeking Alpha). I have no business relationship with any company whose stock is mentioned in this article.
Additional disclosure: The opinions of the author are not recommendations to either buy or sell any security. Please do your own research prior to making any investment decision.