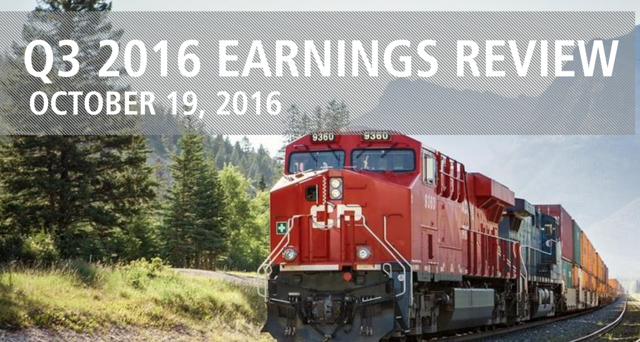 Source: CP Rail Q3 Earnings Presentation
On October 19, Canadian Pacific Railway (NYSE:CP) reported their third quarter results for the ninety days ending September 30, 2016.
Canadian Pacific Railway is the nation's second-largest railway, and is one of the few Class-I railways in North America along with:
Amtrak
BNSF Railway (owned by Berkshire Hathaway) (NYSE:BRK.A)
Canadian National Railway (NYSE:CNI)
Canadian Pacific Railway
CSX Transportation (NYSE:CSX)
Kansas City Southern Railway (NYSE:KSU)
Norfolk Southern Railway (NYSE:NSC)
Union Pacific Railroad (NYSE:UNP)
Via Rail (A Canadian crown corporation)
Generally speaking, CP's only major domestic competitor is Canadian National Railway, a larger company with a more diversified operational base.
In this article, I will outline the main takeaway of CP's earnings release - namely, that CP continues to lag behind CN in every major financial metric.
Financial Highlights
Diluted earnings per share (NYSEARCA:EPS) of $2.34
Adjusted diluted EPS of $2.73
Operating ratio of 57.7 percent
Management Excerpt
Management had this to say about the declining revenues in the quarter:
"Given the delayed grain harvest, lower crude volumes and persistent economic challenges compounded by a strengthening Canadian dollar, we are now expecting mid-single-digit EPS growth this year," Harrison said. "While disappointed that we will not meet our previous forecast, I am incredibly proud that despite these challenges, CP will deliver its lowest-ever annual operating ratio. Our industry-leading operating plan and continued focus on improving service to our customers means we are well-positioned to capitalize on increasing volumes leading into 2017."
I've included this excerpt because it touches on two important pieces of information. First of all, Harrison says that CP is not going to meet their previous forecast for 2016 EPS, which is not surprising given their performance year-to-date. Secondly, they are boasting their lowest-ever operating ratio. To me, this isn't impressive, because I will soon demonstrate that this operating ratio pales in comparison to CN's.
The Major Takeaway
While the sounds a bit harsh, I will restate that the main takeaway from Canadian Pacific's earnings release is that they underperformed main competitor Canadian National Railway on most major metrics. Don't believe me? Let's consider the facts.
I measure railways based on three major metrics, which I deem to be more important than all others. These are revenues, operating ratio, and earnings per share. The only one that is really unique to the railway industry is operating ratio, and the only one where CP exceeds CN is earnings per share growth, and it's only by a very small margin.
Revenues
The sluggish Caandian economy has lead to volume declines for both railways. This has translated to the top line on the income statement, as both third-quarter earnings reports for CP and CN present significant drops on a year-over-year basis. CP's is worse, however:
CN reported a revenue decline of 6% to $3,014 million.
CP reported a revenue decline of 9% to $1,550 million
CN is the winner year (or at least, the better of the losers).
Operating Ratio and Overall Expense Management
In capital-intensive industries like the railway industry, cost management is extremely important.
The main way that we measure this is using the operating ratio.
In the sluggish economic environment that Canada has recently been exposed to, both of the major Canadian railways have been more focused on cost control than ever before. This has translated to an operating ratio that continues to decline (a very good thing for investors). However, while CP has made considerable progress in reducing their operating expenses, CN continues to be the industry leader in operating ratio.
For the three months ending September 30, 2016:
CN reported an operating ratio of 53.3%.
CP reported an operating ratio of 57.7%.
Clearly CN has the lowest operating ratio, but how have these operating ratios changed over time? More specifically, I'm curious to see whether CP is gaining ground on CN in terms of revenue growth and expense management. Consider the following:
CN's reported 53.3% operating ratio represents a 0.5% decrease on a year-over-year basis.
CP's reported 53.3% operating ratio represents a 1.8% decrease on a year-over-year basis.
Obviously CP has the momentum year. The fact remains though that CN is still the leader in cost management among the Canadian railways.
Earnings Per Share Growth
As I mentioned before, this is the only metric where CP actually ekes out an advantage over CN, and it's by a very smaller margin. Here's the data:
In Q3, CN reported adjusted diluted earnings per share of $1.25, down 0.7% from $1.26 on a year-over-year basis.
In Q3, CP reported adjusted diluted earnings per share of $2.73, up 1.4% from $2.69 on a year-over-year basis.
While CP's earnings squeaked out a small gain and CN's earnings dropped slightly, the valuations of these two companies suggest that CP's earnings are of a higher quality (which I disagree with).
For CN, a run-rate from Q3 earnings of $1.25 per share and today's stock price of $84.45 implies a price-to-earnings ratio of 16.89
For CP, a run-rate from Q3 earnings of $2.73 per share and today's stock price of $192.96 implies a price-to-earnings ratio of 17.67
Thus, CP had a slight edge in earnings growth but this is countered by CN's more favorable valuation.
The Bottom Line
While CP continues to lag behind their major competitor, they still have good growth prospects. As outlined in their Third Quarter Earnings Presentation Slides, the railroad is still growing on a number of railway-specific metrics. Namely,
Average network speed was up 8% YoY
Average train length was up 7% YoY
Average train weight was up 7% YoY
Car miles per car day was up 1% YoY
Locomotive productive (:as measured by GTMs per Available HP) was up 10% YoY
Fuel efficiency was up 1% YoY
As long as they are still eking out gains on these metrics then growth should continue. Thus, while they are lagging, I wouldn't count them out just yet.
Disclosure: I/we have no positions in any stocks mentioned, but may initiate a long position in CNI over the next 72 hours.
I wrote this article myself, and it expresses my own opinions. I am not receiving compensation for it (other than from Seeking Alpha). I have no business relationship with any company whose stock is mentioned in this article.