The October round of flash manufacturing PMIs has put the global composite (based on US/EU/Japan) at a 12-month high after a growth scare that hit its nadir in May. The strength was broad-based with all three regions improving and beating expectations: US 53.2 (51.6 expected, 51.5 previous), Europe 53.3 (52.7 E, 52.6 P), and Japan 51.7 (50.6 E 50.4 P).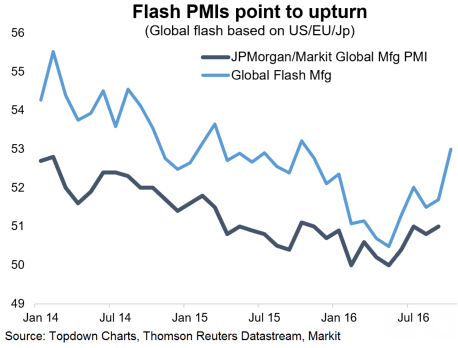 The US was a standout, with its services PMI surging. This could be a sign that firms are starting to act despite political uncertainty (which according to consumer and small business surveys had hit record highs) - with the amount of concern voiced around it, there could be a degree of pent-up demand coming through.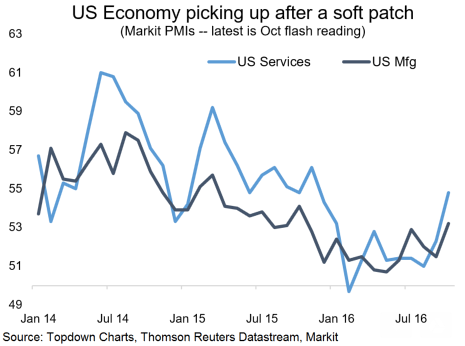 The stronger results overall are also consistent with the tentative improvement we are seeing in our global trade indicators. Either way, the global economy seems to have turned the corner, and it looks to be taking bond yields with it.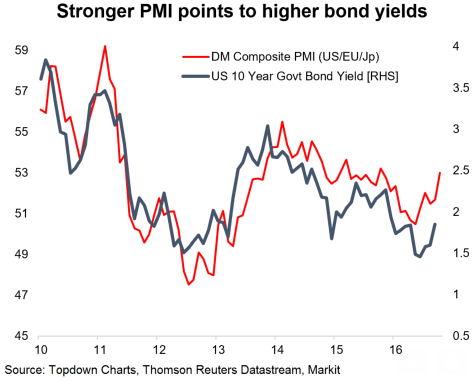 Indeed, the charts show the US 10 year has traded reasonably closely with that global PMI, and if the relationship holds (and of course the other "if" is if the global PMI holds on to that rebound or even makes further gains), then bond yields are in for even more upside.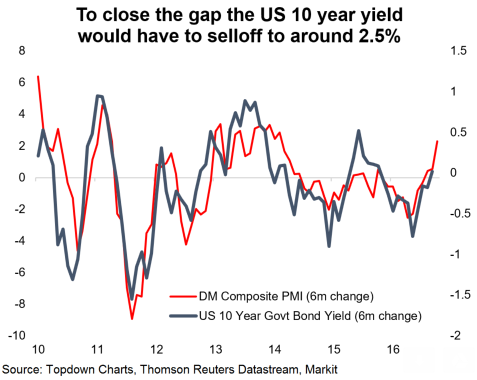 A simple analysis shows the US 10-year bond yield would need to sell off to around 2.5% to close the gap that has opened up. So again, this is bad news for yield-sensitive assets and bonds/duration more broadly.
Bottom line: The "flash global PMI" surged in October on broad strength in the major DM economies, this is bad news for bonds.