Going for the fences (a home run) isn't only for the Cubs or Cleveland. Is the notion bad when trading or investing. Simply, the timing has to be right otherwise you'll strikeout alongside a "Greed is bad" cliché. Home runs are where fortunes are made and the crowd goes wild?! Read on for a Gordon Gekko style, "Greed is Good"!
What's the Game?
I do not know where the price of oil is going. But if you believe statements from OPEC or a Minister from 'wherever', you'll soon own a bridge. Headlines (aka media)? These are among the least credible sources of information, ever.
Against the noise, I am willing to make a modest bet it (most things energy) goes higher. Here's my pitch. Stay domestic, find an E&P that will survive, and buy where others have sold. Rex Energy (NASDAQ:REXX) steps up to the plate.
Iran and Iraq squabble that they want to produce ever more oil. Russia is tapped and a follow-along. Africa, rebels and others may someday stop blowing up their pipelines. But amid this chaos is the reality that Saudi Arabia just floated newly minted sovern debt, burns $5 Billion of its reserve currency a month, cut gov't payrolls where the vast majority works for the gov't, and its soon to be IPO of Saudi Aramco benefits $125 Billion for every $5 increase in the price of oil.
Under the Hood:
For Nat Gas, that's produced in the Marcellus and Utica, the key is takeaway and thereon access to markets that need it. Explained in an earlier article for SWN those projects are now upon us. While SWN has had it fits and bursts, frustrating to folk who buy and hold, SWN should go higher, but how much? Even with the most recent dip, it's still up 46% YTD. Others in the Nat Gas play (EOG, up 28% YTD) have made their move. By way of example, I am unconvinced SWN will revisit $20 this winter no matter what Nat Gas, winter weather, domestic production, or exports do.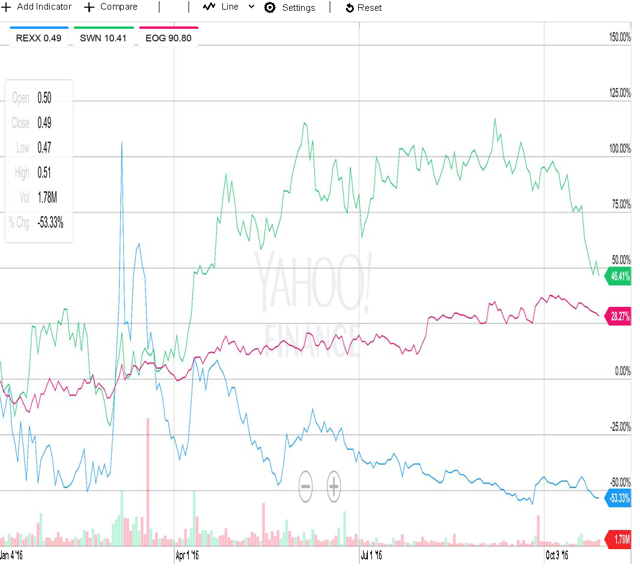 Enter REXX. Management has survived sub $1.50 gas and $30 oil. It operates in the Marcellus & Utica where production is surging while overall domestic production wanes. EIA projects gas to reside over $3.00 for the winter and through 2017.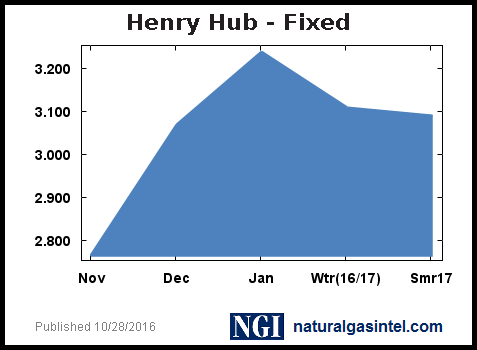 I suspect greater price spikes if consumption is higher and/or if production is lower for any reason. I equally suspect EIA and others assume or hope for best case pricing mechanics going forward, an extrapolation of E&P's past. Simply, I believe them wrong and E&P's of yesterday no longer exists today. While Nat Gas is a local commodity, it still operates in a global energy complex. The events 'other there', meaning Oil Ministers of OPEC and other nations, matter now as they did in that fatal Thanksgiving 2014.
MORE (A LOT More) Under the Hood:
Rexx sold it's Nat Gas for a measly $1.42 last quarter. Condensate for a similar and dismal $31.91 per barrel, both off ~28% from the yoy period (see its 10Q of 8/5/16). NO-one makes money at those prices. And while energy prices are better today, a Hail Mary that will save many E&P's, that's NOT the basis for REXX, but rather the take-away is, as I've pounded the proverbial desk. Critically, REXX describes it is moving half of its Nat Gas production in Western PA to markets on the Gulf Coast in November 2016. The following should lay out the massive advantage of selling Gas to the right market.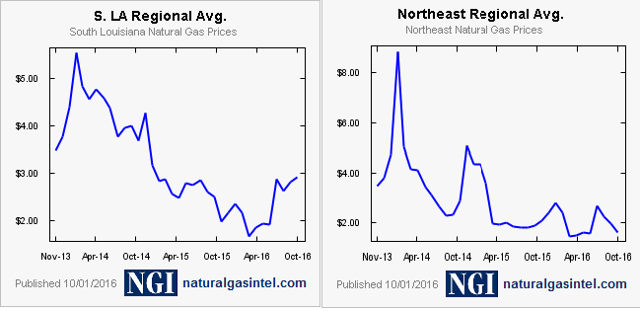 The price differential is nearly $1 ($3 v $2 or 50% greater).
And the benefit should ride for a while Rex said it would move 100,000 MMBtu/d to the Gulf Coast and another 30,000 MMBtu to the Midwest before all of its capacity to the Gulf Coast becomes available in April 2017. The firm transportation would allow it to send 50% of its natural gas volumes to the new markets, while the remainder would be sold locally, where its basis has been hedged where the market commands discounted pricing and its hedges are more effective.
I suspect spikes even higher if consumption is higher and/or if production is lower for any reason. I equally suspect EIA and others assume best case pricing mechanics going forward… an extrapolation of E&P's past, that I don't believe exists today or going forward. While Nat Gas is a local commodity, it still operates in a global energy complex.
Debt (reduction) = Survival:
CEO Stabley described in the latest earnings call, "our number one goal right now is get Illinois closed, which gives us the liquidity that we need through 2017 and early 2018". Importantly, that deal is now done and put a cool $40 million toward debt reduction.
And there's more. REXX main JV partner, Benefit Street Partners LLC (NYSE:BSP), has elected to participate in the next four wells in the Warrior North area of Carroll County, OH, boosting its capital commitment to date from $98.1 million to $120.1 million. The company announced that JV earlier this year, which could ultimately net it up to $175 million.
And there is even more. Debt Restructure and Debt to Equity Swaps! Indeed this comes with dilution and no equity investor enjoys biting that bullet, but in this case and true to the word of management, the deals were made to the benefit of the company and current shareholders
Debt Restructure. Stabley explains of the Senior Note Exchange; basically, the way the 1%/8% [interest on debt restructure] is treated from an accounting or GAAP perspective is as you book the average interest rate over the period of the second lien note, so basically, the company will be booking at a 6.125% interest rate from now until the extinguishment of those notes. Obviously, the cash portion is a 1% coupon, but the actual GAAP booking is 6.125% throughout the term. REXX is preserving cash.
And the mechanics and pricing of its Debt to Equity Swaps in the second quarter exchanged $29 million for 5.2 million unrestricted shares (i.e. $5.59 / share). The company took a one time interest forbearance gain. The latest deal, 8-K on 10/12/16, exchanged $1.2 million in Senior Notes for 1 million shares (i.e. $1.23 / share). These are acretive to current shareholders and could explain the liquidations and price collapse as those debt holders don't want to hold equity but rather offered them a way out.
And one more pile on... its lenders under the Company's Amended and Restated Credit Agreement have reaffirmed the borrowing base of $190,000,000.
Additional reading on REXX, two good reads:
Elephant Analytics did a solid job here. But since August of this year the situation / forecast has developed giving us better insight. Just weeks ago injections to storage failed to meet forecast and the whiff of inventory approaching 5 year norms sent Henry Hub near $3.50.
The Trade and How to Express your Opinion:
Already a penny stock, a mere shadow from past glory, $25 in Oct. '13, REXX can be bought for under $.50 a share as of Friday's closing. Options sit this one out as the equity is the perpetual option on rising prices as noted above. If REXX doesn't survive, that's the equivalent of options expiration. But if REXX does hit the ball, prices rise, then Round the Bases!
Note: To get these and more articles on options and equity opportunities as soon as they are published, click on my profile and hit the big orange "Follow" button and choose the real-time alerts option.
Disclosure: I am/we are long REXX. I wrote this article myself, and it expresses my own opinions. I am not receiving compensation for it (other than from Seeking Alpha). I have no business relationship with any company whose stock is mentioned in this article.
Additional disclosure: The foregoing is not intended to be specific investment advice, but concepts to consider when investing. Consult your Investment Adviser.
Editor's Note: This article covers one or more microcap stocks. Please be aware of the risks associated with these stocks.