I often find myself scouring through articles from various sources with the hope of finding an interesting company that meets my requirements for investment. I'm partial to early stage biotechnology companies due to the perhaps foolish belief that these represent some of the best opportunities in the market, as I have frequently found their potential is not appropriately recognized. However, I must say the expression "perhaps foolish" was not used by chance: these companies are also where some of the biggest money traps in the market are found, and I've been caught before. A careful and thorough analysis is warranted.
That said, I was looking at the list of 2014's Fierce 15 and one particular company stood out: Myokardia (NASDAQ:MYOK).
Myokardia is clinical-stage biotechnology company focusing on heart disease, backed by a number of institutional investors, notably Third Rock Ventures. The Company's main product candidate is MYK-461, which has completed three Phase 1 trials, and is currently in a Phase 2 in patients with Obstructive Hypertrophic Cardiomyopathy.
At first glance the above description looks pretty standard, nothing really pops. Only after a bit of digging did I understand the genius behind Myokardia.
Precision Medicine Platform
Simply put, its approach to drug development is where true value lies. Now that's an incredibly broad statement, so bear with me while I try to further explain what I mean.
Myokardia's initial focus is on the treatment of Heritable Cardiomyopathies, a group of rare, genetically-driven forms of heart- failure. A disease that's genetically-driven is caused by an abnormality in an individual's genome. Heritable cardiomyopathies are caused by various genetic mutations, with each one having a different effect on the patient's heart - it's a pretty heterogeneous population. This makes treatment of these patients as a whole very unlikely, as outcomes would vary wildly between individuals and, in the end, the drug would prove ineffective for most.
This is a problem Myokardia took in stride. The solution found was the division of heritable cardiomyopathies in subgroups based on the respective genetic mutation. Hence, the underlying cause of each disease is targeted, making way for the possibility of prevention or even reversion of disease progression. In order to adequately execute the disease parceling the Company built SHaRe - the largest registry of data from patients with heritable cardiomyopathies in the world.
With a well-defined target population for each product candidate, the screening and biomarker selection process is facilitated and allows for smaller, time-efficient trials (risk of late-stage failure is reduced).
This approach dramatically increases Myokardia's probability of success in a field where innovation has stagnated due to the costs (large trials are the norm) and risk of late-stage failure associated with non-targeted strategies.
The Vertex of Heart Disease
Myokardia's blueprint for drug development has been used before, namely by Vertex Pharmaceuticals (NASDAQ:VRTX) for the treatment of Cystic Fibrosis (CF). Much like heritable cardiomyopathies, cystic fibrosis is caused by a series of gene mutations (in this case in the CFTR gene) that alter the production, structure, or stability of the chloride channel - patients are left with defective or missing CFTR protein.
More than one thousand mutations in the CFTR gene have been identified in patients with cystic fibrosis.
Vertex went after the low-hanging fruit among all the mutations that cause a gating defect: the G551D mutation (4% of total CF population). Ivacaftor (marketed as KALYDECO) was the first treatment approved that addressed the underlying cause of the disease; followed by a combo of Ivacaftor and Lumacaftor (marketed as ORKAMBI).
Was this approach successful? Immensely so. Looking at this year's third quarter results, the cystic fibrosis franchise yielded a total of $410 million in revenue, and it's showing no signs of slowing down.

Source: Q3 2016 8-K
To further illustrate my point, just look at the share price evolution going back five years, depicted in the following chart: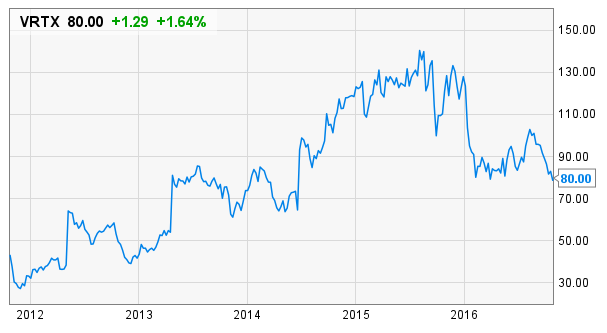 Source: YCharts
KALYDECO and ORKAMBI were approved by the FDA in 2012 and 2015, respectively. Just before KALYDECO's approval in January, the share price was sitting at around $30. Almost 5 years later, and after an increase of more than 100%, shares are selling at $80 a pop - and this is following a substantial decline from 52-week highs of $134 per share.
Note, Vertex's pricing strategies have been under scrutiny as of late, and just recently, the UK's National Institute for Health and Care Excellence (NICE) recommended against funding ORKAMBI, saying that the drug's benefits did not justify its high price-tag. Nonetheless, ORKAMBI has been approved in most of the world.
The CF market is dominated by Vertex Pharmaceuticals. Given the similarities, I see no reason why Myokardia wouldn't be able to accomplish Vertex's feat, only for the heritable cardiomyopathies market. Now it's about execution.
Pipeline and Clinical Validation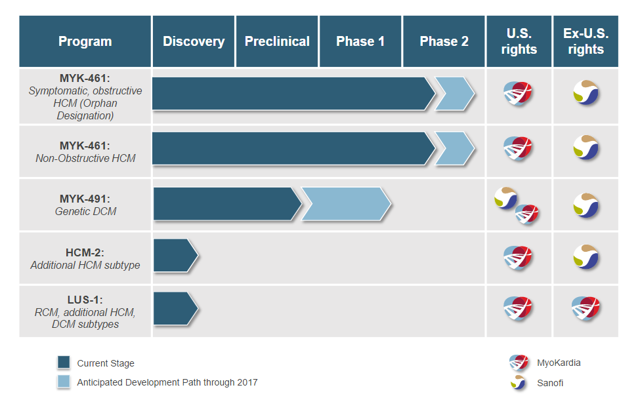 Source: Myokardia's Corporate Presentation
As is shown above, MYK-461, an orally administered small molecule, is the Company's most advanced program. This is where disease subtypes come into play. MYK-461 is being developed for both Symptomatic, Obstructive Hypertrophic Cardiomyopathy (oHCM) and Non-Obstructive HCM - indications that were decided upon following three Phase 1 studies in healthy volunteers and general HCM patients.
The orphan-tagged (for oHCM) MYK-461 recently reported topline data from two Phase 1 trials, showing "favorable tolerability of single doses of MYK-461 (...) Additionally, repeat daily doses of MYK-461 were well tolerated for up 28 days in healthy volunteers". So far so good. What really excited me though was further ahead "The data also indicated a dose-dependent reduction in contractility consistent with the magnitude of reduction that the scientific literature indicates may confer a meaningful clinical benefit". This is really good news for Myokardia, as excess left ventricular contractility is the cardiac muscle disruption responsible for the clinical consequences of HCM.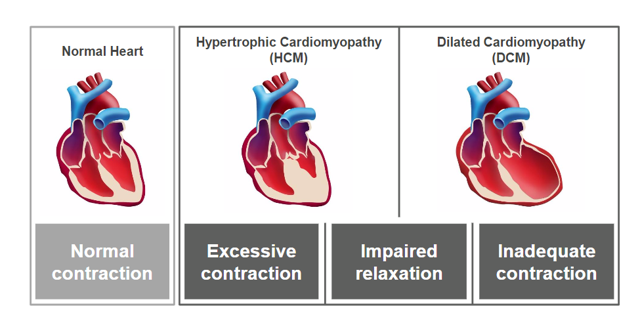 Source: Myokardia's Corporate Presentation
Dr. Fox, the Chief Medical Officer, went on to say:
Based on the scientific literature and our own research, we believe an agent that produces a modest reduction in contractility, for example, a relative reduction in left ventricular ejection fraction (LVEF) of 5 percent to 10 percent, has potential as a treatment for HCM patients.
Interestingly, two of the patients enrolled in the Single Ascending Dose (SAD) Phase 1 trial had a history of obstruction, and displayed a provocable left ventricular outflow tract (LVOT) pressure gradient. These patients were dosed with 96 mg of MYK-461. The results were the following: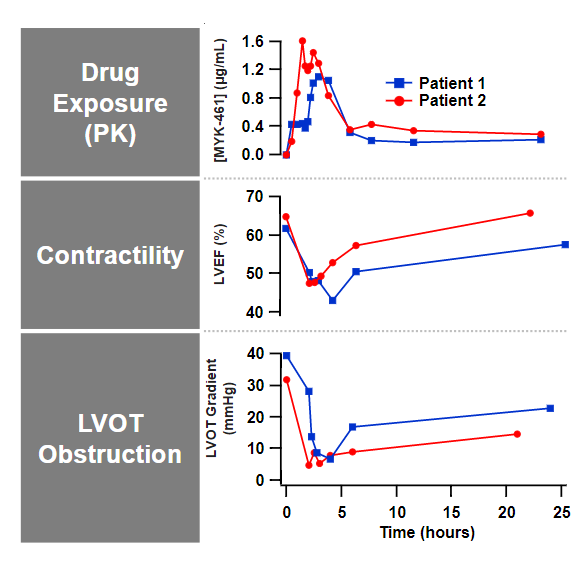 Source: Myokardia's Corporate Presentation
Focus on the changes in the LVEF and in the LVOT Gradient. LVEF change from baseline exceeded 10% in both patients (keep in mind Dr. Fox's comments); and LVOT Gradient dropped below 10 mmHg for both patients.
LVOT obstruction in HCM is defined as a resting LVOT gradient of >30 mmHg
A reduction in both of these measurements has been documented to result in improvements related to heart function and symptoms. These are very promising results, especially coupled with the data coming in from the repeat daily dosing in healthy volunteers. With that in mind, Myokardia has started a Phase 2 (PIONEER-HCM) open-label, single arm study, which will enroll 10 patients with Symptomatic oHCM. The primary endpoint is change in the LVOT gradient. Myokardia has set a 15-20% reduction in LVEF as the target (reduced contractility relieves LVOT obstruction), which is quite optimistic. Topline data is expected in the second half of 2017.
Obstructive HCM increases the risk of severe heart failure and stroke, which might eventually lead to death. The current standard of care does not address the underlying cause of the disease.
Myokardia's strategy is unique, (for the aforementioned indications) therefore, competition for the specific indication of Symptomatic, Obstructive HCM is non-existent. Looking at the broader indication of HCM, some competition is found, namely in the form of Gilead Science's (NASDAQ:GILD) Eleclazine (INaL inhibitor), which is currently in a Phase 2 study expected to read-out around June 2017; and Heart Metabolic's Perhexiline (prophylactic antianginal agent), a 40 year-old drug which will soon start a Phase 3 trial.
Gilead has significant financial resources, such that competition from this behemoth must not be taken lightly. Now, I wasn't able to find any information regarding the results of previous clinical studies for this drug, which probably means that these were not made public (often the case with larger companies). With no data available, it's impossible to accurately assess the threat presented by the asset. However, given the broader indication, I gather it's fair to speculate that in oHCM, this candidate would prove inferior to MYK-461 - especially since Eleclazine fails to address the underlying cause of the disease.
Perhexiline is being developed for patients with Non-Obstructive HCM, meaning that there's no overlap with MYK-461's current target population. However, later in the game, both of these candidates might be pitted against each other, as MYK-461 will supposedly start a Phase 2 trial in Non-Obstructive HCM in the near future. Accordingly, it's important to note that Perhexiline, in a double-blind, placebo controlled study, met the primary-endpoint of significantly improving peak VO2 (a measure of functional capacity) in patients with Non-Obstructive HCM (as an add-on therapy). A comparison of both drugs is therefore warranted once more data is available (results from the Phase 2 trial of MYK-461 is Non-Obstructive HCM patients).
It's worth mentioning the information coming from the FDA regarding the development path for MYK-461:
Assuming everything goes as planned, MYK-461 would need to go through one more Phase 2 study, and a final Phase 3 study (normally two or more are required);
Mortality endpoints will not be required for registration. This will greatly reduce the duration of the Phase 3 trial. Improvements in functional capacity are suitable endpoints for registration.
I see the assurances made by the FDA as a positive for MYK-461, given these equate to a shorter development path (and perhaps an edge over the competition).
MYK-461 will also initiate a Phase 2 study in patients with Non-Obstructive HCM, although details about the timing and structure of the trial have not yet been revealed. Among the preclinical candidates in the Company's pipeline is MYK-491, which is bound to start a Phase 1 study in the first half of 2017 in patients with Genetic Dilated Cardiomyopathy (gDCM). No additional information has been provided regarding the rest of the Company's pipeline.
The Sanofi Deal
You may have noticed, in the pipeline chart provided earlier, that Myokardia has licensed quite a few of its programs to Sanofi (NYSE:SNY). The collaboration agreement pertaining to the licensing of those candidates was signed in 2014, and reads:
Sanofi (EURONEXT: SAN and NYSE: SNY) and MyoKardia, Inc., a privately-held company leading the development of precision therapies for genetic heart disease, announced today a worldwide collaboration to discover and develop first-of-its-kind targeted therapeutics for heritable heart diseases known as cardiomyopathies (...) Two of these programs are focused on hypertrophic cardiomyopathy (HCM) and the other is focused on dilated cardiomyopathy (DCM). The collaboration provides up to $200 million in equity investments, milestone payments and research and development services through 2018, of which $45 million has already been received in an upfront licensing fee and an initial equity investment. In addition, Sanofi and MyoKardia will equally share development costs on the HCM programs following initial demonstration of efficacy in patients, with Sanofi fully covering the development costs of the DCM program.
The terms of the deal certainly look good. I like that Myokardia has kept rights for US commercialization in all but one of the programs - smart move.
Note: All of the convertible preferred stock sold before the IPO (including to Sanofi) was converted into common stock during the IPO. The balance for redeemable convertible prefered stock is null (0). After the recent offering, there are 30,812,201 shares of common stock outstanding.
Above all, this deal is important because it indicates that Sanofi saw potential in Myokardia's platform (it's becoming apparent that they were right).
Financials
Myokardia has no sources of revenue, and has financed its activities with funds obtained through its IPO, private financing series, and collaboration established with Sanofi. As of June 30, it had cash and cash equivalents of $87.6 million. However, this tally does not include the proceeds from the recent public offering, which totaled $61 million. Myokardia is sitting on a cool $148.7 million.
But there's more to this story. Looking through the collaboration agreement with Sanofi, I stumbled upon the following clause:
Under the Collaboration Agreement, Sanofi must determine by December 31, 2016 whether or not to continue the Collaboration Agreement. Sanofi agreed that if it so elects to continue the Collaboration Agreement, it will pay: a one-time, non-refundable, non-creditable cash payment of $45.0 million
I fully expect Sanofi to continue the collaboration agreement, so I am comfortable adding $45 million to the pile. This brings us to a grand total of $193.7 million.
Net loss for the second quarter was $9.8 million, compared to a net loss of $5.1 million in the same quarter of the previous year - which is quite a substantial increase. Yet, I must say I am not surprised, as this is to be expected in early stage biotech concerns, especially as they gear up to start mid-to-late trials and bring new programs into the clinic. The burn rate will only increase in the following quarters.
Assuming a constant burn rate of $15 million per quarter (a conservative estimate), the Company would have enough cash to comfortably fund its operations until at least Q1 2018, which is more than enough time for the ongoing trials to read-out. Accordingly, I don't consider Myokardia's cash position an urgent concern.
There are around 410,000 patients with Obstructive HCM in the US alone. However, most are not symptomatic. According to an analysis done by LifeSci Capital, the median price per year for an orphan drug is around $155,125.
Assuming 5% of the Obstructive HCM population is symptomatic, an adoption rate of 60%, and a price of $100,000 per year (all conservative estimates), Myokardia would be in line for about $1.23B in revenue per year, just in the US. I'm sure Myokardia will find a balance between cost/benefit that will have both the patients' and the Company's interests in mind, if MYK-461 is in fact approved.
The Company's market cap currently sits at around $400 million. Given the above calculations, I'd say a higher valuation is warranted. Keep in mind, the figures above are for one candidate alone, and only represent the US market; the scientific basis of said candidate, the merit of which is evidenced by the Sanofi collaboration and the clinical data reported (both of which were reviewed above); the competition landscape, which has been determined to be favorable towards Myokardia; and the Company's strong financial position. All of these factors should play a role in assessing the Company's probability of success. I get a sense that all of the above make Myokardia more valuable than what is currently being recognized by the market.
Be aware that calculating a fair market cap for an early stage biotechnology company is incredibly hard, and any attempts do so are susceptible to significant inaccuracies.
If future revenues do materialize, and are anything around $1.23B, Myokardia is a steal. A prospective investor must weigh in all of the aforementioned factors, and decide if the possible benefit outweighs the risk that's inherent to an investment in Myokardia. More on that below.
Risks
There is a very long list of risks associated with an investment in Myokardia. The Company is dealing with bleeding-edge science, venturing into uncharted territory each step of the development process. Yes, there's a good foundation in place, but I can't tell you how many times I've seen promising companies flunk out.
There are so many variables that can pull the rug out from under you. The following situations are the ones I found more relevant:
a significant change in the safety profile of MYK-461, caused by an unexpected SAE, or the increased incidence AEs;
the termination of the collaboration agreement by Sanofi, on which Myokardia is dependent for funding of research in general, and late-stage trials in particular;
unexpected costs related to trial execution and SG&A can be especially impactful, since the Company does not have any revenue sources;
the competition may ramp up their efforts and organise a more cohesive response to Myokardia's approach to heart failure - particularly worrying when you have the likes of Gilead Sciences in its midst;
a change in the FDA's requirements for approval, which could force the Company to design a new trial with the new regulations in mind;
difficulties regarding the production scale-up for each product candidate, which could cause to major delays in the development timeline.
Do I think these are likely scenarios?
No. Nonetheless, it's important to consider all possibilities. A prepared investor will always fare better than the unsuspecting one, especially when disaster strikes.
Lastly, please read through the Company's SEC fillings, namely the 10-K, as the risks associated an investment in Myokardia are better laid out there. Again, this is not an opportunity for the risk averse investor.
Final Remarks
I think I've made it pretty clear throughout the article that I like Myocardia as a speculative investment. It's certainly not a sure thing, but I like my odds. There is, it should be emphasized, a slight caveat: the next catalyst for the stock is well into 2017. So why buy now?
Well, simply because the current share price does not reflect the Company's potential, and I'm in this for the long haul. The timeframe for this specific investment is 5+ years. I don't mind riding the rollercoaster as long as in the end, my patience is rewarded. Furthermore, I've often found that share prices of small cap bios commence a gradual climb months before a particular catalyst is due (in anticipation) - so buying just before the catalyst might not be the best approach; and wouldn't be surprised if the company were to be acquired, most likely by Sanofi.
To make it clear for readers, the two next major catalysts are:
Phase 1 topline data in the third quarter of 2017 (for MYK-491);
Phase 2 topline data in the second half of 2017 (most likely in the fourth quarter).
In the end, Myokardia is a differentiated, innovative, well financed biotechnology company, whose treatments might save thousands of lives. Is this the type of company I'd like to say I'm invested in?
You bet it is.
Disclosure: I am/we are long MYOK.
I wrote this article myself, and it expresses my own opinions. I am not receiving compensation for it (other than from Seeking Alpha). I have no business relationship with any company whose stock is mentioned in this article.