The S-curve describes how products evolve in time. Product development takes time and in the infancy stage only early adaptors are buying the new product. In the expansion stage the majority of consumers start buying the product and the company experiences rapid growth. In the maturity phase growth slows down, reach sales peak and start declining.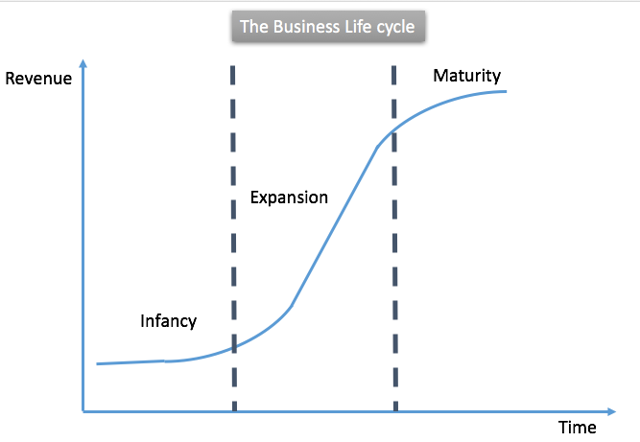 Currently discussed
The majority of discussion about Netflix valuation has been focusing of different aspects of this S-curve. There have been fears about growth slowing down as this slower growth could be a first sign of coming close to the maturity phase. There are discussions on how much longer Netflix can grow. In a way, these discussions are educated estimates on where Netflix (NASDAQ: NASDAQ:NFLX) stands along this S-curve.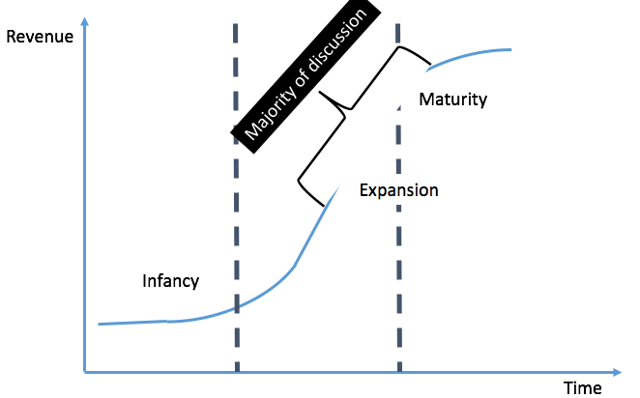 Where Netflix stands on the current S-curve
While evaluating where Netflix stands on the current curve, an investor might be tempted to simply plot some recent numbers on a chart and then to conclude that growth is slowing down. Like this: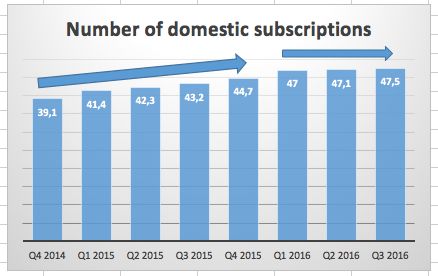 However, slower growth is a false conclusion. Why? Because the data presented above is too shallow. It is especially important to avoid small data because the human mind is set to make false conclusions based on "recognition" of false patterns. This is known as the clustering illusion.
Using quarter-to-quarter data includes bringing in seasonality and one-time events. An example of a one-time event is the grandfathering issue of Q2 2016. These kind of "impurities" are leveled out by charting year-over-year (YOY) changes. This is because YOY-data-points contain more data than quarter-to-quarter-data-points. My point is this: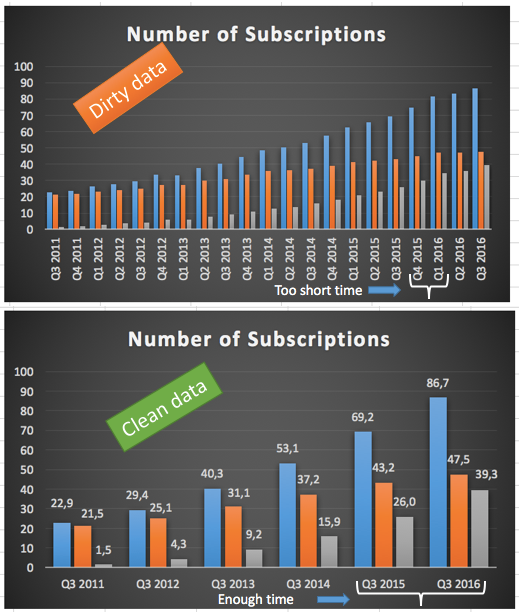 The second point is that we should look at long-enough time intervals to see the big picture. When you at a longer time period of YOY data, you see that growth is clearly the trend also in U.S.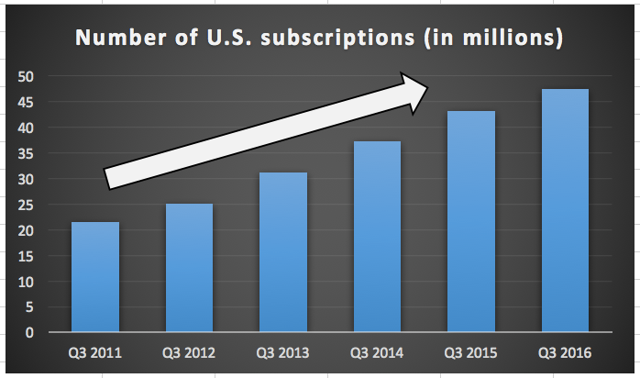 However, in the case of Netflix we should definitely not concentrate on U.S only. According to internet live stats there are 287 million internet users in the U.S. With Netflix going to pretty much all the world excluding China, the rough estimate of total market size is 2.6 billion.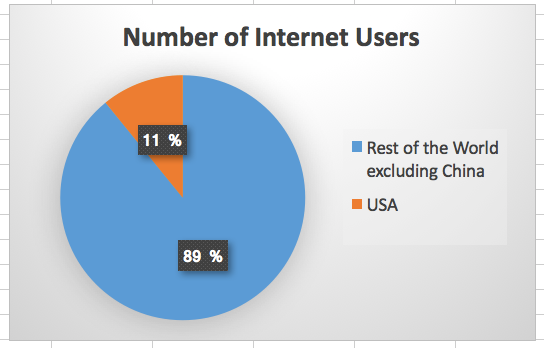 Thus the more interesting part is the international segment. The growth of the international segment is impressive.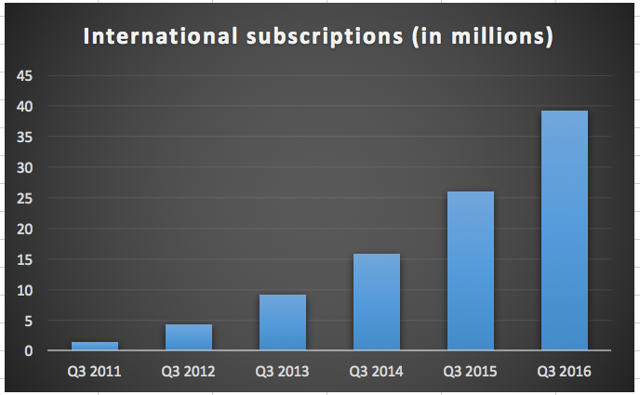 Finally, I want to make a point that the growth of Netflix is exponential. When the number of total subscribers is plotted into a graph and a linear trendline is added, we see that fit is not perfect. Some data points are below trendline (blue arrow) and other data points are above trend line (white arrow).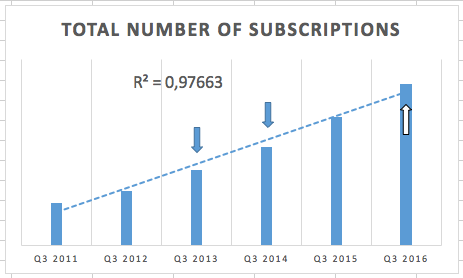 Interestingly, if an exponential trendline is added to the same set of data, a better fit can be seen. The "fitness" of trendline can be measured by means of mathematics. The R squared value of the exponential trend line is very high (0,998) and better than the R squared value of the linear trendline.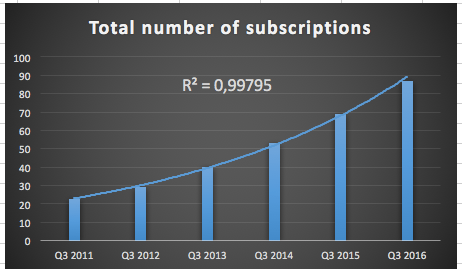 To wrap up the data presented so far
1) Any conclusions about Netflix growth slowing down are rather based on cognitive biases than real data.
2) Properly treated data shows that the growth of Netflix is still exponential. Netflix streaming business is thus still in the expansion phase of the S-curve.
So the remaining question is how much room there is for growth, so I will try to estimate where in the expansion phase Netflix might be located. There are 287 million internet users in the U.S. of which currently 47.5 million or 16,6% subscribe to Netflix. As the current competition compared to U.S. is probably less intensive in the rest of the world I argue that Netflix should be able to accomplish this same penetration rate of at least 16,6% also in "the rest of the world excluding China."
This penetration rate would result in 391 million international subscribers, which is approximately 10 times more than the current number of international subscribers. From this point of view, it can be argued that Netflix is still in quite an early stage in the expansion phase of the S-curve.
Please note also this point: looking at Netflix's competitive power with European eyes might look quite different compared to looking at Netflix from within the U.S. The difference here comes from different levels of competition in streaming.
Currently discussed: valuation of the single S-curve
There are calculations on how much Netflix could still grow and how much revenue it would generate with different hypothetical amounts of subscribers and alternate models of hypothetical pricing. These come down to educated estimates about the value of Netflix future revenues and how much these revenues can generate earnings. Future hypothetical earnings are then put into proportion with current share price and as a result the share is usually estimated as utterly expensive.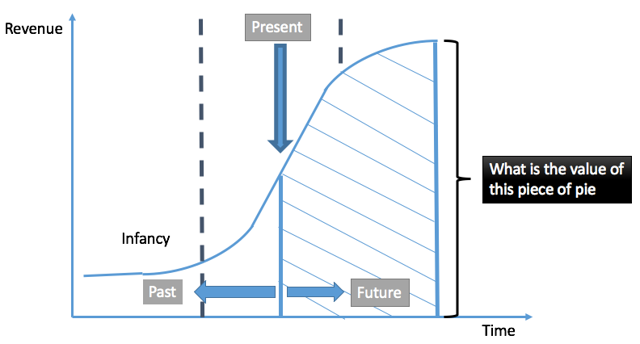 From the P/S point of perspective Netflix is not the most expensive company. Netflix trades at P/S 6,8, Facebook at P/S 17,1 and Alibaba at P/S 14,9.
From the P/E perspective Netflix is very expensive and trading at P/E of 340. The growth of international subscribers to the estimation of this post (391 million) is alone not enough to justify this valuation. in addition Netflix would need to achieve one or more of the following:
1) Gaining access to the gigantic market of China with 721M internet users and current population of 661M inhabitants that have no access to internet
2) Gaining a substantial rise in subscription fees
3) Jumping the S-curve
The possibility of jumping the S-curve has not been discussed
As a results of the above mentioned calculations being rather complex and detailed, the big picture and possibility of jumping the S-curve is easily forgotten. What is also forgotten is the value of Netflix's proven track record of jumping the S-curve. Before streaming Netflix revolutionized the DVD market by providing its customers with a business model that allowed them to watch at home what you want, when you want and without commercials. The growth during the DVD era was humongous.
The start of streaming service was a jump to next S-curve and, although forgotten, the DVDs are currently an mature and declining business. My point is that Netflix is still growing although it has reached the maturity phase of its original business.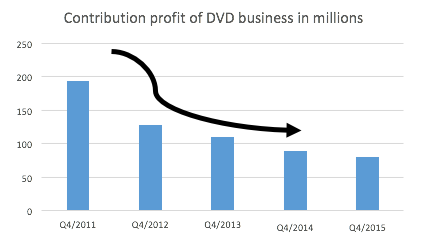 It is important to make a distinction between a focused approach and proven ability to jump the S curve. Proven ability to jump the S curve is one matter. A focused vs. broad approach is another separate matter. Some less focused companies have not been able to jump the S-curve. For example Nokia had in its golden days (in contrast to the more focused Apple) a broad array of mobile phones, but Nokia was not able to jump to the next S-curve when the application ecosystems started kicking in.
An example of the theoretical details on how to jump the S-curve can be found here, but although some documented methods can be found, only a minority of companies are able to actually achieve the jump. Because of this, investors should value companies that have been able to jump the curve before.
Before Netflix the CEO and co-founder Reed Hastings founded Pure Software. Pure Software doubled its revenue every year until the company was sold for $750 million. With this money Reed Hastings co-founded Netflix and revolutionized the way the DVD business was conducted. This was the first jump. Then Hastings used the money from the Netflix DVD-business to generate the streaming business. This was the second jump. Reed Hastings learned the value of focus before Pure Software (i.e. before the jumps) and his highly focused approach has not hindered him from conducting two impressive S-curve jumps.
Daniel Kahneman, who is awarded with the Nobel Prize in economics, has said that optimistic bias is one of the strongest among cognitive biases. The way Kahneman puts this is "what you see is all there is."
My point is, that although we currently cannot see beyond the way how Netflix operates streaming business today, it does not necessarily mean that streaming is the only business Netflix will ever be involved in. With the track record of two successful jumps Hastings should have the capability to pull of a third jump if and when needed.
Did you get any new ideas out of this post? Do you agree or disagree? What would You like to read more about? Please, comment.