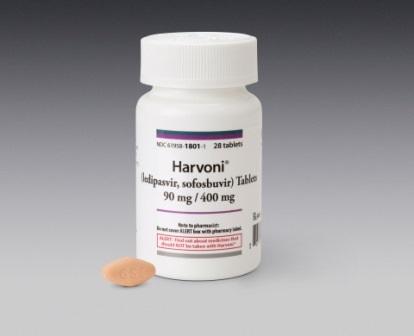 Gilead (NASDAQ:GILD) reports Q3 earnings Tuesday. Analysts expect revenue of $7.45 billion and EPS of $2.86. The revenue estimate implies a 4% decline sequentially. Investors should focus on the following key items:
Weak Guidance
Q2 marked a line of demarcation of sorts. Revenue of $7.78 billion was below the $7.79 billion reported in Q1; it was the first sequential decline in revenue since Q3 2014.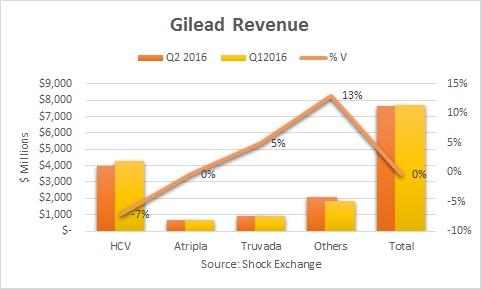 HCV revenue fell 7% sequentially; total non-HCV sales were up 8% on the strength of Genvoya, while total product sales were flat.
Revenue in the U.S. and Europe fell Q/Q by 13% and 7%, respectively. The worst performer was Japan which was off 43% after starts fell precipitously due to mandatory price roll backs. Gilead's introduction of Epclusa, which treats genotypes 1-6, could provide a boost this quarter. There is speculation that it could cannibalize sales of Sovaldi/Harvoni, but that remains to be seen.
Epclusa's biggest impact could be in Japan; 1.5 to 2 million Japanese citizens are infected with HCV, of which about 30% have HCV genotype 2a/b. There is a possibility that Gilead could get a bump in sales of Epclusa in Japan this quarter, yet give weak guidance on future HCV sales. In Q2, the company lowered estimates for full-year product sales from $30 billion-$31 billion to $29.5 billion-$30.5 billion. Those estimates could be lowered again for full-year 2017, hurting the stock.
An Acquisition Might Not Happen Until 2017
One way for Gilead to grow its top line is through an acquisition. Gilead hit a homerun with its acquisition of Pharmasett, the company which helped develop the patent for Sovaldi. The bull thesis has suggested that Gilead's cash hoard would be used for stock buybacks and for acquisitions. Now that GILD is off over 30% Y/Y, bulls have practically begged the management to do a deal... any deal.
Last month, the company raised $5 billion in debt, which created positive chatter for GILD, yet no deal has been announced. I personally believe the timing is not right. Corporate earnings have fallen for six consecutive quarters, yet the S&P 500 (SPY) is up over 2% Y/Y. That implies the market is rather frothy. Secondly, Allergan's (AGN) recent acquisition of Tobira (TBRA) - a player in NASH - was at 190x revenue. GILD trades at just over 3x revenue so a similar deal in NASH could create a negative arbitrage; the company would essentially be buying NASH revenue that the market would value much less under Gilead's umbrella.
Lastly, if the Fed raises rates in December, it could drive the over market, and multiples for biotech companies much lower. I believe that such an interest rate hike could make potential biotech targets much less expensive going forward and more open to partnering with Gilead.
Conclusion
Weak guidance could sink GILD. Avoid the stock.