*Please read my Instablog Introduction on this series of articles right here*
The 2017 Fiscal Year began on October 1st and the world's largest defense contractors are busy securing contracts. Contracts got off to a slow start for the year but are now starting to pick up steam and some of the largest and most relevant contractors are getting their piece of the pie. Here is the down and dirty totals for the ones I'm currently tracking:
Lockheed is the winner by a large margin but more on them later.
Most surprising from this group is BAE Systems. They're a UK based defense contractor that do a lot of work outside the US as well. The number above, just over $700 million, is only what they've won from the US Department of Defense. Perusing the press releases on their website it is clear they do a good amount of business elsewhere in the world especially in NATO countries. At a price to earnings ratio of around 15 they're a little more attractively priced than some of their American counterparts, mostly thanks to the Brexit. Looking at what they offer I can't help but consider them the British Lockeed Martin, and they even have a piece of the F-35 action.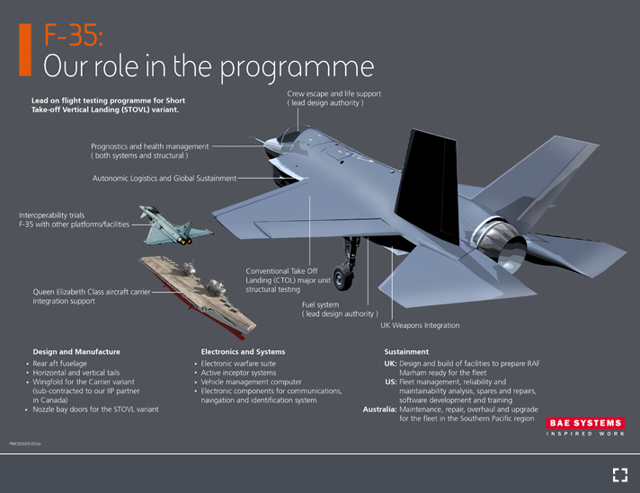 (Source: BAE Infographic)
Some Notable Contracts
There have been some very large contracts awarded so far this FY. An early one awarded on October 7th to General Dynamics was in the amount of $508 million. This contract (W56HZV-17-D-B020 ) is to upgrade 215 Stryker Combat Vehicles. These upgrades will be mostly to hulls of the vehicle going from flat-bottom to a V-Hull design to better protect occupants against IED blasts. The wording of the actual contract sounds like a Service Life Extension Program, or "SLEP" style contract meant to expand the service life of an asset. With purse strings a little tighter this is a pretty economical choice for the US Government and gives us a better equipped Army across a bevy of different scenarios.
Circling back to BAE Systems, they were awarded a $618 million contract (N00019017-D-5517) on October 7th to provide a whole mess of Advanced Precision Kill Weapons Systems to a whole mess of countries. The APKWS is a pretty awesome system that turns a standard 2.75 inch dumb rocket into a smart tube of laser-guided destruction. The countries who will continue to enjoy these are the US, Iraq, Lebanon, Netherlands, Jordan and Australia.
The last huge contract (N00019-14-C-0002) I want to go over is one in the amount of $743 million and was awarded to Lockheed Martin on October 17th for none other than the F-35. If you follow Lockheed you no doubt have some idea what the F-35 is. Up to this point that plane has been an incredibly profitable headache, and this contract makes it even more profitable. This is the seventh modification of this contract and so far it has brought Lockheed $7.1 billion dollars since 2014.
Some Tell-Tales
There were several interesting contracts during the month that can give some clues as to the direction the DoD and military branches are headed. The old saying of "follow the money" rings true here.
Boeing appears to be making good on their previously mentioned shift out of fighter jet production into fighter jet parts production to keep the Boeing fighter jets fighting. The largest contract they were awarded for the month (SPRPA1-14-D-002U ) was for nearly $200 million in F/A-18 spare parts.
Lockheed had three modifications to a contract (FA8611-08-C-2897) concerning F-22 sustainment for over $560 million. My best guess is that with the F-35 considerably delayed the DoD is falling back the F-22 which is proven. The rise of Chinese aggression in the South China Sea and Russian aggression in Syria is brining a focus back to conventional weapons. The plane game is mighty profitable for Lockheed.
Raytheon was awarded an interesting $175 million contract (HR0011-17-C-0025) for something called the Hypersonic Air-breathing Weapon Concept. According to DARPA this weapon concept will allow air-launched cruise missiles to more efficiently and effectively operate at Mach 5-plus speeds. This could do wonders for our offensive penetration capabilities, especially as potential adversaries ramp up their anti-access/area-denial defensive capabilities.
Elsewhere In Defense
Russia is sending additional Pantsir air-defense systems to Syria. A no-fly zone seems to be more and more necessary as civilian casualties mount from the air. I expect the US to counter this move with additional troops deployed in NATO states as well as increased capabilities in and around Syria.
Turkey is lobbying hard for a Raqqa campaign to begin after Mosul is taken back. Raqqa is the ISIS stronghold inside Syria and a huge thorn in the side of Turkey. Turkey has been a tenuous ally in the area and Raqqa will be no small feat.
Turkey also agreed to purchase additional F-35 jets they expect to receive in 2018. This brings the total agreed to 116. The F-35 continues to gain popularity abroad as nations worry they'll be left with inferior capabilities.
Conclusion
The defense contractors highlighted above had a pretty good month all things considered.
Only BAE and General Dynamics were outperformed by the S&P 500. Lockheed won the month with an 8.75% gain in share price. I expect them to continue doing well in the coming months.
Please stay tuned for the next installment in this ongoing series. If there is something in particular you'd like me to take a look at just leave it in the comments.
I hope you all got something out of this article. I do appreciate the time you took reading it. If you are one of those who follows me here, I appreciate it; if you'd like to include yourself amongst those individuals, please hit the "Follow" button next to my name as well as following other contributors whose work you enjoy. As always, please leave any feedback and questions you may have in the comments below. Best of luck to you all.
Disclosure: I am/we are long RTN, BAESY. I wrote this article myself, and it expresses my own opinions. I am not receiving compensation for it (other than from Seeking Alpha). I have no business relationship with any company whose stock is mentioned in this article.
Editor's Note: This article discusses one or more securities that do not trade on a major U.S. exchange. Please be aware of the risks associated with these stocks.