CyrusOne (CONE) published its Q3'16 earnings on Monday, October 31. The company delivered this quarter $143.8M of Revenue and $54.8M of Normalized FFO ($0.67 FFO per share).
The company continues to show significant and continuous growth quarter over quarter, riding the mega-trend of cloud computing and data center real estate requirements.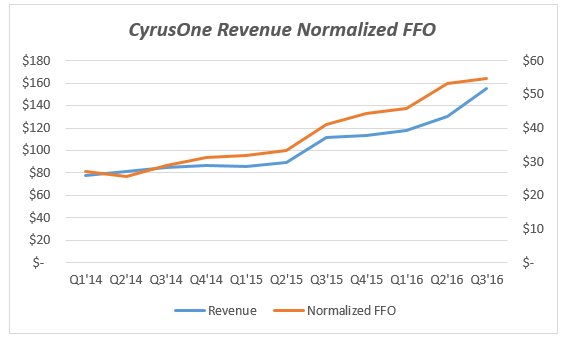 During Q3'16 CyrusOne added three new customers from the Fortune 1000, reaching to a total of 180 customers from that league. In total, it reached a total of 952 customers worldwide.

The revenue steam is coming from a variety of sectors where the major ones are Financial Services (23%) and Clouds (17%) but beyond that there are companies from the Energy Sector (15%) and other industries like Teleco's and Healthcare.
As for debt, the company balance sheet indicates that the current long term debt is at the total of $1.08B, slightly lower than the previous quarter.
Based on that, the Debt to Equity indicator is showing a continuous reduction in the past year, which is a very good sign.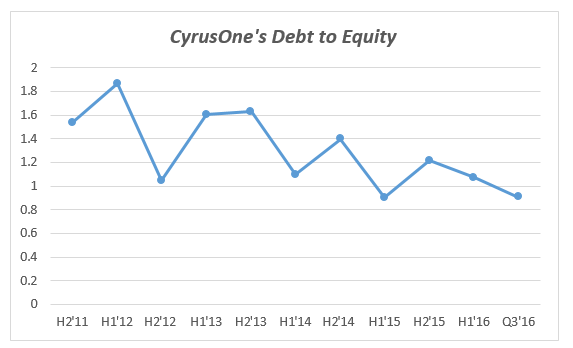 The strong tailwind of worldwide demand for data center real estate allowed the company to adjust upwards its full year guidance with an expected yearly improvement both at the top line and at the bottom line.
The revenue range was adjusted from the previous range of $520M to $530M to the range of $523M to $530M. The normalized FFO was adjusted from $2.50-$2.58 to $2.59-$2.62.
The declared dividend has not changed, and it is currently at $0.38 per quarter. Based on the $0.67 FFO per share, the payout ratio is 57% which is relatively low for a REIT and might grow next year if the business continues to grow at current rates.
After the publication of the earnings release, the stock price sank inexplicably. I therefore added CONE to my portfolio at the price $42.90. At this price the implied dividend rate is 3.5% and I do expect it to grow in the coming years.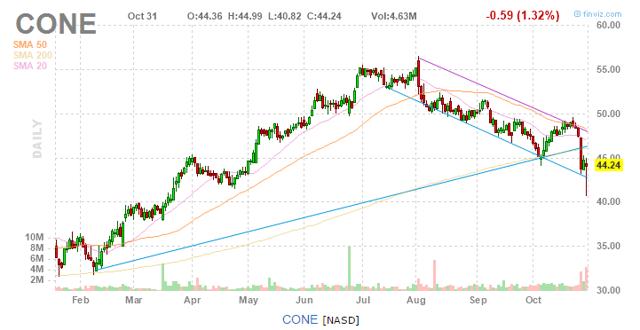 My portfolio therefore includes now 22 holdings:
Avista Corp. (NYSE: AVA), BHP Billiton (NYSE: BBL), CONE, Cracker Barrel Old Country Store, Inc. (NASDAQ: CBRL), Care Capital Properties, Inc. (NYSE: CCP),Cummins Inc.( CMI),Chevron (NYSE: CVX), Deere & Company (NYSE: DE), Eaton (NYSE: ETN), Johnson & Johnson( JNJ), HCP (NYSE: HCP), Main Street Capital (NYSE: MAIN), National Health Investors (NYSE: NHI), Realty Income (NYSE: O), Omega Healthcare Investors, Inc. (NYSE: OHI), Philip Morris International (NYSE: PM),Schwab U.S. Dividend Equity ETF ( SCHD),AT&T (NYSE: T), Unilever (NYSE: UL),Vanguard REIT ETF (NYSEARCA: VNQ),Ventas, Inc. (NYSE: VTR) and Wisconsin Energy (NYSE: WEC).
Initiating a holding of CyrusOne at 3.5% dividend yield, alongside the addition of OHI last week, added two great REIT holdings at my buy-price targets. The combination of these two delivers a total yearly dividend yield of more than 5% with the potential to grow significantly in the coming years.
Conclusions:
CyrusOne delivered great results this quarter. The hype of data centers has a great longevity, and the potential is way more impactful that any interest rate hike. This is a great addition to my portfolio.
Happy investing!
Disclosure: I am/we are long CONE, DE, AVA, CBRL, T, PE, O, OHI, VTR, HCP, NHI, CVX, MAIN, WEC, CMI, JNJ, VNQ, SCHD, BBL, UL, CCP, ETN.
I wrote this article myself, and it expresses my own opinions. I am not receiving compensation for it (other than from Seeking Alpha). I have no business relationship with any company whose stock is mentioned in this article.
Additional disclosure: The opinions of the author are not recommendations to either buy or sell any security. Please do your own research prior to making any investment decision.