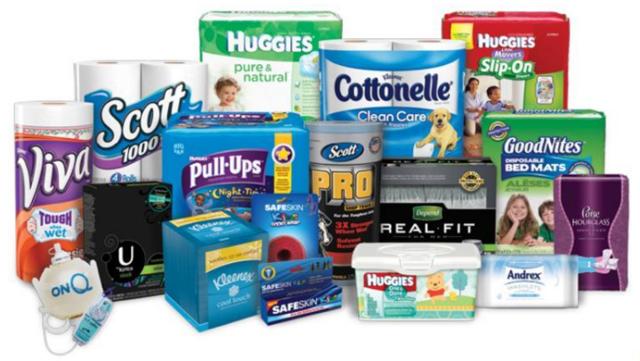 Kimberly-Clark (NYSE:KMB) is a name I've been bearish on for some time. KMB has been caught up in the frenzy of dividend stock buying that has gripped the market in the past couple of years and as the stock has been bid up, it has simply become more overvalued. KMB's fundamentals had a difficult time keeping up at $100 but with KMB soaring to nearly $140, the valuation was simply ludicrous. But after a sharp sell-off heading into and after the Q3 report, we find KMB back at $114. Is it finally cheap enough to buy or are all of the same issues still present?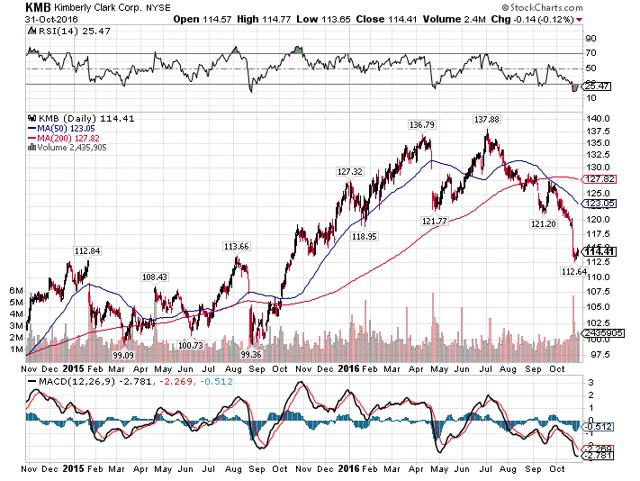 One of my main issues with KMB and its valuation is that it hasn't been able to meaningfully grow revenue in a long while. KMB isn't the only multinational dividend stock that has this problem, of course, but that doesn't mean it should be ignored either. Total revenue fell three percent in Q3 as organic sales were roughly flat and forex took more than two percent away. North America saw negative sales growth thanks to lower selling prices, something that KMB must address if it is to get back on some sort of growth path. All three of its major segments produced negative sales growth in Q3 and it is becoming more and more evident that KMB's revenue path is flat at best but more likely, looks to continue to move slightly down.
That is because even if KMB figures out some way to ship more product and/or improve its pricing, forex continues to be a headache. All multinationals face this problem as the dollar has remained relatively strong against currencies that are still seeing some form of QE and that's a problem for KMB. We saw a 2% headwind in Q3 and if the Fed follows through and raises rates in December and again at some point next year, KMB's forex headwind will likely be worse than only 2%. Again, this goes for a lot of companies but it still isn't something that can be ignored. KMB doesn't have the ability to grow its way out of a 2% or 4% forex headwind so for the foreseeable future, it looks to me like KMB's total revenue growth is likely to be negative.
Adjusted operating profits were up 1% in Q3 despite weak revenue as KMB continues its FORCE program to reduce costs. The program is certainly working and while I would have hoped for a little better result, the fact is that KMB is improving margins. That's good news of course but given that revenue is so very weak, KMB needs to continue to innovate and find ways to reduce costs or its operating profits will fall along with revenue. How many more quarters can KMB find ways to cut costs? We don't know the answer to that yet but the FORCE program is of the utmost importance right now because without it, earnings will fall.
KMB has a small buyback program to try and help with EPS growth but it is so small that it is barely noticeable. The full-year repurchase number is expected to be $750M and while that's a lot of money, in the context of a $41B market cap, it borders on meaningless. KMB's actual earnings growth is very weak and could use a shot in the arm from a robust buyback but that isn't the case.
In addition to weak earnings growth and a pointless buyback, KMB has very high expectations heading into next year. Analysts have KMB rebounding to 3% sales growth next year and better than 6% EPS growth. But what are these numbers based on? KMB cannot grow organically now at any meaningful rate and keep in mind that if the Fed does end up raising rates - and it appears it will - the dollar will likely remain higher against the other major currencies. And while we don't know the exact impact it will have, one thing I know for sure is that it isn't going to be favorable.
If we assume a 3% forex headwind next year - which is very reasonable if the Fed raises once or twice - KMB would have to produce organic growth in the +6% neighborhood to get close to sales growth expectations. If that sounds crazy, it's because it is. There is no chance KMB is getting to 6% organic sales growth as it has shown absolutely no ability to do that at any point in the recent past.
If I'm right and KMB misses sales estimates, it is going to struggle to hit EPS growth of 6% as well and that means that the stock's valuation is at risk even down $20 from its highs. KMB is already at 18 times next year's earnings and that is assuming it can get to 6% EPS growth. I don't think it can because it would take a gargantuan effort in both revenue and margin growth to get there and with forex pressures, the cards are certainly stacked against it happening.
Given this and the fact that the stock has completely broken down technically, KMB looks like a sell here. There are other dividend stocks that have better payouts and don't carry with them the risk of another 10% or 15% downside. KMB has too many problems to think it can get to 6% EPS growth next year and I think there are some EPS target reductions coming. If you want to own a multinational dividend stock, you can do much better.
Disclosure: I/we have no positions in any stocks mentioned, and no plans to initiate any positions within the next 72 hours. I wrote this article myself, and it expresses my own opinions. I am not receiving compensation for it (other than from Seeking Alpha). I have no business relationship with any company whose stock is mentioned in this article.