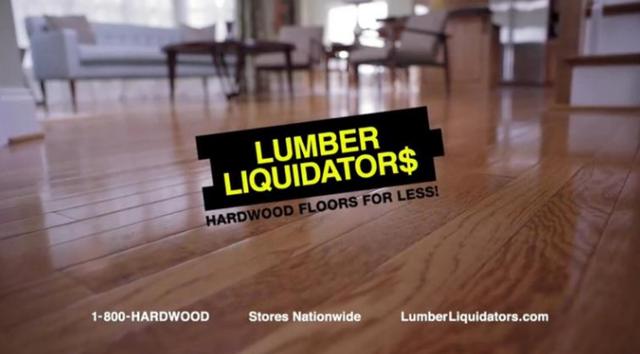 Lumber Liquidators (NYSE:LL) has remained one of my least favorite stocks in the market for years at this point. The company's growth trajectory was completely decimated by the formaldehyde issues it found itself entangled in, and while the damage from that has been somewhat limited, LL continues to struggle with the impact. The main issues have been lower sales and drastically lower margins, but in the Q3 report, LL handled at least one of those in a somewhat meaningful way. But shares were hammered again; is LL finally going to break or is this a buying opportunity for those that believe?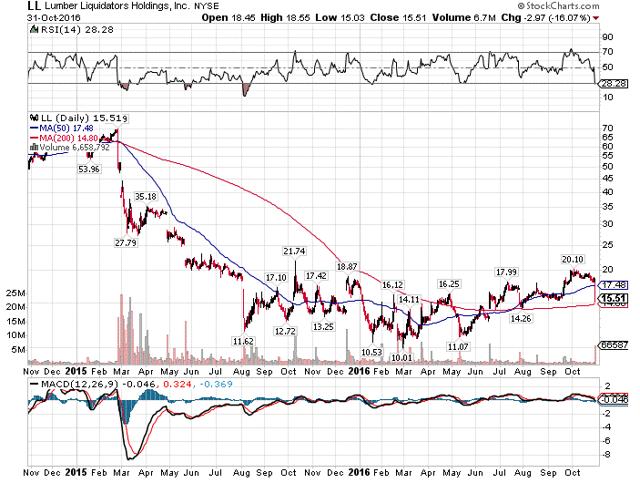 Total sales were actually up 3.4% in Q3 as LL's handful of new stores contributed a couple of percentage points of growth and comp sales rose 1%. That's a very long way from where LL was before the crisis anniversaried, and to its credit, it did get some people back in the stores. The company's traffic number was up 50bps, and while that's not exactly gangbusters, it is positive, and that is a step in the right direction. The problem is that the level from which LL was working in this quarter was obviously extremely low, and all it could muster was a 1% comp gain. LL still has some massive brand and reputation issues to work out because after its sales fell off a cliff and produced several double-digit losses in comps, a 50bps gain really doesn't mean much.
LL sold a higher mix of laminates and vinyl in Q3, some of the very products caught up in the formaldehyde scandal. Those products carry lower ASPs but higher margins than hardwood products, which have the reverse characteristics. The good news is that LL needs laminates in particular to have a shot at being profitable again because its cost base is far too expensive for it to survive on lower-margin hardwoods.
To that end, LL has been working to make its model less promotional, and we saw that in Q3 as well. The company's gross margin rate rose 130bps due to the higher mix of laminates and because of fewer promotions. That's also a step in the right direction, but consider that even after the gain, LL's gross margins are still just 31.4%. That is 8% or 10% away from where LL was during its heyday, and that loss of gross margin has destroyed its operating margins; its costs are far too high for it to survive on 31% gross margins.
The reason is because its SG&A costs continue to soar, and in Q3, were a full 41.2%. The culprits were higher payroll costs at both the store and corporate levels as well as higher advertising expense. This is the problem LL has these days; it has proven it is either unwilling or unable to cut costs more than it has, and yet, its structural costs are still out of control. LL simply cannot survive with 40%+ SG&A costs and that is a point that cannot be overstated in its importance.
To its credit, the company did make some progress in Q3. However, the gains were slight; comps were up 1% as traffic rose slightly and a more favorable mix led to slightly higher gross margins. Those things are completely necessary for LL to get out of the mess it is in, but it needs to do much more than very, very small improvements going forward if it is to return to some sort of profitable state.
The thing is that analysts are sticking to the delusional thought that LL will breakeven next year, something I find impossible to believe. Let's recap what 2016 has looked like so far from a profitability perspective: ~30% gross margins and ~40% SG&A costs mean that in round numbers, LL's operating profits are at -10% of revenue. The numbers were roughly that in Q3 and that is why the company lost another $18.4M during the quarter.
Even if you think things will improve in 2017 - which they very well may - in order to think LL is going to breakeven, you have to think that it can make up a 1,000bps gap between its SG&A costs and its product margins. That is an enormous undertaking, and the only way for it to happen is for LL to make huge progress on both. It has to continue to see gross margins rise back into the mid-30s or higher and it needs to see 500bps of leverage or more on its SG&A costs. Those sound like absolutely huge goals to me, and given that the company has done very little towards making those goals, assuming they are going to occur sounds nuts to me.
The only risk to the upside for LL from these levels given all of these issues is that someone tries to buy it. I can see the appeal of buying a network of almost 400 stores, but the brand is so tarnished at this point I'm not sure it would be worth the hassle. However, LL is bite-sized for a larger-cap company to swallow, so I won't say it isn't going to happen; I just don't think it will. But for me, operationally, LL is still in a huge mess with no way to get out. I still think it will ultimately go to the single digits, but for now, investors seem content to pay in the mid-teens for a company with negative operating earnings. I think LL is in more trouble than people realize, so I remain short.
Disclosure: I am/we are short LL. I wrote this article myself, and it expresses my own opinions. I am not receiving compensation for it (other than from Seeking Alpha). I have no business relationship with any company whose stock is mentioned in this article.