Pfizer (NYSE:PFE) reported a mixed bag in their recent earnings release. The diversity of the company's clinical pipeline is the main appeal here as a notable clinical failure has minimal impact on the share price. For the dividend income seeking investor seeking exposure in the healthcare/biotech sector PFE remains a superior choice.
Earnings Release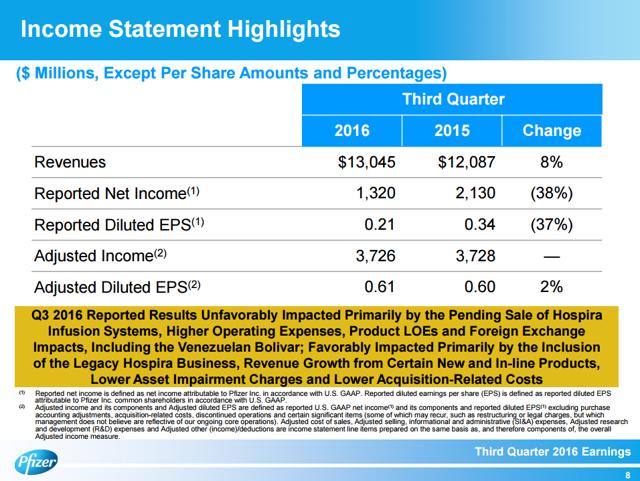 PFE reported what I would term a noisy quarter with multiple moving parts as noted in the earnings slide above. I'm focusing on the revenue growth which continues to move along at a brisk pace.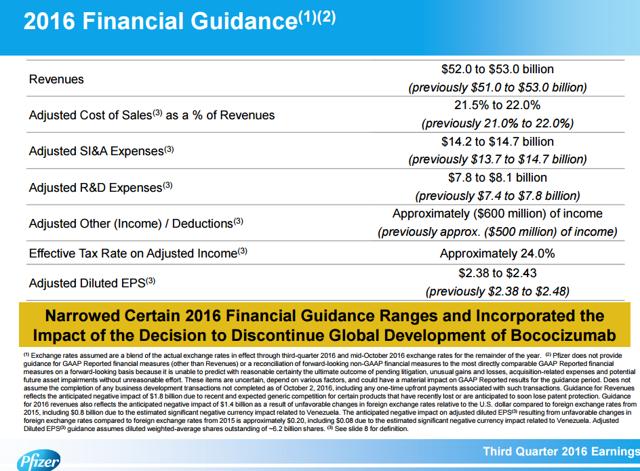 The strength in PFE revenue growth allows for a tightening of the revenue projections for the year. At the midpoint of PFE forecasts, PFE would generate an additional $500 million in sales. On the expense side, a notable bump is seen courtesy of the discontinuation of Bococizumab, its investigational Proprotein Convertase Subtilisin Kexin type 9 inhibitor (PCSK9i). The class remains mired in controversy due to the high cost of the two available commercially available treatments owned by Amgen (NASDAQ:AMGN) and Sanofi (NYSE:SNY) in partnership with Regeneron (NASDAQ:REGN). I view PFE's exit as incrementally positive for AMGN and SNY/REGN as it removes a deep-pocketed competitor from the field. Boco revenue was pegged at $700 million by 2023 in some analyst models, a figure that I view as highly speculative at this juncture. Assuming outcomes data due next year will show a notable benefit that forces payers to expand access, in my opinion, AMGN and SNY/REGN will split the revenue Boco would have generated. I do expect similar market dynamics as we have witnessed in the HCV marketplace to come into play in the PCSK9 field, notably the company willing to be more aggressive in rebates to the PBM's, garnering exclusive formulary placement, effectively locking the competing product out.
Pfizer Clinical Pipeline
In my view, the most notable shift in PFE priorities is the enthusiasm in garnering multiple oncology products housed in the Innovative Health Division.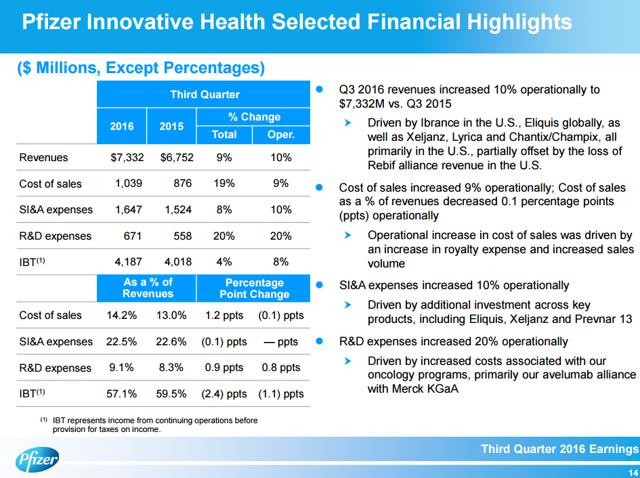 The recent purchase of Medivation as discussed in a previous post will aid revenue growth here. I remain enamored with the potential of the group as a whole. As a standalone entity, the group would become very attractive as a separate publicly traded entity. Quite a few recent PFE investors were speculating on such a split were greeted with the following somber note from Ian Reed the CEO of PFE.
"With this decision, our two distinct businesses will remain separately managed units within Pfizer, which we believe is currently the best structure to continue to deliver on our commitments to patients, physicians, payers and governments, and to drive value for our shareholders," stated Ian Read, chairman, and chief executive officer. "We believe that by operating two separate and autonomous units within Pfizer we are already accessing many of the potential benefits of a split - sharper focus, increased accountability, and a greater sense of urgency - while also retaining the operational strength, efficiency and financial flexibility of operating as a single company as compared with operating as two, separate publicly traded companies. We will continue to generate the financial information necessary to preserve our option to split our businesses should factors materially change at some point in the future."
The final highlighted sentence is particularly revealing. PFE is angling for a lower overall tax rate as evidenced by its failed bid for AstraZeneca (NYSE:AZN) as discussed in this post in addition to the aborted Allergan (NYSE:AGN) tie up as discussed here. Both entities have overseas domiciles with a far more generous corporate tax rate. Each move was scuttled by the Justice Department in an attempt to prevent additional US-based entities from completing a tax inversion.
I suspect PFE publicly came out well before the upcoming election as a way of garnering favor with regulators. I do not think the idea is off the table, quite the contrary it remains alive and well. PFE along with other large multinationals will allow some time for the next administration to put forth their tax proposal. If a deal can be struck, all the better and PFE looks wise in standing pat. If the legislative process fails to come to an acceptable resolution, PFE will then move forth with a division of the company. They will have an excellent built in excuse "we gave the legislative process ample time to deliver yet paralysis has set in once again on Capitol Hill."
Fair Value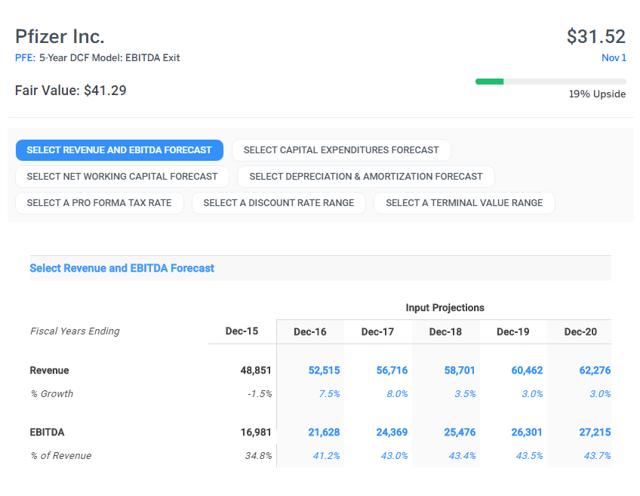 I have tweaked the model ever so slightly incorporating the midpoint of PFE revenue guidance. The DCF above utilizes a discount rate of 8.5% with an exit EBITDA multiple of 10. My updated price target drops slightly to $41.29 from $41.55. My projection assumes PFE remains intact for the entire period. A split-up in my view would unlock additional gains.
Role of the Dividend
One of the main appeals here is the generous dividend of 30 cents per share which equates to a yield of 3.85%. I recently composed a series of articles discussing Abbvie (NYSE:ABBV) seen here and AMGN which can be seen here as well. They drew a number of lively comments, most notably the role of the dividend for yield-seeking investors. A few remarks revolved around alternative picks in lieu of AMGN/ABBV.
PFE hands down is the most appealing pharma company for those seeking consistent income going forward. PFE's current corporate composition most notably resembles the venerable Johnson & Johnson (NYSE:JNJ) with its diverse product offerings. In the biotech/pharma space, a novel product will generate monopoly like margins well in excess of 80%. The issue is the length of the patent life. Once a product loses patent exclusivity, market share is lost in most cases well in excess of 80%. The vast diversity of PFE offerings alleviates such concerns. In essence, PFE's ability to generate substantial cash is not threatened. The same cannot be said for AMGN and ABBV hence my avoid rating.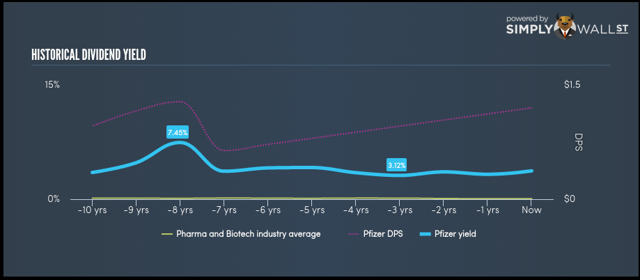 Chart courtesy of Simply Wall St.
In a similar vein as JNJ, PFE has a well-documented history of acquisitions to fill the void of lost revenue. The Medivation deal is a recent example where PFE simply wiped out the competition and added an attractive oncology piece to its stable of products.
Conclusion
The biotech/pharma sector continues to feel the weight of political uncertainty as the US election comes to a merciful conclusion. The industry remains on sale, yet a discerning eye is needed to parse through the sales rack. Some companies are on clearance for a reason. I prefer to stick with those with a clearly defined story devoid of patent drama. I would like to thank you for reading. I look forward to your comments.
Follow on Stock Twits @alexanderpoulos and Twitter @ideagenerator01
Investors are always reminded that before making any investment, you should do your own proper due diligence on any name directly or indirectly mentioned in this article. Investors should also consider seeking advice from a broker or financial adviser before making any investment decisions. Any material in this article should be considered general information, and not relied on as a formal investment recommendation.
Disclosure: I am/we are long PFE, AZN, REGN. I wrote this article myself, and it expresses my own opinions. I am not receiving compensation for it (other than from Seeking Alpha). I have no business relationship with any company whose stock is mentioned in this article.