My bullish call on silver (NYSEARCA: SLV) is looking fabulous today. On October 4, 2016, I penned an article titled Silver: Will This Spiral Into Something Vicious? in which I advised my readers and followers that $17.30 was a good buying level, both from the short-term and the long-term perspective.
When I wrote that article, silver was trading at $17.775 an ounce. Today, at the time of writing this article, it is rising fast and is currently up 3.70% at $18.455.
In today's edition, I will again attempt to cover silver from technical perspectives, but this time, I will be using three charts - daily, weekly and monthly. The aim of using multiple charts is to provide a more conclusive argument in favor of the precious metal.
First, let's discuss the daily chart and see what the action is telling us. Clearly, argentum (Latin for silver) is rising strongly today after a brief period of bottoming out. During the recent slump, silver had tumbled to near oversold levels, around which the 200-day SMA protected the downside.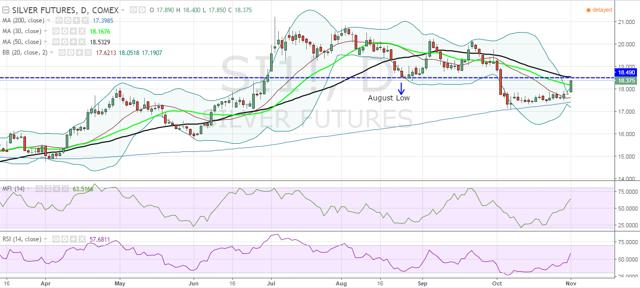 Source: TradingView
The daily price chart above also indicates that silver will likely close above the 30-day SMA of $18.1676 on a strong bullish candle. This is definitely a huge positive, and I expect it to also pierce the 50-day SMA of $18.5329, which incidentally, coincides with the August low. These two are the immediate resistances, which will likely be crossed over as the momentum and strength continues to strengthen.
The 14-day RSI and the 14-day MFI readings are improving with every passing session. The current values are 63.5166 for MFI and 57.6811 for RSI.
Note 1: Daily Charts Confirm The Bullish Picture
In my previous article on silver, I had discussed a narrowing trading range, marked yet again in the weekly chart below by the two trend lines.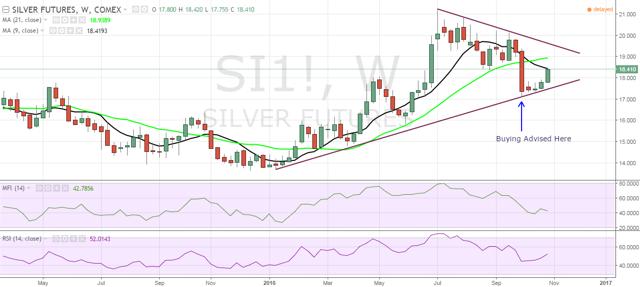 Source: TradingView
I have overlaid a couple of simple moving averages - 9-week and 21-week - which act as crucial levels for the shiny metal as can be seen above. Since the beginning of this year, there has been a visible uptrend which was recently retested and provided a good entry point for investors. Slowly yet steadily, I'm now anticipating a march up to the downward sloping resistance line at which some profit booking and fresh selling cannot be ruled out. The resistance levels are in the region of $19.50-$19.70. But then, we should have support flowing in from the moving averages mentioned above.
Note 2: Any Retest Of The Weekly Support Trendline Should Be Used To Go Long
Long-term investors aren't concerned about the near-term headwinds. However, the massive, unprecedented 70 percent crash in silver prices since the 2011 peak has baffled even the most patient and prolific investors.
Fortunately, there is good news now. The turnaround in silver has begun, and the metal is expected to give 50 percent gains in the next couple of years. I expect a price range of $26-$28 per ounce.
I know this might sound a bit silly now, but it is very much possible given the way technicals are shaping up. To discuss them, I will use the monthly price chart which spans the period from late-2003 to date.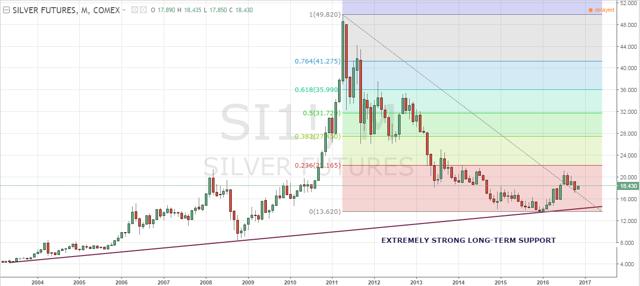 Source: TradingView
The price chart very conveniently tells that silver has respected the upward sloping trend line which began in 2003 on numerous occasions, including the disastrous meltdown of 2008-09. Silver presented another opportunity in December last year and January this year as it retested the extremely strong support trend line.
There is substantial proof that investors who had taken a leap of faith and bought silver close to this multi-year, hardened support have reaped rich rewards. There is absolutely no denying that.
I am confident that this support trend line will not be breached anytime soon, and with the retest in Dec.-Jan., the precious metal has hit its bottom and is about to rise significantly higher going forward.
To elaborate on this, I have employed yet another widely respected technical tool - Fibonacci retracement - on the monthly chart for the entire decline from 2011-top to 2015-bottom.
The two important Fibonacci retracements to consider now are the 23.6% at $21.165 and the 38.2% at $27.450. Markets generally care more about the 38.2% retracement than the 23.6%, and therefore, I too believe that the 23.6% roadblock will be crossed over. It is the 38.2% that will be very testing.
In 2017, I expect the 23.6% retracement to be crossed, but from there on it will require some work and time to reach the target zone of $26-$28.
Note 3: If Market Offers You Another Chance Near Long-Term Support, You Take It!
Know The Risks As Well
Even though I am positive on the precious metal, I must admit that I am slightly pessimistic about the overall global economy, and believe that we may be in striking distance of a recession. If we indeed enter a recessionary phase in the next couple of years, my bullish thesis will go wrong temporarily as panic tends to spread in all asset classes initially. We have seen that happen to silver in the last recession as well.
On another note, if the U.S. Fed continues to hold off an interest rate hike, or if the economy really improves from here on, then we may see capital moving out of safer assets like precious metals to riskier asset classes such as equities.
So, investors must keep these possibilities in their calculations and perspectives as well.
Conclusion
Silver investors have nothing to worry about, neither from a short-term nor from a long-term perspective. We have clearly established the strong bullish outlook using the various technical price charts, with several indicators and simple moving averages.
Even if the precious metal was to decline going forward, the dip will be the dip to buy and hold with a timeframe of at least 1-2 years. If an investor is willing to dedicate more time, that is even better.
Note: I cover several stocks in different sectors as well as S&P 500, crude oil, gold and silver, U.S. dollar, etc. So, if you liked this update, and would like to read more of such informative articles, please consider hitting the Follow button above. Thank you for reading!
Disclosure: I/we have no positions in any stocks mentioned, and no plans to initiate any positions within the next 72 hours.
I wrote this article myself, and it expresses my own opinions. I am not receiving compensation for it (other than from Seeking Alpha). I have no business relationship with any company whose stock is mentioned in this article.