Herbalife (NYSE:HLF) reported earnings after hours. A lot of numbers were thrown around, but the main numbers I am focused on are the regional net sales in North America and China which included foreign exchange impact. I am focused on these two numbers because I believe these two markets determine the future of Herbalife.
Also, I believe it's wiser to compare this quarter's numbers with the previous quarter's, rather than year-over-year numbers in the same period - mainly because of the FTC injunction and the fact that Herbalife is at a turning point, which means it makes less sense to compare YOY numbers than it does to compare successive quarters. Essentially, what I'm looking for are momentum and direction.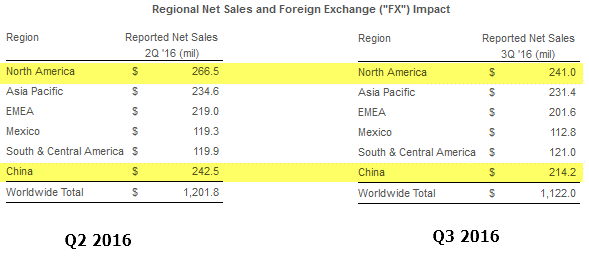 Source: Herbalife press release, author-highlighted.
In China, sales declined 11.7% between Q2 and Q3 - from $242.5M to $214.2M.
In the U.S., sales declined 9.6% from Q2 to Q3 - from $266.5M to $241M.
Every segment except South/Central America experienced a decline in net sales.
Do these earnings results change my price target for Herbalife? Am I neutral or have I become more bullish or bearish?
When I appraise companies, I typically calculate a fair value price, rather than a price target. Fair value is basically where the highest reasonable bid meets the lowest reasonable asking price. Fair value answers the question: "What is the highest bid an informed buyer would offer? And what is the lowest price an informed seller would ask for?"
I once had Herbalife pegged with a fair value of $57.54 per share. But due to Herbalife's provided guidance for FY 2017, I can't make an argument for Herbalife being worth over $50 per share anymore.
Herbalife provided full-year GAAP diluted EPS guidance for 2017 of $3.95-4.35, which implies a price per share of $47.40-52.20, which is a 12-20% decline from the closing price of $59 per share. This assumes the current market's 12x multiplier on earnings. Of course, if the multiplier decreases, shares could be worth much less. And I am of the opinion that Herbalife is not deserving of a higher multiplier, since growth is going to depend heavily on penetrating already-existing markets, which is a tall order considering that Herbalife's sales declined everywhere except the South/Central America region.
Herbalife also reported today that Michael Johnson, Herbalife's CEO since 2003, is stepping down from the CEO position to be replaced by Richard P. Goudis, who is the current COO. Johnson will transition to executive chairman. The press release is vague on what exactly Johnson will be doing in his role as executive chairman, so I believe this is neutral news for now and will refrain from speculating on this development.
I have written 5 articles on Herbalife this year. I especially recommend checking out: Calling Icahn's Bluff on Herbalife where I increased my short position before earnings and my logic behind it, and Details on FTC's Herbalife Injunction which newer Herbalife investors might find handy. Also Herbalife Attacks Bill Backman…Was It Even Necessary? might be an interesting read to those who like to follow the Bill Ackman vs. Herbalife saga.
Disclosure: I am/we are short HLF. I wrote this article myself, and it expresses my own opinions. I am not receiving compensation for it (other than from Seeking Alpha). I have no business relationship with any company whose stock is mentioned in this article.