Gold's (NYSEARCA:GLD) little brother silver (NYSEARCA:SLV) had a strong day today, with the metal closing up over 2.5%. In early October I disclosed my new long position in silver from $17.75 in the futures market. This position is now up nearly 4%, and I have no intentions of taking profits yet. My long position was initiated due to silver testing its uptrend line and providing a great risk/reward entry on the metal. Fast forward three weeks from my entry, and I am now slightly more bullish on this trade thesis. The most significant development for silver occurred today as it regained its uptrend line that it's been battling with for 3 weeks.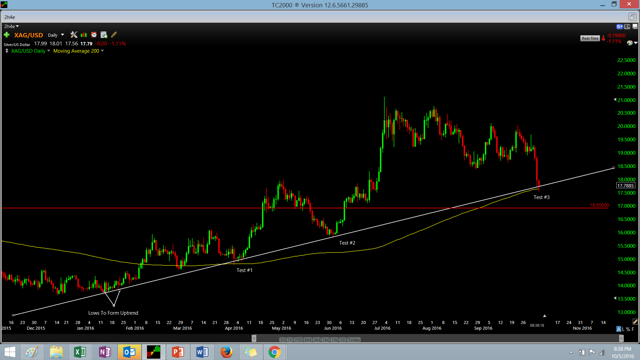 (Source: TC2000.com)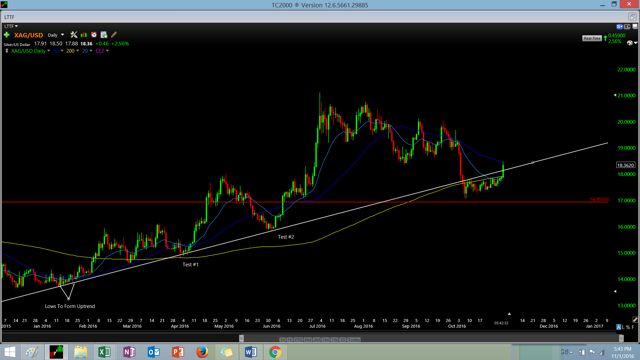 (Source: TC2000.com)
In addition to this positive technical development, sentiment and COT data are also looking very favorable for bulls. Despite silver being over 7% off its lows, sentiment is still in bearish territory. At the time of my entry, there were only 10% bulls on silver and we have seen an increase to 35% as of today's close. In terms of COT data, the commercials continue to lighten up on their short positions. When looking at COT data for an asset class, I place the most emphasis on the moves being made by the commercials. The commercials are the large users and producers of the commodity, therefore they sell forward or hedge their production or demand. As of August the commercials were at their largest net short position in over a year, and it was time to take notice. Since then the commercials have covered nearly 30% of their shorts, significantly reducing their net short position.
A Deeper Look Into Silver Sentiment
When I initiated my long position in silver, there were only 10% bulls in the metal. There are two things I am looking for when I look at sentiment data. I am looking for a depressed sentiment reading below 20% bulls when looking to get long during corrections. This is contingent on the asset class being in a bull market and a daily uptrend. The second thing I am looking for is the short term trend of sentiment itself. During a severe correction like the one we just had, it is rare to see sentiment trending higher. Once an asset has recovered and come off of its lows, I am looking for the asset to move back above its shorter term sentiment moving averages. We can see these moving averages displayed in the below table.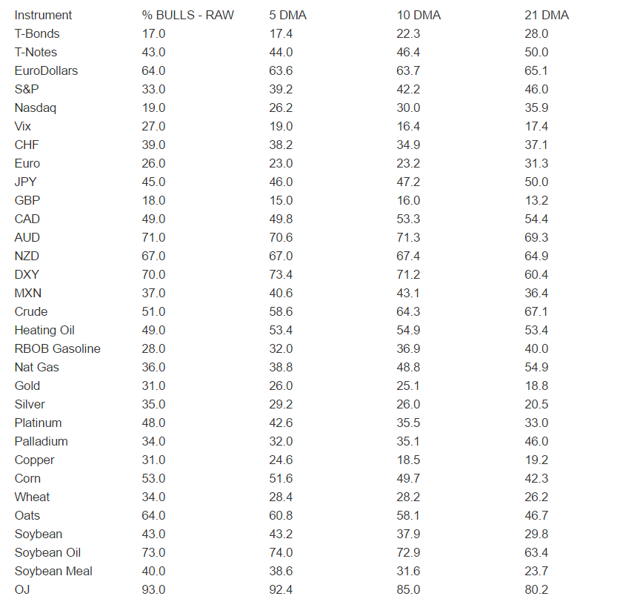 (Source: Daily Sentiment Index)
As we can see in the above table, sentiment for silver is at 35% bulls. This means that 65% of futures traders are currently bearish on the metal, and we have an abundance of bears. What stands out to me from this table is that silver is now back above its key sentiment moving averages. The 5-day moving average for silver sentiment is at 29.2% bulls, the 10-day moving average for silver is at 26% bulls, and the 21-day moving average for silver is at 20.5% bulls. This is important because it shows that silver sentiment if it was plotted on a chart is now in a renewed uptrend. Due to this new development in silver sentiment, the sentiment is now in the bulls favor.
Comparing the current sentiment picture can better explain the analysis of sentiment's trend. As we see in the table below, while silver was at 34% bulls, the trend on silver sentiment was pointing down. The 5-day moving average was 37.4% bulls, the 10-day moving average was 40.8% bulls, and the 21-day moving average was 43.7% bulls. This meant that despite silver sentiment being in bearish territory, it was trending to the downside. This sentiment picture led to a 10% drop in silver prices over the next 2 weeks. While I did not short despite seeing this ugly development, I had no interest in entering any long positions on the metal. The reason I did not short silver is because I never fight the longer term trend. Silver was in a long term trend at the time of this sentiment picture, and I do not short in bull markets. Instead I wait for favorable opportunities to buy the dip, rather than get cute fighting the dominant trend. In hindsight it would have been quite profitable to short silver, but instead I chose to wait for oversold conditions and get long at $17.75.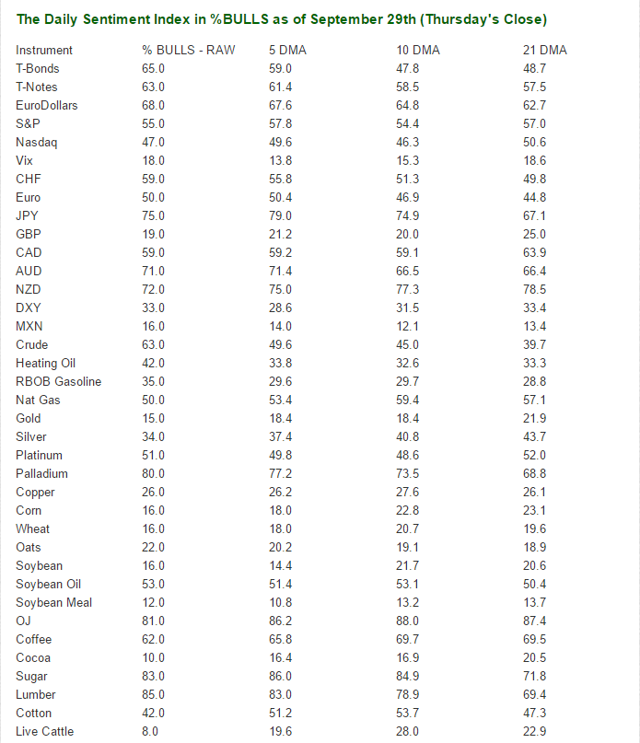 (Source: Daily Sentiment Index)
Silver COT Data
Taking a look at COT data on silver, we see a similar picture to gold. The commercials in silver has significantly lightened up on their net short position, as they have done in the yellow metal. During August the net short position in silver sat at over 105,000 contracts, and currently sits at 73,000 contracts. This is a reduction of over 25% of their net short position, and moves their net short position back to April and June levels. As those who follow the precious metals know, both months were extremely bullish for the metal. In April the metal saw a 15.8% gain, while it saw an even more impressive 17% gain in June. Past results do not indicate future returns, and I am not expecting a 15% plus return for silver in November due to this COT data. Having said that, I would not be surprised to see silver back to the $20.00 level by the end of the month.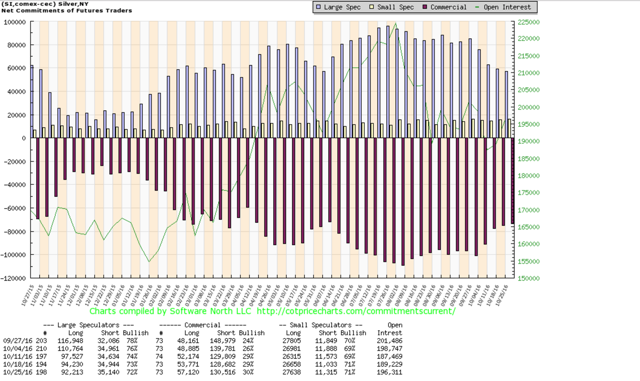 (Source: CotPriceCharts.com)
Technical Outlook & Summary
Taking a look at silver from a monthly perspective, it is very clear we have entered a new bull market. The downtrend that was in place for silver for nearly 4 years has been breached, and we are up well over 20% from the lows. In addition to this, the 20-month moving average has gone from a negative slope to a positive slope. As we can see from the below chart the 20-month moving average was stiff resistance during the bear market, and has now began to track the silver price as support.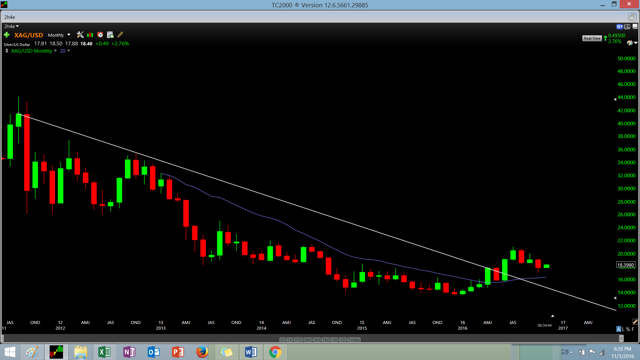 (Source: TC2000.com)
Moving down to a weekly chart, we can see the significance of the 40-week moving average in the violent 4-year bear market. While many believe moving averages and trends are "voodoo" and bogus numbers, I respectfully disagree. As we can see in the below chart, the 40-week moving average capped the price of silver for nearly 2 years. The price of silver fell from $28.00 / oz to $14.00 / oz over these two years and the 40-week moving average was nearly a perfect indicator to tell you the direction of the dominant trend. Every time the price of silver got above the 40-week moving average, the price quickly reversed and made new lows. This happened six times in 2 years, and was a great opportunity for shorts to enter new positions.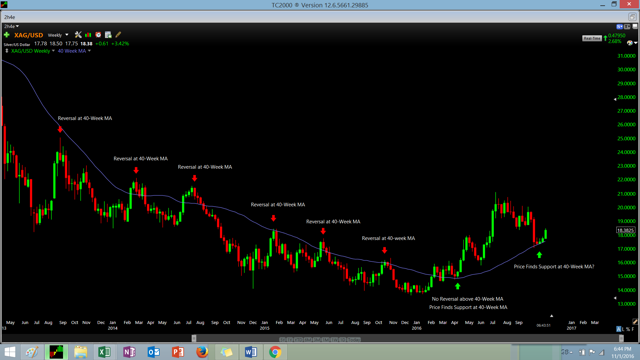 (Source: TC2000.com)
In earlier 2016, the character finally changed in the silver market. What was strong resistance for nearly 3 years became support as of April of this year. This was a sign that we may be in a new bull market. Just as the 40-week moving average was resistance during the 4-year bear market, the 40-week moving average is now acting as support during this bull market. The price of silver reversed right at the 40-week moving average in October, and I believe this is a sign that we should not doubt this bull market. Until the price of silver closes with conviction below this moving average, there is no reason to overthink things. I remain long silver from $17.75 in the futures market and will not even consider exiting my position unless we close with conviction below the $17.00 / oz level.
The majority of silver futures traders are bearish silver, and I believe they are leaning the wrong way. Silver has entered a new bull market as of Q1 of this year, and is showing no signs of breaking down yet. The fact that the price of silver held at the 40-week moving average is a strong sign that this bull market is in tact. While I am not long any silver miners currently, but I am long several gold miners in my personal accounts.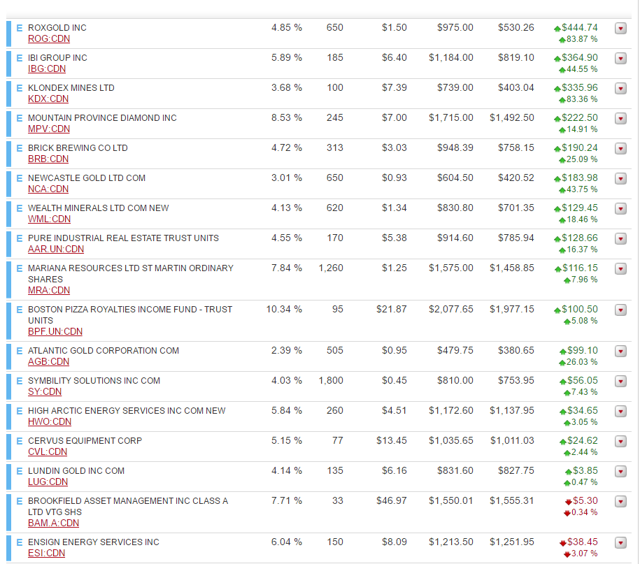 (Source: CIBC Investors Edge Account)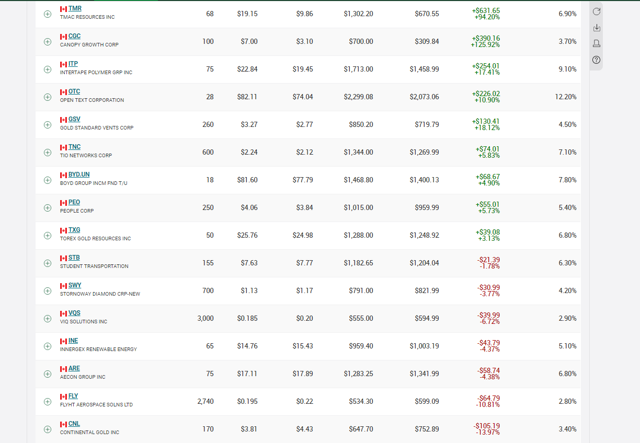 (Source: TD WebBroker Account)
For full transparency I have shown my current investment accounts above to show my money is where my mouth is. I doubled my position in Torex Gold (OTCPK:TORXF) during this recent correction, as well as adding Mariana Resources (OTC:MRLDF), a new position. Mariana Resources has hit the highest grade drill results of any junior mining company over the next decade, and I believe it is the next Ventana Gold. My portfolios are shown in all of my gold articles, and I have not cut any positions but instead added to my gold exposure.
Disclosure: I am/we are long SLV, GLD, TORXF, MRLDF.
I wrote this article myself, and it expresses my own opinions. I am not receiving compensation for it (other than from Seeking Alpha). I have no business relationship with any company whose stock is mentioned in this article.
Additional disclosure: If you liked this article and found it useful, please feel free to follow me by clicking on my name next to my avatar at the top of this article. I also invite you to check my performance at TipRanks.com where I am ranked in the Top 100 Contributors for performance with an average return this year of 60% on new long positions.