Background
Bonds are one of three major asset classes, and a major building block of retirement portfolios. Yet many individual investors fail to appreciate how strongly the choice of a bond fund affects the performance of a portfolio (expected returns, volatility, drawdown risk, etc.).
For example, a total bond fund like Vanguard Total Bond Market Index Fund Investor Shares (MUTF:VBMFX) behaves very differently from a long-term bond fund like Vanguard Long-Term Bond Index Fund Investor Shares (MUTF:VBLTX). To illustrate, the maximum drawdown since inception in 1994 is 5.4% for VBMFX, and 14.5% for VBLTX.
The purpose of this article is to look at the relationship between duration and performance, using Vanguard's short-term, intermediate-term, and long-term bond funds. This analysis can help investors choose bond funds best suited for their applications.
Vanguard bond funds
Vanguard offers many different bond funds, but the ones I'm focusing on for this article are its short-term (MUTF:VBISX), intermediate-term (MUTF:VBIIX), and long-term bond funds. ETF versions are also available. Some basic information on these funds is shown in Table 1.
| Fund | Ticker | Inception | Expense ratio (%) | Average duration (years) |
| --- | --- | --- | --- | --- |
| Vanguard Short-Term Bond Fund Investor Shares | VBISX | 03/01/1994 | 0.16 | 2.8 |
| Vanguard Intermediate-Term Bond Fund Investor Shares | VBIIX | 03/01/1994 | 0.16 | 6.5 |
| Vanguard Long-Term Bond Fund Investor Shares | VBLTX | 03/01/1994 | 0.16 | 15.6 |
All three funds were introduced in March 1994, and they all have tiny expense ratios of 0.16%. The average durations are very different, ranging from 2.8 to 15.6 years.
Alpha and beta
Alpha and beta are the estimated intercept and slope, respectively, when you fit a linear regression model of daily (or weekly, monthly, etc.) gains for a particular fund vs. daily gains for some benchmark. I like to understand bond funds' alpha and beta relative to the American stock market, so here I use Vanguard 500 Index Fund Investor Shares (MUTF:VFINX) as the benchmark.
Figure 1 shows alpha and beta vs. average duration (on 10/31/2016) for the three bond funds from March 2, 1994, to Oct. 31, 2016. The relationship is clear: the longer the duration, the greater the alpha, and the more negative the beta.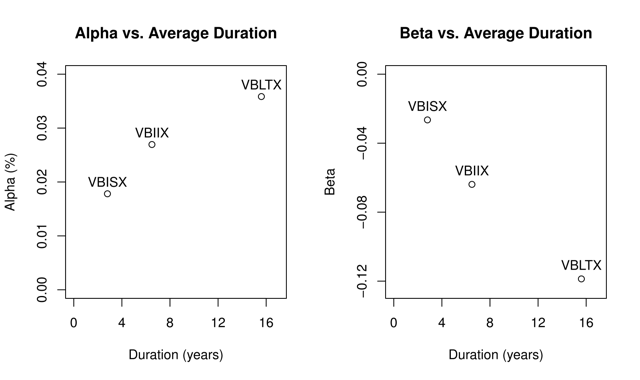 What does this mean? Well, suppose you want to pair one of these bond funds with VFINX in a 2-fund portfolio. Your portfolio's net alpha will simply be the bond fund's alpha times the bond allocation; its net beta will be the bond fund's beta times the bond allocation, plus the stock allocation.
So, a 60/40 stocks and bonds strategy with VFINX/VBISX will have net alpha of 0.007% and net beta of 0.59, while a 60/40 strategy with VFINX/VBLTX will have net alpha of 0.014% and net beta of 0.55. Using VBLTX rather than VBISX gives you twice the alpha, while also reducing your systematic risk.
Expected returns, volatility, and Sharpe ratio
Figure 2 shows the relationship between duration and these three properties.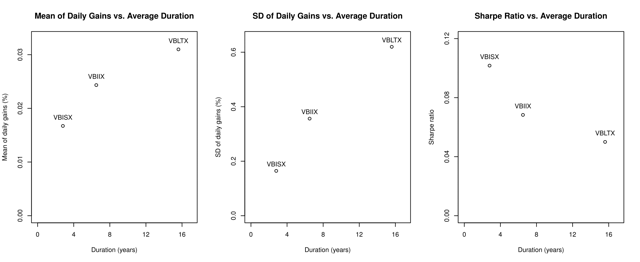 Longer duration is associated with greater expected returns, but also greater volatility. As you might expect, as average duration increases, the increase in volatility outpaces the increase in expected returns, such that the Sharpe ratio worsens.
I say "as you might expect" because if longer duration funds had better Sharpe ratios than shorter duration funds, shorter duration funds would be obsolete. You could just combine a longer duration fund with cash to achieve a particular level of risk while keeping the same Sharpe ratio as the bond fund itself.
It is a little counterintuitive, I guess, that longer duration bond funds generate greater alpha, yet have worse Sharpe ratios, than shorter duration funds. All else constant, more alpha should always translate to a better Sharpe ratio.
The explanation is a bit technical, but I think it's important, so I'll take a stab at it. The only way VBLTX can have a worse Sharpe ratio than VBISX while generating more alpha is if it has greater residual variability around its regression line than does VBISX. Indeed, the mean squared error for VBLTX vs. VFINX was 0.365, while the mean squared error for VBISX vs. VFINX was only 0.026. In other words, daily gains for VBLTX are much more scattered around their regression line than daily gains for VBISX. That extra variability inflates the denominator of the Sharpe ratio statistic, thus decreasing the Sharpe ratio.
CAGR and MDD
Briefly, the compound annual growth rates for VBISX, VBIIX, and VBLTX are 4.3%, 6.1%, and 7.6%; the maximum drawdowns are 2.7%, 9.1%, and 14.5%. Over the same time period, VFINX had a CAGR of 8.9% and an MDD of 55.3%.
Role in 2-fund portfolios
This is where it gets interesting. Consider Figure 3, which shows CAGR vs. MDD for VFINX/VBISX, VFINX/VBIIX, and VFINX/VBLTX portfolios with VFINX allocations ranging from 0% (lowest point on each curve) to 100% (rightmost point).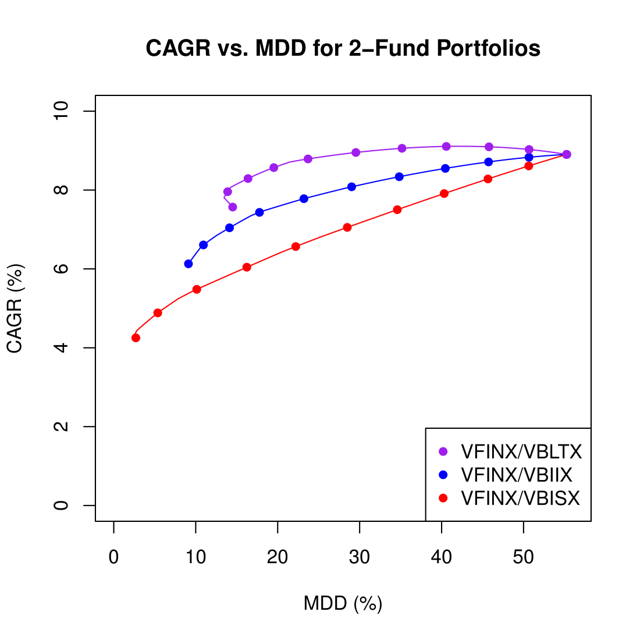 At a glance, you can see that VFINX/VBLTX completely dominates VFINX/VBISX and VFINX/VBIIX. That is to say, whatever your maximum tolerated drawdown, you can achieve substantially better growth with VFINX/VBLTX than the other two portfolios. The only time you would want to use VBISX or VBIIX is if you want a very conservative portfolio, for example if your maximum tolerated drawdown is less than 13%.
Let's again consider a 60/40 stocks and bonds portfolio. At this allocation, the MDDs are 34.6% for VFINX/VBISX, 34.8% for VFINX/VBIIX, and 35.2% for VFINX/VBLTX; the CAGRs are 7.5%, 8.3%, and 9.1%. VBLTX seems like the obvious choice here. If you're concerned about the slightly higher MDD, you could reduce your VFINX allocation from 60% to 55%, which would result in both a better MDD (32.4%) and a better CAGR (9.0%) than 60/40 VFINX/VBISX.
Conclusions
Unfortunately, I think the vast majority of investors don't really understand how their choice of a bond fund, and their allocation to it, affects their portfolio's behavior. I suspect that many investors just go with a total bond market fund and don't give it a second thought.
Here, I used Vanguard bond mutual fund performance over the past 22.5 years to show that longer duration is associated with:
Greater alpha.
More negative beta.
Better raw returns, but worse risk-adjusted returns.
Larger drawdowns.
Better properties when paired with an S&P 500 fund.
I think this information can be useful for building a retirement portfolio that maximizes expected returns for a given level of risk.
One final observation: If you're using a total bond market fund in a stocks and bonds portfolio, you can probably achieve much better performance by switching to a long-term bond fund.
And a few disclaimers:
Bonds performed extremely well overall during the time frame I analyzed. I would not expect such strong performance in general.
Longer duration bond funds have greater interest rate risk, meaning they are more susceptible to losses as interest rates rise.
Disclosure: I/we have no positions in any stocks mentioned, and no plans to initiate any positions within the next 72 hours. I wrote this article myself, and it expresses my own opinions. I am not receiving compensation for it (other than from Seeking Alpha). I have no business relationship with any company whose stock is mentioned in this article.
Additional disclosure: The author used Yahoo! Finance to obtain historical stock prices and used R to analyze the data and generate figures. Any opinion, findings, and conclusions or recommendations expressed in this material are those of the author and do not necessarily reflect the views of the National Science Foundation.