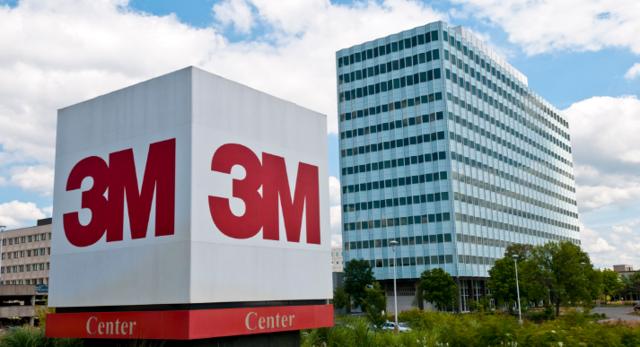 To say I've been bearish on 3M (NYSE:MMM) in the past is a bit of an understatement. I've found lots of reasons not to like 3M and very few positive factors, leading me to say there was no reason to own this stock after the Q2 report earlier this year. 3M has struggled mightily with growth but in the past, investors haven't seemed to care. But a recent sell-off of about 10% seems to suggest that maybe investors do indeed care now after yet another weak quarter.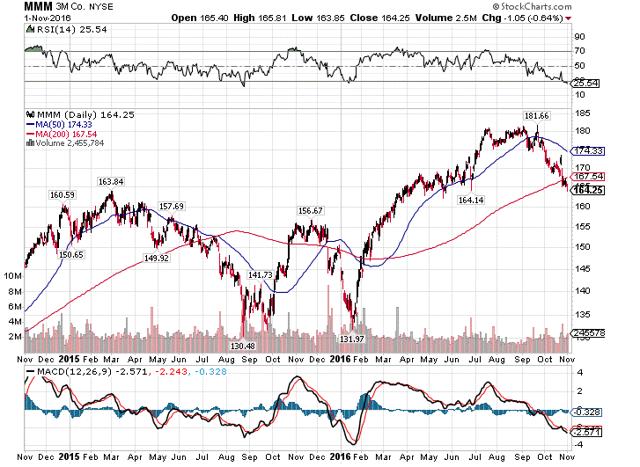 Revenue has always been the problem with 3M as it cannot grow in any meaningful way. Part of this is owed to its immense size and part to the industries in which it competes. But even if those things are true, the simple fact is that investors continue to pay for growth they aren't getting and in Q3, we saw yet another weak revenue quarter replete with yet another guidance cut. This has become the norm for 3M but as I said, in the past, it seemed I was the only one that cared.
Total sales were flat in Q3 as acquisitions added 30bps and forex added another 50bps, offsetting the 80bps decline in organic, local currency sales. The fact that sales were flat is of no surprise at all to anyone that has followed this stock for even a short period of time but what is a change is that organic sales were negative. In addition, forex was actually a tailwind in Q3, something not many companies can claim these days. And it is a good thing 3M had that tailwind because without it, total sales growth would have been negative. But whether you look at the organic or the reported number, both are ugly and the bottom line is that 3M still can't grow and given the guidance cut for Q4, it is still getting worse, not better.
One thing 3M has always done an extraordinary job of executing upon, however, is operating margins. That number was up another 40bps in Q3 to a staggering 24.7% as 3M continues to do more with less. As much as I hammer 3M over its complete lack of revenue growth, I admire its ability to continuously improve margins in the face of a tough environment. I give credit where it is due and 3M certainly deserves credit with respect to margins. This also helps keep EPS growth respectable despite the fact that revenue almost never moves in any material way and 3M is much better off for it.
In addition to that, 3M has tremendously high quality earnings as its FCF was 117% of net earnings in Q3. That allows 3M to return lots of cash to shareholders and while its dividend is okay at 2.7%, its buyback allows it to keep the share count in check, again helping with EPS growth. The share count was down only about 2% in the past four quarters but every little bit helps, particularly when you're talking about microscopic the growth numbers that 3M has put up in the recent past. The thing is that 3M is spending roughly $900M per quarter this year on buybacks, which should be good for a reduction in the area of 4%. But it gives out lots and lots of stock as compensation and thus, a percentage point or two of growth is taken away each year. The buyback still helps but given how much 3M awards as stock-based compensation, its impact is minimal.
3M lowered its guidance for revenue and EPS for this year (again) and analysts are now down to $8.68 for next year's earnings. The thing is that despite the fact that 3M continues to disappoint and fail to grow, analysts stubbornly cling to the idea that it will magically happen in 2017. We've seen this before time and again and all that 3M has done as a result is continue to disappoint. Q3 was another example of this and lowered guidance for the rest of the year is yet another.
Analysts have 3M producing more than 2% sales growth next year and 6% EPS growth and while those are small numbers, 3M is going to struggle with them. How do I know this? Because that's what 3M does. And you don't have to take my word for it; just look at the past few years and see if you come to a different conclusion.
Organic and reported sales have been very weak this year and there are no catalysts to send revenue higher. Margins are moving higher but 3M is already so efficient that huge gains there aren't realistic. I don't doubt that margins will be higher next year but I do doubt that it will be enough to offset what I've very sure will be a revenue miss. And we know the buyback is only good for 1% or 2% EPS growth as 3M will squander much of it on compensation. This is not a recipe for better than 6% EPS growth and as a result, 3M has the same problem it has always had; analysts are too bullish for what it can realistically accomplish and that is setting the stock up for failure.
I really find it quite amazing that people continue to pay 19 times forward earnings for this stock despite the massive pile of evidence that it continues to underperform. If you want an industrial stock you can do much better, including Honeywell, which trades with a much lower multiple and is actually growing EPS at meaningful rates. 3M continues to disappoint and yet, investors remain bullish for some reason. I think the sell-off we've seen is just the beginning as investors finally start to realize how expensive this stock is.
Disclosure: I am/we are short MMM. I wrote this article myself, and it expresses my own opinions. I am not receiving compensation for it (other than from Seeking Alpha). I have no business relationship with any company whose stock is mentioned in this article.