I know what you're thinking: how could it get any worse for plagued Seadrill (NYSE:SDRL)? Well, the inventory report today sent the crude oil futures down a few percentage points and now the WTI is ringing in at $45/barrel. It's rough out there folks and Seadrill really does look like a lost cause. Today, I really wanted to bring two things to light to shareholders that are still holding onto a bit of optimism for the company to emerge from this downturn. The company is likely a sell-off candidate next month when major investors liquidate in hopes of gaining a tax write-off and with the company struggling heavily with its debt, there's a large chance the equity becomes a penny stock by the end of the year.

Source: Seadrill
Tax-Loss Candidate
December is fast approaching and investors who are long Seadrill need to be cognizant of the fact that Seadrill may be heavily sold off next month as those energy investors who had faith at the beginning of the year or even in the spring may try and gain a tax write-off by selling this name. December is historically a brutal month for stocks that have already performed poorly on the YTD time frame. Thus, if you're long SDRL, exercise a significant amount of caution at this point. The stock is down 69.8% YTD and I can't imagine investors want to keep believing in a stock that has beleaguered their portfolio so heavily. Perhaps a caveat is that investors may have only allocated a "gambling" percentage to this company, say 1% or 2%, so the losses aren't as heavy as they seem.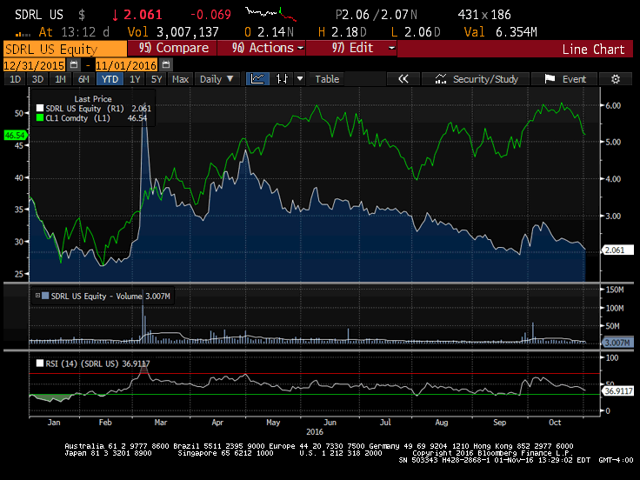 Source: Bloomberg
The immediate counter to a tax-loss selling argument is that the fundamentals behind crude oil could improve so materially that investors flip their thesis a full 360 and become bullish on the company's prospects. This just isn't likely, especially in light of today's data on inventories. Inventories built up 14 million barrels, exceeding the estimate by nearly 14x. That's a massive jump in inventories and honestly, we should have seen this coming based upon the trend in rig counts. Small E&Ps have been rapidly cutting costs over the past two years and improving drilling techniques where they can scale production much faster than before. The increased rigs, to the tune of 13 increases out of the last 14 weeks, were just the signal to investors that a materially larger supply deficit was bound to emerge again.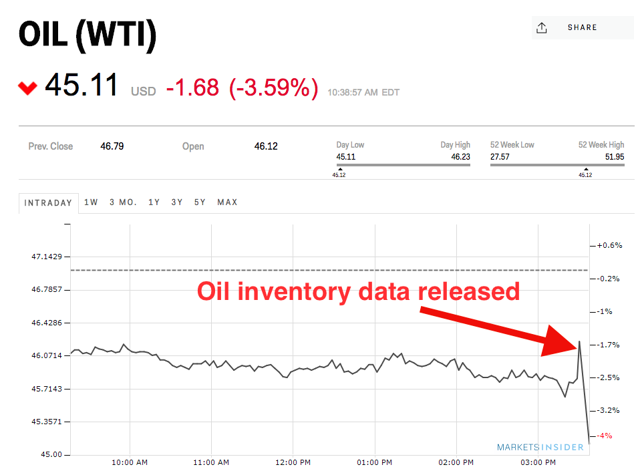 Source: Business Insider
Recall that offshore drilling is the last portion of the crude oil industry at large to recover as it requires dayrates to increase and the only way that happens is when customers increase their capex budgets for high breakeven projects. I was reading the British Petroleum (BP) earnings report yesterday and management was talking about a further capex reduction now and potentially another early next year. That lack of efficacy from the integrated O&G majors really is what makes me pessimistic about companies like Seadrill, much to my dismay.
As a note, the offshore drilling is one of the toughest industries to find quality equities in. I highly suggest those who are still keen on offshore drilling, like myself, take positions in companies that have many more options related to their NTM, should the crude weakness persist further. Such companies that come to mind are Noble (NYSE:NBL) and Transocean (NYSE:RIG).
Financing And The Search For Liquidity
To put this company in perspective, the net worth of Chairman John Fredrikson currently exceeds the market cap of Seadrill by nearly 9x. That's both good and bad. It's good in the sense that Fredrikson can come in and provide a significant line of credit to help it survive the downturn until prices improve, but that's going to come at a long-term cost. To be perfectly fair, Fredrikson has said that he might do this by providing a loan of $1.2 billion, which would help the company make it through this year and the next.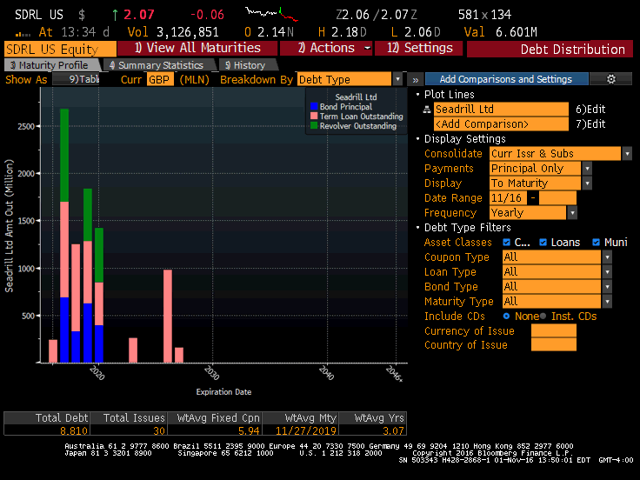 Source: Bloomberg
It's actually crazy considering that this company is cash flow positive. With over $2.6 billion due in debt in the short term, coming up with the financing is no easy task. As Q3 2016 financials have not been released yet, we can only assume a slight premium may occur over the Q2 2016 results. Thus, that leaves with the $1.4 billion cash balance that they have built up, and an annualized estimated free cash flow of $1.06 billion again based on Q2 results. In total, the company has about $2.46 billion in available liquidity over the NTM, ceteris paribus.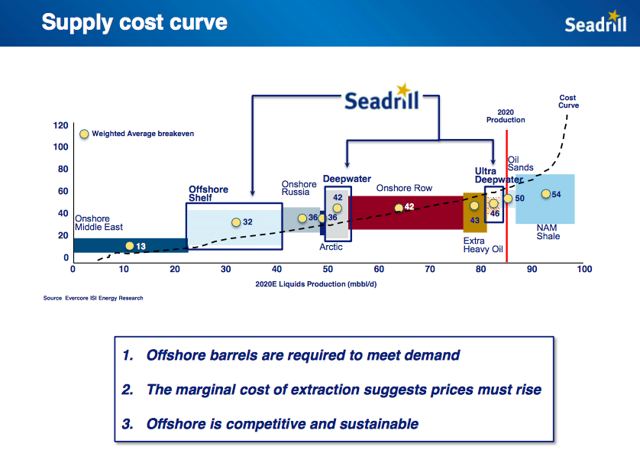 Source: Investor Relations
Seadrill has actually made great progress in reducing its operating costs, down nearly 30% in the last two years. Those lower breakevens certainly help the company and allow it to be one of the few offshore drillers that have positive TTM EPS. This is yet another factor that makes me optimistic about the company's liquidity situation; however, principal repayments in part have to start happening now. The 2017 issuances need to see reductions to avoid lump sum payments. That will hurt the company's operations, especially if dayrates continue to retract and demand remains poor relative to supply.
Conclusion
If we couple the detailed liquidity above with what Fredrikson has said he could provide, SDRL really does has enough liquidity to make it through next year. We just need to see the progress made in partial principal repayments over the next couple of months to see more demand for shares. Why? It's a race against the clock to see what comes first: debt repayment and a plan for the medium-term or penny-stock territory. Should cost improvements continue to occur, maybe the latter won't happen. It's just incredibly difficult to say it won't happen based upon the current trend in the stock and the headwinds that could develop next month.
Disclosure: I am/we are long RIG, SDRL. I wrote this article myself, and it expresses my own opinions. I am not receiving compensation for it (other than from Seeking Alpha). I have no business relationship with any company whose stock is mentioned in this article.