DeVry Education (DV) came out with earnings yesterday that beat on both top and bottom lines. And while margins and results look good, the underlining story remains difficult. Weak enrollments remain the heart of the problem and the reason I decided not to become involved.
Revenue grew for the first time in two years while core operating margins were improved year-on-year for the fourth consecutive quarter. Last twelve months EPS is $2.59 while the street expects $2.57 and $2.79 in the next two fiscal years. So at first glance with a P/E of under 10 and what looks like improving numbers, the stock appears interesting.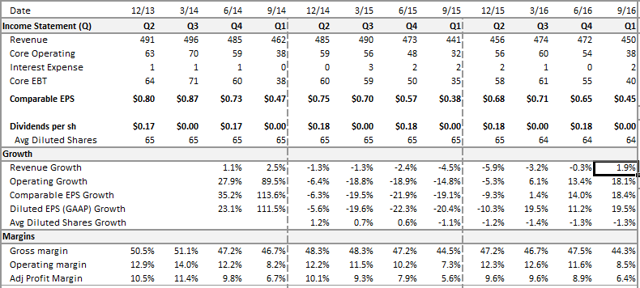 If we breakdown sales into the three company segments given by DV we see that the increase in sales was mainly due to International and Professional Education. This was driven by acquisitions such as Grupo Ibmec Educacional S.A. (Ibmec), Damásio Educacional, and Faculdade Ideal (Faci). For the last twelve months ending September 2016, the company spent $331m on acquisitions. If we look at the annual cash flow statements then we see that from fiscal year 2012-16, the company spent $547m in cash for acquisitions.

We see that while this helped top line growth, it didn't do much to operating income. Using management's "ex-special" items figures we see that it only contributed $4m. Business, Technology and Management is an even small contributor. Medical and Healthcare is by far the most important part of the company as it generates over 80% of operating income ex-special items.
Obviously the driver of this company is enrollments and herein lies the problem. Both DeVry Undergrad and Graduate Enrollment continue to have double digit declines. For graduate enrollment the numbers got worse, while for total undergrad it remains steady at -20% to -23%. New undergrads dropped only -14% year-on-year which is the best figure in the last eight quarters. One quarter though is not a trend.

On the international side things appear better as new students increased by 10% while total students by 33%. However, a footnote supplied by the company in the 1Q17 press release states the following:
Excluding the acquisitions of Ibmec and Facimp, new student enrollments decreased 12.7 percent and total enrollment increased 4.1 percent
Looking back at 3Q16 I found a similar footnote:
Excluding the acquisition of Ibmec, new student enrollments increased 4.2% and total student enrollment increased 7.2%.
So ex-acquisitions the numbers are not as glamorous.

I have left the Medical and Healthcare enrollments last to discuss. Carrington College enrollments have been negative and offer little help besides tell us that the school enrollments have not stabilized. DeVry Medical has been deteriorating with new students down -19% and the only bright spot is Chamberlain College. The college was growing at double digits until recently. In the last two quarters (4Q16, 1Q17) new students were down -2% and up +1% respectively.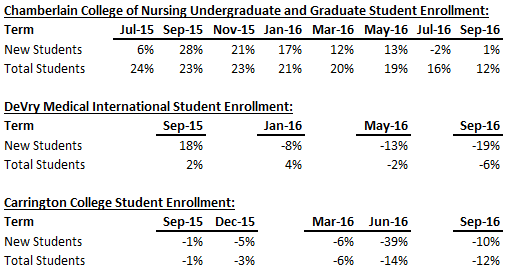 If we look at the revenue breakdown we see that Chamberlain is almost 1/2 of the revenues of Medical and Healthcare.

So what it all boils down to is that only a small part of enrollment and hence the business appears stable. Cost cutting can only do so much. Therefore despite the low valuation I am not yet convinced.
Disclosure: I/we have no positions in any stocks mentioned, and no plans to initiate any positions within the next 72 hours.
I wrote this article myself, and it expresses my own opinions. I am not receiving compensation for it (other than from Seeking Alpha). I have no business relationship with any company whose stock is mentioned in this article.