J.M. Smucker Company (NYSE:SJM) is a consumer staples brand, whose most well-known brands include - Smucker's, Jif, Pillsbury, Crisco, Folgers, Dunkin Donuts Coffee, Milk Bone, Kibbles 'n Bits, and Meow Mix among many others.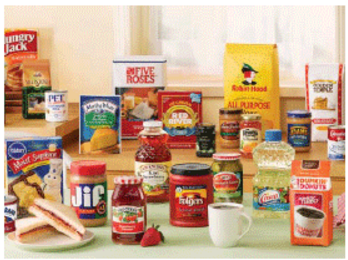 source: William Blair & Company
J.M. Smucker Company has been a popular stock among investors in recent years, thanks to its stellar dividend growth, and high quality earnings growth.
J.M. Smucker has annually increased its dividend for 19 consecutive years. Depending on share price, its dividend yield has hovered between 2-3%, with its dividend growth compounding at 11.1% annually over the last 5 years, and consuming only about 50% of earnings. Its most recent dividend hike, was a 12% increase. This has made J.M. Smucker very popular with the dividend growth community.
On the business growth side, the company has aggressively sought out and acquired new brands to expand into new markets, and establish new sources of growth moving into the future. Currently, earnings are expected to grow at a 9% pace over the next 5 years.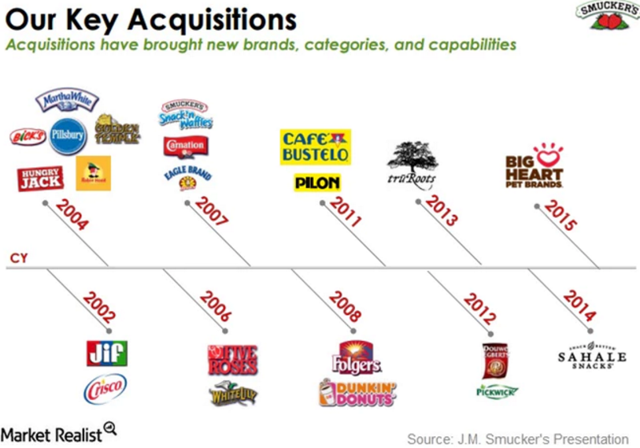 This one-two punch has resulted in an increasingly rich valuation on the stock, culminating at a 52 week high over the summer of $157.31. A P/E of just under 26X at the time.
In August, J.M. Smucker reported its Q1 FY17 earnings, and due to pricing competition - specifically in its coffee segment, and softer than expected sales of newly acquired Big Heart Pet Brands - revenue came in slightly under expectations. In the process, Smucker lowered its 2017 sales guidance.
When a stock is trading in the 25X - 30X P/E range, the expectations from investors of stock performance become staggering. Any type of miss can result in a sharp share price correction. J.M. Smucker indeed took a hit after the announcement of Q1 earnings falling from its high, down to just over $140 per share.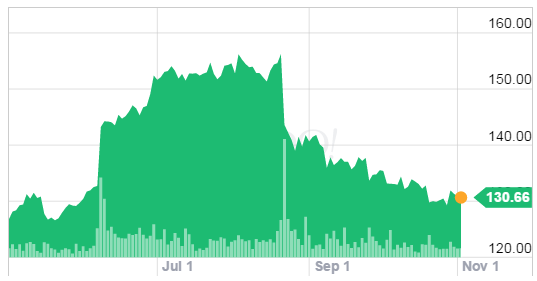 source: Yahoo! finance
Since the earnings announcement, the stock has been on a steady downtrend, currently hovering just above $130 per share.
So what do things look like after this slide? The valuation of J.M. Smucker Company is starting to look a bit more appealing, now trading at about 21.5X earnings. However, it is still a bit overpriced. Its median 10 year P/E is a little under 19X earnings.
However, due to the numerous acquisitions J.M. Smucker is accelerating its EPS growth. Over the past 5 years, earnings have grown at about 5% annually, compared to the previously mentioned 9% growth rate expected over the next 5 years. Due to this, I would feel comfortable pulling the trigger at 20X earnings, which would result in a buy price of about $120 per share.
There are some short term events that I think will push this stock price lower from current levels, and into the 20X P/E territory:
The election is a week away, and a FED rate hike is expected at next month's December meeting. These two looming events have been applying downward pressure on the markets in recent days.
Additionally, J.M. Smucker reports its Q2 2017 earnings on November 17th. The Q1 issues of price competition, and growing pains with Big Heart Pet Brands are likely to continue in the near term, which I think will result in a quarter that is in line - to slightly below expectations as revenues will remain soft, and management will try to duplicate cost savings that aided EPS in Q1.
Between these political and economic pressures, I believe J.M. Smucker Company will continue to drift lower - in which case I will happily initiate a position at approximately $120 per share. As an investor interested in holding companies with both high quality dividend and earnings growth - J.M. Smucker is a much desired core position holding for my portfolio - at the right valuation.
Disclosure: I/we have no positions in any stocks mentioned, and no plans to initiate any positions within the next 72 hours. I wrote this article myself, and it expresses my own opinions. I am not receiving compensation for it (other than from Seeking Alpha). I have no business relationship with any company whose stock is mentioned in this article.