A Worrying Trend
Rosetta Stone (NYSE:RST)'s financial results over the past few years demonstrate the severity of the company's disruption problem.
The company's language learning, or core business, revenues peaked in 2012, and have been declining since, at an increasing rate.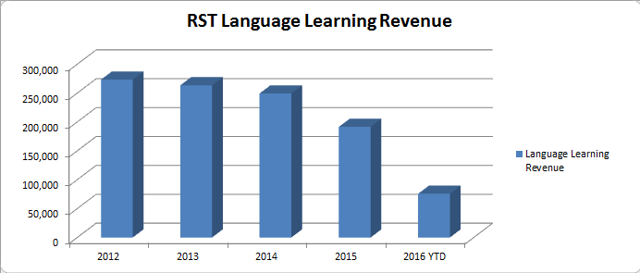 Language learning revenues decreased -5% y/y in 2014, -23% y/y in 2015, and so far in 2016, are down more than -20% again. Moreover, each of RST's first two quarters in 2016 has been worse than the SPLY.

Disruptor Duolingo
Duolingo, backed with funding from Google Capital and other VC firms, has been trying to disrupt RST and the language-learning industry since 2011.
Duolingo's latest update, featuring "Bots," allows users to converse with an AI to develop listening and speaking skill. Rosetta Stone investors should be wary of this development, as it continues the degradation of RST's competitive moat, but more importantly, financial results.
Duolingo vs RST
Duolingo and Rosetta Stone both provide language-learning services; however, there are several important distinctions between the companies.
Price:
Duolingo costs nothing, and Rosetta Stone's service packages cost $250 for individual use.

Duolingo:

Features:
While the services are similar, note the several limitations of the Rosetta Stone packages above: RST's packages offer limited access keys, limited duration of subscriptions, and limited cross-platform usage.

Duolingo, in comparison, offers unlimited, personalized access, across all devices, "forever."

Effectiveness:
In addition to beating Rosetta Stone on price, Duolingo's software is arguably more effective:

According to independent research, (given, commissioned by Duolingo), it took Spanish users with no skill an average of 34 hours to reach one semester of college Spanish proficiency. Research by the same authors showed that Rosetta Stone's software took 55 hours to reach the same proficiency.
Duolingo's demonstrated competitive advantages outlined above have led customers to flock to the service. The company dominates RST in terms of subscribers: 110 million people use Duolingo worldwide, compared to a number around 9 million for RST.
Customer disparity should be expected given the different pricing mechanisms and target markets. However, Duolingo is increasingly encroaching on Rosetta Stone's target markets.
"Bots"
In Duolingo's latest app update, the company released a feature titled "Bots."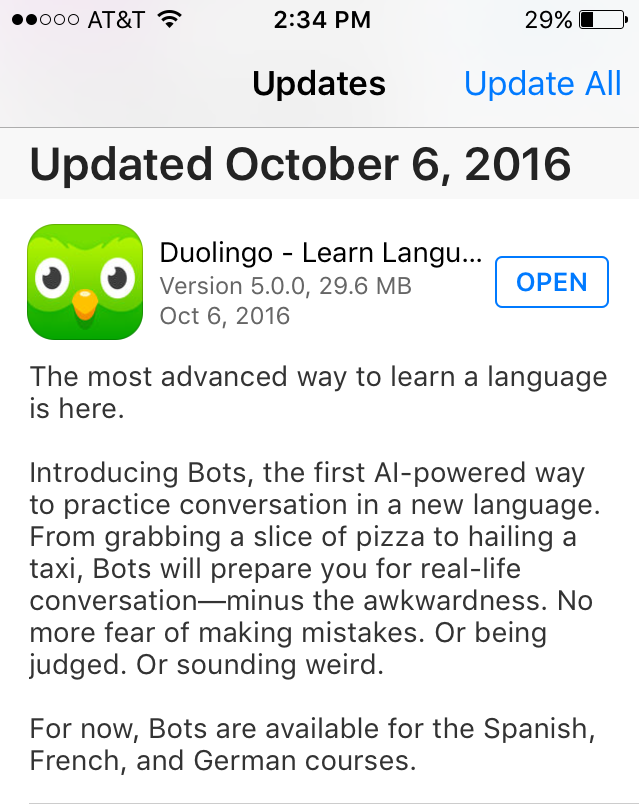 Bots allows users to converse and develop conversational language skills - without requiring another human. Practicing listening and speaking is the most realistic form of language practice.
Rosetta Stone competes by offering the same conversation service; but to do so, it employs native speakers to engage with users.
By offering the same service without marginal cost (without employing people), Duolingo provides a model of how to compete on price.
"Bots" looks to continue and speed up this trend; as more users shift away from RST, the company will have less ability to pay native language speakers for its platform, leading to further market shifts. Unless something changes, RST's main business looks to continue its decline in the foreseeable future.