By Michael J. Kramer
The moment of truth for Acadia Pharmaceuticals (NASDAQ:ACAD) will arrive on Monday, November 7th, after the close of trading. ACAD will report 3Q'16 results, which will, in turn, give the investing community a snapshot of the first few months of Nuplazid sales, its drug to treat Parkinson's Disease Psychosis (PDP).
Expectations are very low, with analyst revenue expectation according to Yahoo at $2.9 million. The stock price is reflective of these low expectations, with the stock having fallen from $24 on October 20th, the date of my last article, to less than $22 today.
My belief is the numbers are likely to come in significantly higher than the $3 million the Street is expecting. I will walk you through the reasons why.
In August, I wrote an article that showed the company had deferred revenue of nearly $515k as of June 30th. ACAD only books revenue after the Specialty Pharma (SP) has shipped Nuplazid to the patient. Also, we need to keep in mind that Acadia offers a 30-trial of Nuplazid to new patients. The $515k would be indicative of approximately 250 patients. However, these are likely the patients that were amongst the first to enroll. Given the 30 days' supply, a doctor would only need to submit a script to the SP when the supply was running low towards the end of the trial, thus needing refills by the beginning of July. If a new patient enrolled in the program on, say, June 25th, there would be no need for a new script until sometime towards the end of July. It may be too simplistic to say this, but if ACAD enrolled 1000 patients by the end of June, it is likely that the company could have had nearly $2.0 million in July alone, and assuming no growth in those patients, achieved approximately $6.0 million in revenue those first three months.
Also, it is important to remember the map of the distribution of Parkinson's disease patients scattered through the US. I introduced this map to you on August 3rd, which shows the concentration of patients in the northeastern part of the US.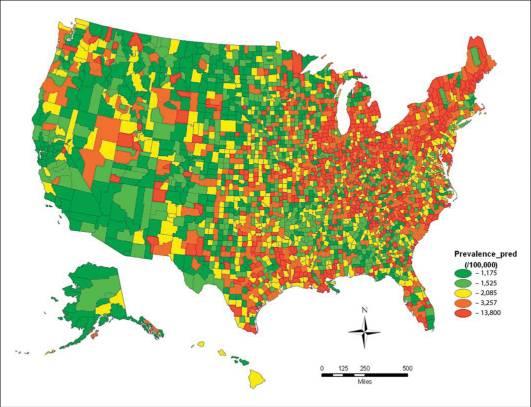 (Source: ScienceDaily)
We are likely to see some regions of the country perform extremely well, while others will struggle, making sales lumpy on a regional basis. Also, remember that many of these patients move to Long-Term Care facilities once they develop PDP.
It is estimated by the American Parkinson Disease Association that nearly 40% of the 1 million PD patients develop PDP. If we even doubled our 1000 potential patients mentioned above and made it 2000 patients, it would represent only 0.5% of the total population in the US alone.
Alzheimer's Disease Psychosis
Although it is unexpected during this quarterly update, the Alzheimer's Disease Psychosis (ADP) trial is also on the top of many minds. The expectations for this trial being successful are low as well. However, it would seem I have more hope for it than many others.
A study conducted in 2005 had a total of 93 ADP patients, of which 46 received Risperidone and 47 received placebo. The mean Risperidone dose was between 1-1.5mg per day. The trial showed a clinically significant improvement over placebo of -5.2 versus -3.3; p = 0.039 and CGI-C <0.001. Acadia is using different endpoints for its ADP trial.
This is where the hopefulness begins to play in. Risperidone, an atypical antipsychotic, targets mainly serotonin and dopamine. For 5HT2A, Risperidone is also a selective serotonin inverse agonist, like Nuplazid. Risperidone has a binding affinity to 5HT2A of 0.17. Nuplazid has a binding affinity to 5HT2A of 0.087, making it a more potent drug.
Where this becomes really interesting is this chart below. I dug this up from an Acadia slideshow from the early days of Nuplazid in a Phase II schizophrenia trial.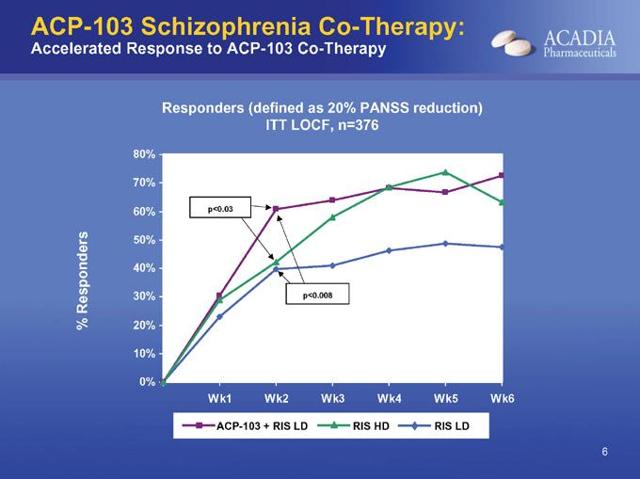 We can see from the slide above, Nuplazid 20mg (ACP-103) combined with 2mg Risperidone improved PANSS score in 2 weeks versus placebo and 6mg Risperidone. Again, these are different scales than the one used for the ADP trial, but it shows the effectiveness and the increased strength of Nuplazid over Risperidone.
Does this signal a Nuplazid success in the ADP trial? No. Does it give me a reason to be more be hopeful, more than many of my counterparts on the Street? Yes!
Summary
The next couple of weeks will be pivotal for Acadia. The market, at this point, seems to be pricing in a worst-case scenario - and rightfully so. Acadia's management is not providing any guidance, so they now are in a position of having to prove themselves to the market. I am in the camp that believes Nuplazid is a novel drug that will offer benefits in many indications; others feel differently. Next Monday will offer us a further view as to which side of history I will be on.
I am, and the Clients of Mott Capital Management are, long shares of ACAD.
Disclosure: I am/we are long ACAD. I wrote this article myself, and it expresses my own opinions. I am not receiving compensation for it (other than from Seeking Alpha). I have no business relationship with any company whose stock is mentioned in this article.
Additional disclosure: Mott Capital Management, LLC is a registered investment adviser. Information presented is for educational purposes only and does not intend to make an offer or solicitation for the sale or purchase of any specific securities, investments, or investment strategies. Investments involve risk and unless otherwise stated, are not guaranteed. Be sure to first consult with a qualified financial adviser and/or tax professional before implementing any strategy discussed herein. Upon request the advisor will provide a list of all recommendation made during the past twelve months. Past performance is not indicative of future performance