It takes Pioneer Natural Resources (NYSE:PXD) to announce the most ambitious growth plan among all exploration and production companies this earnings season. In this article, I will explore fundamental reasons that allow the company to grow despite its already substantial size. There are several factors that make its plans credible.
A skillfully executed systematic hedging program allows Pioneer to focus on its core strengths
Pioneer is empowered by a systematic hedging program. As a consequence, the company is able to focus on what it controls, namely on seeking out oil and extracting it via wells engineered to be prolific. At the same time, it can afford to pay less attention to what it does not control - such as prices fetched by its output on the market that are affected by the vagaries of commodity supply and demand.
Pioneer took advantage of a run-up in oil to increase 2017 "derivative coverage to 75% for oil and 55% for gas, up from 50% from last quarter." Given the company's comment "that's why we're drilling wells when it's $50," it is plausible that additional hedging transactions were skillfully executed in October, when spot WTI at times exceeded $50 per barrel. As a result, while OPEC "can't afford to have another year of low $40s," Pioneer can.
Hedges enable 2017 activity at the peak of 2016
The current activity pattern is that of a continuing increase, stabilizing at the peak, and then staying there in 2017. At the time of Q2 2016 earnings call in July, 12 rigs were operational in northern Spraberry/Wolfcamp. At this time, perhaps 15 rigs are drilling, with two more expected to start work in November. Then, "17-rig activity level is expected to deliver production growth ranging from 13% to 17% in 2017." A question was brought up during Q3 conference call concerning an apparent discrepancy between "aggressive levels of activity" and Pioneer's bearish view on oil. The firm expects supply and demand to balance only in 2018, whereas "we could easily see another year in the low $40s in 2017." The resolution is simply that newly drilled horizontal wells cost about $20 per barrel of oil after having taken into account everything including apportioned interest and general and administrative expenses. This is claimed to be the true all-in cost, compared to production cost with taxes totaling about $4/BoE for Permian horizontals. The new wells are plainly profitable at $50 oil, which has now been assured by hedges for at least another year.
Contiguous acreage leads to superior well economics
Superior well economics, contributing to the above $20 per barrel cost are likely to cause Pioneer to ramp up production faster than its competitors. There is an interesting reason for this: having contiguous acreage that allows more wells to be drilled with longer laterals. Discussing Q3 2016 earnings, Pioneer has, for the first time, released a truly impressive-looking chart from IHS Performance Evaluator, showing Pioneer's supremacy in two orthogonal areas: the number of wells and the first three-months oil production figure from an average well. This chart is reproduced below.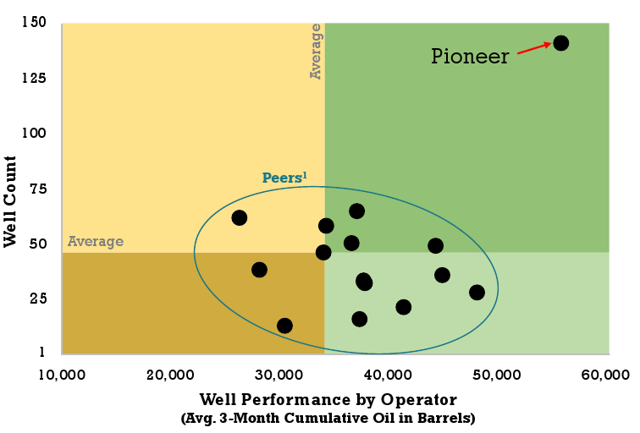 (Source: Pioneer Natural Resources' Q3 2016 earnings presentation)
The peers in the dot cloud above include Apache Corporation (NYSE:APA), Chevron Corporation (NYSE:CVX), Concho Resources Inc. (NYSE:CXO), Occidental Petroleum Corporation (NYSE:OXY) and smaller competitors. A major part of Pioneer's production and probably nearly all of its new developments are in Spraberry/Wolfcamp formations in the Midland basin, while the listed four peers have operations in other basins, countries and continents. On the other hand, the Permian-focused peers such as Energen Corporation (NYSE:EGN), Diamondback Energy (NASDAQ:FANG), Parsley Energy, Inc. (NYSE:PE) and RSP Permian (NYSE:RSPP) are simply much smaller than Pioneer. Accordingly, Pioneer's dominance by well count is unsurprising.
What is unexpected, is how much more oil the company is able to extract from its wells. The explanation proffered by Pioneer is that data underlying the chart are not normalized for lateral lengths. The company boasts large contiguous acreage blocks and is hence able to drill longer laterals, resulting in better well economics. Here, it is worth mentioning the purchase of acreage from Devon Energy Corporation (NYSE:DVN) in June that closed by Q3 quarter-end for being helpful specifically as "a significant portion offsets existing Pioneer leasehold."
Noteworthy Q3 developments
In Q3, Pioneer has sold the first two "Permian oil cargoes for export to Europe" with the total of 610,000 barrels. It is slightly odd that Pioneer exports crude even as the US continues substantial oil imports, but this is just the way markets work. According to the company, "we have made money exporting, but it's not significant to the overall value of the barrel" because "two crudes [WTI and Brent] end up differing only by their transportation differentials." So, exporting cargoes does not earn much incrementally, but is a suitable response to "a relatively high inventory situation" domestically.
In Q3, NYMEX WTI averaged $44.94, 65 cents below Q2. The firm-wide differential tightened by 66 cents, resulting in prices the company receives for oil sold remaining essentially unchanged, before the effect of derivatives. The price inclusive of derivatives rose from $50.40 to 55.03, demonstrating the ongoing value of hedging. What is odd, however, is how realized prices per BoE changed for Permian Horizontals compared to Permian Verticals. The former declined by $1.14, while the latter rose by $0.51.
Looking ahead and focusing on prospective cost inflation, personnel and chemicals are two major contributors to production cost that are likely to be under pressure. Counterbalancing these will be the effect of savings from re-signing contracts for rigs currently stacked. Most stacked rig costs are going to be left in 2016. The contracts for at least half of rigs being brought out of stack are ending soon, so the firm can replace the pre-oil-crash contract rates of $26,000/day with the current market rates of perhaps $14,000/day.
Production growth plans are very ambitious
Pioneer's growth plans are what makes the firm special. They truly are one of a kind, as illustrated by the following exhibit: "15% CAGR growth rate through the end of the decade. If you do the math on this, this gets us over 400,000 barrels a day by 2020."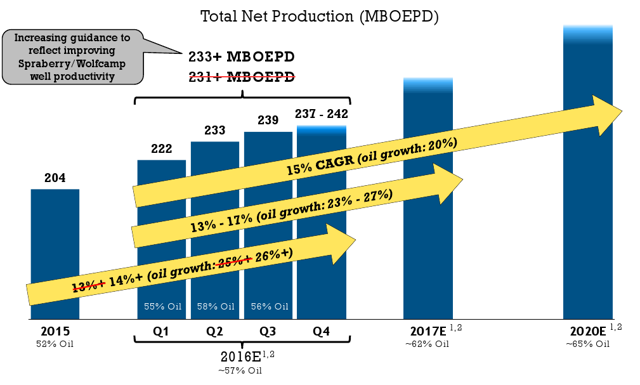 (Source: Pioneer Natural Resources' Q3 2016 earnings presentation)
One positive development can be seen by comparing the above to the prior version of the production forecast released by the company with its Q2 2016 earnings report. Production is expected to become oilier: CAGR oil growth 2016-2020E was upgraded from 20% to 20%+, while oil growth in the period 2016-2017E was raised by a percentage point to 23-27% from 22-26% expected as of July. These upgrades occurred even as the total output growth forecast at 13-17% remained unchanged.
The reason for the greater fraction of oil in the total production could be that Pioneer is bringing online more new wells than before. A new well's initial production has the highest percentage of oil, whereas gas to oil ratio tends to increase as a well keeps producing. Another reason is that production of Permian Horizontals is oilier than that of Permian verticals and wells in other basins where the company operates.
Underlying already remarkable 13-17% growth in total output will be an even greater, in percentage terms, growth in Spraberry/Wolfcamp, shown by the following chart.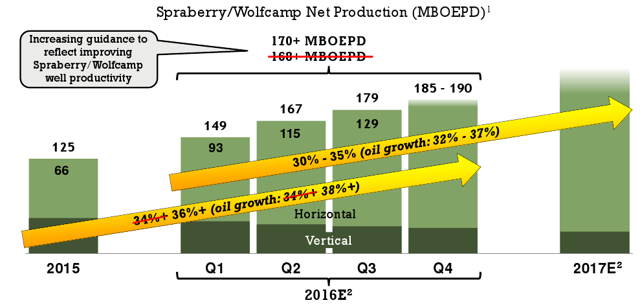 (Source: Pioneer Natural Resources' Q3 2016 earnings presentation)
The guidance in Spraberry/Wolfcamp is to a continuation of growth seen in 2015-2016, albeit at a slightly slower pace. This growth is what defines Pioneer today, as production everywhere else is mostly experiencing a legacy decline.
Looking at the above exhibit, the 36%+ YoY production growth from 2015 to 2016 is almost a fact today as only two months are left this year, leaving relatively little uncertainty. So, this magnitude of growth has very nearly been observed once. Pioneer achieved this amidst a challenging environment early this year, staying the course. It appears to be a reasonable leap of faith that the firm might be able to do this again.
During Q3 2016 earnings conference call, the CEO went beyond 15% growth for five years:
What company can easily grow 15% per year for ten years and move up to over 1 million barrels of oil equivalent per day in a $47 to $57 oil price environment?."
As a cautionary note, I can think of a company that announced a similarly ambitious plan: to double production in three years. In its 2013 annual report, Concho Resources announced that:
In November of 2013, Concho launched a three-year growth plan intended to double production by 2016. By accelerating across its prolific asset base, the Company believes it can deliver annualized organic production growth of 25% and strategically position itself as a leading operator in the Permian Basin.
The plan did not quite work out. In 2013, Concho's production was 92 MBoe/d, while in the first quarter of this year, the output amounted to 139.5 MBoe/d, only half way to the stated goal of doubling the 2013 level.
I hope Pioneer does better than this. Showing sustained growth for half a decade (let alone the moonshot idea of keeping it up for a decade) would be a great challenge for any company. Continuity of leadership is one risk factor to consider. CEO Sheffield is about to retire, though he will remain on the board of directors. There might be organizational challenges, especially in later years of the forecast. Managing more rigs, more frac crews and more manpower and resources in general might come with some growth pains. Within the Midland Basin, there could be rising contention for resources such as water that, unlike manufactured chemicals, are subject to natural constraints.
Conclusion
Pioneer's hedging allows the company to focus on its core strengths. One such strength is coming up with groundbreaking production forecasts. The current plan involves growing production by 15% for the next five years. I see it within the realm of possible, as Pioneer has already demonstrated the requisite growth for one year. A major risk factor is posed by continuity of leadership, with the challenge to Pioneer to demonstrate the same hunger for growth and steady progress following CEO Sheffield's retirement this year.
Note from author: Thank you for reading. If you like this article, please follow me by clicking the "Follow" link at the top of this page and choosing "Real-time alerts on this author" to be informed of my latest ideas.
Disclaimer: Opinions expressed herein by the author are not an investment recommendation and are not meant to be relied upon in investment decisions. The author is not acting in an investment, tax, legal or any other advisory capacity. This is not an investment research report. The author's opinions expressed herein address only select aspects of potential investment in securities of the companies mentioned and cannot be a substitute for comprehensive investment analysis. Any analysis presented herein is illustrative in nature, limited in scope, based on an incomplete set of information, and has limitations to its accuracy. The author recommends that potential and existing investors conduct thorough investment research of their own, including detailed review of the companies' SEC filings and consult a qualified investment advisor. The information upon which this material is based was obtained from sources believed to be reliable, but has not been independently verified. Therefore, the author cannot guarantee its accuracy. Any opinions or estimates constitute the author's best judgment as of the date of publication and are subject to change without notice. The author explicitly disclaims any liability that may arise from the use of this material.
Disclosure: I/we have no positions in any stocks mentioned, and no plans to initiate any positions within the next 72 hours. I wrote this article myself, and it expresses my own opinions. I am not receiving compensation for it (other than from Seeking Alpha). I have no business relationship with any company whose stock is mentioned in this article.