November 9th, 2016 will be an interesting day. It will feel good and be a cathartic moment for all of us. It will be a breath of fresh air as we can finally put this election behind us and move on towards the future. Whether we get to see Hilary Clinton or Donald Trump in office, republican or democrat, we all still live in the same country. We have to work together to make America great for the future and resolve our differences. What makes the United States great is that it is country of different beliefs. It allows freedom of speech which has revealed the best and worst of us during this election cycle. It opened up the debates of different opinions on TPP, NAFTA, the role of central banks and where the real economy is. All this rhetoric on different policies has opened the door of uncertainty.
From an investor stand point, we hate risk. We hate uncertainty and the fear of the unknown. November 8th will create panic for some investors; however we will position our portfolios to avoid any risk from this election as possible. The following is a list of 3 securities that could avoid this beta risk associated with this election. These securities operate in areas where the issues are bipartisan and both candidates agree on the solution.
Defense: Lockheed Martin (NYSE:LMT)
Whether we like it or not, we are a country that is thrust to the fore front of conflict. Since 2001 we have been engaged in this war on terror and the Islamic State is still a threat to global security. National security is a bipartisan issue and both Hilary's and Trumps defense budget is significantly larger than Obama's. This increase in military spending will help companies which are at the forefront of new technologies such as drones be the benefactor of this increased spending. In fact, Trump specifically stated he wanted 100 more modern fighter aircraft and more missile capabilities. For Hilary, her past history of supporting warfare such as: invading Iraq, increased spending in the surge and supporting strikes on Libya are all bullish for increased spending in the military.
One of the biggest recipients of government contracts for upgrading the military is Lockheed Martin. Lockheed Martin is an aerospace and defense company with a dividend of 3%, a PE ratio of 19 and PEG of 2.91. This stock will definitely be able give good returns regardless of who wins the election. One can look at the past years and all the problems in the Middle East and see that it is an endless war. As obstinate and unethical as it seems, Lockheed martin will a major benefactor from terrorism. They are at the forefront of bring in unmanned vehicles whether for reconnaissance or for lethal strikes.
Infrastructure spending: Aecom (NYSE:ACM)
One of the buzz words that have been used in the media for the last few months now is "fiscal stimulus". This usually translates to better roads, new buildings, bridges and highways. As for Trumps plan, it speaks for itself. You can read about it here. He has called for over a trillion dollars in spending to make America great again on its infrastructure. This does not even include the "wall" that he is proposing along the Mexican border. Hilary's plan is a little more conservative at $275 billion dollars. Her plan is to increase jobs in the middle class by reinvesting in the construction and manufacturing sectors.
Aecom is a Fortune 500 US based engineering firm that provides design, construction and management services. Although it has not traded well since Brexit, I do believe that this presents a buying opportunity as it will receive a lot of the government contracts to help rebuild the infrastructure of America. Aecom has been a trusted name in this sector and recently they were awarded the contract to build the 1 Billion dollar electric car manufacturing plant for Faraday Future. This experience in constructing an environmentally friendly plant could also assist them in securing contracts if Hilary were to win as she has stated that she would modernize the energy infrastructure.
Marijuana: GW Pharmaceuticals (NASDAQ:GWPH)
Although not a major issue in this election, both candidates are friendly to the holy herb, marijuana. In an effort to help keep non-violent people out of prison, Hilary would like to switch the schedule as to which the drug falls under the controlled substances act. She also acknowledged that she has no doubts there are very real benefits of this drug. This stance allows for the nation to be more comfortable with this drug and slowly accept it a norm in society. Trump has stated that medical marijuana is something that "we should really consider strongly". In an interview with Bill O'Reilly he reiterated his complete support of medical marijuana. Although there does not seem to be a concrete policy from both candidates; both candidates do accept it as part of the current culture and has deferred the decision to the states on how the plant will be enforced.
GW Pharmaceuticals is a medical marijuana company that is based out of the UK but is currently in phase three for their drug Epidiolex with the FDA. Epidiolex is a cannabis based product used to prevent epilepsy. Should medical marijuana be legitimated on a federal level, it will lead to a more accepted stance on this product and the remaining states to legalize as they have in Colorado. GW Pharmaceuticals will be poised to capitalize on this having the experience working with this product. Medical marijuana has been approved in other countries for uses ranging from muscle spasms to chronic pain.
Bonus- Volatility: Credit Suisse AG - VelocityShares Daily 2x VIX Short Term (NASDAQ:TVIX)
Although not exactly tied to any candidate but to this whole process as a whole, this election has been nothing but surprises. If there is one thing I will definitely do before the election, I will buy protection from market volatility through VIX short term futures. I expect November 8th and 9th to be a volatile day that we can't avoid. The graph below measures the amount that the VIX has risen in the past Octobers election years courtesy of Forbes.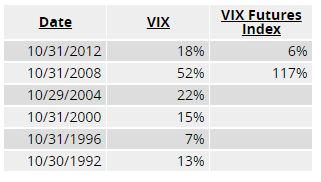 Conclusion
The past few months leading up to this critical election has been quite the roller coaster. If nothing else, it has given traders and investors a wake up call that we always have to be on our toes. As risk adverse investors, we must look for ways to diversify away as much risk as possible. By looking at issues such as defense spending, infrastructure spending and marijuana acceptance, there lie investment opportunities that can remove this political risk. November 9th, 2016 will be a wonderful day and it will also be a sign of things to come for the next four years.
Disclosure: I/we have no positions in any stocks mentioned, and no plans to initiate any positions within the next 72 hours. I wrote this article myself, and it expresses my own opinions. I am not receiving compensation for it (other than from Seeking Alpha). I have no business relationship with any company whose stock is mentioned in this article.