On its earnings conference call this week, Royal Dutch Shell (NYSE: RDS.A) (NYSE: RDS.B) made a suprising commentary on its perspective for the global oil market over the next two decades: Its CFO Simon Henry forecast that global demand for oil could peak within the next 5 to 15 years and then decline.
Such an apparently pessimistic and bearish forecast is not what you usually expect to hear from a major oil company executive, to say the least. As the article pointed out, ExxonMobil's (NYSE:XOM) annual outlook makes a more typical projection for the industry: about a 20% increase in global oil demand from 2014 to 2040.
But Royal Dutch Shell is not closing up shop. On the contrary, CFO Henry says Shell will be in business "for many decades to come." Their focus will shift to natural gas, as well as to biofuels and hydrogen. Henry confidently projects, "Even if oil demand declines, its replacements will be in products that we are very well placed to supply one way or the other, so we need to be the energy major of the 2050s."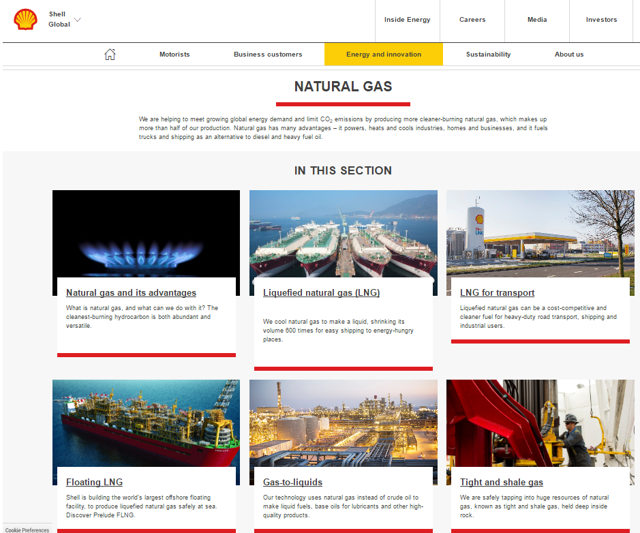 I like this perspective a lot, and it is encouraging to hear it from a major oil company executive. It gives the company multiple paths to success, which is critical to a healthy business and a healthy investment.
If Shell is wrong and global oil demand continues to grow beyond the next two decades -- well, Shell is still a major oil company! Their business will be just fine and healthy and profitable.
And if Shell is right, their anticipation of this outcome gives them a huge competitive advantage over the other oil majors. It's not that ExxonMobil doesn't have options in such a scenario -- they have loads of natural gas assets, for example. But what's more important is that Shell's management decisions over the next 5 to 15 years will be two steps ahead of everyone else's, since they will be expecting the situation already and they won't be caught offguard.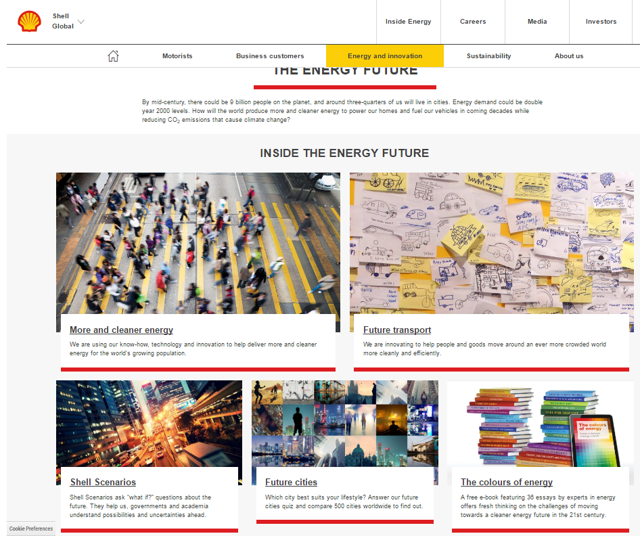 Of course every major oil company has webpages like this for public relations purposes, and they all have some plans in place for transitioning to alternative energy sources. But I will put my money on the company that commits to a serious projection about future energy consumption that stands behind its future energy plan.
I wouldn't go out and buy Royal Dutch Shell stock today or tomorrow. I think the current selloff in the oil price has a ways to run just yet, the OPEC meeting at the end of November will disappoint oil traders, and the negative momentum will probably continue at least into the beginning of next year.
But some time around then, it will be time to look for bargains among energy stocks. I know I will be looking at Shell when that time comes.
Disclosure: I/we have no positions in any stocks mentioned, and no plans to initiate any positions within the next 72 hours. I wrote this article myself, and it expresses my own opinions. I am not receiving compensation for it (other than from Seeking Alpha). I have no business relationship with any company whose stock is mentioned in this article.