ING (NYSE:ING) produced an impressive set of numbers for the third quarter. The company reported Q316 EPS of EUR0.35, beating the Bloomberg consensus estimate by 18%.
Strong loan growth
ING remains one of the very few European banks delivering loan growth. The bank's loan book was up 1% q/q and 5% y/y, driven by Retail Banking (Germany and Belgium) and Wholesale Banking.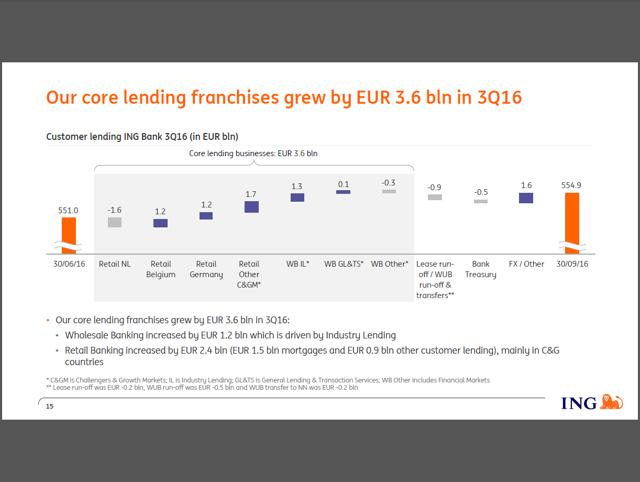 Source: Company data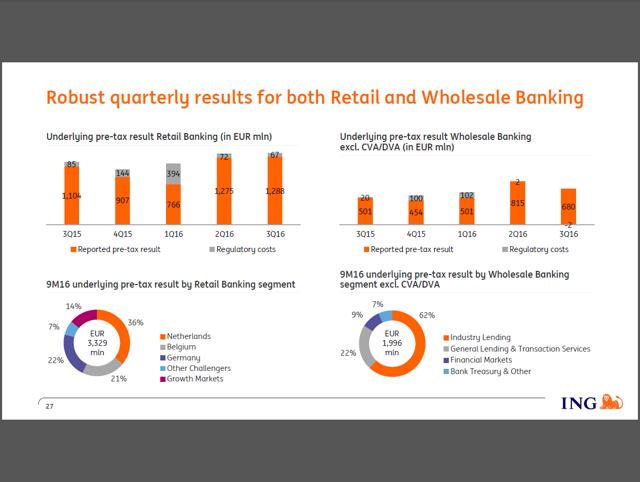 Source: Company data
Net interest margin remains the key driver of ING's top line
ING's net interest margin continues to surprise on the upside.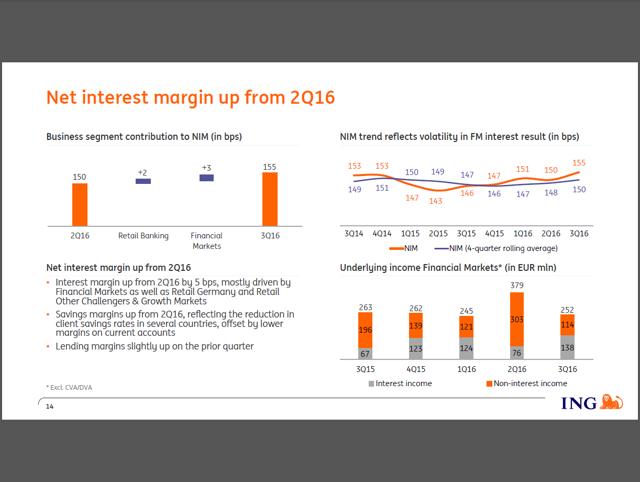 Source: Company data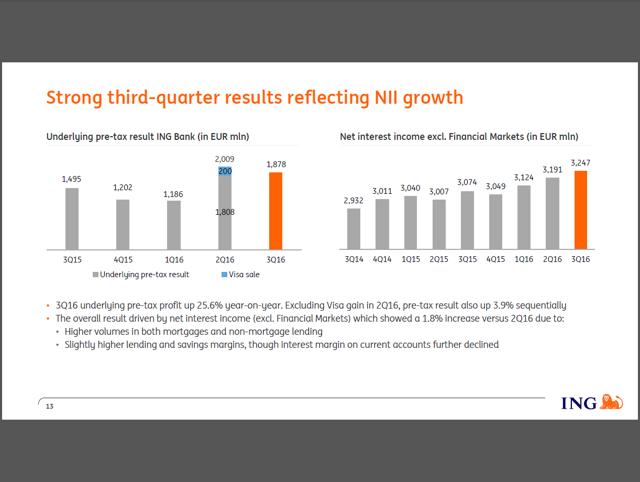 Source: Company data
The bank's NIM increased by 5bps q/q, thanks to deposit rate cuts, in particular in the Netherlands (a 10bps cut at the end of 2Q16 and another 10bps in early September) as well as Germany (15bps at the end of 2Q16). As we mentioned in our prior articles on ING, while in Belgium rates have reached their legal minimum of 11bps, we see considerable scope to cut deposit rates further in the Netherlands and Germany. Given that the Netherlands and Germany account for 58% of ING's retail customer deposit base, these cuts should have a meaningful impact on the bank's NIM.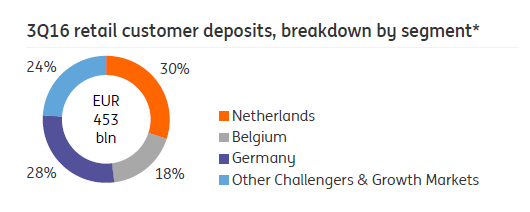 Source: Company data
In addition, ING announced that it had further reduced savings rates in 3Q16.
In September, we reduced savings rates by another 10 bps in the Netherlands following an earlier 10 bps reduction at the end of June.

Source: Company data
Excellent cost control and benign asset quality trends
ING's cost/income ratio, adjusted for one-offs and regulatory costs, improved to 49% for 9M16.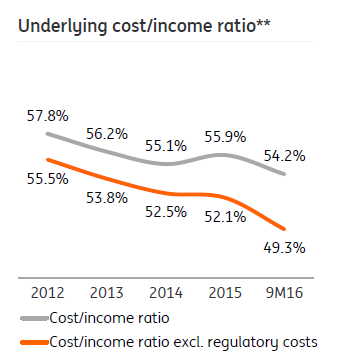 Source: Company data
Asset quality trends remain very benign as both loan-loss provisions and non-performing loans ratio decreased on a quarterly basis.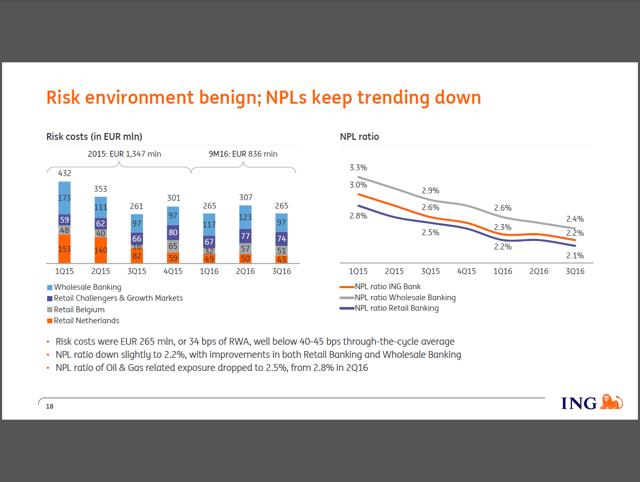 Source: Company data
We see upside risks to a 6% dividend yield
The CET1 ratio increased from 13.1% in Q2 to 13.5% in Q3, thanks to strong organic capital generation and lower RWA.

Source: Company data
The ratio is well above the 2019 regulatory requirement of 12.5%: the SREP of 9.5% plus a 3.0% capital add-on (D-SIB) from the Dutch central bank. We still think the SREP requirement of 12.5% is unfairly high for ING, given its conservative risk profile. For instance, Deutsche Bank (NYSE: DB) has the SREP requirement of 12.5% too. Santander (NYSE: SAN), a global bank with a high-risk profile and a significant presence in unstable and volatile emerging markets, has the SREP of just 10.5%. We believe there is a chance that the ECB could reduce the SREP target for ING, as the regulator acknowledges that the Dutch central bank will remain committed to a 3.0% capital add-on. Should this happen, ING would likely return its excess capital to shareholders through special dividends.
Valuation
ING's shares have rallied almost 17% over the past three months, outperforming the sector by 7%.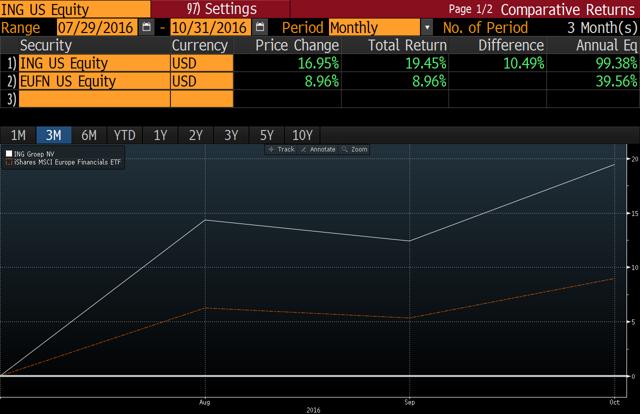 Source: Bloomberg
However, ING still does not look expensive. Moreover, given that the bank generated an 11.3% return on a 13.5% CET1 ratio in 3Q16, we believe ING should trade at a premium to the sector.
European banks: P/B (Price/Book) vs. RoE (Return on Equity) regression chart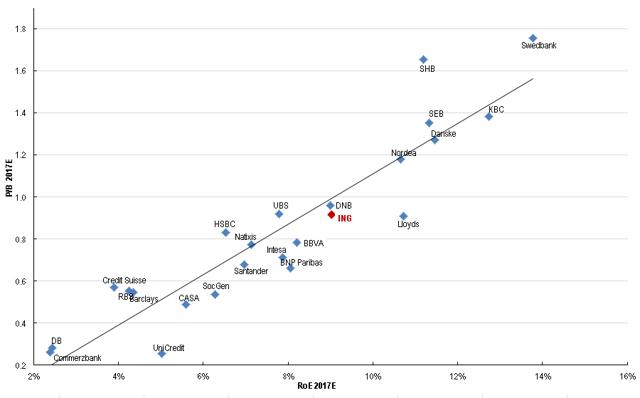 Source: Bloomberg, Renaissance Research
European banks: P/TB (Price/ Tangible Book) vs. RoTE (Return on Tangible Equity) regression chart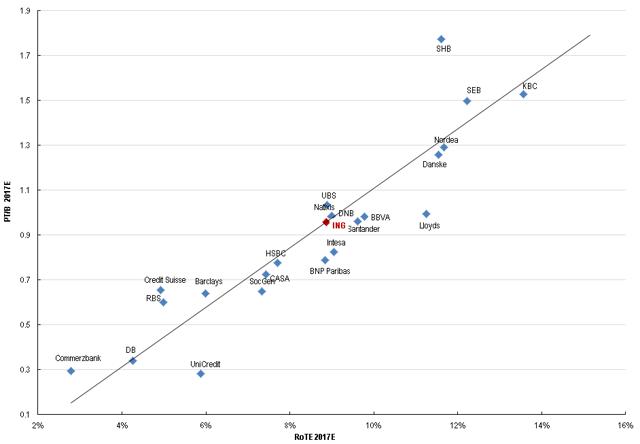 Source: Bloomberg, Renaissance Research
European banks: 6M EPS revisions vs. 6M price change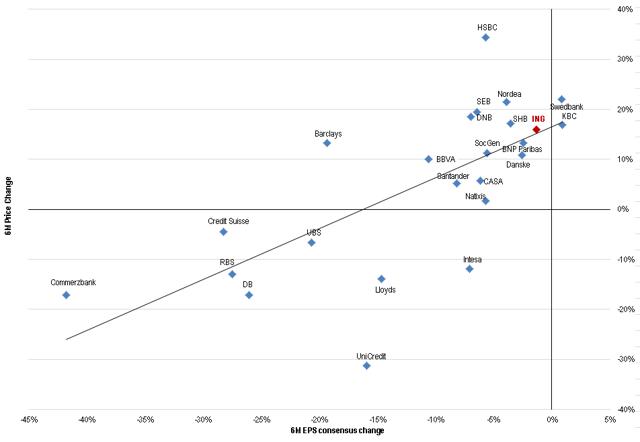 Source: Bloomberg, Renaissance Research
Bottom line
We are reiterating our BUY recommendation. ING is one of the most attractive banking stories in Europe. It has growth, earnings stability, above-average profitability levels, resilient margins, non-interest income growth and a 6% dividend yield. ING is a play on the Benelux countries, which are much more stable than the European periphery and better positioned to withstand headwinds.
As a buy-side analyst and a deputy portfolio manager, I oversee a financials-focused fund, and will be continuously providing research coverage on developments with ING and other global banks, insurers, asset managers and other financial companies. If you are interested in the topic, consider following us by clicking the "Follow" button beside our name at the top of the page. Thank you for reading.
Disclosure: I am/we are long ING. I wrote this article myself, and it expresses my own opinions. I am not receiving compensation for it (other than from Seeking Alpha). I have no business relationship with any company whose stock is mentioned in this article.