Amarin's (NASDAQ:AMRN) share price fell significantly on the day that it announced Q3 2016 earnings, but I think the market reaction was mainly due to other factors such as overall biotech sector weakness. Amarin's earnings could have potentially been interpreted negatively due to lower sequential net product revenue and Amarin's decision not to raise its full year revenue guidance range. However, a closer look at Amarin's report indicates that Q3 2016 growth remained strong and that it has a decent chance of exceeding the top end of its full year guidance range.
Q3 Report
Amarin did not increase its net product revenue sequentially from Q2 2016, making it the first quarter within a fiscal year that did not have a sequential net product revenue increase from the previous quarter since Vascepa's commercial launch.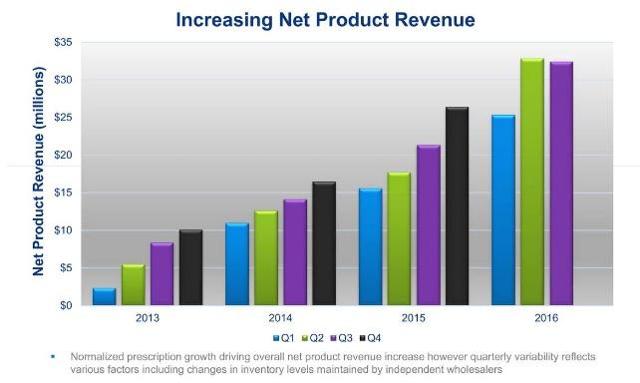 Source: Amarin Slides
On the surface this would appear to indicate a slowdown in Vascepa sales growth, but the lower sequential revenue was due to changes in distributor inventory levels. This benefited Q2 2016, but had a slightly negative impact on Q3 2016 revenues. Vascepa prescriptions grew 10% to 13% quarter over quarter and Amarin's net product revenue grew 11% after adjusting for distributor inventory level changes. Amarin's gross margins on product sales also continued to creep up, reaching 74% in Q3 2016, up from 73% in Q2 2016.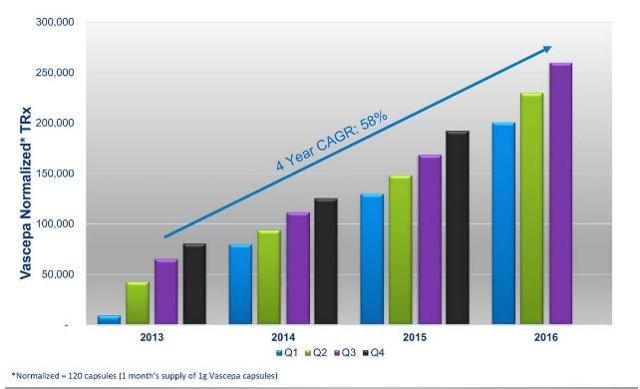 Full Year Guidance
Amarin decided not to raise its net product revenue guidance for 2016, and just indicated that it believed that it was likely to reach the upper end of its $112 million to $125 million range. However, I think that Amarin could have easily revised its range to around $120 million to $130 million.
Even with 0% quarter-over-quarter Vascepa prescription growth, Amarin would reach around $123.6 million in net product revenue (assuming no change in distributor inventory levels). With a 10% increase in quarter-over-quarter Vascepa prescriptions, Amarin might end up with $126.9 million in net product revenue for the year.
Cash Flow Calculations
Here's a look at what Amarin's cash position may look like over the next few quarters if it is able to increase net product revenues by around 10% quarter over quarter. This also assumes no additional milestone payments within this time frame and gross margins increasing to around 76% by the end of 2017. The Kowa co-promotion fees are pegged at 22% of gross margin for 2017, while other cash SG&A and R&D expenses are set to Q3 2016 levels.
Another assumption is that the remaining 2012 noteholders exercise their option to have their notes repurchased by Amarin in Q1 2017. Amarin mentioned that some additional supply purchases in Q4 2016 would add $3 million to $4 million to spend as well, which has been included under working capital changes.
The result is that Amarin is expected to have around $53 million in cash remaining at the end of 2017 if it can maintain 10% quarter-over-quarter net product revenue growth. By Q4 2017, cash burn would be reduced to around $5 million per quarter inclusive of Biopharma repayments. Thus, if Vascepa revenue growth can be maintained, Amarin should be able to maintain a reasonable cash position into 2018.
| | | | | | |
| --- | --- | --- | --- | --- | --- |
| $ Million | Q4 2016 | Q1 2017 | Q2 2017 | Q3 2017 | Q4 2017 |
| Starting Cash | $117.6 | $101.4 | $74.5 | $64.9 | $57.6 |
| Plus: Gross Margin | $27.3 | $30.4 | $33.4 | $36.8 | $40.4 |
| Less: Kowa Payments | $5.2 | $6.7 | $7.4 | $8.1 | $8.9 |
| Less: Other SG&A | $18.7 | $18.7 | $18.7 | $18.7 | $18.7 |
| Less: R&D | $12.9 | $12.9 | $12.9 | $12.9 | $12.9 |
| Less Biopharma Repayment | $3.2 | $3.6 | $4.0 | $4.4 | $4.8 |
| Less: Cash Interest | $0.0 | $0.3 | $0.0 | $0.0 | $0.0 |
| Less: Note Repurchase | $0.0 | $15.1 | $0.0 | $0.0 | $0.0 |
| Less: Working Capital Changes | $3.5 | $0.0 | $0.0 | $0.0 | $0.0 |
| Ending Cash | $101.4 | $74.5 | $64.9 | $57.6 | $52.7 |
The 2017 net product revenue in the above table comes out to around $186 million, which is higher than analyst consensus for $171 million, but still lower than the high analyst estimate of $202 million.
REDUCE-IT Status
Amarin also mentioned that it expects the second interim analysis to be completed in Q3 2017, in-line with my previous expectations. It also mentioned that it continues to expect the 100% event to occur in 2017, while I've believed that the final event may not occur until 2018. Perhaps Amarin has an expectation for increasing event rates as the study population ages, but I still think there may be a fair chance that the 100% event doesn't occur until 2018. In any case, as with financial guidance, study timeline guidance is subject to change as more information comes in.
Conclusion
Amarin's Q3 2016 report didn't contain anything particularly surprising, so I think the share price fall on November 3 was mainly tied to overall biotech weakness amplified by earnings day volatility. There is also a possibility that the Q3 2016 revenue number and full year revenue guidance maintenance was interpreted as being negative. However, actual growth remains solid after factoring out the distributor inventory level changes, and Amarin looks likely to hit the top end of its guidance range or higher.
Going forward, Amarin's cash burn should slow after Q1 2017 if Vascepa growth can be maintained at 10+% quarter over quarter. This should leave Amarin with over $50 million in cash entering 2018 and near break-even cash flow inclusive of all payments.
Author's Note: If you thought this article was interesting, please scroll to the top of the article and click "Follow" next to Elephant Analytics. Thanks for reading!
Disclosure: I am/we are long AMRN. I wrote this article myself, and it expresses my own opinions. I am not receiving compensation for it (other than from Seeking Alpha). I have no business relationship with any company whose stock is mentioned in this article.