In yesterday's article, I discussed the outlook of today's nonfarm payrolls. I concluded that we would see a miss with a big chance of seeing numbers below 160K.
Article: Nonfarm Payroll Outlook: I Won't Bet On An Employment Beat
The actual number came in at 161K which 14K below expectations and 30K below last month's number. The unemployment rate hit 4.9% which is 0.1 points lower than last month's value of 5%.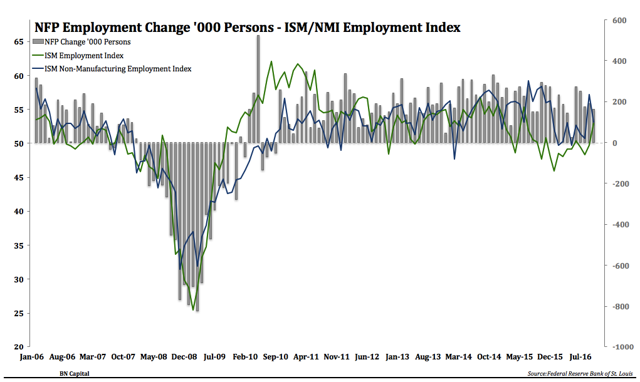 These numbers are moving markets on the short term. However, the real value is 'hidden'.
If we look at year-on-year employment growth, we see that growth has decreased once again.

The validity of this indicator is visible on the long term graph. Below, you see a graph from Hedgeye. I normally use my own FRED graphs but really liked the layout of the graph.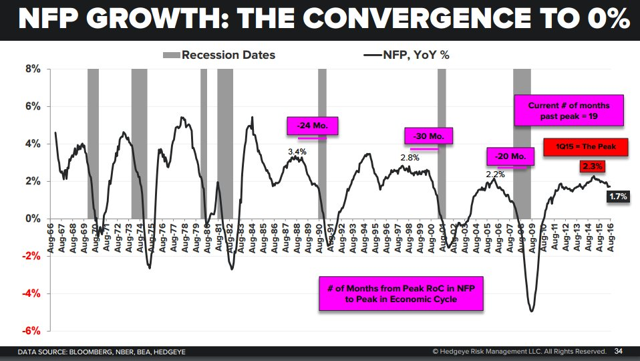 Source: Hedgeye
Employment growth slows months before an actual recession starts. We are currency slowing since Q1 of 2015 and currently at 1.65% which is 0.05 lower than last month's 1.7%. Note that I am not saying that we are going to enter a recession anytime soon. This merely indicates that the economy is not accelerating. Every major economic expansion has been supported by employment growth.
The labor force participation rate remains very low at 62.8% which is 0.1 points below last month's value. Let's assume the economy is going to boom in the next few years. This would bring back people to the job market and push unemployment higher despite a stronger economy. This indicates how useless the current unemployment number of 4.9% is. It's all about (growth) trends.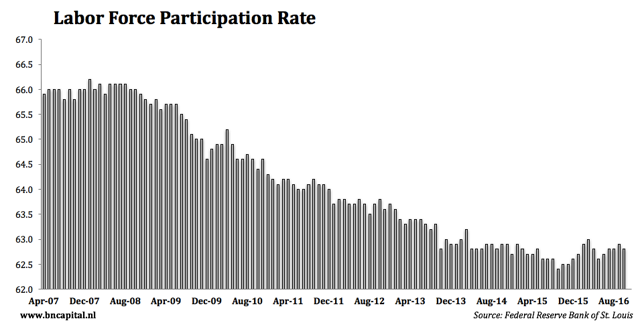 Let's look where last month's jobs have been created.
Professional business services +43.000
Health care +31.000
Financial activities +14.000
All other industries didn't change
Today's numbers show us that employment is slowing and all growth came from three sectors. Despite the fact that some economic indicators are pointing towards stronger growth, we can't say that jobs are participating unfortunately. The economy remains in a late-cycle stage.
Many thanks for reading my article. Please leave a comment below if you have questions or remarks.
Disclosure: I/we have no positions in any stocks mentioned, and no plans to initiate any positions within the next 72 hours. I wrote this article myself, and it expresses my own opinions. I am not receiving compensation for it (other than from Seeking Alpha). I have no business relationship with any company whose stock is mentioned in this article.