By Parke Shall
There is no doubt that next week is going to be volatile for the markets. When we know there is going to be volatility, the best thing to do is to have a plan. We know there is going to be volatility because of the election and the market has certainly been pricing in some very real volatility that you can easily see by looking at option prices on the indices.
At the end of the week last week, it cost an astounding $5.73 to buy the SPY 208.50 straddle that expires just one day after the election. To buy the same position that expires 2 days later, at the end of the upcoming week, you'd have to pay $6.69.
That is the market telling you it expects the indices to move between 2.9% and around 4% just based on the election alone. For perspective, a 2.9% move in the Dow Jones Industrial Average amounts to about a 520 point move while a 4% move in the Dow Jones Industrial Average amounts to about a 720 point move.
Those are Brexit style numbers, hence the comparison we continue to hear in the media to the election and Brexit.
What type of volatility should we expect?
Heading into Monday, a lot of early vote tallies will come in and the latest and last polls will also start to come in. These should start to shape the initial picture of what the election could possibly look like. And of course, nothing is going to shape the outcome of the rest of the week quite like the actual results of the election, which we should have a fair grasp on heading into late Tuesday night.
While the only thing certain is that there is going to be volatility without rhyme or reason to the direction, the best thing to do is have a plan. We wanted to take a minute and lay out our plan and talk about what we would expect from both scenarios in the coming week, how it intertwines with our overall market outlook, and what we will be looking to do moving into the end of the week next week.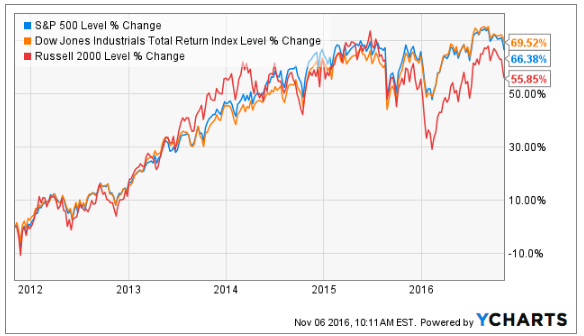 We have been saying for the last few months, as the indices have rolled over and the bull market has pretty much come to a halt, that we are approaching a stock picker's market. We expect that stocks will move sideways for some time and we also expect there to be a relatively significant correction coming over the next year or two. We base this on the short-term debt cycle ending and the Federal Reserve finally looking to raise interest rates. With equity valuations as high as they are, we think this combination will help the market blow off some steam in coming quarters.
This means that our general, base case, investing strategy for the upcoming two years is to make sure that we are hedged well against all of our core long positions and to also make sure that we have cash available for specific companies that may not pull back from very high valuations to high valuations, but from already low valuations to severely depressed valuations with a broader market move.
We are, right now, the most hedged that we will get to generally, with about 60% of our portfolio long and about 40% of our portfolio hedged or short. As we stated in several articles prior, we don't always feel the need to necessarily go out, panic, and sell off a bunch of our long positions just because we feel like there is going to be a pullback in the markets. By getting yourself to almost a net/net neutral position, it could have the same affect on your portfolio.
If Clinton looks to be the winner on Tuesday, markets will probably rally heading into the end of the week. Clinton is of course seen as the friendly candidate for Wall Street, not just because of her cozy relationship with investment banks but because she hasn't gone out and waged a full verbal assault on Janet Yellen the same way that Donald Trump has. Trump has consistently made the point that he thinks rates have been too low for too long, and while he doesn't directly have anything to do with the Federal Reserve's decision, he is widely seen as the more volatile of the two candidates, for better or for worse.
If the market rallies heading into the end of the week this week, we will look to get short a couple more names that we are shorting for fundamental reasons. There are names, like Opus Bank (NASDAQ:OPB), that we believe are going to be in real trouble in coming quarters regardless of what the overall market is going to do. In this case, our thesis on Opus Bank is that they have a lot of exposure to the short-term debt cycle turning over. The results of the election aren't going to change the timing of the debt cycle that has already been churning over the last eight years, and so we will take moves higher in the stock as an opportunity to increase our short position. We plan on doing the same for several other current short positions.
As for some of our long positions, we may choose to trim stakes even further and possibly take a little bit more off the table, moving our portfolio toward an even 50/50 split between long and short. We will make judgment calls for individual equities as the week progresses, but we are holding firm and believe that this is a stock picker's market.
If Trump wins, I think it is safe to say that we can expect the markets to move decidedly lower. In this case, we probably wouldn't alter our portfolio too much as our long positions (mostly staple dividend payers) will simply see their yield go up and our short positions, especially due to some leverage we have been short the indices with, should more than offset what we lose on our long positions. We may even look to press our shorts even further, as we believe a Trump victory, combined with the short term debt cycle turning over, could be a prescription for a real serious market pullback not just over the course of the next year, but potentially over the course of a couple of years. We think a Trump presidency essentially means a recession.
At the end of the day, we are really bearish by nature. Given that we believe that this is the stock picker's market, we will use the volatility to our advantage no matter which way it goes this week. Investors that are considering taking positions in companies may even want to use the volatility to their advantage by writing options to open positions early this week.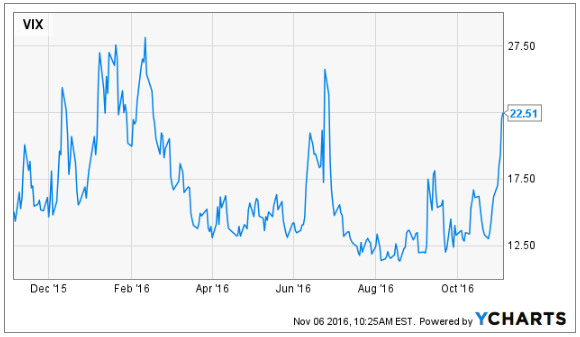 Volatility will likely fall sharply by the end of the week regardless of outcome. We have several listed candidates for writing puts over the coming day or two, because we think it is a prudent strategy as market volatility rises to use to get long.
One thing is for sure: the market is telling us we're going to get volatility this upcoming week and we agree. Going into election week with a plan is, what we think to be, one of the most important things you can do. Write down your ideas, flesh out where you want to see bargains and act with conviction when you finally get the opportunity to move. We hope everybody has a great upcoming week and we look forward to sharing our post-election thoughts.
Disclosure: I/we have no positions in any stocks mentioned, and no plans to initiate any positions within the next 72 hours. I wrote this article myself, and it expresses my own opinions. I am not receiving compensation for it (other than from Seeking Alpha). I have no business relationship with any company whose stock is mentioned in this article.