The headline as the stock market limped to the finish line with another down was that the S&P 500 hadn't been negative for 9 days straight in 36 years. In other words, we are in the midst of the longest losing streak for the stock market of my lifetime. MLPs finished down another 1%-ish Friday, fading into the close too. MLPs are down only 7 straight days, but have dropped much further than the S&P 500 during their streak.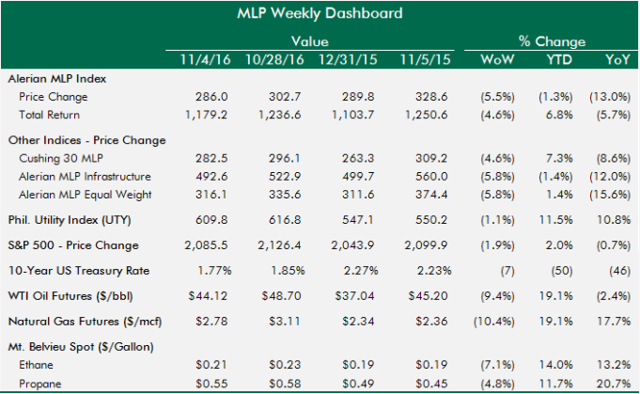 For the week overall, MLPs declined 4.6%, beating oil prices, but not much else. It was the worst week for MLPs since they bottomed in early February. Oil continues to fade in the absence of an OPEC deal, and this week the U.S. inventory report didn't provide any mid-week support. Even still, MLPs continue to enjoy much better access to the capital markets than 6 months ago and the sector continues to consolidate and heal itself, preparing for when retail funds eventually return.
The Final Countdown
The uncertainty of this week will be replaced by a certain reality when the world wakes up Wednesday (in theory). Movies have in the past foreseen and painted a somewhat accurate picture of how things end up (2001: A Space Odyssey had tablets, Truman Show predicted reality TV extremes, Total Recall had self-driving cars, etc.).
Have we already seen the next administration in our popular culture? Will it be business as usual like in the 1992 film Distinguished Gentleman, but in the form of someone more like Governor Tracy from 1996 film Black Sheep?
Or will it be some cross between the 1991 film King Ralph (Crude American becomes King of England) and President Dwayne Elizondo Mountain Dew Herbert Camacho from the sadly prescient 2006 film Idiocracy? Time will tell and hopefully time will heal the nation from this ugly election cycle.
Status Update
Given we already had some volatility in November, I thought we'd extend the monthly chart 4 days into November. MLPs are down 7.9% quarter to date, including a 4.5% decline in October and another 3.6% so far in November.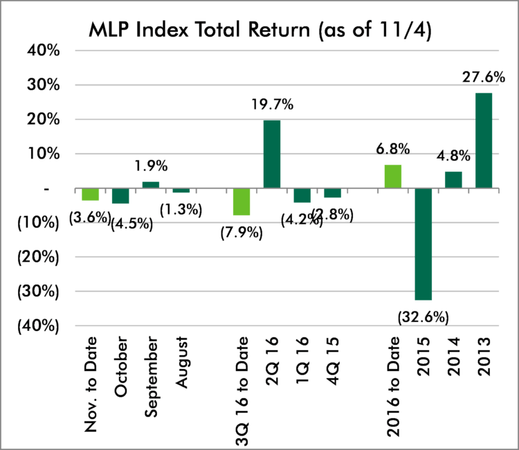 October's 4.5% decline was the second worst October on record (after 2014). October has on average been one of the better months over the long term, while November has historically been the worst month for MLPs. Hopefully, November of this year won't be the worst month of 2016, because January was -11.1%.
Winners & Losers
Carnage throughout the MLP sector this week, but there were a few positive moves. Natural Resource Partners (NYSE:NRP) continues to be extremely volatile, leading MLPs on the upside after being the worst performer last week. SunCoke Energy Partners (NYSE:SXCP) received a takeout bid from its parent, while Columbia Pipeline Partners LP (NYSE:CPPL) received a revised offer from its sponsor. Dominion Midstream Partners (NYSE:DM) announced a mega drop-down and the whole menu of financing tools, including a smallish public common equity offering, and that seemed to release the stock to go higher.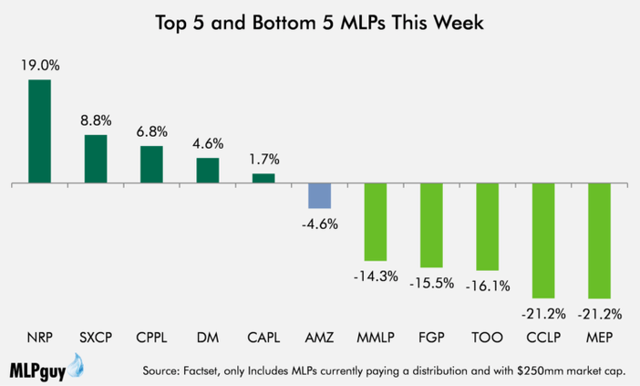 On the downside, earnings misses sent many MLPs tumbling this week. Along with the 3 biggest losers that all reported results this week, other larger capitalization MLPs were down big this week as well, particularly those that reported weak results and tend to focus on oil, like Enbridge Energy Partners (NYSE:EEP) (-11.8%), Plains All American Pipeline (NYSE:PAA) (-9.3%), NGL Energy Partners (NYSE:NGL) (-8.5%), and Genesis Energy (NYSE:GEL) (-9.1%), plus Sunoco Logistics Partners (NYSE:SXL) (-7.5%) that doesn't report until next week. Two large natural gas pipeline-focused MLPs, TC PipeLines (NYSE:TCP) (-9.8%) and Boardwalk Pipeline Partners (NYSE:BWP) (-7.5%), had strong 3Q results and were caught in the selloff.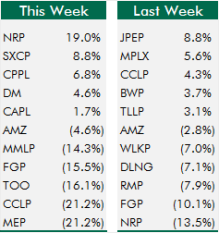 Year to Date Leaderboard
MLPs are now up just 6.8% this year after giving back 7.8% over the last 11 trading days. There aren't quite as many MLPs that have 100%+ gains as there were, and there are more with 25%+ losses YTD.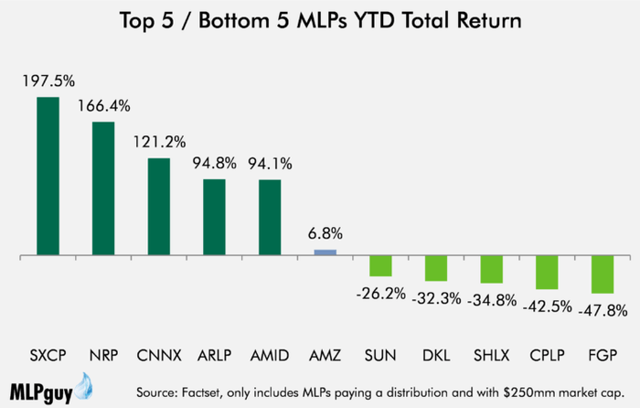 G.P. Holding Companies and Midstream Corporations
GPs and midstream corporations outperformed MLPs this week. Relative strength shown from Targa Resources Corp. (NYSE:TRGP), Alliance Holdings GP (NASDAQ:AHGP) and Kinder Morgan (NYSE:KMI). Tallgrass Energy GP LP (NYSE:TEGP-OLD) sold off the hardest despite solid results from subsidiary MLP Tallgrass Energy Partners (TEP). TRGP reported weak 3Q results, but guided to higher EBITDA in 4Q, and the relief was evident in the stock price reaction Thursday and Friday as oil prices continued lower.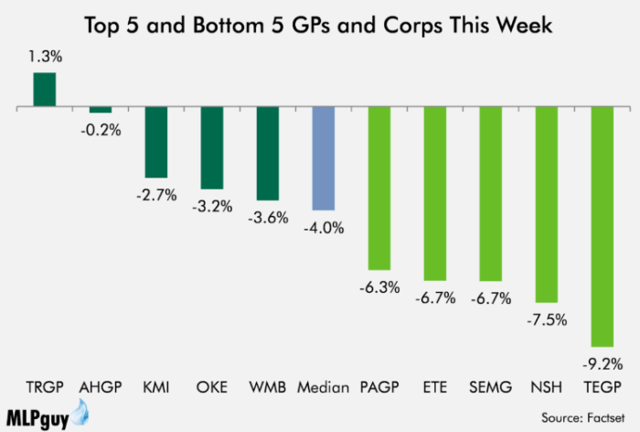 Energy Transfer Equity (ETE) continues to be under pressure. The vacuum of company-specific updates within the ETE family ahead of 3Q results next week hasn't helped.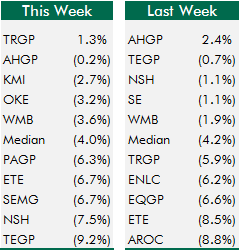 News of the (MLP) World
Another small MLP announced a buy-in from its sponsor this week, continuing the MLP rationalization theme discussed last week. There were a few small drop-downs that were almost rounding errors in light of the massive DM drop-down and related financings. Then, TransCanada Corporation's (NYSE:TRP) strategic announcements dwarfed those DM transactions.
Another small MLP announced a buy-in from its sponsor this week, continuing the MLP rationalization theme discussed last week. There were a few small drop-downs that were almost rounding errors in light of the massive DM drop-down and related financings. Then, TRP's strategic announcements dwarfed those DM transactions.
Growth Projects / M&A
Dominion Midstream announced acquisition of Questar Pipeline, LLC from Dominion Resources, Inc. (NYSE:D) for $1.725B (press release).

This transaction more than doubles DM's EBITDA and provides visibility and (according to management) no equity needs until second half 2018.
TransCanada announced a series of strategic transactions (press release), including:

Sale of power business for $3.7B ($2.2B to LS Power Advisors affiliate, $1.065B to ArcLight affiliate).
Decision to maintain all Mexican assets rather than proceed with original plan to sell up to 49% stake in all Mexico pipeline projects.
Agreement to pay higher price ($17.00/unit from $15.75/unit) to buy-in CPPL.
Large bought deal equity transaction ($3.2B Canadian).
VTTI, sponsor of VTTI Energy Partners (NYSE:VTTI), announced acquisition of 70% of Adriatic Tank Terminal in Port of Ploce in Croatia (press release).
Suncoke Inc. (NYSE:SXC) announced offer to acquire 100% of outstanding units of SunCoke Energy Partners in exchange for SXC units (press release).

SXCP unitholders would receive 1.65 new shares of SXC stock for each SXCP common unit, implying $17.80/unit, or a 5% premium.
Another clean-up trade from a small sponsored MLP.
Archrock Partners (NASDAQ:APLP) announced acquisition of 150,000 horsepower of compression for approximately from sponsor Archrock, Inc. (NYSE:AROC) for $85M (press release).

Funded 100% with units issued to AROC.
American Midstream (NYSE:AMID) announced acquisition of additional interests in Delta House floating production system for $49M (press release).

AMID continues to be very active, this transaction raises its interest in Delta House to 20.1%.
Financing
Dominion Midstream announced a series of financing transactions for its massive drop down.

Public offering of 13.5M units (upsized from 12.0M) at $23.20/unit, raising $313.2M in gross proceeds, priced at 2.9% discount (press release).
$600M in 4.75% convertible preferred units, sold in a private placement.
$137.5M common unit private placement to institutional investors.
Common units issued to sponsor Dominion Resources.
Assumption of 435M Questar Pipeline debt.
$300M term loan from a group of banks.