I have been writing articles on dividend kings and single symbol letter companies to find some new investment ideas for the portfolio. Each study found 2-3 interesting companies, but now it's time to spend some time on the other companies in the portfolio to see if any should be sold to make room for better investments.
This article is about Harley-Davidson Inc. (NYSE:HOG) and why it's a dividend income and future growth company that is 5.8% of The Good Business Portfolio. The position is being considered for trimming. There are three companies in the portfolio that have underperforming total return over the 46 month test period but still have a positive total return. The portfolio has been selling covered calls on a portion of the HOG holding in order to make some money while we wait for the world economy to start to grow again. Harley-Davidson Inc. is the leading maker of heavyweight motorcycles and accessories. Fundamentals of Harley-Davidson Inc. will be looked at in the following topics, The Good Business Portfolio Guidelines, Total Return And Yearly Dividend, Last Quarter's Earnings, Company Business Overview, and Takeaways And Recent Portfolio Changes.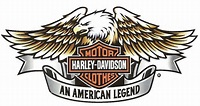 Good Business Portfolio Guidelines.
Harley-Davidson Inc. passes 10 of 11 Good Business Portfolio Guidelines. These guidelines are only used to filter companies to be considered in the portfolio. For a complete set of the guidelines, please see my article " The Good Business Portfolio: Update To Guidelines and July 2016 Performance Review". These guidelines provide me with a balanced portfolio of income, defensive, total return and growing companies that keeps me ahead of the Dow average. Some of the points brought out by the guidelines are shown below.
Harley-Davidson Inc. is a large-cap company with a capitalization of $11.1 Billion. This size will allow Harley-Davidson Inc. the ability expand its business world-wide and continue its growth when the economy starts to grow again. The competition in the mid size motor cycles is getting tough and HOG does not want to lower its prices, creating strong competition with other motorcycle manufacturers.
Harley-Davidson Inc. has a dividend yield of 2.7% and its dividend has been increased 7 of the last ten years. The payout ratio is low at 25%. Harley-Davidson Inc. is therefore an income story as the demand for large motorcycles resumes when the worldwide economy starts to grow again. The next dividend is expected to be declared in February 2017 and is estimated to be increased by $0.04/quarter or a 9% increase per year.
Harley-Davidson Inc. last quarter earnings income meet expected income at $0.64/share and missed the earnings of a year ago at $0.69. Harley-Davidson Inc. has enough cash flow, to pay its above average quarterly dividend and have cash left over for its expansion of the business. Harley-Davidson Inc. has a yearly positive total cash flow of $950 Million. This earnings miss from the previous yearly earnings shows the slowdown in growth of the company.
I also require the CAGR going forward to be able to cover my yearly expenses. My dividends provide 3.1% of the portfolio as income and I need 1.9% more for a yearly distribution of 5.0%. Harley-Davidson Inc. has a three-year CAGR of 11.0% (from Capital S&P IQ) meeting my requirement. This fair growth for Harley-Davidson Inc. can resume the uptrend benefiting from the increased sales in foreign countries.
Looking back five years $10,000 invested five years ago would now be worth over $16,800 today. This makes Harley-Davidson Inc. a fair investment for the growth investor looking back that has above average current dividend with future growth for the patient investor.
Harley-Davidson Inc. S&P Capital IQ rating is three stars or hold with a target price of $54.0. Harley-Davidson Inc. is 4% over priced at present compared to the target and a buy at a better entry point is advised. The price is high now because of buyout speculation.
Total Return And Yearly Dividend
The Good Business Portfolio Guidelines are just a screen to start with and not absolute rules. When I look at a company, the total return is a key parameter to see if it fits the objective of the Good Business Portfolio. Harley-Davidson Inc. missed the Dow baseline in my 46.0 month test compared to the Dow average. I chose the 46.0. month test period (starting January 1, 2013 and ending to date) because it includes the great year of 2013, and other years that had fair and bad performance. The total return of 23.46% makes Harley-Davidson Inc. inappropriate for the growth investor and HOG has a 2.7% dividend yield for the income investor. YTD total return for Harley-Davidson Inc. is great at 23.08%, above the market by 20% short term. This YTD jump is because HOG is in play. The dividend yield is above average and covered by the earnings and has been paid and increased 7 of the last ten years.
DOW's 46.0 month total return baseline is 36.52%
| | | | |
| --- | --- | --- | --- |
| Company Name | 46.0 Month total return | Difference from DOW baseline | Yearly Dividend percentage |
| Harley-Davidson Inc. | +23.46% | -13.06% | 2.7% |
As seen in the price chart below Harley-Davidson Inc. has a good chart over 2012-2013 but has stalled and gone down from 2014 to YTD. The recent upswing is due to the rumor that HOG is in play to be bought out.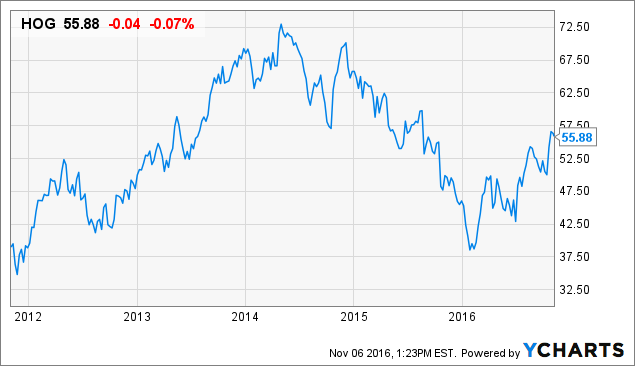 Last Quarter's Earnings
For the last quarter on October 18, 2016 Harley-Davidson Inc. reported earnings that meet expected at $0.64 compared to last year at $0.69. Total revenue was lower at $1.093 Billion and lower than a year ago by 4.4% year over year that had expected revenue in line. This was a poor report with bottom line and decreasing top line decreases showing the slowing of the business. Earnings for the next quarter are due in late January and are expected to be at $.32 compared to $0.22 last year. The portfolio will hold HOG for now and see if the new motorcycle models stimulate the top and bottom line.
Business Overview
Harley-Davidson, Inc. is the parent company for the groups of companies doing business as Harley-Davidson Motor Company (HDMC) and Harley-Davidson Financial Services (HDFS). The Company operates in two segments: the Motorcycles & Related Products (Motorcycles) and the Financial Services. The Motorcycles segment consists of HDMC, which designs, manufactures and sells at wholesale on-road l Harley-Davidson motorcycles, as well as a line of motorcycle parts, accessories, general merchandise and related services. The Company offers its products to retail customers through a network of independent dealers. The Company operates across the world, including the Americas, Europe/Middle East/Africa (EMEA) and Asia-Pacific.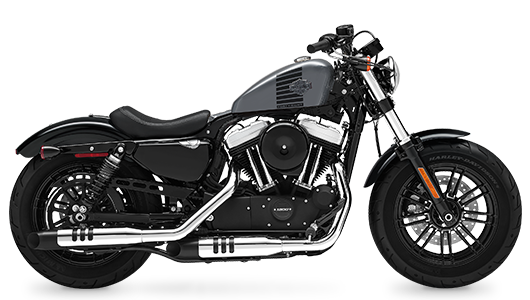 Over all Harley-Davidson Inc. is a good business with an iconic product but is having a slowdown in sales for the past two years. They have come out with new improved motorcycles this past September and the new engine line has gotten good response. Harley-Davidson Inc. has a head wind for its foreign sales and the strong dollar is making the competition with other companies even harder than normal. The economy is showing moderate economic (about 2%) growth right now and the FED may raise rates in December 2016 depending on the United States economy. I believe the FED, when it raises rates it will be a one and done, they don't want to trigger a slowdown in the economy.
At the last earnings call Matt Levatich (President & Chief Executive Officer) said " Third quarter market share was essentially flat in the U.S. as we maintained our strong leadership with over half of the 601cc-plus market. Our overall market share performance in the U.S. and gains in other key global markets like Australia and Japan provide strong affirmation of the progress we're making with our investments to drive demand through awareness, access, increased ridership, and bold new products to reach more people in more places. An absolute highlight of the quarter was the reaction around the world to our Model Year 2017 new products. One of our key areas of focus is to accelerate the cadence and impact of new products, and in late August we delivered. We could not be more pleased with the launch of and response to our Model Year 2017 lineup, most notably we've had an extremely positive reaction to our Milwaukee-Eight engine".
Takeaways and Recent Portfolio Changes
Harley-Davidson Inc. is an investment for the dividend income or patient growth investor which is 5.8% of The Good Business Portfolio. HOG will be held for now while I collect premiums on the covered calls I sold. The recent increase in HOG stock price has created a possibility of selling the position at a higher price compared to its long term value. New investors should look to a lower entry point for Harley-Davidson Inc. around $48.
Sold covered calls (December 9th $54.5 strike price) on a portion of the HOG position to make some money while I wait for the buyout or something to make me want to trim the position.
Trimmed Cabela's (NYSE:CAB) from 5.2% of the portfolio to 4.8%, they have received a bid of $65.50 cash for their shares, which to me is a fair price. I want to take a bit off the table in case the deal does not go through. I also would like to deploy the proceeds to increase the dividend paying companies in the portfolio. The last earnings report was not good and it may be time to take a good profit while I can in case the deal does not go through. Management is spending too much money to keep revenue up causing earnings to decrease
Increased Omega Healthcare Investors (NYSE:OHI) from 4.6% of the portfolio to 4.7% of the portfolio, I needed a little more income and OHI will give that to the portfolio. The portfolio will fill in the open portfolio slot with Kellogg (NYSE:K) when cash is available followed by PepsiCo Inc. (NYSE:PEP) when the next slot is open.
The Good Business Portfolio generally trims a position when it gets above 8% of the portfolio. The four top positions in The Good Business Portfolio are, Johnson and Johnson (NYSE:JNJ) is 8.4% of the portfolio, Altria Group Inc. (NYSE:MO) is 7.9% of the portfolio, Home Depot (NYSE:HD) is 7.4% of portfolio and Boeing (NYSE:BA) is 8.6% of the portfolio, therefore JNJ and BA are now in trim position with Home Depot and Altria getting close.
Boeing is going to be pressed to 10% of the portfolio because of it being cash positive on individual 787 plane costs at $151 Million in the third quarter. The recent earnings blew away the estimate of $2.63 and came in at $3.51. BA has just received a large order for 15 747-8 planes which will help keep this line open. BA is a long term buy and has a backlog of over 7 years.
JNJ will be pressed to 9% of the portfolio because it's so defensive in this post BREXIT world. Earnings in the last quarter beat on the top and bottom line but Mr. Market did not like growth going forward. JNJ is not a trading stock but a hold forever, it is now a strong buy as the healthcare sector is under pressure from the election.
For the total Good Business Portfolio please see my recent article on The Good Business Portfolio: 2016 Second-Quarter Earnings and Performance Review for the complete portfolio list and performance. Become a real time follower and you will get each quarters performance after the earnings season is over. Third-quarter earnings and performance with be available in a few weeks after HP Inc. (NYSE:HPQ) reports earnings.
I have written individual articles on CAB, JNJ, EOS, GE, IR, MO, BA, Omega Health Investors, TXN and HD that are in The Good Business Portfolio and other companies being evaluated by the portfolio. If you have an interest please look for them in my list of previous articles.
Of course this is not a recommendation to buy or sell and you should always do your own research and talk to your financial advisor before any purchase or sale. This is how I manage my IRA retirement account and the opinions on the companies are my own.
Disclosure: I am/we are long BA, JNJ, HD, MO, HOG, CAB, OHI. I wrote this article myself, and it expresses my own opinions. I am not receiving compensation for it (other than from Seeking Alpha). I have no business relationship with any company whose stock is mentioned in this article.