The U.S. Presidential election on Tuesday marks a day that could cause major monetary policy shifts. A Clinton victory arguably provides the Federal Reserve with much more conviction about raising rates in December, while a Trump victory creates a cloud of uncertainty over financial markets. Perhaps this is too high-level and thus the need to discuss further arises. However, I believe that even now it is too early to call who might win the election and how gold might trade after the vote. There's far too much uncertainty and developments in the monetary policy background create an added layer of difficulty in placing quality trades right now.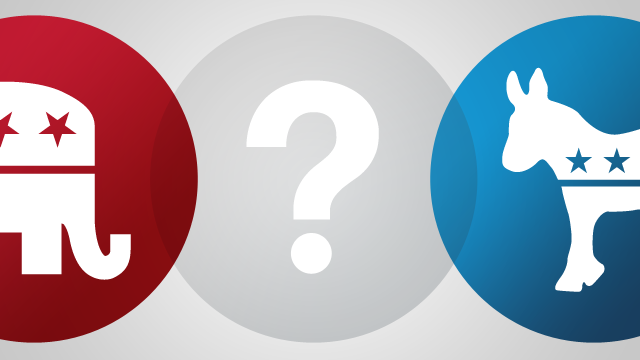 Source: CME Group
Volatility Elevated
With heightened volatility building over the course of the last week or so, the market is really in a high state of uncertainty. We haven't seen the VIX elevated above the 20 level since Brexit to give you a bit of perspective. Largely what this means is that investors are having a tough time finding places to allocate capital, thus the need for a safer investment kicks in. That inherently means that gold should see strength, right? Well, that's not what we've seen in the market over the past week.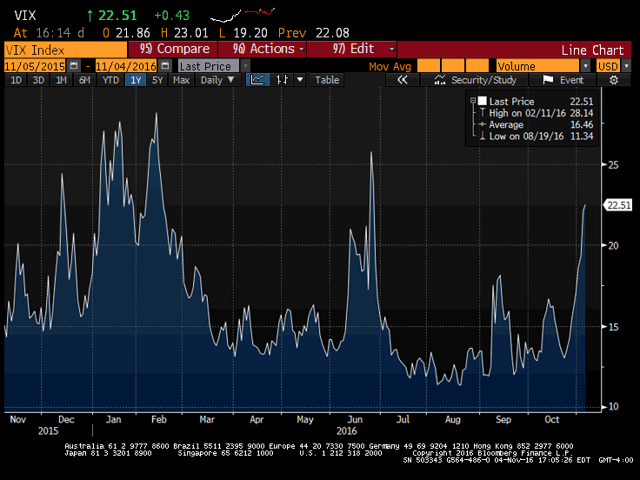 Source: Bloomberg
Gold was falling because traders are actively taking large positions on the election outcome. This can be actively seen through ETFs such as SPDR Gold (NYSEARCA:GLD), iShares Gold (NYSEARCA:IAU), and VanExck Gold (NYSEARCA:GDX). While the majority of trades are being placed in favor of Hillary winning the election, the recent developments related to her and the investigation are causing concern that Trump might actually win. Thus, the positions that were built in over the last month have now been second-guessed.
It's going to be very interesting to see how volatility trends after the election on Tuesday. Depending on the outcome, gold could either be staunchly lower or higher. Think about that level of volatility relative to a leveraged ETNs like the bull gold miners 3x (NYSEARCA:NUGT) or the bear gold miners 3x (NYSEARCA:DUST). These are going to be some of the most absurdly volatile instruments on Tuesday and I advise individuals to stay away from these. Moving forward, let's think about the potential scenarios:
Clinton wins and financials and clean energy rally, biotech and biopharm decline; gold likely resumes its current downtrend
Trump wins and industrials rally, financials decline; gold likely increases as a new wave of uncertainty has entered the market
These two scenarios are by no means exhaustive. At a high-level view, they just seem to be the most probable. However, I am quickly reminded that contrarians could be waiting for the election to cheapen certain asset classes and pounce on the new margins of safety available for those investments that they deem viable and void of fundamental changes.
Who's to say the dollar won't rally on a Trump victory and cause the Federal Reserve to stay true to their recent tones and raise rates in December? Who's to say a Clinton victory won't create a heavy sell-off in major asset classes and cause gold to see support? The fact of the matter is that traders don't know and that's why you're seeing the VIX so heavily elevated right now. Truth be told, the best way to play last week and likely this upcoming week is through a volatility spread in the options market, like using a straddle - that way you can capture any intense market reaction to the outcome of the election.
The election is so critical for setting up the remainder of 2016 for gold. A Trump victory creates so much uncertainty in the markets. Think about it, right now, the market is pricing in a 25bp rate hike to the Fed Funds Rate at the December FOMC Meeting. This hike is backed by a decent October jobs report, a September housing starts that was the best since the financial crisis, and strong progress made on the unemployment rate. Additionally, volatility related to China has dissipated, commodities, as a basket, have seen some sort of strength since the start of the year, and the need for banks to have a stronger net interest income margin is all the more apparent.
Below are the current probabilities for a rate hike and as we can see, the chance of a rate hike at the December FOMC meeting is 74%. This strong majority means that if the Federal Reserve raises rates, gold will likely start a downtrend. It's the most significant event on the table to cause gold to resume its Q3 downtrend and start to trend lower for longer.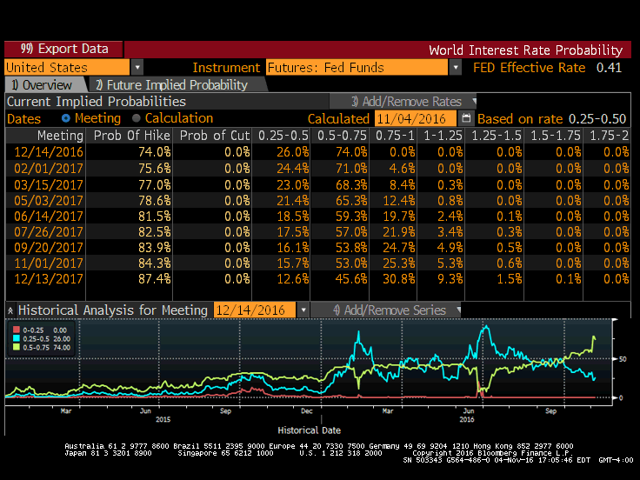 Source: Bloomberg
Performance Expectations
The trends in gold have shifted quite significantly over the past few weeks, creating all the more difficulty for traders to generate a short-term view of where gold is heading. After gold began a low-sloped downtrend from mid-July through late September, the heavy fluctuation between $1,250 and $1,300 has been tough to capture. Gold's October and partial November uptrend is likely the last efficacy for the precious metal in the next couple of months - provided Clinton wins.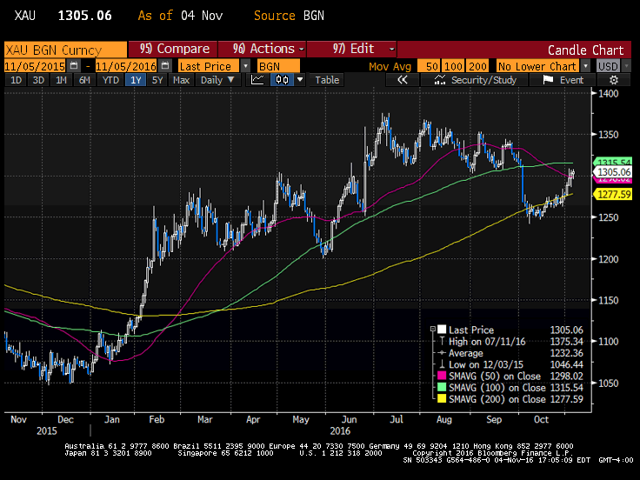 Source: Bloomberg
It's just been strange to watch gold see strength and the dollar both see strength in October. This is really not a correlation that we actively observe in the market, but fortunately this past week's downtrend for the dollar has allowed gold to rally. This decoupling of the relationship is something I'll be heavily watching after the election, given the amount of uncertainty we have in the present market. Should the Federal Reserve raise rates in December, there's minimal reason to believe the dollar will continue its current downtrend and, if anything, will appreciate against G7 currencies.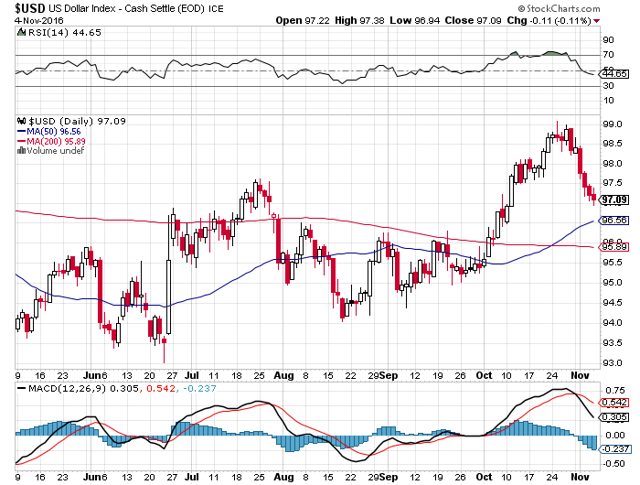 Source: StockCharts
Conclusion
The election is truly a binary event and those who are keen on trying to profit from it will need to be glued to their charts on Tuesday. The best way I see individuals profiting from this event is to use options and place a volatility-seeking spread over an asset, like gold, that they believe will be hectic as the election day unwinds. Post-election, it really depends on who wins as their may be potential selling opportunities in gold should the Federal Reserve retain conviction about increasing Fed Funds Rate at the December meeting.
Disclosure: I/we have no positions in any stocks mentioned, and no plans to initiate any positions within the next 72 hours. I wrote this article myself, and it expresses my own opinions. I am not receiving compensation for it (other than from Seeking Alpha). I have no business relationship with any company whose stock is mentioned in this article.
Additional disclosure: Actively observing a long volatility spread through options on VIX