Warren Buffett once famously said -
"I'll tell you why I like the cigarette business. It costs a penny to make. Sell it for a dollar. It's addictive. And there's a fantastic brand loyalty."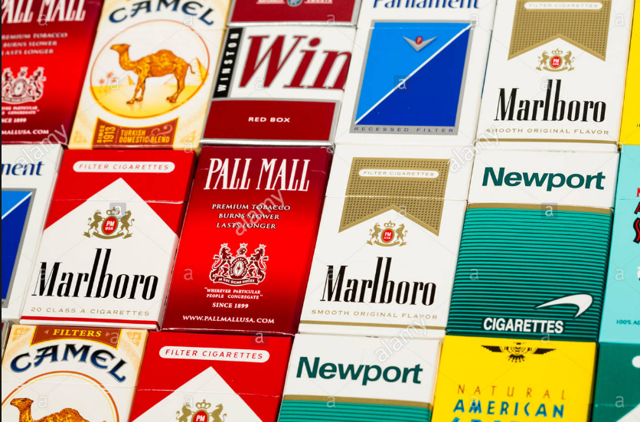 Source: Alamy
Most investors with a stake in any of the Big Tobacco companies have probably heard this quote before. It is a simple quote that covers all of the bases in explaining the immense wealth generating powers of Big Tobacco over the years. Take Altria Group (NYSE:MO) for example - maker of the Marlboro brand. If you invested $10,000 decades ago and held - you are doing quite well for yourself right now:

Source: Yahoo! Finance
Aside from Altria outperforming the S&P 500 over the long term, investors would have benefited from a generous dividend (reinvesting dividends would have widened the performance gap even further) as well as the spin-offs of Kraft Foods, now part of Kraft Heinz Company (NASDAQ:KHC), and Philip Morris International (NYSE:PM) - both of which have been very lucrative for shareholders. Aside from Altria, the vast majority of the tobacco industry is made up of two other players - previously mentioned Philip Morris and British American Tobacco (NYSEMKT:BTI).
With how lucrative tobacco stocks have been over a long period of time, they have developed a loyalty and following that is similar in ways to that of their customers. However, it is no longer as straight forward as literally investing - and waiting to get rich as it used to be. There are various reasons investors need to be cautious about the future returns on Big Tobacco stocks.
Industry Headwinds
Fewer people are smoking over time - in the United States.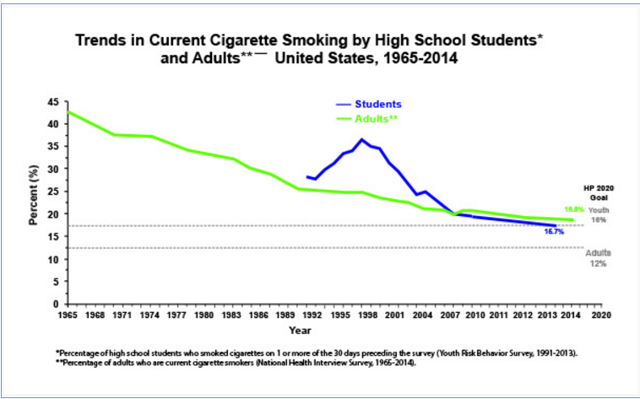 Smoking in the United States has steadily declined for decades - from a little over 40% of adults in 1965 all the way down to 15% as of last year. The smoking rate has fallen approximately 10% since 1997 alone and last year's decline of 2% was the sharpest single year decline since 92-93.
Globally, the smoking market is fairing a bit better. While the rates of smoking are also decreasing globally, population growth and emerging markets are resulting in net increases in the amount of smoking. Smoking is particularly prevalent in Eastern Europe, Asia and is on the rise in Africa.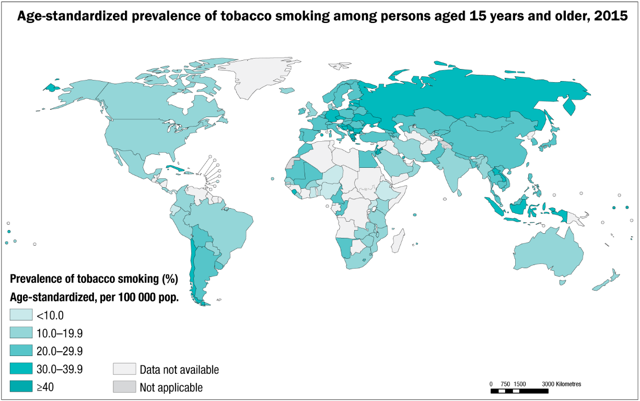 Source: World Health Organization
Political Obstacles
Challenges to Big Tobacco in the form of regulations and taxes are nothing new. However, the effect on the smoking rates over time cannot be ignored. Earlier this year, California increased the minimum age to purchase tobacco from 18 to 21. This is a reminder of a trend that could continue across the United States in coming years: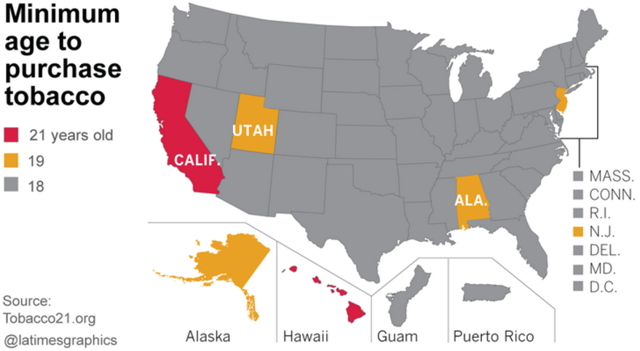 Across the world, countries are enacting ways to try and dissuade people from smoking:
In Canada, packages of cigarettes contain images of the side effects of smoking.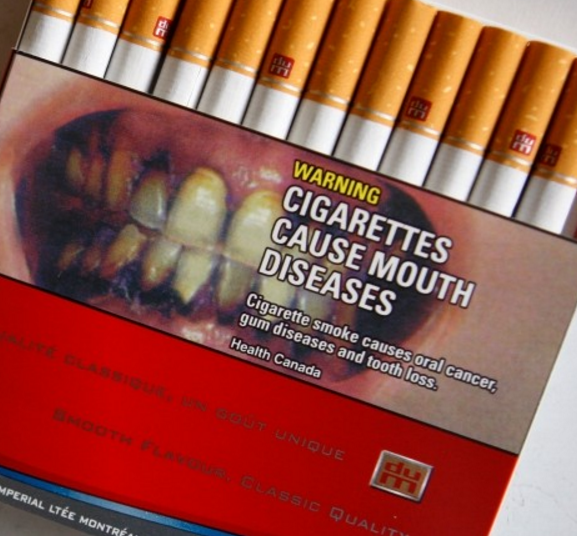 In Britain, plain packaging regulations are being enacted - which tobacco companies are challenging in court.
These tactics by government entities are gaining popularity. While the argument can be made that the majority of tobacco customers are "hooked" and resistant to these attempts, the youth base which represents the "future" of Big Tobacco's revenues are the strategic target.
In the United States, the rate of smoking among minors has drastically dropped: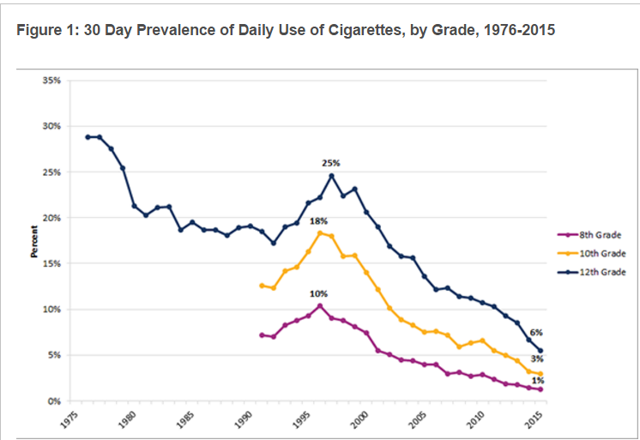 This trend could spread internationally over time given the efforts of various governing bodies. As emerging markets are "behind" the developmental and social curves of Industrialized and socially mature countries such as the US, smoking is still quite prevalent among youth. Compared to the 4% of youth in the United States who smoke, roughly 1 in 5 teenagers between the ages of 13 and 15 alone smokes world-wide, according to the World Health Organization.
The Big 3 - Steps taken to grow earnings into the future
Tobacco companies have a reputation for keen management that must navigate through the obstacles of the industry. Each of the Big 3 (Altria, Philip Morris and British American Tobacco) is all positioned differently and each is unique in its forward-thinking strategies.
Altria Group
Because of its reliance on the US market - Altria is hit the hardest by the declining US smoking market. Altria generates 100% of its tobacco sales in the United States. Altria has used price increases to help offset the decline in the number of smokers in the United States. Because of the inelastic nature of tobacco - meaning the demand for tobacco is resistant to price increases, this has helped enable Altria to continue to grow earnings.
Additionally, Altria has diversified out of tobacco to supplement its business. Altria owned a 27% stake in SABMiller (OTCPK:SBMRY), which recently merged into Anheuser-Busch Inbev (NYSE:BUD) as part of an acquisition that closed on October 10th. As a result, Altria owns a 10.5% stake in the beer industry giant. This stake will result in over $500 million per year in cash from the dividends paid out by the stake alone, in addition to a $2.6 billion dollar windfall from the transaction. Aside from the Anheuser-Busch stake, Altria is growing its presence in the wine markets, although it currently represents just under 3% of Altria's revenues.
Philip Morris International
Philip Morris is the sister company of Altria, which also sells the Marlboro brand. The opposite of Altria, Philip Morris generates 100% of revenues from outside the United States. This positions Philip Morris to benefit from the growth of emerging markets, as the Marlboro brand is the most popular cigarette brand in the world.
In order to combat the negative stigma of tobacco's effect on health - Philip Morris has developed a new cigarette technology known as iQOS. This technology heats the tobacco to produce a "vapor" instead of burning it, which produces harmful smoke. It also is a counter to those who are turned off by electronic cigarettes because the taste and "high" from electronic cigarettes do not replicate that of real cigarettes. Philip Morris has seen positive feedback in its test markets - Japan and Italy. It expects that by the year 2020, the new technology will have grown enough to add up to $1.2 billion to earnings. This is a huge bet for Philip Morris International - it has been a 10-year and $2-billion investment into the future sustainability of the cigarette market.
British American Tobacco
British American Tobacco is the maker of many "secondary" brands in the market such as Dunhill, Lucky Strike and Pall Mall. It sells into both the United States and international markets, generating 1/4 of its sales in the states and the rest internationally. Similar to Philip Morris, British American is positioned to benefit from emerging markets.
British American Tobacco is attempting to increase market share and has proposed to acquire Reynolds American Inc. (NYSE:RAI). Reynolds is the second-largest tobacco company in the United States. Should this merger be approved, British American would bring established cigarette brands such as Camel, and Newport under its umbrella. The recently proposed take-out is for $47 billion and Reynolds has established a committee to evaluate the offer.
Like Altria and Philip Morris International, British American Tobacco has invested into "reduced risk" products - with the electronic cigarette brand "Vype" to help offset the negative stigma of traditional cigarettes.
A US market wild card
There is growing sentiment about the eventual legalization of marijuana in the United States. Already legal for recreational use in Washington, Oregon, Colorado and Alaska, a monumental momentum point comes this month as an additional (5) states are voting on whether to legalize recreational use of marijuana. These states are California, Nevada, Maine, Arizona and Massachusetts. As more states legalize the recreational use of marijuana, pressure will build for it to be legalized at the federal level.
If this were to happen, an interesting door would open for tobacco companies, as they would have the resources to quickly and efficiently scale the marijuana business nationwide. Not only that, marijuana could be integrated into traditional cigarettes to possibly bring life back to the industry.
There is evidence that the marijuana industry has been on Big Tobacco's mind for some time.
Valuations

Historically, tobacco companies have traded at P/E ratios in the low to mid-teens because of all the regulatory risks to the industry. The low interest environment has bid up the valuations of dividend paying blue chips - tobacco stocks included.
With a likely rate hike in December, the rich valuations of these stocks could start to drift downward. Income-seeking investors can still beat treasuries by purchasing shares and collecting the dividend. However, eventual P/E compression will likely eat away at total returns, resulting in returns lower than the historically robust returns in the mid-teens.
Conclusion
It is hard to pick a loser in an industry that has generated so much wealth for investors across the board over the years. However, Philip Morris International possesses the #1 cigarette brand in the world, in a global market that offers the diversification to weather regulatory threats and population growth to offset downward trends in smoking rates. Its iQOS product offering is gaining momentum and could meaningfully impact earnings in the coming years. I think Philip Morris International offers the best risk-adjusted investment opportunity over the long term. If the British American Tobacco - Reynolds merger goes through (and British American effectively synergizes the two organizations) or marijuana actually becomes a play for Big Tobacco, the situation would certainly be worth a second look.
Disclosure: I/we have no positions in any stocks mentioned, and no plans to initiate any positions within the next 72 hours. I wrote this article myself, and it expresses my own opinions. I am not receiving compensation for it (other than from Seeking Alpha). I have no business relationship with any company whose stock is mentioned in this article.